"On The Smugglers' Radar" is a feature for books that have caught our eye: books we have heard of via other bloggers, directly from publishers, and/or from our regular incursions into the Amazon jungle. Thus, the Smugglers' Radar was born. Because we want far more books than we can possibly buy or review (what else is new?), we thought we would make the Smugglers' Radar into a weekly feature – so YOU can tell us which books you have on your radar as well!
On Ana's Radar:
The new science fiction and fantasy imprint from Simon & Schuster – SAGA – has released news about their coming books. SUPER excited about a couple of their titles: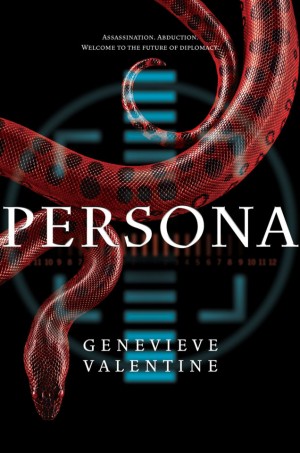 When Suyana, Face of the United Amazonia Rainforest Confederation, secretly meets Ethan of the United States for a date that can solidify a relationship for the struggling UARC, the last thing she expects is an assassination attempt. Daniel, a teen runaway-turned-paparazzi out for his big break, witnesses the first shot hit Suyana, and before he can think about it, he jumps into the fray, telling himself it's not altruism, it's the scoop. Just like that, Suyana and Daniel are now in the game of Faces. And if they lose, they'll die.

Genevieve Valentine is the author of Persona and of the critically acclaimed debut novel Mechanique: A Tale of the Circus Tresaulti, which won the Crawford Award for Best Novel, as well as a nomination for the Nebula Award and the Romantic Times Best Fantasy of the Year. Her short fiction has been nominated for a World Fantasy Award and the Shirley Jackson Award. She lives in New York City. Visit her at GenevieveValentine.com.

And this one from Ken Liu, an author on my radar: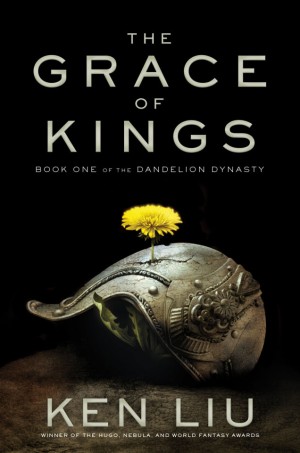 Wily, charming Kuni Garu, a bandit, and stern, fearless Mata Zyndu, the son of a deposed duke, seem like polar opposites. Yet, in the uprising against the emperor, the two quickly become the best of friends after a series of adventures fighting against vast conscripted armies, silk-draped airships, soaring battle kites, conspiring goddesses, underwater boats, magical books, as a streetfighter-cum-general who takes her place as the greatest tactitian of the age. Once the emperor has been overthrown, however, they each find themselves the leader of separate factions—two sides with very different ideas about how the world should be run and the meaning of justice.

Fans of intrigue, intimate plots, and vast battles will find a new series to embrace in the Dandelion Dynasty.

Ken Liu's fiction has appeared in F&SF, Asimov's, Analog, Strange Horizons, Lightspeed, and Clarkesworld, among other places. He has won a Nebula, two Hugos, a World Fantasy Award, a Science Fiction & Fantasy Translation Award, and been nominated for the Sturgeon and the Locus Awards. His wife, Lisa Tang Liu, is an artist. The Grace of Kings is set in a universe they created together. He lives near Boston with his family.

One of our readers recommended this cute-sounding MG book to us: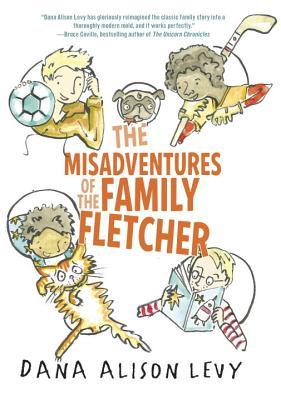 Perfect for fans of The Penderwicks and James Patterson's Middle School series, this seriously funny, anything-but-typical modern family adventure features two dads, four adopted boys, and a variety of pets.

Meet the Fletchers. Their year will be filled with new schools, old friends, a grouchy neighbor, hungry skunks, leaking ice rinks, school plays, wet cats, and scary tales told in the dark!

There's Sam, age twelve, who's mostly interested in soccer, food, and his phone; Jax, age ten, who's psyched for fourth grade and thinks the new neighbor stinks, and not just because of the skunk; Eli, age ten (but younger than Jax), who's thrilled to be starting this year at the Pinnacle School, where everyone's the smart kid; and Frog (not his real name), age six, who wants everyone in kindergarten to save a seat for his invisible cheetah. Also Dad and Papa. The Family Fletcher is fun to know.

"The Fair Fight is a big, rambunctious, filthy, feisty and above all utterly convincing romp through the world of 18-century female boxers"< <<< SHUT UP AND TAKE MY MONEY: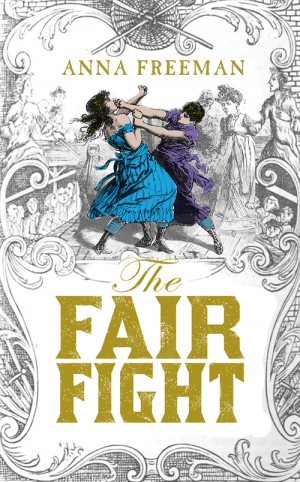 For fans of Sarah Waters and THE CRIMSON PETAL AND THE WHITE, a vibrant romp through eighteenth-century Bristol from an astonishing new talent.

THE FAIR FIGHT is a pulsating historical novel set within the world of female pugilists and their patrons in late eighteenth-century Bristol.

It's an unputdownable story which takes you from a filthy brothel to the finest houses in the town, from the world of street fighters to another of champions.

It is about fighting your way to the top – and not only with your fists.

Alive with the smells and sounds of the street, THE FAIR FIGHT is a major debut with incredibly wide appeal.

A new Kate Maitland novel! They don't always work for me but I am always curious about her novels: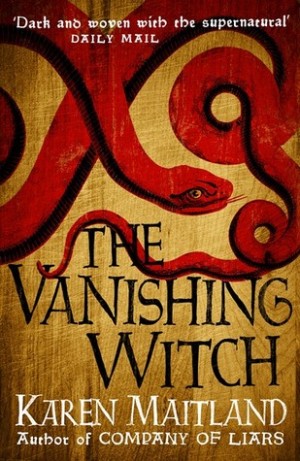 The Vanishing Witch by Karen Maitland, author of the hugely popular Company of Liars will thrill fans of CJ Sansom and Kate Mosse with its chilling recreation of the Peasants' Revolt.

It offers an intelligent, beautifully researched glimpse of a more deadly, superstitious era…

'A compelling blend of historical grit and supernatural twists' Daily Mail on The Falcons of Fire and Ice

The reign of Richard II is troubled, the poor are about to become poorer still and landowners are lining their pockets. It's a case of every man for himself, whatever his status or wealth. But in a world where nothing can be taken at face value, who can you trust?

The dour wool merchant?
His impulsive son?
The stepdaughter with the hypnotic eyes?
Or the raven-haired widow clutching her necklace of bloodstones?

And when people start dying unnatural deaths and the peasants decide it's time to fight back, it's all too easy to spy witchcraft at every turn.

On Thea's Radar:
I, too, am so excited for Saga's upcoming line of SFF titles, especially Ken Liu's book. First up on my radar, is the new book in Hannu Rajaniemi's Quantum Thief hard science fiction series (which I desperately need to catch up on):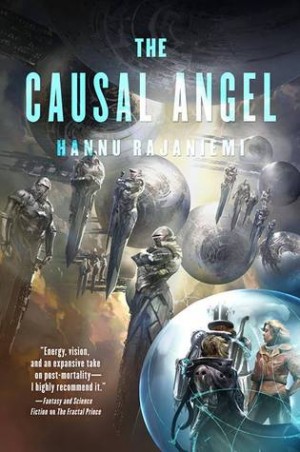 With his infectious love of storytelling in all its forms, his rich characterization and his unrivaled grasp of thrillingly bizarre cutting-edge science, Hannu Rajaniemi swiftly set a new benchmark for Science Fiction in the 21st century. Now, with his third novel, he completes the tale of the many lives, and minds, of gentleman rogue Jean de Flambeur.

Influenced as much by the fin de siècle novels of Maurice leBlanc as he is by the greats of SF, Rajaniemi weaves intricate, warm capers through dazzling science, extraordinary visions of a wild future,and deep conjectures on the nature of reality and story.

In The Causal Angel we will discover the ultimate fates of Jean, his employer Miele, the independently minded ship Perhonnen, and the rest of a fractured and diverse humanity flung throughout the solar system.

There's also this contemporary LGBT YA novel: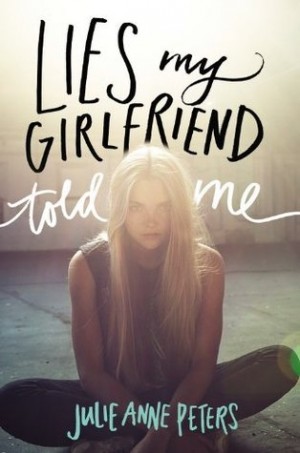 When Alix's charismatic girlfriend, Swanee, dies from sudden cardiac arrest, Alix is overcome with despair. As she searches Swanee's room for mementos of their relationship, she finds Swanee's cell phone, pinging with dozens of texts sent from a mysterious contact, L.T. The most recent text reads: "Please tell me what I did. Please, Swan. Te amo. I love you."

Shocked and betrayed, Alix learns that Swanee has been leading a double life–secretly dating a girl named Liana the entire time she's been with Alix. Alix texts Liana from Swanee's phone, pretending to be Swanee in order to gather information before finally meeting face-to-face to break the news.

Brought together by Swanee's lies, Alix and Liana become closer than they'd thought possible. But Alix is still hiding the truth from Liana. Alix knows what it feels like to be lied to–but will coming clean to Liana mean losing her, too?

Next up, a book I received in the mail this past week that sounds promising: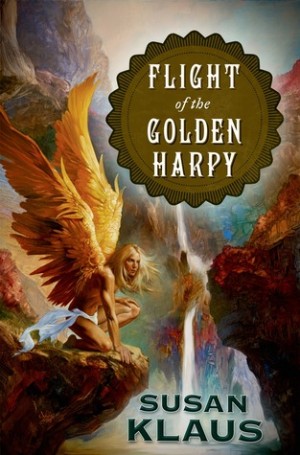 Kari, a young woman, returns to her jungle planet of Dora after ten years in Earth's schools and is determined to unravel the mysteries surrounding the harpies, a feral species half-bird, half-mortal. The residences of Dora believe the harpies are dangerous game animals and hunt them for their trophy wings, but Kari thinks they are intelligent and not just wild animals. A rare golden harpy, a teenage blond male with yellow wings rescued Kari as a child from the jaws of a water monster. Upon returning home, she learns the harpies are facing extinction with the over-hunting and she sets out to save them, all the time wondering if the golden male is still alive.

Flight of the Golden Harpy is a fantasy, but also a mystery, thriller, and a love story that leaves a reader questioning our humanity.

Also received in the mail this week, this next novel is supposed to be a dark fairy story – I'm intrigued.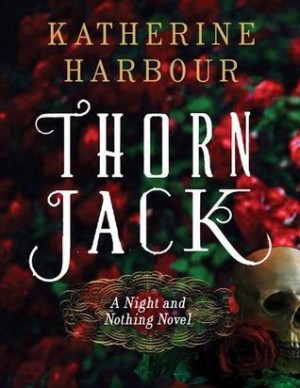 They call us things with teeth. These words from Lily Rose Sullivan the night of her death haunts her seventeen-year-old sister, Finn, who has moved with her widowed father to his hometown of Fair Hollow, New York. After befriending a boy named Christie Hart and his best friend, Sylvie Whitethorn, Finn is invited to a lakeside party where she encounters the alluring Jack Fata, a member of the town's mysterious Fata family. Despite Jack's air of danger and his clever words, Finn learns they have things in common.

One day, while unpacking, Finn finds her sister's journal, scrawled with descriptions of creatures that bear a sinister resemblance to Jack's family. Finn dismisses these stories as fiction, but Jack's family has a secret—the Fatas are the children of nothing and night, nomadic beings who have been preying on humanity for centuries—and Jack fears that his friendship with Finn has drawn the attention of the most dangerous members of his family—Reiko Fata and vicious Caliban, otherwise known as the white snake and the crooked dog.

Plagued with nightmares about her sister, Finn attempts to discover what happened to Lily Rose and begins to suspect that the Fatas are somehow tied to Lily Rose's untimely death. Drawn to Jack, determined to solve the mystery of her sister's suicide, Finn must navigate a dangerous world where nothing is as it seems.

I love this cover (turtle with the world on its back!) and the synopsis sounds utterly awesome. In other words: WANT.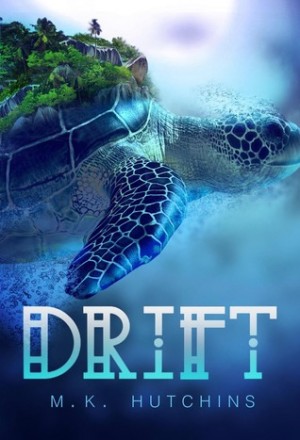 Tenjat lives on the shores of Hell, an ocean filled with ravenous naga monsters. His island, a massive Turtle, is slowed by the people living on its back. Only those poor enough to need children to support themselves in old age condescend to the shame of marriage. Tenjat is poor as poor gets, but he has a plan.

In the center of the island rises a giant Tree, where the Handlers—those who defend and rule the island—live. Against his sister's wishes, Tenjat joins the Handlers. He couldn't have picked a more dangerous time. The Turtle is nearing a coral reef where it desperately needs to feed, but the naga will swarm just before they reach it. Even novices like Tenjat are needed for the battle.

Can Tenjat discover his sister's secrets in time? Will the possibility of love derail all his plans for a richer, marriage-free life? Long-held secrets will at last be revealed in this breathtaking debut from M. K. Hutchins.

And that's it from us! What books do you have on your radar?