"On The Smugglers' Radar" is a new feature for books that have caught our eye: books we heard of via other bloggers, directly from publishers, and/or from our regular incursions into the Amazon jungle. This is how the Smugglers' Radar was born, and because there are far too many books that we want than we can possibly buy or review (what else is new?) we thought we could make it into a weekly feature – so YOU can tell us which books you have on your radar as well!
On Ana's Radar:
And now for something different: I don't usually read non-fiction but I came across two books this week that sound REALLY interesting. First, thanks to Things Mean a Lot I learnt about this collection of essays by Ursula Le Guin and I just went ahead and bought it: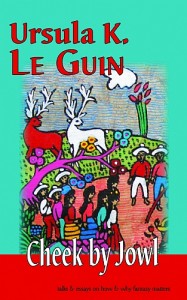 Aqueduct Press is pleased to announce the release of Cheek by Jowl, a collection of talks and essays on how and why fantasy matters, by Ursula K. Le Guin. In these essays, Le Guin argues passionately that the homogenization of our world makes the work of fantasy essential for helping us break through what she calls "the reality trap." Le Guin writes not only of the pleasures of her own childhood reading, but also about what fantasy means for all of us living in the global twenty-first century.

Then, over at The Rejectionist, a review of Robert Darnton's The Case for Books. Back at Uni, Darnton was one of my favorite writers and I adored his book. So, this one is definitely a MUST have:
The invention of writing was one of the most important technological, cultural, and sociological breakthroughs in human history. With the printed book, information and ideas could disseminate more widely and effectively than ever before—and in some cases, affect and redirect the sway of history. Today, nearly one million books are published each year. But is the era of the book as we know it—a codex of bound pages—coming to an end? And if it is, should we celebrate its demise and the creation of a democratic digital future, or mourn an irreplaceable loss? The digital age is revolutionizing the information landscape. Already, more books have been scanned and digitized than were housed in the great library in Alexandria, making available millions of texts for a curious reader at the click of a button, and electronic book sales are growing exponentially. Will this revolution in the delivery of information and entertainment make for more transparent and far-reaching dissemination or create a monopolistic stranglehold?

In The Case for Books, Robert Darnton, an intellectual pioneer in the field of the history of the book and director of Harvard University's Library, offers an in-depth examination of the book from its earliest beginnings to its shifting role today in popular culture, commerce, and the academy. As an author, editorial advisor, and publishing entrepreneur, Darnton is a unique authority on the life and role of the book in society. This book is a wise work of scholarship—one that requires readers to carefully consider how the digital revolution will broadly affect the marketplace of ideas.

Leaving the non-fiction section, moving towards my turf: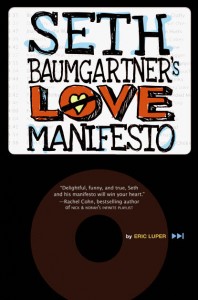 Seth Baumgartner just had the worst day of his life: His girlfriend dumped him (at Applebee's), he spied his father on a date with a woman who is not his mother (also at Applebee's!), and he lost his fourth job of the year. It's like every relationship he cares about is imploding, and he can't figure out what's going on.

To find answers, Seth decides to start an anonymous podcast called The Love Manifesto, exploring "what love is, why love is, and why we're stupid enough to keep going back for more." Things start looking up when Seth gets a job at a golf club with his hilarious and smut-minded best friend, Dimitri, and Dimitri's sister, Audrey. With their help, Seth tracks down his father's mystery date, hits the most infamous bogey in the history of golf, and discovers that sometimes love means eating the worst chicken-salad sandwich you can ever imagine.
Thanks to The Crooked Shelf for this one.

I saw the next ones during my recent visits to Goodreads: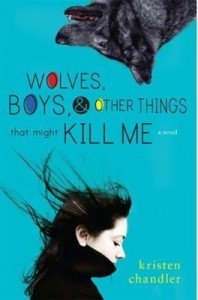 When KJ Carson is assigned to write a column for her school newspaper about the wolves in nearby Yellowstone National Park, she's more interested in impressing Virgil Whitman, the new kid in school and the photographer assigned as her partner, than in investigative journalism. But before long, KJ has a face-to-face encounter with a wolf that changes her and the way she thinks about wolves. With her new found passion for protecting these controversial animals, KJ inadvertently ignites the fuse of the anti-wolf sentiment in the community. First Virgil is injured during a town parade, and then her father's store is set on fire in retribution. To stop the escalating violence, KJ follows Virgil to the cattle ranch of the most outspoken anti-wolf activists in town, against her father's will. What she discovers there threatens everything and everyone she cares about.

In KJ's fierce and funny attempt to make peace between the wolves and the people that despise them, she must first face her own long-held fears. It's terrifying, but then, finding yourself always is.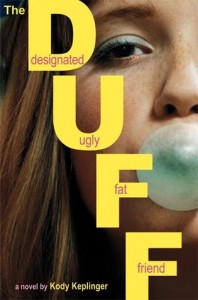 Seventeen-year-old Bianca Piper is cynical and loyal, and she doesn't think she's the prettiest of her friends by a long shot. She's also way too smart to fall for the charms of man-slut and slimy school hottie Wesley Rush. In fact, Bianca hates him. And when he nicknames her "Duffy," she throws her Coke in his face.

But things aren't so great at home right now. Desperate for a distraction, Bianca ends up kissing Wesley. And likes it. Eager for escape, she throws herself into a closeted enemies-with-benefits relationship with Wesley.

Until it all goes horribly awry. It turns out that Wesley isn't such a bad listener, and his life is pretty screwed up, too. Suddenly Bianca realizes with absolute horror that she's falling for the guy she thought she hated more than anyone.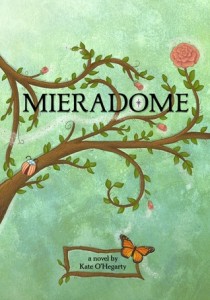 Mieradome, revolves around a young girl named Amavia, who believes she is a human girl, but slowly comes to find she is a faery in the world of Mieradome. Amavia's mother, Anastasica, had taken her out of the faery realm and hidden her away here in our human realm, so that she may be protected from her parents' past mistakes. But that was not enough, the forces that be found Amavia, and brought her back into the cosmos of the Grandmother Tree. There she meets other faeries, goblins, Telkar dragons, and Utopisols. Slowly who Amavia really was began to unravel to show the truth. The truth, that she just may be the evil they need to destroy. This is where the story begins.

and finally, a book I am really looking forward to since I read Intertwined last year.
For once, sixteen-year-old Aden Stone has everything he's ever wanted:

A home.

Friends.

The girl of his dreams.

Too bad he's going to die…Since coming to Crossroads, Oklahoma, former outcast Aden Stone has been living the good life. Never mind that one of his best friends is a werewolf, his girlfriend is a vampire princess who hungers for his blood, and he's supposed to be crowned Vampire King – while still a human! Well, kind of.

With four – oops, three now — human souls living inside his head, Aden has always been "different" himself. These souls can time travel, raise the dead, possess another's mind, and, his least favorite these days, tell the future.

The forecast for Aden? A knife through the heart.

Because a war is brewing between the creatures of the dark, and Aden is somehow at the center of it all. But he isn't about to lie down and accept his destiny without a fight. Not when his new friends have his back, not when Victoria has risked her own future to be with him, and not when he has a reason to live for the first time in his life…

On Thea's Radar:
*rubs hands together* As you may know, Ana and I get a bit…obsessive when it comes to planning. Case in point, our trip to Book Expo America (in a week! AIIEEEE!). We have mapped out the floorplan of the expo, highlighted and cross-referenced which author signings and booths we MUST go to, and have a working itinerary. And wouldn't you know it, in the process of this feat of organization, I found a TON of new titles I had not yet heard of, but desperately want…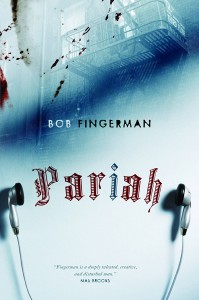 A zombie plague has devoured every nation on the planet, and the world in chaos. The residents of one New York apartment building have bonded to keep themselves safe from the onslaught, but forced to remain in the safety of the building, the tenants find themselves at each others' throats. When they spy a lone teenage girl who walks among the hordes, unmolested by the dead, their world opens up.

I read the title and was SOLD: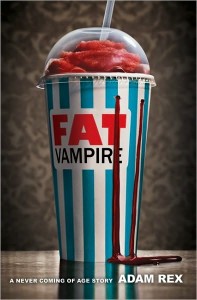 Doug Lee is undead quite by accident—attacked by a desperate vampire, he finds himself cursed with being fat and fifteen forever. When he has no luck finding some goth chick with a vampire fetish, he resorts to sucking the blood of cows under cover of the night. But it's just not the same.

Then he meets the new Indian exchange student and falls for her—hard. Yeah, he wants to bite her, but he also wants to prove himself to her. But like the laws of life, love, and high school, the laws of vampire existence are complicated—it's not as easy as studying Dracula. Especially when the star of Vampire Hunters is hot on your trail in an attempt to boost ratings.…

Leave it to Adam Rex to create a thought-provoking novel that takes on teen angst, sexuality, identity, love, and undeath in ways that break it out of the genre.

Another YA zombie apocalypse novel (of course):
They'll chase you.
They'll rip you open.
They'll feed on you . . .

When the sickness came, every parent, policeman, politician – every adult fell ill. The lucky ones died. The others are crazed, confused and hungry.

Only children under fourteen remain, and they're fighting to survive.

Now there are rumours of a safe place to hide. And so a gang of children begin their quest across London, where all through the city – down alleyways, in deserted houses, underground – the grown-ups lie in wait.

But can they make it there – alive?

This one is a bit different, but I think the premise sounds brilliant. And I really love the cover too – subtle, and effective.
It's Jack's birthday, and he's excited about turning five. Jack lives with his Ma in Room, which has a locked door and a skylight, and measures 11 feet by 11 feet. He loves watching TV, and the cartoon characters he calls friends, but he knows that nothing he sees on screen is truly real – only him, Ma and the things in Room. Until the day Ma admits that there's a world outside …Told in Jack's voice, "Room" is the story of a mother and son whose love lets them survive the impossible. Unsentimental and sometimes funny, devastating yet uplifting, "Room" is a novel like no other.

Another BEA author with a new series: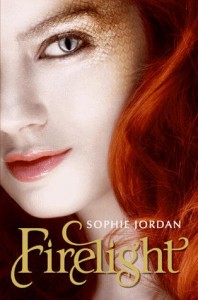 With her rare ability to breathe fire, Jacinda is special even among the draki—the descendants of dragons who can shift between human and dragon forms. But when Jacinda's rebelliousness leads her family to flee into the human world, she struggles to adapt, even as her draki spirit fades. The one thing that revives it is Will, whose family hunts her kind. Jacinda can't resist getting closer to him, even though she knows she's risking not only her life but the draki's most closely guarded secret.

This new title, from Tor, sounds fantastic too – I'll be in line for my copy!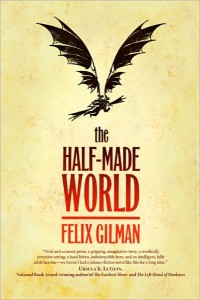 The world is only half made. What exists has been carved out amidst a war between two rival factions: the Line, paving the world with industry and claiming its residents as slaves; and the Gun, a cult of terror and violence that cripples the population with fear. The only hope at stopping them has seemingly disappeared—the Red Republic that once battled the Gun and the Line, and almost won. Now they're just a myth, a bedtime story parents tell their children, of hope.

To the west lies a vast, uncharted world, inhabited only by the legends of the immortal and powerful Hill People, who live at one with the earth and its elements. Liv Alverhyusen, a doctor of the new science of psychology, travels to the edge of the made world to a spiritually protected mental institution in order to study the minds of those broken by the Gun and the Line. In its rooms lies an old general of the Red Republic, a man whose shattered mind just may hold the secret to stopping the Gun and the Line. And either side will do anything to understand how.

I loved Tim Akers' Heart of Veridon, so when I saw that he has a new book, I was a goner.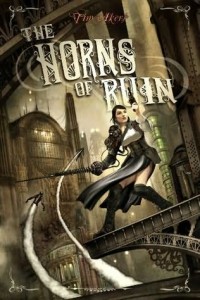 Eva Forge is the last paladin of a dead God. Morgan, God of battle and champion of the Fraterdom, was assassinated by his jealous brother, Amon. Over time, the Cult of Morgan has been surpassed by other gods, his blessings ignored in favor of brighter technologies and more mechanical miracles. Eva was the last child dedicated to the Cult of Morgan, forsaken by her parents and forgotten by her family. Now she watches as her new family, her Cult, crumbles all around her.

When a series of kidnappings and murders makes it clear that someone is trying to hasten the death of the Cult of Morgan, Eva must seek out unexpected allies and unwelcome answers in the city of Ash. But will she be able to save the city from a growing conspiracy, one that reaches back to her childhood, even back to the murder of her god?

And that's it from us! What books do you have on your radar?