"On The Smugglers' Radar" is a feature for books that have caught our eye: books we have heard of via other bloggers, directly from publishers, and/or from our regular incursions into the Amazon jungle. Thus, the Smugglers' Radar was born. Because we want far more books than we can possibly buy or review (what else is new?), we thought we would make the Smugglers' Radar into a weekly feature – so YOU can tell us which books you have on your radar as well!
On Ana's Radar:
I've got a copy of the upcoming Gene Wolfe novel this week and with every line of the cover copy I went: Oh. OH. OOOOOH.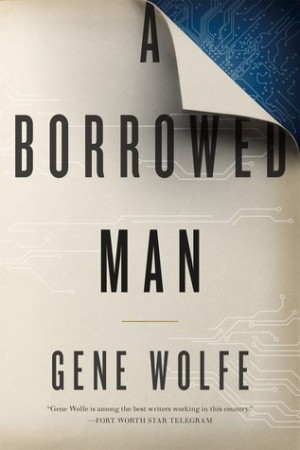 A new SF novel, a first person narrative in the mode of the detective story, from the celebrated author of the Book of the New Sun series.

It is perhaps a hundred years in the future, our civilization is gone, and another is in place in North America, but it retains many familiar things and structures. Although the population is now small, there is advanced technology, there are robots, and there are clones.

E. A. Smithe is a borrowed person. He is a clone who lives on a third-tier shelf in a public library, and his personality is an uploaded recording of a deceased mystery writer. Smithe is a piece of property, not a legal human.

A wealthy patron, Colette Coldbrook, takes him from the library because he is the surviving personality of the author of Murder on Mars. A physical copy of that book was in the possession of her murdered father, and it contains an important secret, the key to immense family wealth. It is lost, and Colette is afraid of the police. She borrows Smithe to help her find the book and to find out what the secret is. And then the plot gets complicated.

I've heard about Steeplejack (Alternative Detective #1) by A.J. Hartley on Twitter this and added it to my wishlist immediately: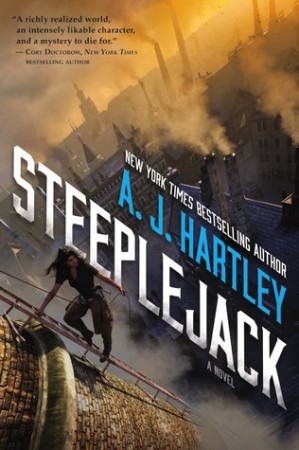 Thoughtfully imaginative and action-packed, Steeplejack is New York Times bestselling A. J. Hartley's YA debut set in a 19th-century South African fantasy world

Seventeen-year-old Anglet Sutonga, Ang for short, repairs the chimneys, towers, and spires of Bar-Selehm, the ethnically-diverse industrial capital of a land resembling Victorian South Africa. The city was built on the trade of luxorite, a priceless glowing mineral. When the Beacon, a historical icon made of luxorite, is stolen, it makes the headlines. But no one cares about the murder of Ang's new apprentice, Berrit—except for Josiah Willinghouse, an enigmatic young politician, who offers Ang a job investigating Berrit's death. On top of this, Ang struggles with the responsibility of caring for her sister's newborn child.

As political secrets unfold and racial tensions surrounding the Beacon's theft rise, Ang navigates the constricting traditions of her people, the murderous intentions of her former boss, and the conflicting impulses of a fledgling romance. With no one to help her except a savvy newspaper girl and a kindhearted herder from the savannah, Ang must resolve the mysterious link between Berrit and the missing Beacon before the city is plunged into chaos.

A new Raksura novel from Martha Wells!!!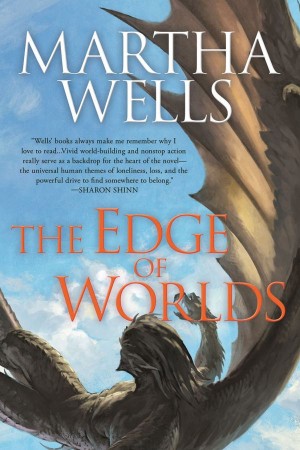 An expedition of groundlings from the Empire of Kish have traveled through the Three Worlds to the Indigo Cloud court of the Raksura, shape-shifting creatures of flight that live in large family groups. The groundlings have found a sealed ancient city at the edge of the shallow seas, near the deeps of the impassable Ocean. They believe it to be the last home of their ancestors and ask for help getting inside. But the Raksura fear it was built by their own distant ancestors, the Forerunners, and the last sealed Forerunner city they encountered was a prison for an unstoppable evil.

Prior to the groundlings' arrival, the Indigo Cloud court had been plagued by visions of a disaster that could destroy all the courts in the Reaches. Now, the court's mentors believe the ancient city is connected to the foretold danger. A small group of warriors, including consort Moon, an orphan new to the colony and the Raksura's idea of family, and sister queen Jade, agree to go with the groundling expedition to investigate. But the predatory Fell have found the city too, and in the race to keep the danger contained, the Raksura may be the ones who inadvertently release it.

The Edge of Worlds, from celebrated fantasy author Martha Wells, returns to the fascinating world of The Cloud Roads for the first book in a new series of strange lands, uncanny beings, dead cities, and ancient danger.

Another book by another SFF giant: a new novel by Tim Powers!
In the wake of their Aunt Amity's suicide, Scott and Madeline Madden are summoned to Caveat, the eerie, decaying mansion in the Hollywood hills in which they were raised. But their decadent and reclusive cousins, the malicious wheelchair-bound Claimayne and his sister, Ariel, do not welcome Scott and Madeline's return to the childhood home they once shared. While Scott desperately wants to go back to their shabby South-of-Sunset lives, he cannot pry his sister away from this haunted "House of Usher in the Hollywood Hills" that is a conduit for the supernatural.

Decorated by bits salvaged from old hotels and movie sets, Caveat hides a dark family secret that stretches back to the golden days of Rudolph Valentino and the silent film stars. A collection of hypnotic eight-limbed abstract images inked on paper allows the Maddens to briefly fragment and flatten time—to transport themselves into the past and future in visions that are both puzzling and terrifying. Though their cousins know little about these ancient "spiders" which provoke unpredictable temporal dislocations, Ariel and Claimayne have been using for years—an addiction that has brought Claimayne to the brink of selfish destruction.

As Madeline falls more completely under Caveat's spell, Scott discovers that to protect her, he must use the perilous spiders himself. But will he unravel the mystery of the Madden family's past and finally free them. . . or be pulled deeper into their deadly web?

Confession: I have not yet read a Rainbow Rowell novel. I KNOW, I KNOW. But as I write these words, I just literally bought her new novel, Carry On and hope to read it soon. WE SHALL SEE.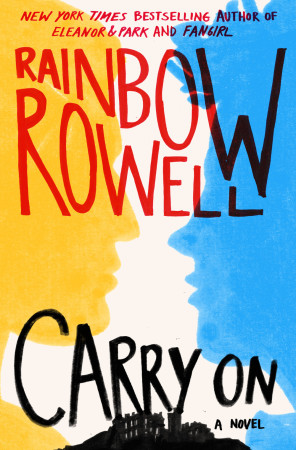 Simon Snow is the worst Chosen One who's ever been chosen.

That's what his roommate, Baz, says. And Baz might be evil and a vampire and a complete git, but he's probably right.

Half the time, Simon can't even make his wand work, and the other half, he sets something on fire. His mentor's avoiding him, his girlfriend broke up with him, and there's a magic-eating monster running around wearing Simon's face. Baz would be having a field day with all this, if he were here—it's their last year at the Watford School of Magicks, and Simon's infuriating nemesis didn't even bother to show up.

Carry On is a ghost story, a love story, and a mystery. It has just as much kissing and talking as you'd expect from a Rainbow Rowell story — but far, far more monsters.

On Thea's Radar:
First up on my radar, since I just watched The Martian (and had previously read and loved the book as one of my favorites of 2014), I'm really digging the SFF vibe–especially the previously published version. So it's no surprise that when this crossed my recommended list, I scooped it up:
In the near future, the effects of a catastrophic solar flare have left the earth almost entirely submerged, with only the tops of the very tallest mountains remaining above water.

Moored to one of these peaks is a flotilla of ships and boats containing all of the planet's known survivors. One hundred and twenty-five souls remain, but not for long—a mysterious infection is turning the air they breathe and the water they drink into deadly hazards.

Twelve volunteers have been sent out to look for help—or even any signs of life—and none have returned. It now falls to Eva, a former cop, and Jim, the flotilla's elected leader, to keep the fragile peace among the inhabitants. Humanity is depending on them for its survival—together, can they find the answers in time?

Revised edition: This edition of Salt includes editorial revisions.

I've had The Girl Who Could Fly on my radar and TBR forever, and now I learn there's a sequel!? Gaah. Must read. Soon.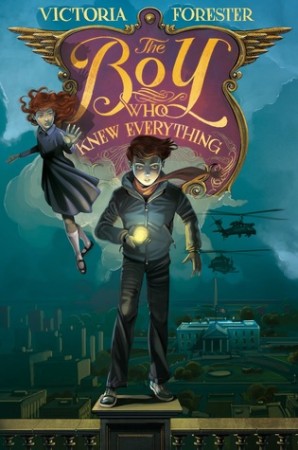 Conrad Harrington III doesn't want to be a super genius; he just wants to live a normal life. But with Conrad's father the newly-elected President of the United States, he knows being normal isn't really an option. When suspicious disasters suddenly start happening all over the globe, his best friend Piper McCloud knows the world needs Conrad's gifts–and that all of the exceptional children need him to lead them in order to put a stop to it.

Can they work together to save themselves. . . . and the world?

Find out in this action-packed sequel to The Girl Who Could Fly.

Ok, another The Martian comp–promise it's the last one: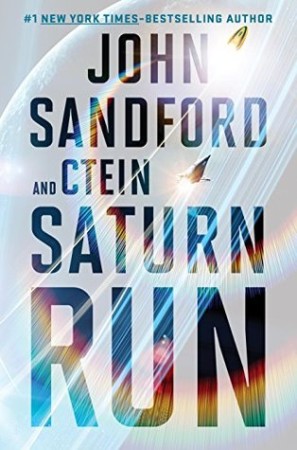 "Fans of Lucas Davenport and Virgil Flowers will eat this up." –Stephen King

For fans of THE MARTIAN, an extraordinary new thriller of the future from #1 New York Times–bestselling and Pulitzer Prize–winning author John Sandford and internationally known photo-artist and science fiction aficionado Ctein.

Over the course of thirty-seven books, John Sandford has proven time and again his unmatchable talents for electrifying plots, rich characters, sly wit, and razor-sharp dialogue. Now, in collaboration with Ctein, he proves it all once more, in a stunning new thriller, a story as audacious as it is deeply satisfying.

The year is 2066. A Caltech intern inadvertently notices an anomaly from a space telescope—something is approaching Saturn, and decelerating. Space objects don't decelerate. Spaceships do.

A flurry of top-level government meetings produces the inescapable conclusion: Whatever built that ship is at least one hundred years ahead in hard and soft technology, and whoever can get their hands on it exclusively and bring it back will have an advantage so large, no other nation can compete. A conclusion the Chinese definitely agree with when they find out.

The race is on, and an remarkable adventure begins—an epic tale of courage, treachery, resourcefulness, secrets, surprises, and astonishing human and technological discovery, as the members of a hastily thrown-together crew find their strength and wits tested against adversaries both of this earth and beyond. What happens is nothing like you expect—and everything you could want from one of the world's greatest masters of suspense.

As it's nearly Halloween, I'm also getting in the full swing of horror books and films–and this jumped out at me in my local bookstore. Talk about creepy.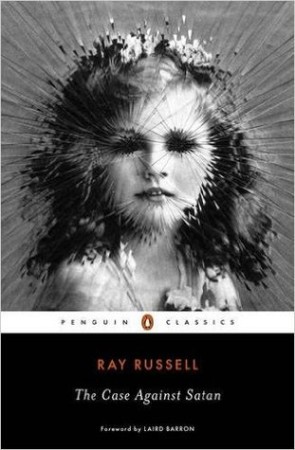 Before The Exorcist and Rosemary's Baby, there was The Case Against Satan

By the twentieth century, the exorcism had all but vanished, wiped out by modern science and psychology. But Ray Russell—praised by Stephen King and Guillermo del Toro as a sophisticated practitioner of Gothic fiction—resurrected the ritual with his classic 1962 horror novel, The Case Against Satan, giving new rise to the exorcism on page, screen, and even in real life.

Teenager Susan Garth was "a clean-talking sweet little girl" of high school age before she started having "fits"—a sudden aversion to churches and a newfound fondness for vulgarity. Then one night, she strips in front of the parish priest and sinks her nails into his throat. If not madness, then the answer must be demonic possession. To vanquish the Devil, Bishop Crimmings recruits Father Gregory Sargent, a younger priest with a taste for modern ideas and brandy. As the two men fight not just the darkness tormenting Susan but also one another, a soul-chilling revelation lurks in the shadows—one that knows that the darkest evil goes by many names.

For more than sixty-five years, Penguin has been the leading publisher of classic literature in the English-speaking world. With more than 1,500 titles, Penguin Classics represents a global bookshelf of the best works throughout history and across genres and disciplines. Readers trust the series to provide authoritative texts enhanced by introductions and notes by distinguished scholars and contemporary authors, as well as up-to-date translations by award-winning translators.

I've had mixed experiences with this next series–the first book I loved, the second book I DNF'd. But… I think I'll give this last book a try.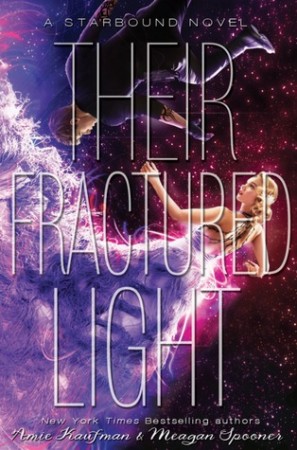 A year ago, Flynn Cormac and Jubilee Chase made the now-infamous Avon Broadcast, calling on the galaxy to witness LaRoux Industries' corruption. A year before that, Tarver Merendsen and Lilac LaRoux were the only survivors of the Icarus shipwreck, forced to live a double life after their rescue.

Now, at the center of the galaxy on Corinth, all four are about to collide with two new players in the fight against LRI.

Gideon Marchant is an underworld hacker known as the Knave of Hearts, ready to climb and abseil his way past the best security measures on the planet to expose LRI's atrocities. Sofia Quinn, charming con artist, can work her way into any stronghold without missing a beat. When a foiled attempt to infiltrate LRI Headquarters forces them into a fragile alliance, it's impossible to know who's playing whom–and whether they can ever learn to trust each other.

With their lives, loves, and loyalties at stake, only by joining forces with the Icarus survivors and Avon's protectors do they stand a chance of taking down the most powerful corporation in the galaxy—before LRI's secrets destroy them all.

The New York Times best-selling Starbound trilogy comes to a close with this dazzling final installment about the power of courage and hope in humanity's darkest hour.

Last but not least–more Star Wars. I love what Disney is doing by releasing a ton of new canon books leading up to The Force Awakens–including this upper middle grade novel about Princess Leia from Cecil freakin' Castellucci.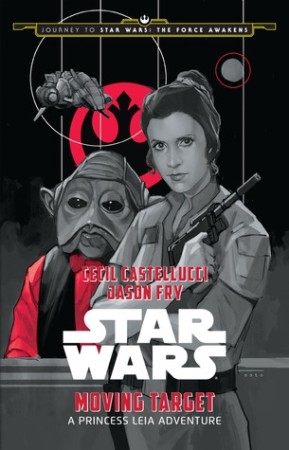 Princess Leia returns for an all-new adventure in this thrilling upper middle grade novel. Set between Star Wars: The Empire Strikes Back and Star Wars: The Return of the Jedi, the story follows the warrior princess as she leads a ragtag group of rebels on a dangerous mission against the evil Galactic Empire.

Hidden in the story are also hints and clues about the upcoming film Star Wars: The Force Awakens, making this a must-read for fans old and new!

And that's it from us! What books do you have on YOUR radar?