"On The Smugglers' Radar" is a feature for books that have caught our eye: books we have heard of via other bloggers, directly from publishers, and/or from our regular incursions into the Amazon jungle. Thus, the Smugglers' Radar was born. Because we want far more books than we can possibly buy or review (what else is new?), we thought we would make the Smugglers' Radar into a weekly feature – so YOU can tell us which books you have on your radar as well!
On Ana's Radar:
First up is Andrea K Höst's upcoming novel. I keep meaning to read more from her (as I enjoyed Champion of the Rose) and this one sounds great.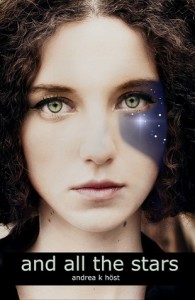 Madeleine Cost is working to become the youngest person ever to win the Archibald Prize for portraiture. Her elusive cousin Tyler is the perfect subject: androgynous, beautiful, and famous. All she needs to do is pin him down for the sittings.

None of her plans factored in the Spires: featureless, impossible, spearing into the hearts of cities across the world – and spraying clouds of sparkling dust into the wind.

Is it an alien invasion? Germ warfare? They are questions everyone on Earth would like answered, but Madeleine has a more immediate problem. At Ground Zero of the Sydney Spire, beneath the collapsed ruin of St James Station, she must make it to the surface before she can hope to find out if the world is ending.

Speaking of Andrea K Höst, she guest posted at The Readventurer last week, talking about Classic Mysteries and thanks to her, I ended up with a few new books – and I can't wait to read them: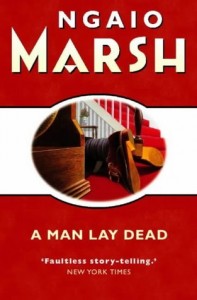 It's All Fun and Games Until Someone Gets Murdered.
At Sir Hubert Handesley's country house party, five guests have gathered for the uproarious parlor game of "Murder." Yet no one is laughing when the lights come up on an actual corpse, the good-looking and mysterious Charles Rankin. Scotland Yard's Inspector Roderick Alleyn arrives to find a complete collection of alibis, a missing butler, and an intricate puzzle of betrayal and sedition in the search for the key player in this deadly game.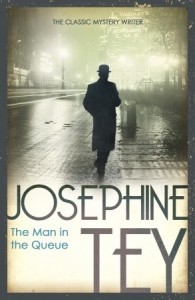 A classic mystery from the Golden Age of detection fiction.

Outside a London theatre a throng of people wait expectantly for the last performance of a popular musical. But as the doors open at last, something spoils all thought of entertainment: a man in the queue is found murdered by the deadly thrust of a stiletto.

And speaking of Mysteries (that might be Ana's New Thing), here is a brand-new one: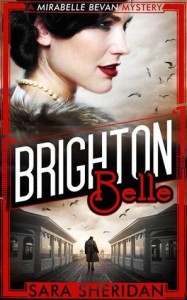 1951. Brighton. With the excitement of the war over and the Nazis brought to justice at Nuremberg, Mirabelle Bevan (retired Secret Service) thinks her skills are no longer required. After the death of her lover she moves to the seaside to put the past behind her and takes a job as a secretary at a debt collection agency run by the charismatic Big Ben McGuigan. But when confronted by the case of Romana Laszlo, a pregnant Hungarian refugee, Mirabelle discovers that her specialist knowledge is vital. With enthusiastic assistance from the pretty insurance clerk down the corridor, Vesta Churchill, Mirabelle follows a mysterious trail of gold sovereigns, betting scams and corpses to a dark corner of Austerity Britain where the forces of evil remain alive and well.

This next book came highly recommended to us by one of our readers: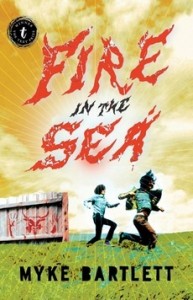 Sadie is sixteen and bored with life in Perth. It's summer, and lazing on the beach in the stifling heat with her cousins and Tom is a drag. Then something comes out of the sea.

Dark menacing forms attack an old man, leaving him for dead and Sadie wracking her brains to understand what she saw. Then there's a mysterious inheritance, a strange young man called Jake and a horned beast trampling the back yard.

Sadie finds herself caught in the middle of an ancient conflict that is nearing its final battle, a showdown that threatens to engulf Perth and all those she loves in a furious tsunami.

Fire in the Sea is a fast-paced thrilling adventure with a feisty heroine who is not afraid to fight for what she knows is right.

On Thea's Radar:
First up is another title from new imprint Strange Chemistry that sounds pretty fantastic. The cover was just revealed this week, too: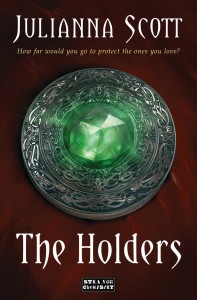 17-year-old Becca spent her whole life protecting her brother from, well, everything. The abandonment of their father, the so called 'experts' who insist that voices in his head are unnatural and must be dealt with, and the constant threat of being taken away to some hospital and studied like an animal. When two representatives appear claiming to have the answers to Ryland's perceived problem, Becca doesn't buy it for one second. That is until they seem to know things about Ryland and about Becca and Ryland's family, that forces Becca to concede that there may be more to these people than meets the eye. Though still highly skeptical, Becca agrees to do what's best for Ryland.

What they find at St. Brigid's is a world beyond their imagination. Little by little they piece together the information of their family's heritage, their estranged Father, and the legend of the Holder race that decrees Ryland is the one they've been waiting for. However, they are all–especially Becca–in for a surprise that will change what they thought they knew about themselves and their kind.

She meets Alex, a Holder who is fiercely loyal to their race, and for some reason, Becca and Ryland. There's an attraction between Becca and Alex that can't be denied, but her true nature seems destined to keep them apart. However, certain destinies may not be as clear cut as everyone has always believed them to be.

Becca is lost, but found at the same time. Can she bring herself to leave Ryland now that he's settled and can clearly see his future? Will she be able to put the the feelings she has for Alex aside and head back to the US? And can Becca and Ryland ever forgive their father for what he's done?

Next, check out this upcoming MG release – I love the cover art and the sound of a plain, reckless, too-clever princess. WANT NOW.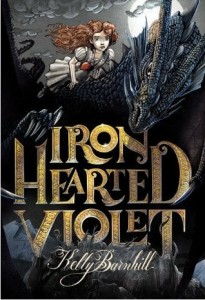 The end of their world begins with a story.
This one.

In most fairy tales, princesses are beautiful, dragons are terrifying, and stories are harmless. This isn't most fairy tales.

Princess Violet is plain, reckless, and quite possibly too clever for her own good. Particularly when it comes to telling stories. One day she and her best friend, Demetrius, stumble upon a hidden room and find a peculiar book. A forbidden book. It tells a story of an evil being — called the Nybbas — imprisoned in their world. The story cannot be true — not really. But then the whispers start. Violet and Demetrius, along with an ancient, scarred dragon, may hold the key to the Nybbas's triumph . . . or its demise. It all depends on how they tell the story. After all, stories make their own rules.

Iron Hearted Violet is a story of a princess unlike any other. It is a story of the last dragon in existence, deathly afraid of its own reflection. Above all, it is a story about the power of stories, our belief in them, and how one enchanted tale changed the course of an entire kingdom.

After reading and appreciating Ruta Sepetys' novel Between Shades of Gray, I am eager to try her new forthcoming book, set in 1950s New Orleans. Great cover, too.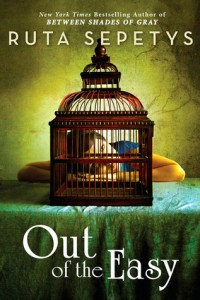 It's 1950, and as the French Quarter of New Orleans simmers with secrets, seventeen-year-old Josie Moraine is silently stirring a pot of her own. Known among locals as the daughter of a brothel prostitute, Josie wants more out of life than the Big Easy has to offer. She devises a plan get out, but a mysterious death in the Quarter leaves Josie tangled in an investigation that will challenge her allegiance to her mother, her conscience, and Willie Woodley, the brusque madam on Conti Street.

Josie is caught between the dream of an elite college and a clandestine underworld. New Orleans lures her in her quest for truth, dangling temptation at every turn, and escalating to the ultimate test.

With characters as captivating as those in her internationally bestselling novel Between Shades of Gray, Ruta Sepetys skillfully creates a rich story of secrets, lies, and the haunting reminder that decisions can shape our destiny.

I'm SO excited for Dark Triumph, the second novel in Robin LaFevers' His Fair Assassin series – even though Ana was not a fan, I thoroughly enjoyed Grave Mercy and am very excited for Sybella's story.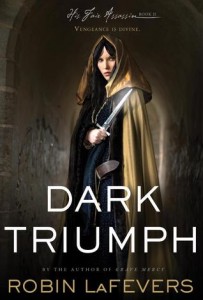 Sybella arrives at the convent's doorstep half mad with grief and despair. Those that serve Death are only too happy to offer her refuge—but at a price. Naturally skilled in both the arts of death and seduction, the convent views Sybella as one of their most dangerous weapons.

But those assassin's skills are little comfort when the convent returns her to a life that nearly drove her mad. Her father's rage and brutality are terrifying, and her brother's love is equally monstrous. And while Sybella is a weapon of justice wrought by the god of Death himself, He must give her a reason to live. When she discovers an unexpected ally imprisoned in the dungeons, will a daughter of Death find something other than vengeance to live for?

This heart-pounding sequel to Grave Mercy serves betrayal, treachery, and danger in equal measure, bringing readers back to fifteenth century Brittany and will keep them on the edge of their seats.

I love the title and cover for this next novel, which promises to be a dark modern fairy tale about a boy and his sick brother.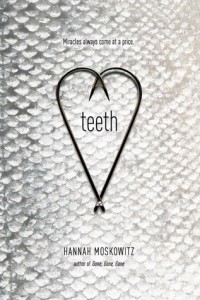 A gritty, romantic modern fairy tale from the author of Break and Gone, Gone, Gone. Be careful what you believe in.

Rudy's life is flipped upside-down when his family moves to a remote island in a last attempt to save his sick younger brother. With nothing to do but worry, Rudy sinks deeper and deeper into loneliness and lies awake at night listening to the screams of the ocean beneath his family's rickety house.

Then he meets Diana, who makes him wonder what he even knows about love, and Teeth, who makes him question what he knows about anything. Rudy can't remember the last time he felt so connected to someone, but being friends with Teeth is more than a little bit complicated. He soon learns that Teeth has terrible secrets. Violent secrets. Secrets that will force Rudy to choose between his own happiness and his brother's life.

Next up a pretty intriguing cover – and teens with telekinetic powers? Yes, please sign me up.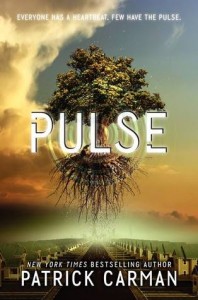 From New York Times bestselling author Patrick Carman, a teen fantasy-adventure of epic proportions. In 2051, some teens have a "pulse," the power to move objects with their minds. Compulsively readable, with thrilling action scenes and a tender love story.

The year is 2051, and the world is still recognizable. With the help of her mysterious classmate Dylan Gilmore, Faith Daniels discovers that she can move objects with her mind. This telekinetic ability is called a "pulse," and Dylan has the talent, too.

In riveting action scenes, Faith demonstrates her ability to use her pulse against a group of telekinesis masters so powerful they will flatten their enemies by uprooting street lights, moving boulders, and changing the course of a hurtling hammer so that it becomes a deadly weapon. But even with great talent, the mind—and the heart—can be difficult to control. If Faith wants to join forces with Dylan and save the world, she'll have to harness the power of both.

Patrick Carman's Pulse trilogy is a stunning, action-filled triumph about the power of the mind—and the power of love.

And finally, this secret society/Victorian novel looks intriguing, despite the ho-hum cover. Trying to ignore the part about the 'handsome stablehand' and choosing to believe this is generic descriptive copy fail, not book fail.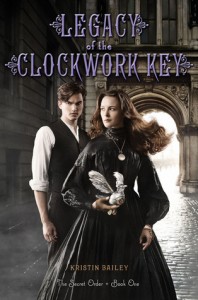 A teen girl unravels the mysteries of a secret society and their most dangerous invention in this adventure-swept romance set in Victorian London.

When a fire consumes Meg's home, killing her parents and destroying both her fortune and her future, all she has left is the tarnished pocket watch she rescued from the ashes. But this is no ordinary timepiece. The clock turns out to be a mechanical key—a key that only Meg can use—that unlocks a series of deadly secrets and intricate clues that Meg is compelled to follow.

Meg has uncovered evidence of an elite secret society and a dangerous invention that some will stop at nothing to protect—and that Meg alone can destroy. Together with the handsome stable hand she barely knows but hopes she can trust, Meg is swept into a hidden world of deception, betrayal, and revenge. The clockwork key has unlocked her destiny in this captivating start to a trilogy.

And that's it from us! What books do you have on YOUR radar?