"On The Smugglers' Radar" is a feature for books that have caught our eye: books we have heard of via other bloggers, directly from publishers, and/or from our regular incursions into the Amazon jungle. Thus, the Smugglers' Radar was born. Because we want far more books than we can possibly buy or review (what else is new?), we thought we would make the Smugglers' Radar into a weekly feature – so YOU can tell us which books you have on your radar as well!
On Ana's Radar:
I saw Penguin books tweeting about this cover and I had to share it with you. I have no idea what this book is about and I am not even sure I WANT to know, because reality can never match the things I've been imagining: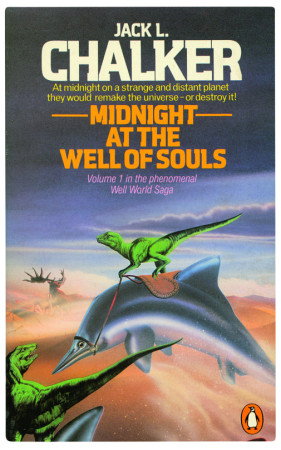 No blurb yet but the cover for sequel to N.K.Jemisin's EXCELLENT The Fifth Season has been unveiled and WHAT CAN THE TITLE MEEEEEAN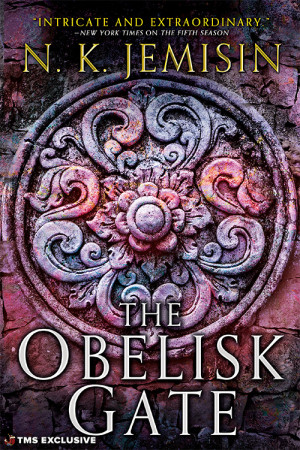 Tade Thompson's novel Making Wolf looks amazing:
A gritty thriller set in modern-day Nigeria

Weston Kogi, a police officer in a supermarket in London, returns to his home in West Africa for his aunt's funeral. After catching up with his family, his ex-girlfriend Nana, and an old schoolmate over good food and plenty of beer, it seems like a bit of harmless hyperbole to tell people he works as a homicide detective. But when he his kidnapped by separate rebel factions to investigate the murder of a local hero, Papa Busi, Weston soon finds out that solving the crime may tip the country into civil war. A noir novel set in the blazing sunlight of the tropics, Making Wolf is an outrageous, frightening, violent, and sometimes surreal homecoming experience of a lifetime.

David Mitchell's new novel Slade House comes out next month. I love the UK cover: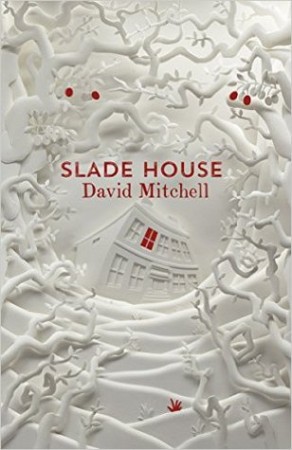 Prepare to be chilled, electrified and entertained – a gem of a novel from 'one of the most brilliantly inventive writers of this, or any country' (Independent).

Walk down narrow, clammy Slade Alley. Open the black iron door in the right-hand wall.

Enter the sunlit garden of an old house that doesn't exactly make sense.

A stranger greets you by name and invites you inside.

At first, you won't want to leave. Too late, you find you can't . . .

A taut, intricately woven, reality-warping tale that begins in 1979 and comes to its turbulent conclusion at the wintry end of October, 2015. Born out of the short story David Mitchell published on Twitter in 2014 and inhabiting the same universe as his latest bestselling novel The Bone Clocks, this is the perfect book to curl up with on a dark and stormy night.

I saw this book, Wonders of the Invisible World by Christopher Barzak – a LGBT novel – on the We Need Diverse Books' tumblr and immediately wish listed it: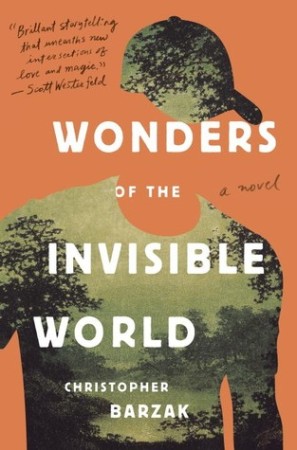 Aidan Lockwood feels like he's been sleepwalking through life, each day as hazy and unremarkable as the one before it. But when his former best friend, Jarrod, suddenly moves back to town, the veil that has clouded Aidan's mind begins to lift. Yet what Aidan discovers is that his world is haunted by stories of the past; stories that he has somehow been prevented from remembering.

But visions from the past come to him unbidden, starting with an old apple tree—a gnarled, dead thing—that haunts Aidan's sleep, and seems to beckon to him from across his family's orchard. And then there are the dreams that show him people and places he's only heard of in family stories: a great-grandfather on the field of battle; his own father, stumbling upon an unspeakable tragedy; and a mysterious young boy whose whispered words may be at the heart of the curse that now holds Aidan's family in its grip.

But there's another presence lurking within this invisible world—someone who has been waiting to collect on a debt set into motion generations ago. As the lines between the past and the present, stories and truths, friends and lovers begin to blur, Aidan will be forced to spin a story of his own to protect those he loves, and keep the invisible world at bay.

On Thea's Radar:
Up on my radar first, the sequel to the imaginative Stolker and Homles books–I really enjoyed The Clockwork Scarab so I ma quite excted for the sequel.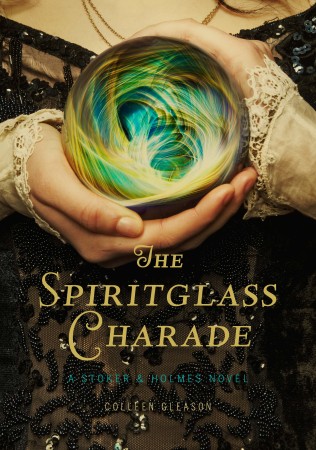 After the Affair of the Clockwork Scarab, Evaline Stoker and Mina Holmes are eager to help Princess Alix with a new case. Willa Ashton is obsessed with spiritual mediums, convinced she is speaking with her mother from beyond the grave. What seems like a case of spiritualist fraud quickly devolves into something far more menacing: someone is trying to make Willa appear lunatic using an innocent-looking spiritglass to control her. It will take all of Mina's wit and Evaline's muscle to keep Willa safe. Highly entertaining, Stoker and Holmes is for the modern-day Victorian reader.

Next up, Lauren Oliver's debut novel for adults… I'm intrigued.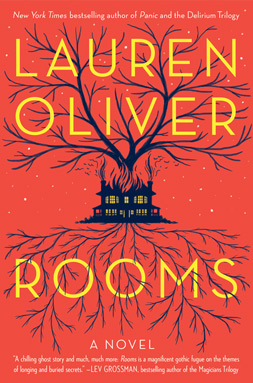 The New York Times bestselling author of Before I Fall and the Delirium trilogy makes her brilliant adult debut with this mesmerizing story in the tradition of The Lovely Bones, Her Fearful Symmetry, and The Ocean at the End of the Lane—a tale of family, ghosts, secrets, and mystery, in which the lives of the living and the dead intersect in shocking, surprising, and moving ways.

Wealthy Richard Walker has just died, leaving behind his country house full of rooms packed with the detritus of a lifetime. His estranged family—bitter ex-wife Caroline, troubled teenage son Trenton, and unforgiving daughter Minna—have arrived for their inheritance.

But the Walkers are not alone. Prim Alice and the cynical Sandra, long dead former residents bound to the house, linger within its claustrophobic walls. Jostling for space, memory, and supremacy, they observe the family, trading barbs and reminiscences about their past lives. Though their voices cannot be heard, Alice and Sandra speak through the house itself—in the hiss of the radiator, a creak in the stairs, the dimming of a light bulb.

The living and dead are each haunted by painful truths that will soon surface with explosive force. When a new ghost appears, and Trenton begins to communicate with her, the spirit and human worlds collide—with cataclysmic results.

Elegantly constructed and brilliantly paced, Rooms is an enticing and imaginative ghost story and a searing family drama that is as haunting as it is resonant.

Next on my list, a supernatural YA title that looks like it could be good (or very, very bad–I'm hoping for good, though).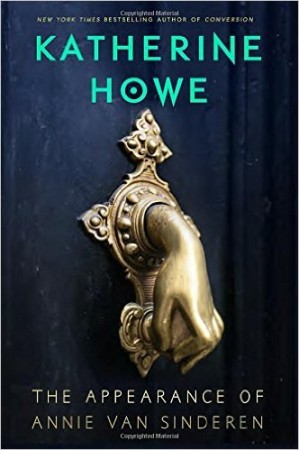 A haunting, contemporary love story from the New York Times bestselling author of Conversion

It's July in New York City, and aspiring filmmaker Wes Auckerman has just arrived to start his summer term at NYU. While shooting a séance at a psychic's in the East Village, he meets a mysterious, intoxicatingly beautiful girl named Annie.

As they start spending time together, Wes finds himself falling for her, drawn to her rose-petal lips and her entrancing glow. There's just something about her that he can't put his finger on, something faraway and otherworldly that compels him to fall even deeper. Annie's from the city, and yet she seems just as out of place as Wes feels. Lost in the chaos of the busy city streets, she's been searching for something—a missing ring. And now Annie is running out of time and needs Wes's help. As they search together, Annie and Wes uncover secrets lurking around every corner, secrets that will reveal the truth of Annie's dark past.

I am pretty sure I've posted about this next book before, but since it's coming out soon and it's the season for it, I'm really excited to try this "Romeo & Juliet" meets "Children of the Corn" (hah!) book: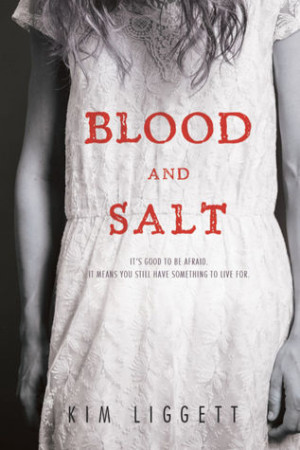 Romeo and Juliet meets Children of the Corn in this one-of-a-kind romantic horror

"When you fall in love, you will carve out your heart and throw it into the deepest ocean. You will be all in—blood and salt."

These are the last words Ash Larkin hears before her mother returns to the spiritual commune she escaped long ago. But when Ash follows her to Quivira, Kansas, something sinister and ancient waits among the rustling cornstalks of this village lost to time.

Ash is plagued by memories of her ancestor, Katia, which harken back to the town's history of unrequited love and murder, alchemy and immortality. Charming traditions soon give way to a string of gruesome deaths, and Ash feels drawn to Dane, a forbidden boy with secrets of his own.

As the community prepares for a ceremony five hundred years in the making, Ash must fight not only to save her mother, but herself—and discover the truth about Quivira before it's too late. Before she's all in—blood and salt.

A new Xeelee book from Stephen Baxter? Yes please: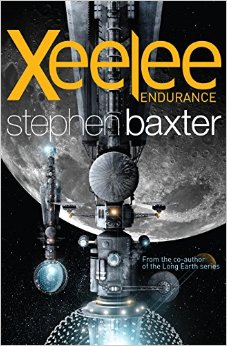 Return to the eon-spanning and universe-crossing conflict between humanity and the unknowable alien Xeelee in this selection of uncollected and unpublished stories, newly edited and placed in chronological reading order. From tales charting the earliest days of man's adventure to the stars to stories of Old Earth, four billion years in the future, the range and startling imagination of Baxter is always on display. As humanity rises and falls, ebbs and flows, one thing is always needed – the ability to endure. Contains eleven short stories and novellas.

Last but certainly not least, the new (and much talked about) Star Wars novel from Chuck Wendig–I want it, really, really, badly.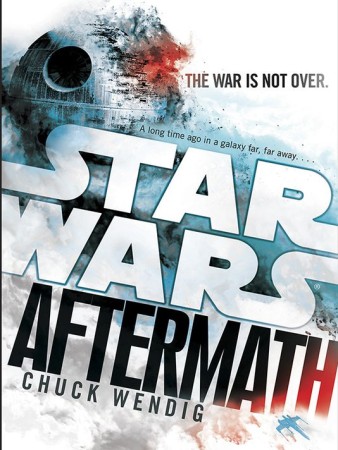 Journey to Star Wars: The Force Awakens

The second Death Star has been destroyed, the Emperor killed, and Darth Vader struck down. Devastating blows against the Empire, and major victories for the Rebel Alliance. But the battle for freedom is far from over.

As the Empire reels from its critical defeats at the Battle of Endor, the Rebel Alliance—now a fledgling New Republic—presses its advantage by hunting down the enemy's scattered forces before they can regroup and retaliate. But above the remote planet Akiva, an ominous show of the enemy's strength is unfolding. Out on a lone reconnaissance mission, pilot Wedge Antilles watches Imperial Star Destroyers gather like birds of prey circling for a kill, but he's taken captive before he can report back to the New Republic leaders.

Meanwhile, on the planet's surface, former rebel fighter Norra Wexley has returned to her native world—war weary, ready to reunite with her estranged son, and eager to build a new life in some distant place. But when Norra intercepts Wedge Antilles's urgent distress call, she realizes her time as a freedom fighter is not yet over. What she doesn't know is just how close the enemy is—or how decisive and dangerous her new mission will be.

Determined to preserve the Empire's power, the surviving Imperial elite are converging on Akiva for a top-secret emergency summit—to consolidate their forces and rally for a counterstrike. But they haven't reckoned on Norra and her newfound allies—her technical-genius son, a Zabrak bounty hunter, and a reprobate Imperial defector—who are prepared to do whatever they must to end the Empire's oppressive reign once and for all.

And that's it from us! What books do you have on your radar?
Handy order links where available: