"On The Smugglers' Radar" is a feature for books that have caught our eye: books we have heard of via other bloggers, directly from publishers, and/or from our regular incursions into the Amazon jungle. Thus, the Smugglers' Radar was born. Because we want far more books than we can possibly buy or review (what else is new?), we thought we would make the Smugglers' Radar into a weekly feature – so YOU can tell us which books you have on your radar as well!
On Ana's Radar:
Ana Hope's debut novel Wake was one of my favourite novels of 2014. Her second book The Ballroom is coming out in 2016: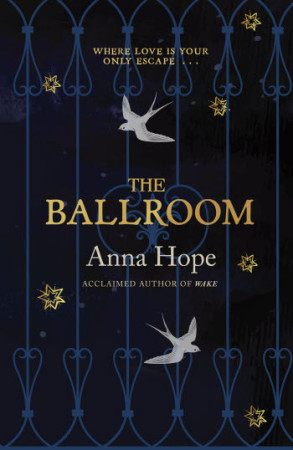 'There's a dance,' the girl says, 'every Friday evening at seven o'clock. The women and the men. They have a band, and a stage – it's through there.' She points with a finger at some locked double doors. 'That's the ballroom. But only if you're good.'
'Have you been there?' says Ella.
She watches as the girl nods, tucking her fair hair behind her ears. The way she looks, all pink and prickly, Ella wonders if she has a sweetheart.
Imagine having a sweetheart in a place like this. Imagine these mad women dancing with mad men.
Just the thought of it makes her sick.

Ella Fay is a new patient in the West Riding Pauper Lunatic Asylum. She knows she is not mad, but she might have to learn to play the game before she can escape.
John Mulligan is a chronic patient, frozen with grief since the death of his wife, but when a young girl runs towards him one morning, his life is about to change. And Charles Fuller is an ambitious young doctor eager to make his mark in the new field of Eugenics.

Set over the heatwave summer of 1911, the end of the Edwardian era, ASYLUM is a tale of unlikely love and dangerous obsession, of madness and sanity, and of who gets to decide which is which.

I've been hearing great things about Paper Girls, the new comic from SAGA writer Brian K Vaughan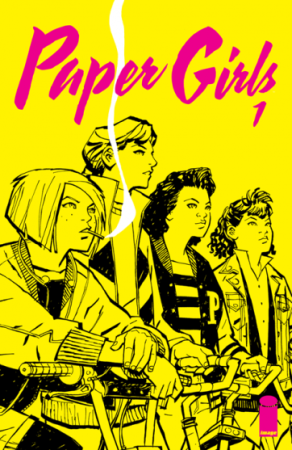 SAGA writer BRIAN K. VAUGHAN launches a brand-new ONGOING SERIES with superstar Wonder Woman artist CLIFF CHIANG! In the early hours after Halloween of 1988, four 12-year-old newspaper delivery girls uncover the most important story of all time. Stand By Me meets War of the Worlds in this mysterious young adult adventure

Would you like a mixed race sweet lesbian romance with TIME TRAVEL SHENANIGANS? YES I THOUGHT YOU WOULD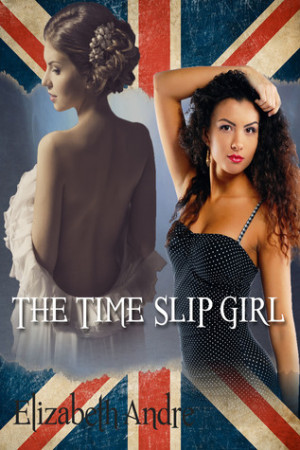 What if the woman you loved was more than a century away? Dara, a computer programmer from Chicago, is visiting London when she opens a door in an Edwardian house and slips into Edwardian England. Agnes, a beautiful London shop girl, takes in the bewildered 21st century American lesbian, but, as Dara begins to accept that she is stuck in 1908, she also begins to accept that she has feelings for Agnes that go beyond gratitude. And the longer Dara stays, the harder Agnes finds it to hide her growing love for the accidental time traveller from the future.

Will they overcome grief and prejudice to acknowledge their true feelings for one another? Or will Dara be snatched back to the 21st century before they can express their love?

Who wants more time travel? WHO DOESN'T WANT MORE TIME TRAVEL?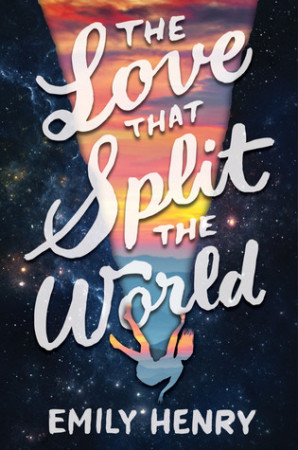 Natalie Cleary must risk her future and leap blindly into a vast unknown for the chance to build a new world with the boy she loves.

Natalie's last summer in her small Kentucky hometown is off to a magical start… until she starts seeing the "wrong things." They're just momentary glimpses at first—her front door is red instead of its usual green, there's a pre-school where the garden store should be. But then her whole town disappears for hours, fading away into rolling hills and grazing buffalo, and Nat knows something isn't right.

That's when she gets a visit from the kind but mysterious apparition she calls "Grandmother," who tells her: "You have three months to save him." The next night, under the stadium lights of the high school football field, she meets a beautiful boy named Beau, and it's as if time just stops and nothing exists. Nothing, except Natalie and Beau.

Emily Henry's stunning debut novel is Friday Night Lights meets The Time Traveler's Wife, and perfectly captures those bittersweet months after high school, when we dream not only of the future, but of all the roads and paths we've left untaken.

Ana, did you say time travel? Yes, I did say time travel.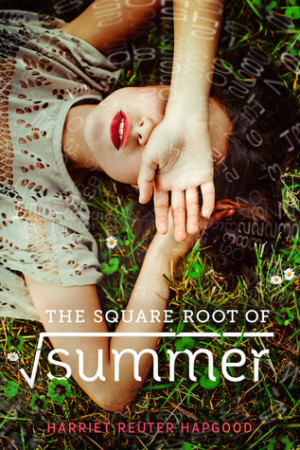 Last summer, Gottie's life fell apart. Her beloved grandfather Grey died and Jason left her – the boy to whom she lost her virginity (and her heart) – and he wouldn't even hold her hand at the funeral! This summer, still reeling from twin heartbreaks, Gottie is lost and alone and burying herself in equations. Until, after five years absence, Thomas comes home: former boy next door. Former best friend. Former everything. And as life turns upside down again she starts to experience strange blips in time – back to last summer, back to what she should have seen then…

During one long, hazy summer, Gottie navigates grief, world-stopping kisses and rips in the space-time continuum, as she tries to reconcile her first heartbreak with her last. The Square Root of Summer is an astounding and moving debut from Harriet Reuter Hapgood.

On Thea's Radar:
First up on my radar is the charming sounding middle grade book from a Newbery Medalist: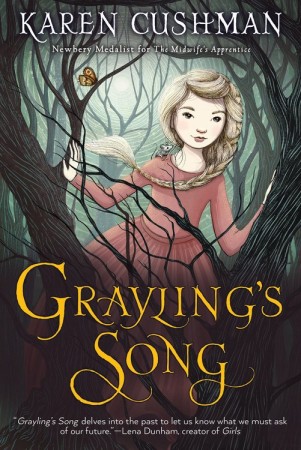 It's time for Grayling to be a hero. Her mother, a "wise woman"—a sort of witch—has been turned into a tree by evil forces. Tangles and toadstools! Lacking confidence after years of being called "Feeble Wits" by her mother, Grayling heads off dubiously into the wilds in search of help, where she finds a weather witch, an aromatic enchantress, a cheese soothsayer, a slyly foolish apprentice, and a shape-shifting mouse named Pook! A fast-paced and funny coming-of-age odyssey from a Newbery medalist.

I know Ana has posted about this already (I think) but I'm really excited about this new Sarah Rees Brennan book!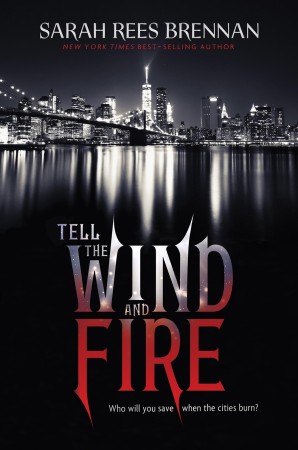 In a world of opulent magic and merciless violence, two boys share a dangerous connection. One girl guards their secret. But when a deadly revolution erupts, will she be able to save either of them—or even herself?

"Writing with fine control and wit, Sarah Rees Brennan pits an underworld society against privileged overlords. The young golden-haired heroine sparring with her rich boyfriend and his dark-souled shadow-twin lends wry and sexy human interest to the depiction of political struggle. I suspect that word of this magical thriller will pass through the populace with the energy of wind, of fire." —Gregory Maguire, author of Wicked and Egg and Spoon

Next up, a new YA book from the author of The Eleventh Plague, which I enjoyed.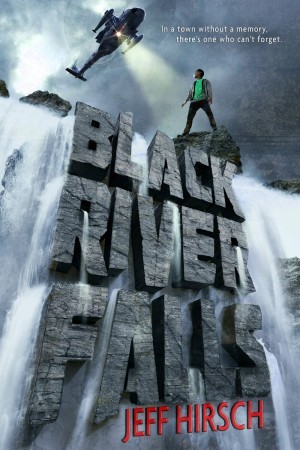 Seventeen-year-old Cardinal has escaped the virus that ravaged his town, leaving its victims alive but without their memories. He chooses to remain in the quarantined zone, caring for a group of orphaned kids in a mountain camp with the help of the former brutal school bully, now transformed by the virus into his best friend. But then a strong-willed and mysterious young woman appears, and the closed-off world Cardinal has created begins to crumble.

A thrilling, fast-paced work of speculative fiction for teens, from a bestselling author, Black River Falls is an unforgettable story about survival, identity, and family.

This next thriller sounds interesting/disturbing as well (I'm trying to branch out in my reading habits–I watch a lot of thrillers, why not read them too?):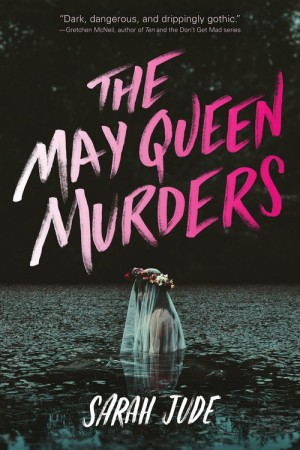 Stay on the roads. Don't enter the woods. Never go out at night.

Those are the rules in Rowan's Glen, a remote farming community in the Missouri Ozarks where Ivy Templeton's family has lived for centuries. It's an old-fashioned way of life, full of superstition and traditions, and sixteen-year-old Ivy loves it. The other kids at school may think the Glen kids are weird, but Ivy doesn't care—she has her cousin Heather as her best friend. The two girls share everything with each other—or so Ivy thinks. When Heather goes missing after a May Day celebration, Ivy discovers that both her best friend and her beloved hometown are as full of secrets as the woods that surround them.

And another one (that could be awesome or perfectly awful):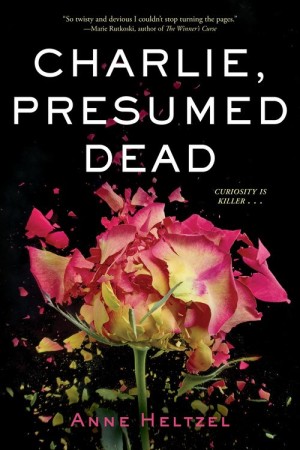 In Paris, family and friends gather to mourn the tragic passing of Charlie Price—young, handsome, charming, a world-traveler—who is presumed dead after an explosion. Authorities find only a bloodied jacket, ID'd as Charlie's. At the funeral, two teens who are perfect strangers, Lena Whitney and Aubrey Boroughs, make another shocking discovery: they have both been dating Charlie, both think Charlie loved them and them alone, and there is a lot they didn't know about their boyfriend. Over the next week, a mind-bending trip unfolds: first in London—then in Mumbai, Kerala, and Bangkok, the girls go in search of Charlie. Is he still alive? What did their love for him even mean? The truth is out there, but soon it becomes clear that the girls are harboring secrets of their own.

And last but not least, the very last Jacky Faber book from the late L.A. Meyer. I really need to read this series.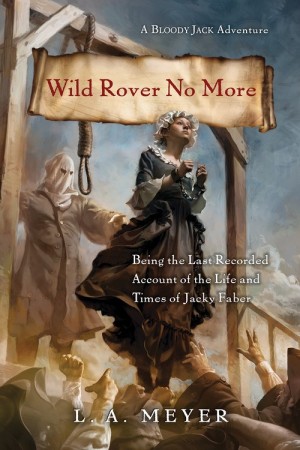 Jacky Faber is framed as passing confidential U.S. information to the British. Forced to flee Boston, she goes undercover as a governess for a prominent Puritan family. When outed by a nosy postmaster, she deserts the respectability of her position, dons a leotard and slippers, and poses as a Russian tightrope walker in a traveling circus.

But the law soon catches up with her, and prospects do not look good. Through her many adventures, Jacky has always found the ingenuity to escape dire situations, but this time it looks like Puss in Boots has run out of lives . . . and her happily-ever-after will be cut short at the foot of the gallows.

That's it from us! What books do YOU have on your radar?