"On The Smugglers' Radar" is a feature for books that have caught our eye: books we have heard of via other bloggers, directly from publishers, and/or from our regular incursions into the Amazon jungle. Thus, the Smugglers' Radar was born. Because we want far more books than we can possibly buy or review (what else is new?), we thought we would make the Smugglers' Radar into a weekly feature – so YOU can tell us which books you have on your radar as well!
On Ana's Radar:
I read Murder Most Unladylike by Robin Stevens last week and now I can not wait for the second Wells and Wong mystery:
Schoolgirl detectives Daisy Wells and Hazel Wong are at Daisy's home, Fallingford, for the holidays. Daisy's glamorous mother is throwing a tea party for Daisy's birthday, and the whole family is invited, from eccentric Aunt Saskia to dashing Uncle Felix. But it soon becomes clear that this party isn't really about Daisy at all. Naturally, Daisy is furious.

Then one of their party falls seriously, mysteriously ill – and everything points to poison.

With wild storms preventing anyone from leaving, or the police from arriving, Fallingford suddenly feels like a very dangerous place to be. Not a single person present is what they seem – and everyone has a secret or two. And when someone very close to Daisy looks suspicious, the Detective Society must do everything they can to reveal the truth . . . no matter the consequences.

I received an ARC last week for a book that sounds amazing (and with blurbs by heavy hitter in the ContempYA circles: Cynthia Leitich Smith, Lauren Myracle and Francisco Stork)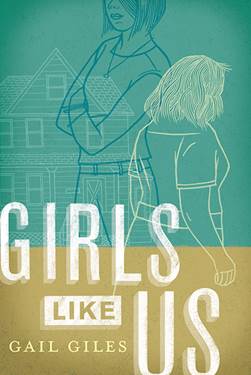 With gentle humor and unflinching realism, Gail Giles tells the gritty, ultimately hopeful story of two special ed teenagers entering the adult world.

We understand stuff. We just learn it slow. And most of what we understand is that people what ain't Speddies think we too stupid to get out our own way. And that makes me mad.

Quincy and Biddy are both graduates of their high school's special ed program, but they couldn't be more different: suspicious Quincy faces the world with her fists up, while gentle Biddy is frightened to step outside her front door. When they're thrown together as roommates in their first "real world" apartment, it initially seems to be an uneasy fit. But as Biddy's past resurfaces and Quincy faces a harrowing experience that no one should have to go through alone, the two of them realize that they might have more in common than they thought — and more important, that they might be able to help each other move forward.

Hard-hitting and compassionate, Girls Like Us is a story about growing up in a world that can be cruel, and finding the strength — and the support — to carry on.

Cute MG book alert!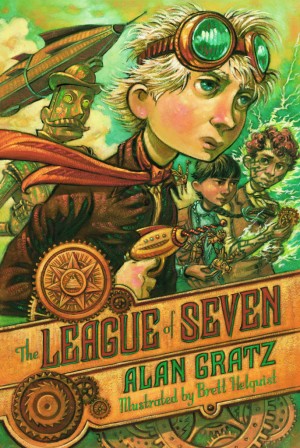 Young Archie Dent knows there really are monsters in the world. His parents are members of the secret Septemberist Society, whose job it is to protect humanity from hideous giants called the Mangleborn. Trapped in underground prisons for a thousand years, the giant monsters have been all but forgotten—until now. Evil genius Thomas Alva Edison and his experiments in the forbidden science of electricity have awakened Malacar Ahasherat, the Swarm Queen, in the swamps of Florida.

When the monster brainwashes Archie's parents and the rest of the Septemberists, it is up to Archie and his loyal Tik Tok servant Mr. Rivets to assemble a team of seven young heroes to save the world: the League of Seven.

From critically-acclaimed author Alan Gratz comes The League of Seven, the action-packed first book in a middle grade fantasy trilogy set in an alternate 1870s America, where electricity is a dangerous and forbidden science, Native Americans and Yankees live side-by-side as a United Nations, and evil lurks in the shadows beyond the gaslights.

I got an ARC of this book in the post – it sounds good but the illustrations totally won me over. Will read!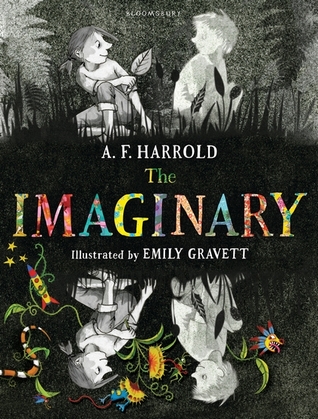 Rudger is Amanda's best friend. He doesn't exist, but nobody's perfect.

Only Amanda can see her imaginary friend – until the sinister Mr Bunting arrives at Amanda's door. Mr Bunting hunts imaginaries. Rumour says that he eats them. And he's sniffed out Rudger. Soon Rudger is alone, and running for his imaginary life. But can a boy who isn't there survive without a friend to dream him up?

A brilliantly funny, scary and moving read from the unique imagination of A.F. Harrold, this beautiful book is astoundingly illustrated with integrated art and colour spreads by the award-winning Emily Gravett.

On Thea's Radar:
On this edition of the radar, here are a few books I picked up at Loncon and received in the mail while I was out. First up this awesomely pink jacketed military SFF/video game looking novel: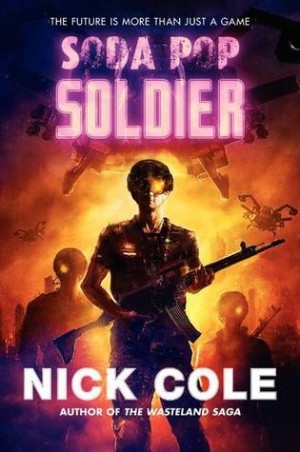 Call of Duty meets Diablo in this fast-paced, action-packed novel from the author of The Wasteland Saga.

Gamer PerfectQuestion fights for ColaCorp in WarWorld, an online combat sport arena where mega-corporations field entire armies in the battle for real world global advertising-space dominance. Within the immense virtual battlefield, players and bots are high-tech grunts, using drop-ships and state-of-the-art weaponry to wipe each other out.

But times are tough and the rent is due, and when players need extra dough, there's always the Black, an illegal open source tournament where the sick and twisted desires of the future are given free rein in the Westhavens, a gothic dungeon fantasy world.

And all too soon, the real and virtual worlds collide when PerfectQuestion refuses to become the tool of a mad man intent on hacking the global economy for himself.

Speaking of militaristic SFF, here's a title Ana brought for me in London and it looks awesome: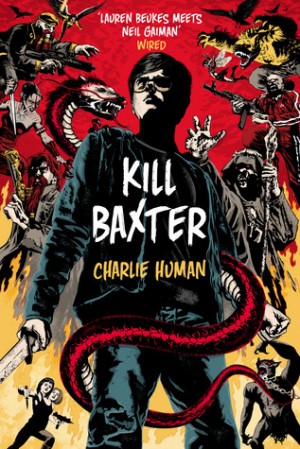 The brilliant follow-up to the critically acclaimed Apocalypse Now Now.

AND HE THOUGHT THE HARD PART WAS OVER…

The world has been massively unappreciative of sixteen-year-old Baxter Zevcenko. His bloodline may be a combination of ancient Boer mystic and giant shape-shifting crow, and he may have won an inter-dimensional battle and saved the world, but does anyone care? No.

Instead he's packed off to Hexpoort, a magical training school that's part reformatory, part military school, and just like Hogwarts (except with sex, drugs, and better internet access). The problem is that Baxter sucks at magic. He's also desperately attempting to control his new ability to dreamwalk, all the while being singled out by the school's resident bully, who just so happens to be the Chosen One.

But when the school comes under attack, Baxter needs to forget all that and step into action. The only way is joining forces with his favourite recovering alcoholic of a supernatural bounty hunter, Ronin, to try and save the world from the apocalypse. Again.

While we were on the trader's floor at Loncon, Ana and I stumbled across a wonderful used bookstore stall that had a TON of old school SFF gems. We decided that we would each dare the other to read one of the books – here's the one Ana picked for me (note that this is my exact edition – look at that cover)!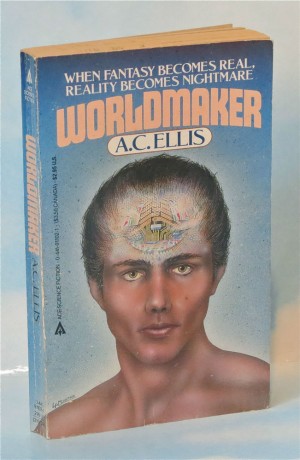 In a world pocked with gutted buildings, looted stores and packs of computer-implanted wild dogs, one man senses more than mere devastation in his surroundings. He begins to grasp that the biochip in his own skull enables him to change reality at will–a tantalizing prospect until he realizes he isn't the only one with that ability.

"An intriguing adventure story that has more than a little to say about our ideas of reality. Like his hero, Ellis takes on the whole world in this book."–Connie Willis, winner of both the Hugo and Nebula awards

While at that same used bookstore booth, I found a copy of an old John Barnes novel (and as I loved his recent Losers in Space so much, I knew I had to have it):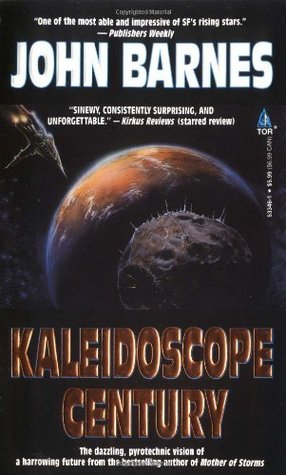 Joshua Ali Quare wakes in 2019 at the age of 140 in a strong youthful body with no memory of his past, to find he is at the center of a vast and deadly conspiracy. The only clues to his identity are the records he has left–messages from the man he once was…

As Quare journeys through his past, he discovers he has been a key figure in the history of a turbulent, violent century–soldier, criminal, assassin, spy. A century filled with killing plagues and warring cults, ruthless corporations and dying nations. A century where treachery is often the only way to survive.

Now someone is looking for him. Someone from his past. And Quare must learn the terrifying secret of his history before it unleashed devastating consequences for the future of the human race.

Another book Ana brought for me that looks very promising: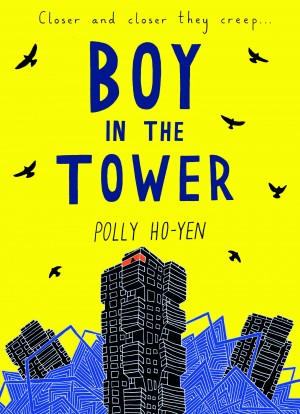 When they first arrived, they came quietly and stealthily as if they tip-toed into the world when we were all looking the other way.

Ade loves living at the top of a tower block. From his window, he feels like he can see the whole world stretching out beneath him.

His mum doesn't really like looking outside – but it's going outside that she hates.

She's happier sleeping all day inside their tower, where it's safe.

But one day, other tower blocks on the estate start falling down around them and strange, menacing plants begin to appear.

Now their tower isn't safe anymore. Ade and his mum are trapped and there's no way out . . .

And last but not least, the big upcoming book from Harper Teen – which has quite the marketing plan. James Frey's new novel has a million dollar prize attached to it for a lucky, clever reader. No, seriously. There's an actual gold prize. I doubt the book will be worth the hype, but I'm intrigued and need to know one way or another. Suffice it to say… I'm reading Endgame: The Calling. I'll let you know how it goes.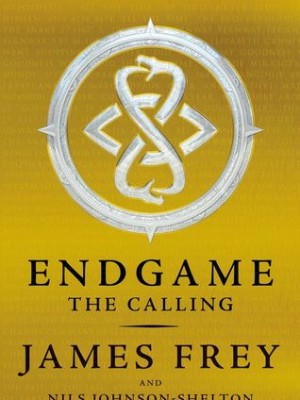 Twelve thousand years ago, they came. They descended from the sky amid smoke and fire, and created humanity and gave us rules to live by. They needed gold and they built our earliest civilizations to mine it for them. When they had what they needed, they left. But before they left, they told us someday they would come back, and when they did, a game would be played. A game that would determine our future.

This is Endgame.

For ten thousand years the lines have existed in secret. The 12 original lines of humanity. Each had to have a Player prepared at all times. They have trained generation after generation after generation. In weapons, languages, history, tactics, disguise assassination. Together the players are everything: strong, kind, ruthless, loyal, smart, stupid, ugly, lustful, mean, fickle, beautiful, calculating, lazy, exuberant, weak. They are good and evil. Like you. Like all.

This is Endgame.

When the game starts, the players will have to find three keys. The keys are somewhere on earth. The only rule of their Endgame is that there are no rules. Whoever finds the keys first wins the game. Endgame: The Calling is about the hunt for the first key. And just as it tells the story of the hunt for a hidden key, written into the book is a puzzle. It invites readers to play their own Endgame and to try to solve the puzzle. Whoever does will open a case filled with gold. Alongside the puzzle will be a revolutionary mobile game built by Google's Niantic Labs that will allow you to play a real-world version of Endgame where you can join one of the lines and do battle with people around you.

Will exuberance beat strength? Stupidity top kindness? Laziness thwart beauty? Will the winner be good or evil? There is only one way to find out.

Play.
Survive.
Solve.
People of Earth.
Endgame has begun.

And that's it from us! What books do you have on your radar?