"On The Smugglers' Radar" is a feature for books that have caught our eye: books we have heard of via other bloggers, directly from publishers, and/or from our regular incursions into the Amazon jungle. Thus, the Smugglers' Radar was born. Because we want far more books than we can possibly buy or review (what else is new?), we thought we would make the Smugglers' Radar into a weekly feature – so YOU can tell us which books you have on your radar as well!
On Ana's Radar:
I saw this translated work (from Finnish) on Twitter, described as "feminist Fantasy" and OF COURSE I got curious. I love the cover art for Maresi:
In January 2016 Pushkin Press is publishing Maresi, the first novel in the Red Abbey Chronicles. Maresi has been sold to ten countries and won the prestigious Finlandia Junior Award in 2014, Finland's highest honour for a book for young readers. Maresi is also nominated for the Nordic Council's Children and Young People's Literature Prize 2015.

About Maresi
The Red Abbey, located on the island of Menos, is a refuge and a community for women and girls. At the Red Abbey everyone is given the freedom to pursue and develop their own talents and areas of interest. Maresi, the main character and narrator, has realized that reading and learning are the two things closest to her heart.

The peaceful life of the Abbey is turned upside down when Jai, a girl with a dark past, arrives. She is fleeing her own father. One day a ship appears at the horizon and violence sets foot on the island. The bravery of Maresi and her friends is put to the ultimate test when they have to fight to defend both Jai and their community.

I've been enjoying the Tor.com novellas and they announced a few more that I am looking forward to, like The Drowning Eyes by Emily Foster…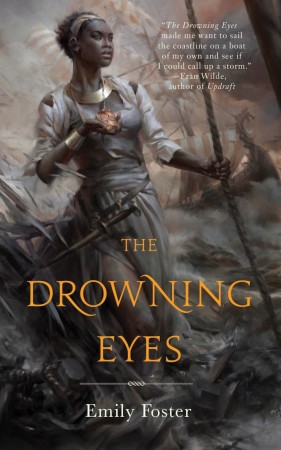 When the Dragon Ships began to tear through the trade lanes and ravage coastal towns, the hopes of the archipelago turned to the Windspeakers on Tash. The solemn weather-shapers with their eyes of stone can steal the breeze from raiders' sails and save the islands from their wrath. But the Windspeakers' magic has been stolen, and only their young apprentice Shina can bring their power back and save her people.

Tazir has seen more than her share of storms and pirates in her many years as captain, and she's not much interested in getting involved in the affairs of Windspeakers and Dragon Ships. Shina's caught her eye, but that might not be enough to convince the grizzled sailor to risk her ship, her crew, and her neck.

And another one, Patchwerk by David Tallerman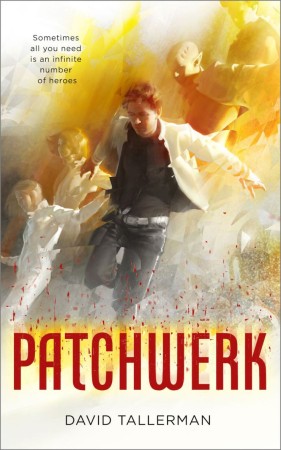 Sometimes all you need is an infinite number of heroes

Fleeing the city on the TransContinental airship, Dran Florrian is traveling with the Palimpsest—the ultimate proof of a lifetime of scientific theorizing.

When a rogue organization attempts to steal the device, however, Dran takes drastic action.

But his invention threatens to destroy the very fabric of this and all other possible universes, unless Dran—or someone very much like him—can shut down the machine and reverse the process.

I received a copy of The Night Clock in the post this week and it sounds amazing!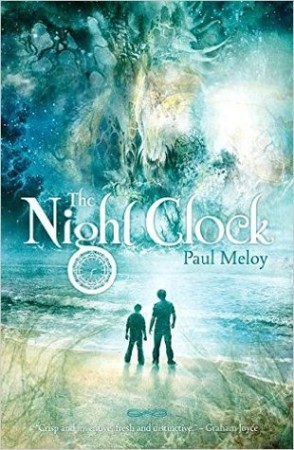 An incredible debut novel that will move and terrify you, as reality itself is threatened by a world just beyond our own.

And still the Night Clock ticks…

Phil Trevena's patients are dying and he needs answers. One of the disturbed men in his care tells him that he needs to find Daniel, that Daniel will be able to explain what is happening. But who is Daniel? Daniel was lost once, broken by the same force that has turned its hatred on Trevena. His destiny is greater than he could ever imagine.

Drawn together, Trevena and Daniel embark on an extraordinary journey of discovery, encountering The Firmament Surgeons in the Dark Time – the flux above our reality. Whoever controls Dark Time controls the minds of humanity. The Firmament Surgeons, aware of the approach of limitless hostility and darkness, are gathered to bring an end to the war with the Autoscopes, before they tear our reality apart.

Paul Meloy's extraordinarily rich debut novel introduces us to a world just beyond our own, shattering our preconceptions about creativity and mental illness, presenting us with a novel like no other.Drawn together, Trevena and Daniel embark on an extraordinary journey of discovery, encountering The Firmament Surgeons in the Dark Time—the flux above our reality. Whoever controls Dark Time controls the minds of humanity. The Firmament Surgeons, aware of the approach of limitless hostility and darkness, are gathered to bring an end to the war with the Autoscopes, before they tear our reality apart.

Saga Press revealed the covers for their coming stories and lo and behold, Persona by Genevieve Valentine is getting a sequel! Icon is out June next year: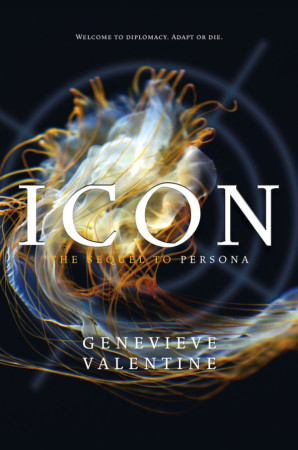 A year ago, International Assembly delegate Suyana Sapaki barely survived an attempt on her life. Now she has everything: she's climbing the social ranks, dating the American Face, and poised for greatness. But the secret that drives her couldn't stay hidden forever, and as she scrambles to prop up her lies and save herself from a political scandal that could kill her, she has a new enemy: the public eye.

A year ago, Daniel Park was hoping for the story of a lifetime. He got her; he's been following her for a year. But what do you do when you feel the person has vanished inside the shell, and dangers are building all around you? How much does Daniel dare become involved when his job is to break the story? And how far will he go for a cause that isn't his?

On Thea's Radar:
First up on my radar is this awesome looking middle grade adventure: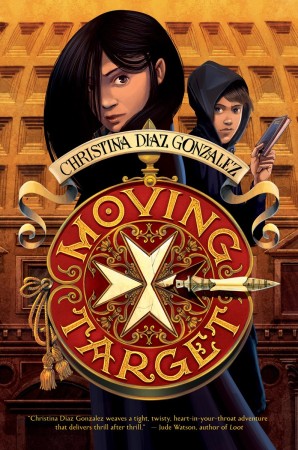 In this exciting and action-packed adventure by an award-winning author, a young girl discovers her secret ancient bloodline. The fate of her family, and the world, may rest in her hands…

Cassie Arroyo, an American studying in Rome, has her world ripped apart when someone tries to kill her father, an art history professor at an Italian university. Is she their next target?

Cassie sets out to uncover what is happening, only to learn that she is a member of an ancient bloodline that enables her to use the Spear of Destiny–a legendary object that can alter the future. Now running from a secret organization intent on killing those from her bloodline, Cassie must–with the help of some friends–decipher the clues that will lead her to the Spear.

Christina Diaz Gonzalez has created a fast-paced thrill-ride of a book, rich with riddles and myth, that young readers will not want to put down.

Weddings are scary, right? So why not this horror novel set at a seaside wedding? Sounds good to me: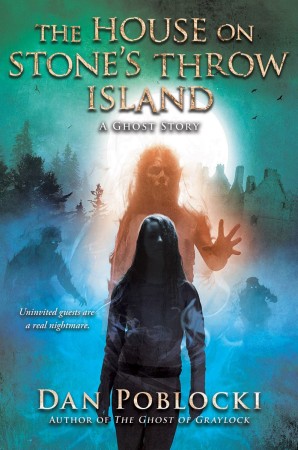 There is an island, far off the coast of Maine, where the ghosts of the past are restless.

Josie Sandoval and Eli Barker are strangers when they board the ferry to Stone's Throw, traveling to the isolated island for a wedding. Then an immense storm blows in, and the wedding party is left stranded with no way to contact the mainland…and no idea that they have been targeted for revenge by the undead. The only clues to the danger they're in are a scrap of an old Nazi uniform–and an unfamiliar voice, crying out for help in German…

Josie and Eli soon realize there's much more to worry about than guest lists and flowers. It's up to them to uncover the chilling history of Stone's Throw Island and put its ghosts to rest–or this dream wedding will become an absolute nightmare.

This next novel, set in 1950s Mexico and drawing on the author's experience living in rural Mexico, sounds like it could be really good.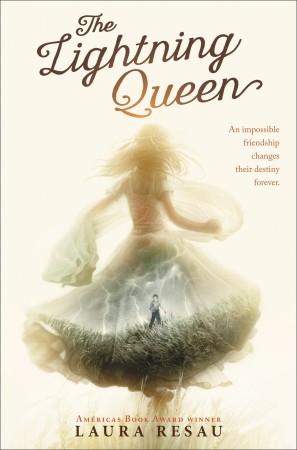 A stunningly rendered mystical novel, set in the remote mountains of Mexico in the 1950s, illuminates the power of an unlikely friendship that blends cultures, magic, and possibilities.

Nothing exciting happens on the Hill of Dust, in the remote mountains of Mexico in the 1950s. There's no electricity, no plumbing, no cars, just day after day of pasturing goats. And now, without his sister and mother, eleven-year-old Teo's life feels even more barren. And then one day, the mysterious young Esma, who calls herself the Gypsy Queen of Lightning, rolls into town like a fresh burst of color. Against all odds, her caravan's Mistress of Destiny predicts that Teo and Esma will be longtime friends. Suddenly, life brims with possibility. With the help of a rescued duck, a three-legged skunk, a blind goat, and other unexpected allies, Teo and Esma must overcome obstacles–even death–to fulfill their impossible destiny.

Inspired by true stories derived from rural Mexico, The Lightning Queen offers a glimpse of the encounter between two fascinating but marginalized cultures–the Rom and the Mixtec Indians–while telling the heartwarming story of an unlikely friendship.

Next up, a must-have collector's item: book of nonfiction essays from Kameron Hurley, collected from the interwebs. Including, that one about the llamas.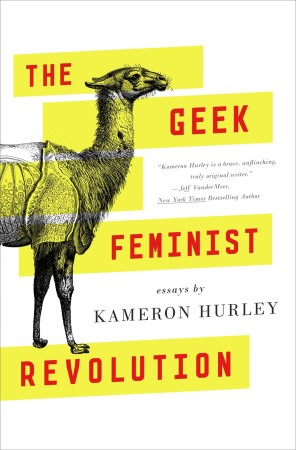 A powerful collection of essays on feminism, geek culture, and a writer's journey, from one of the most important new voices in genre

The Geek Feminist Revolution is a collection of essays by double Hugo Award-winning essayist and fantasy novelist Kameron Hurley.

The book collects dozens of Hurley's essays on feminism, geek culture, and her experiences and insights as a genre writer, including "We Have Always Fought," which won the 2013 Hugo for Best Related Work. The Geek Feminist Revolution will also feature several entirely new essays written specifically for this volume.

Unapologetically outspoken, Hurley has contributed essays to The Atlantic, Locus, Tor.com, and elsewhere on the rise of women in genre, her passion for SF/F, and the diversification of publishing.

Also on my radar–Dan Wells is continuing with his John Wayne Cleaver series, with the sociopathic monster-hunting teen now as an adult and working for the FBI. I really, really need to read this new trilogy arc now. Here's book 2 (or book 5, depending on your counting method):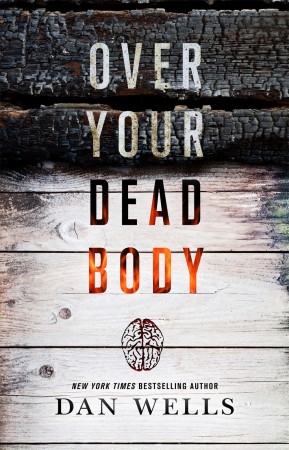 New York Times bestselling author Dan Wells continues his popular John Wayne Cleaver series

John and Brooke are on their own, hitchhiking from town to town as they hunt the last of the Withered through the midwest–but the Withered are hunting them back, and the FBI is close behind. With each new town, each new truck stop, each new highway, they get closer to a vicious killer who defies every principle of profiling and prediction John knows how to use, and meanwhile Brooke's fractured psyche teeters on the edge of oblivion, overwhelmed by the hundreds of thousands of dead personalities sharing her mind. She flips in and out of lucidity, manifesting new names and thoughts and memories every day, until at last the one personality pops up that John never expected, and has no idea how to deal with. The last of Nobody's victims, trapped forever in the body of his last remaining friend. The only person John has ever loved: Marci.

A new series from Mary Robinette Kowal? And spirit-workers/ghost-whisperers in WWI? Shut up and take my money please!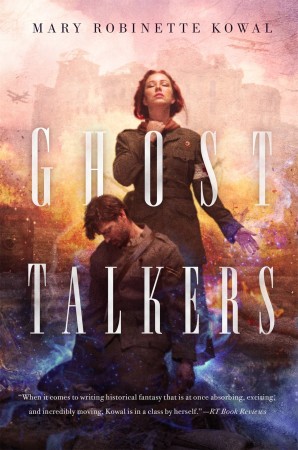 A new novel from beloved fantasy author Mary Robinette Kowal featuring the mysterious spirit corps and their heroic work in World War I.

Ginger Stuyvesant, an American heiress living in London during World War I, is engaged to Captain Benjamin Hartshorne, an intelligence officer. Ginger is a medium for the Spirit Corps, a special Spiritualist force.

Each soldier heading for the front is conditioned to report to the mediums of the Spirit Corps when they die so the Corps can pass instant information about troop movements to military intelligence.

Ginger and her fellow mediums contribute a great deal to the war efforts, so long as they pass the information through appropriate channels. While Ben is away at the front, Ginger discovers the presence of a traitor. Without the presence of her fiance to validate her findings, the top brass thinks she's just imagining things. Even worse, it is clear that the Spirit Corps is now being directly targeted by the German war effort. Left to her own devices, Ginger has to find out how the Germans are targeting the Spirit Corps and stop them. This is a difficult and dangerous task for a woman of that era, but this time both the spirit and the flesh are willing…

And that's it from us! What books do you have on YOUR radar?
Handy pre-order links where available: