"On The Smugglers' Radar" is a new feature for books that have caught our eye: books we heard of via other bloggers, directly from publishers, and/or from our regular incursions into the Amazon jungle. This is how the Smugglers' Radar was born, and because there are far too many books that we want than we can possibly buy or review (what else is new?) we thought we could make it into a weekly feature – so YOU can tell us which books you have on your radar as well!
On Thea's Radar:
I've seen The Compound from S.A. Bodeen around the interwebs, but haven't yet had the chance to read it. Then, I saw this new title from the same author, and decided I need to get off my butt and start reading already.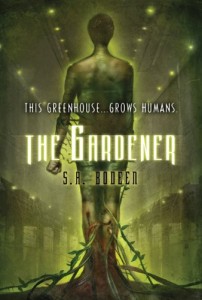 Mason has never known his father, but longs to. All he has of him is a DVD of a man whose face is never seen, reading a children's book. One day, on a whim, he plays the DVD for a group of comatose teens at the nursing home where his mother works. One of them, a beautiful girl, responds. Mason learns she is part of a horrible experiment intended to render teenagers into autotrophs—genetically engineered, self-sustaining life-forms who don't need food or water to survive. And before he knows it, Mason is on the run with the girl, and wanted, dead or alive, by the mysterious mastermind of this gruesome plan, who is simply called the Gardener.

Will Mason be forced to destroy the thing he's longed for most?

Speaking of The Compound…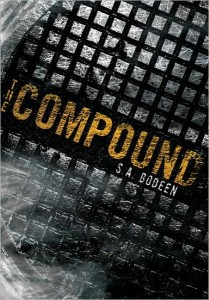 Eli and his family have lived in the underground Compound for six years. The world they knew is gone, and they've become accustomed to their new life. Accustomed, but not happy. No amount of luxury can stifle the dull routine of living in the same place, with only his two sisters, only his father and mother, doing the same thing day after day after day. As problems with their carefully planned existence threaten to destroy their sanctuary—and their sanity—Eli can't help but wonder if he'd rather take his chances outside. Eli's father built the Compound to keep them safe. But are they safe—really?

Thanks again to Fantasy Book Critic for the following awesome sounding books. This one is in time for Steampunk Week, part deux…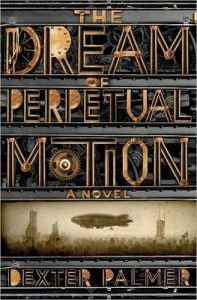 A debut so magical… so extraordinary… it has to be read to be believed….

Imprisoned for life aboard a zeppelin that floats high above a fantastic metropolis, the greeting-card writer Harold Winslow pens his memoirs. His only companions are the disembodied voice of Miranda Taligent, the only woman he has ever loved, and the cryogenically frozen body of her father Prospero, the genius and industrial magnate who drove her insane.

The tale of Harold's life is also one of an alternate reality, a lucid waking dream in which the well-heeled have mechanical men for servants, where the realms of fairy tales can be built from scratch, where replicas of deserted islands exist within skyscrapers. As Harold's childhood infatuation with Miranda changes over twenty years to love and then to obsession, the visionary inventions of her father also change Harold's entire world, transforming it from a place of music and miracles to one of machines and noise. And as Harold heads toward a last desperate confrontation with Prospero to save Miranda's life, he finds himself an unwitting participant in the creation of the greatest invention of them all: the perpetual motion machine.

Beautifully written, stunningly imagined, and wickedly funny, The Dream of Perpetual Motion is a heartfelt meditation on the place of love in a world dominated by technology.

Omigod, how badly do I want this book?!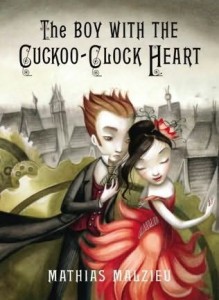 FIRSTLY: don't touch the hands of your cuckoo-clock heart. SECONDLY: master your anger. THIRDLY: never, ever fall in love. For if you do, the hour hand will poke through your skin, your bones will shatter, and your heart will break once more.

Edinburgh, 1874. Born with a frozen heart, Jack is near death when his mother abandons him to the care of Dr. Madeleine—witch doctor, midwife, protector of orphans—who saves Jack by placing a cuckoo clock in his chest. And it is in her orphanage that Jack grows up among tear-filled flasks, eggs containing memories, and a man with a musical spine.

As Jack gets older, Dr. Madeleine warns him that his heart is too fragile for strong emotions: he must never, ever fall in love. And, of course, this is exactly what he does: on his tenth birthday and with head-over-heels abandon. The object of his ardor is Miss Acacia—a bespectacled young street performer with a soul-stirring voice. But now Jack's life is doubly at risk—his heart is in danger and so is his safety after he injures the school bully in a fight for the affections of the beautiful singer.

Now begins a journey of escape and pursuit, from Edinburgh to Paris to Miss Acacia's home in Andalusia. Mathias Malzieu's The Boy with the Cuckoo-Clock Heart is a fantastical, wildly inventive tale of love and heartbreak—by turns poignant and funny—in which Jack finally learns the great joys, and ultimately the greater costs, of owning a fully formed heart.
Not only is the cover gorgeous and the blurb irresistible, but check out the book trailer too:
OMG STOP MOTION PUPPETS FTW! I love the music, I love the atmosphere, I don't understand a damn word but I know I WANT IT. NOW. This is quite possibly one of the best book trailers I have ever seen. Scratch that. It IS the best book trailer I've ever seen. Period.

And this one I saw over at Danielle's blog, Opinionated, Me? and it immediately went on the wishlist. It's got my name all over it.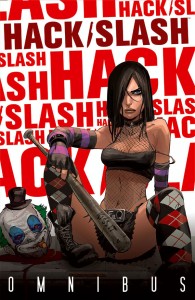 At the end of every horror movie, one girl always survives… in this case, Cassie Hack not only survives, she turns the tables by hunting and destroying the horrible slashers that would do harm to the innocent! Alongside the gentle giant known as Vlad, the two cut a bloody path through those who deserve to be put down… hard!
It's soon to be a motion picture…we'll see how that goes.

On Ana's Radar:
There are SO many books I want to read right now. Starting with this one: we received an unsolicited email with this ARC and OH.MY.GOD, doesn't it look awesome?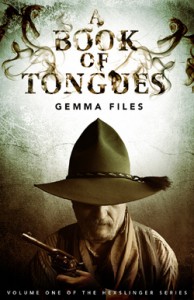 Two years after the Civil War, Pinkerton agent Ed Morrow has gone undercover with one of the weird West's most dangerous outlaw gangs-the troop led by "Reverend" Asher Rook, ex-Confederate chaplain turned "hexslinger," and his notorious lieutenant (and lover) Chess Pargeter. Morrow's task: get close enough to map the extent of Rook's power, then bring that knowledge back to help Professor Joachim Asbury unlock the secrets of magic itself.

Magicians, cursed by their gift to a solitary and painful existence, have never been more than a footnote in history. But Rook, driven by desperation, has a plan to shatter the natural law that prevents hexes from cooperation, and change the face of the world-a plan sealed by an unholy marriage-oath with the goddess Ixchel, mother of all hanged men. To accomplish this, he must raise her bloodthirsty pantheon from its collective grave through sacrifice, destruction, and apotheosis.
Caught between a passel of dead gods and monsters, hexes galore, Rook's witchery, and the ruthless calculations of his own masters, Morrow's only real hope of survival lies with the man without whom Rook cannot succeed: Chess Pargeter himself. But Morrow and Chess will have to literally ride through Hell before the truth of Chess's fate comes clear-the doom written for him, and the entire world.

I am an Eloisa James fangirl and I can't wait for her next novel, A Kiss at Midnight which is a retelling of Cinderella. (Thanks to KB for the cover!)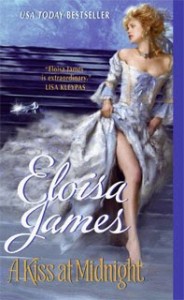 I saw this one at Angie's and I love the cover and blurb: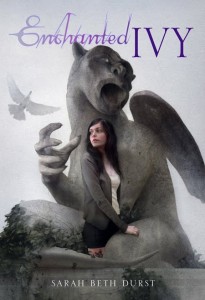 A story about getting into college. You know, taking the campus tour, talking to the gargoyles, flirting with the were-tigers, riding the dragons…

While visiting the campus of Princeton University, 16-year-old Lily discovers a secret gate to a magical realm and must race against time to save herself, her world, and any hope she has of college admission.

Then, obviously there's the next Brandon Sanderson which now has a cover. The cover has been a source of discussion between us Smugglers. Thea likes it, I am not a huge fan (what do you think? Yes? no?)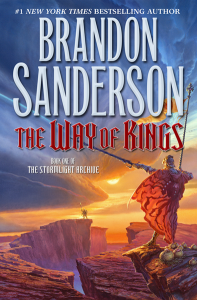 (Thea's Note: I freaking love it. It's nostalgic, but modern at the same time!)



Then, doing my usual Amazon rounds I saw these: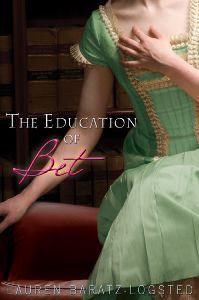 When Will and Bet were four, tragic circumstances brought them to the same house, to be raised by a wealthy gentleman as brother and sister. Now sixteen, they've both enjoyed a privileged upbringing thus far. But not all is well in their household. Because she's a girl, Bet's world is contained within the walls of their grand home, her education limited to the rudiments of reading, writing, arithmetic, and sewing. Will's world is much larger. He is allowed—forced, in his case—to go to school. Neither is happy.

So Bet comes up with a plan and persuades Will to give it a try: They'll switch places. She'll go to school as Will. Will can live as he chooses. But once Bet gets to school, she soon realizes living as a boy is going to be much more difficult than she imagined.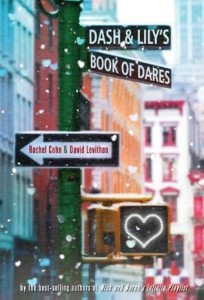 This is not a new one, but I hadn't heard about it until I saw this at the book store last Saturday. And I immediately new I had to buy it because 1) cover by the awesome David Mckean 2) the blurb is crazy.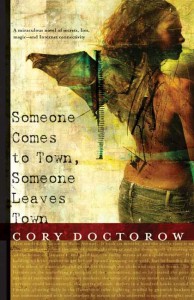 Alan is a middle-aged entrepeneur in contemporary Toronto, who has devoted himself to fixing up a house in a bohemian neighborhood. This naturally brings him in contact with the house full of students and layabouts next door, including a young woman who, in a moment of stress, reveals to him that she has wings–wings, moreover, which grow back after each attempt to cut them off.

Alan understands. He himself has a secret or two. His father is a mountain; his mother is a washing machine; and among his brothers are a set of Russian nesting dolls.

Now two of the three nesting dolls, Edward and Frederick, are on his doorstep–well on their way to starvation, because their innermost member, George, has vanished. It appears that yet another brother, Davey, who Alan and his other siblings killed years ago, may have returned…bent on revenge.

Under such circumstances it seems only reasonable for Alan to involve himself with a visionary scheme to blanket Toronto with free wireless Internet connectivity, a conspiracy spearheaded by a brilliant technopunk who builds miracles of hardware from parts scavenged from the city's dumpsters. But Alan's past won't leave him alone–and Davey is only one of the powers gunning for him and all his friends.

And that's it from us, folks! What books do YOU have on your radars?