Celebrating the newest illustrated companion book from Rick Riordan!
This year marks the 10th anniversary of Percy Jackson and the Olympians–a five book series, starring the son of Poseidon and his friends as they figure out their place in the world as demigods, and band together to fight the forces of the Titan Lord Kronos.

As we celebrate Percy Jackson and the Olympians this summer, we're (re)reading and reviewing all of the books in the original pentalogy (check out all of our reviews so far here). We're also spotlighting different new titles and giveaways each month!
Percy Jackson's Heroes
This month, on Percy's birthday August 18, Percy Jackson's Greek Heroes is available for all demigods and humans alike. (Ok, monsters, too.) Before we review book 3 this month, check out the awesome Greek Heroes package: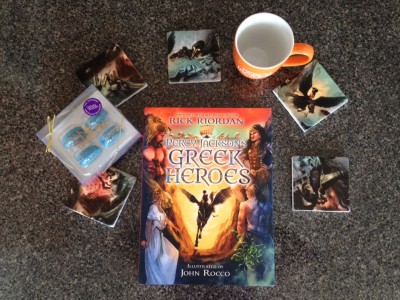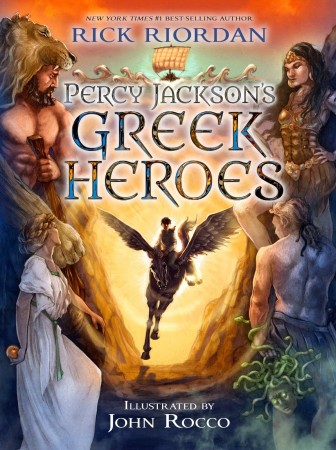 Who cut off Medusa's head? Who was raised by a she-bear? Who tamed Pegasus? It takes a demigod to know, and Percy Jackson can fill you in on the all the daring deeds of Perseus, Atalanta, Bellerophon, and the rest of the major Greek heroes. Told in the funny, irreverent style readers have come to expect from Percy, ( I've had some bad experiences in my time, but the heroes I'm going to tell you about were the original old school hard luck cases. They boldly screwed up where no one had screwed up before. . .) and enhanced with vibrant artwork by Caldecott Honoree John Rocco, this story collection will become the new must-have classic for Rick Riordan's legions of devoted fans–and for anyone who needs a hero. So get your flaming spear. Put on your lion skin cape. Polish your shield and make sure you've got arrows in your quiver. We're going back about four thousand years to decapitate monsters, save some kingdoms, shoot a few gods in the butt, raid the Underworld, and steal loot from evil people. Then, for dessert, we'll die painful tragic deaths. Ready? Sweet. Let's do this.
Pre-order the Book:
Amazon | Barnes & Noble | Books-a-Million | Indiebound | Indigo | iBooks
Follow Rick Riordan
Visit the Official Website
Follow Rick Riordan on Facebook, Instagram and Twitter
#ReadRiordan

The Giveaway: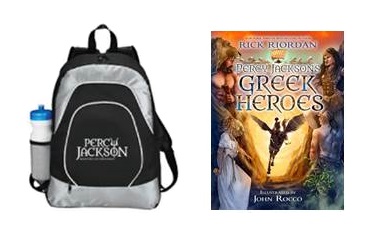 We are giving away one copy of Greek Heroes and a Percy Jackson limited edition backpack just in time for back to school. The sweepstakes is open to US addresses only and will run until August 31, 2015. To enter, use the form below!
FTC Disclaimer: We are receiving books, merchandise and prizing from Disney-Hyperion.