Today, we are happy to be hosting the cover reveal for Amie Kaufman and Meagan Spooner's upcoming YA science fiction novel, These Broken Stars! We loved Meagan's debut novel, Skylark, and as science fiction fans (especially YA SF) have had These Broken Stars on our radar forever. We were thrilled when we were asked to participate on the official cover reveal.
Behold! The Smugglerific Cover (and summary)!
THE SMUGGLERIFIC COVER: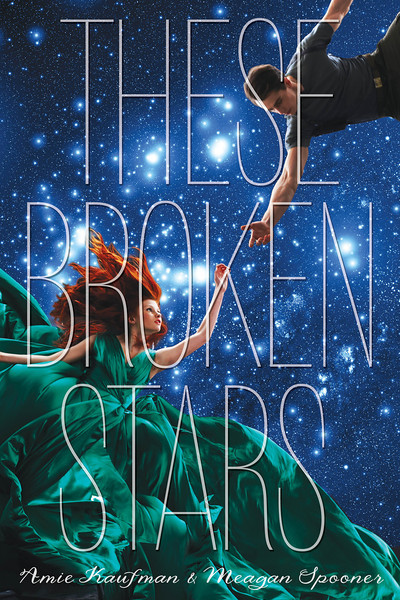 ABOUT THE BOOK:
It's a night like any other on board the Icarus. Then, catastrophe strikes: the massive luxury spaceliner is yanked out of hyperspace and plummets into the nearest planet. Lilac LaRoux and Tarver Merendsen survive. And they seem to be alone.

Lilac is the daughter of the richest man in the universe. Tarver comes from nothing, a young war hero who learned long ago that girls like Lilac are more trouble than they're worth. But with only each other to rely on, Lilac and Tarver must work together, making a tortuous journey across the eerie, deserted terrain to seek help.

Then, against all odds, Lilac and Tarver find a strange blessing in the tragedy that has thrown them into each other's arms. Without the hope of a future together in their own world, they begin to wonder—would they be better off staying here forever?

Everything changes when they uncover the truth behind the chilling whispers that haunt their every step. Lilac and Tarver may find a way off this planet. But they won't be the same people who landed on it.

The first in a sweeping science fiction trilogy, These Broken Stars is a timeless love story about hope and survival in the face of unthinkable odds.
"Absolutely brilliant. This is the sci fi I've been waiting for! Action, romance, twists and turns–this book has it all!" – New York Times bestselling author of Across The Universe, Beth Revis
These Broken Stars is published by Disney-Hyperion, and will be released on December 10, 2013.
Add it on Goodreads, or preorder it from Amazon.
HOW MEG & AMIE REALLY FEEL ABOUT THE COVER:
Meg: It's funny, authors usually get so little say in what their covers look like, and sometimes they end up really disappointed by the end result. But luckily we're in the enviable position of being able to be honest and open AND totally excited, because we love our cover!
Amie: Oh man, do we love our cover. Our publisher was so consultative, and that meant I got to sit around one day eating popcorn and picking out pictures of handsome boys so they'd have a good idea of what Tarver looked like. Hard work, but somebody had to do it.
Meg: Yeah, we sent them a lot of reference pictures–for Lilac, it was a lot of pictures of gorgeous redheads like Molly Quinn and Amy Adams. When I finally saw the model they'd chosen for Lilac, I flipped out because it was DEAD on.
Amie: And her dress, seriously. Our amazing cover designer, Whitney Manger, had it custom-made for the shoot. We couldn't believe it when we saw. (And yes, she does get shipwrecked in a ballgown. It's not super practical.)
Meg: I think my favorite thing about it is that it's clearly both science fiction AND romance. That's a hard thing to accomplish with one image. The way they're reaching for each other is so appropriate for the book, because they're the only survivors of their shipwreck–they have to rely on each other to survive.
Amie: Absolutely. It's a haunting, slightly creepy and ultimately beautiful image, and that's definitely the experience Lilac and Tarver have on their unknown planet together. It's the perfect cover!
ABOUT THE AUTHORS: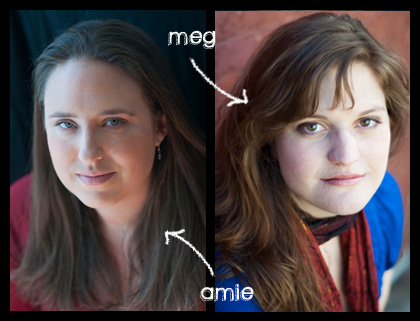 Amie Kaufman and Meagan Spooner are longtime friends and sometime flatmates who have traveled the world (but not yet the galaxy), covering every continent between them. They are sure outer space is only a matter of time. Meagan, who is also the author of the SKYLARK trilogy, currently lives just outside DC, while Amie lives in Melbourne, Australia. Although they currently live apart, they are united by their love of space opera, road trips, and second breakfasts.
Follow Amie on Twitter (@AmieKaufman), Facebook, and on her website.
Follow Meg on Twitter (@MeaganSpooner), Facebook, and on her website.
THE BLOG TOUR:
Want more chances to win an ARC of These Broken Stars? Each of the following blogs have an ARC to give away, and more exclusive content!
Cuddlebuggery: See what the cover COULD have looked like, plus a live interview with Amie and Meg!
The Midnight Garden: Where did the title come from?
Pub(lishing) Crawl: Check out this exclusive interview from cover designer Whitney Manger!
Mundie Moms: Want to know more about the characters on the cover? Click for more about Lilac!
Supernatural Snark: Want to know more about the characters on the cover? Click for more about Tarver!
THE GIVEAWAY:
We are giving away one ARC of These Broken Stars to a lucky winner! The giveaway is open to US addresses and will run until Sunday March 3 2013 at 12:01 AM (EST). To enter, use the form below. Good luck!