"On The Smugglers' Radar" is a feature for books that have caught our eye: books we have heard of via other bloggers, directly from publishers, and/or from our regular incursions into the Amazon jungle. Thus, the Smugglers' Radar was born. Because we want far more books than we can possibly buy or review (what else is new?), we thought we would make the Smugglers' Radar into a weekly feature – so YOU can tell us which books you have on your radar as well!
On Ana's Radar:
From the YA Novels of 2016 List on Goodread, comes a tale of Witchery! Magic! And two women! I shall read this indeed…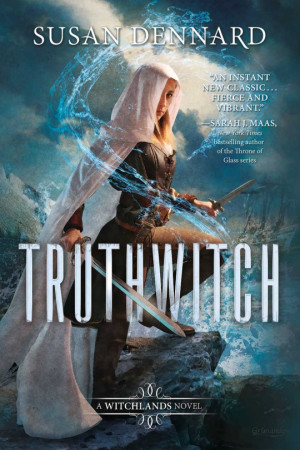 On a continent ruled by three empires, some are born with a "witchery", a magical skill that sets them apart from others.

In the Witchlands, there are almost as many types of magic as there are ways to get in trouble—as two desperate young women know all too well.

Safiya is a Truthwitch, able to discern truth from lie. It's a powerful magic that many would kill to have on their side, especially amongst the nobility to which Safi was born. So Safi must keep her gift hidden, lest she be used as a pawn in the struggle between empires.

Iseult, a Threadwitch, can see the invisible ties that bind and entangle the lives around her—but she cannot see the bonds that touch her own heart. Her unlikely friendship with Safi has taken her from life as an outcast into one of reckless adventure, where she is a cool, wary balance to Safi's hotheaded impulsiveness.

Safi and Iseult just want to be free to live their own lives, but war is coming to the Witchlands. With the help of the cunning Prince Merik (a Windwitch and ship's captain) and the hindrance of a Bloodwitch bent on revenge, the friends must fight emperors, princes, and mercenaries alike, who will stop at nothing to get their hands on a Truthwitch.

Guys I might have FREAKED OUT completely when I heard about the Graphic Novel that Avatar The Last Airbender's creator Bryan Konietzko has in the works:
Imagine five planets that share a single orbit. Imagine an inquisitive young scientist, curious about the world, setting out on adventures across the universe. That's the grounding for Threadworlds, a new graphic novel by Bryan Konietzko, best known for creating the internationally acclaimed animated series Avatar: The Last Airbender and The Legend of Korra. Published by First Second Books, Threadworlds is Konietzko's graphic novel debut and takes you on a science fiction journey that promises to inspire you, captivate you and thrill you all at once.
No cover yet, but tantalizing images: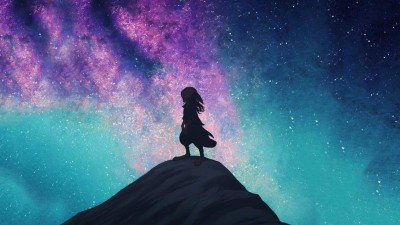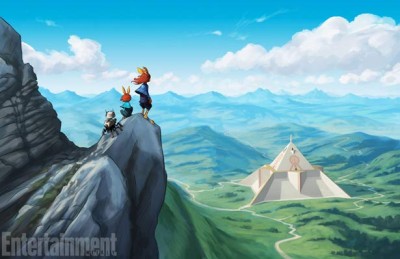 The short blurb for this one sold me on this graphic novel immediately: "Unrequited love, underage drinking, and teen angst rule at a high school for mutants and witches."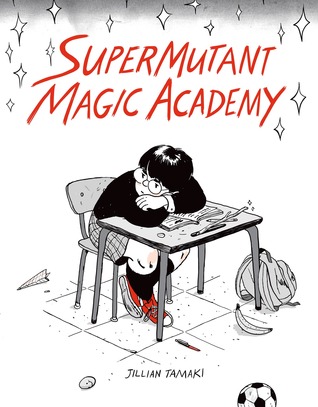 Unrequited love, underage drinking, and teen angst rule at a high school for mutants and witches.

The New York Times and New Yorker illustrator Jillian Tamaki is best known for co-creating the award-winning young adult graphic novels Skim and This One Summer—moody and atmospheric bestsellers. SuperMutant Magic Academy, which she has been serializing online for the past four years, paints a teenaged world filled with just as much ennui and uncertainty, but also with a sharp dose of humor and irreverence. Tamaki deftly plays superhero and high-school Hollywood tropes against what adolescence is really like: The SuperMutant Magic Academy is a prep school for mutants and witches, but their paranormal abilities take a backseat to everyday teen concerns.

Science experiments go awry, bake sales are upstaged, and the new kid at school is a cat who will determine the course of human destiny. In one strip, lizard-headed Trixie frets about her nonexistent modeling career; in another, the immortal Everlasting Boy tries to escape this mortal coil to no avail. Throughout it all, closeted Marsha obsesses about her unrequited crush, the cat-eared Wendy. Whether the magic is mundane or miraculous, Tamaki's jokes are precise and devastating.

SuperMutant Magic Academy has won two Ignatz Awards. This volume combines the most popular content from the webcomic with a selection of all-new, never-before-seen strips that conclude Tamaki's account of life at the academy.

I've got a copy of this book in the post this week and it looks and sounds amazing: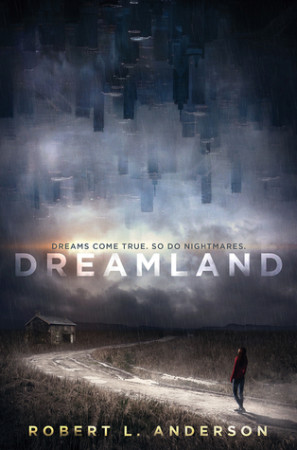 Odea Donahue has been able to travel through people's dreams since she was six years old. Her mother taught her the three rules of walking: Never interfere. Never be seen. Never walk the same person's dream more than once. Dea has never questioned her mother, not about the rules, not about the clocks or the mirrors, not about moving from place to place to be one step ahead of the unseen monsters that Dea's mother is certain are right behind them.

Then a mysterious new boy, Connor, comes to town and Dea finally starts to feel normal. As Connor breaks down the walls that she's had up for so long, he gets closer to learning her secret. For the first time she wonders if that's so bad. But when Dea breaks the rules, the boundary between worlds begins to deteriorate. How can she know what's real and what's not?

Tanita S Davis is a writer I love and trust so I can't wait to read her next novel: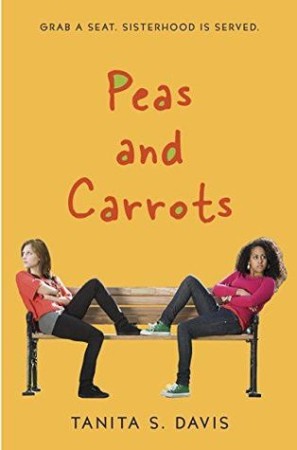 In this new YA novel by Tanita S. Davis, the Coretta Scott King Honor author of Mare's War, a white teen named Dess is placed into foster care with a black family while her mother is incarcerated.

And I was like, I am done, I've got my five books for this radar, let me save this draft but THEN I SAW THAT THERE IS GOING TO BE A SEQUEL FOR A WICKED THING BY RHIANNON THOMAS, A BOOK I LOVED SO HARD THIS YEAR AND I WAS LIKE *ADDS TO RADAR*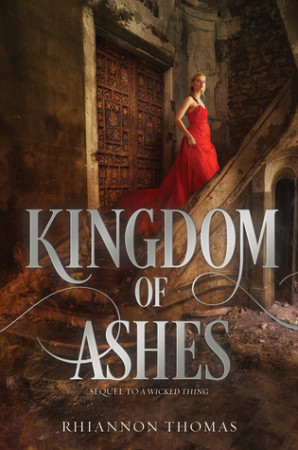 Asleep for a hundred years, awoken by a kiss, Aurora's life was supposed to be a fairytale. But since discovering that loyalty to the crown and loyalty to her country are two very different things, Aurora knows she can only dream of happily ever after. Once the enchanted princess, savior of her people, she is now branded a traitor.

Aurora is determined to free her home from the king's tyrannical rule, even if it means traveling across the sea to the kingdom of the handsome and devious Prince Finnegan—someone who seems to know far more about her magic than he should. However, Finnegan's kingdom has perils of its own, and any help he gives Aurora will come at a price.

As Aurora and Finnegan work together to harness her power—something so fiery and dangerous that is as likely to destroy those close to Aurora as it is to save them—she begins to unravel the mysteries surrounding the curse that was placed on her over a century before…and uncover the truth about the destiny she was always meant to fulfill.

Brimming with captivating fantasy and life-threatening danger, the sequel to A Wicked Thing takes Sleeping Beauty on an adventure unlike any she's ever had before.

On Thea's Radar:
First up, a fairy tale-type retelling that sounds amazing.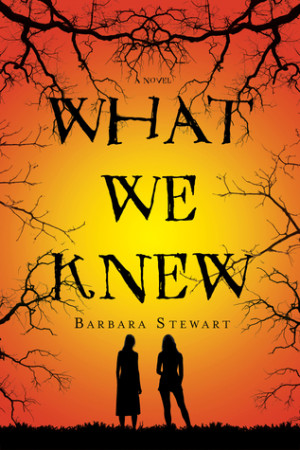 When a local myth starts to seem like a dangerous reality, two girls are set on a path that could change their lives forever

"When I was little, I imagined a monster: Scaly hands. Pits for eyes…"

When Tracy and her best friend, Lisa, were kids, stories about a man—a creep who exposes himself to little girls—kept them out of the woods and in their own backyards. But Tracy and Lisa aren't so little anymore, and the man in the woods is nothing but a stupid legend. Right?

But someone is in the woods. Someone is watching. And he knows all their secrets, secrets they can't tell anyone—not even each other.

"Monsters don't exist."

Lisa's just being paranoid. At least that's what Tracy thinks. But when a disturbing "gift" confirms her worst fears, it sets the girls on a dangerous journey that takes them beyond the edge of the woods. But reality is more terrifying than the most chilling myth, and what they find will test the bonds of friendship, loyalty, and love.

"Once upon a time, two girls were lost in the woods."

In Barbara's Stewart's What We Knew, Tracy and Lisa can't destroy the evil they'll face, but can they stop it from destroying each other?

Next up, a book with an admittedly terrible cover – but I received a copy in the mail and am intrigued by the synopsis. So… why not.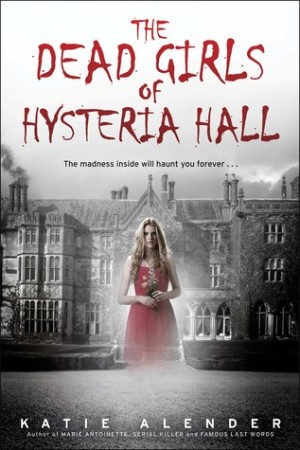 Asylum meets Miss Peregrine's Home for Peculiar Children, in this riveting tale of ghosts, secrets, and family, from master of suspense Katie Alender.

Delia's new house isn't just a house. It used to be an insane asylum, a place to lock up "troubled" young women long ago. And a restless, wicked spirit is still at play–and it doesn't want defiant girls like Delia to go anywhere.

So the house kills her.

Now Delia is a ghost, trapped in her creepy home forever. As she meets the other ghost girls who haunt the narrow hallways, as well as the handsome ghost boy on the grounds, she learns shocking truths about the house's history. Delia also realizes that her alive and grieving sister might be the house's next target. Can Delia unlock the mystery of the old asylum, save her sister, and free herself?

And then there's this "spooky mystery-thriller" with a gorgeous cover. Ok, I'm in: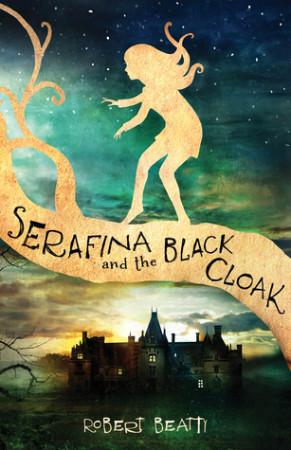 A spooky mystery-thriller about an unusual girl who lives secretly in the basement of the grand Biltmore Estate. Watch the exciting new book trailer.

"Never go into the deep parts of the forest, for there are many dangers there and they will ensnare your soul."

Serafina has never had a reason to disobey her pa and venture beyond the grounds of Biltmore Estate. There's plenty to explore in the shadowed corridors of her vast home, but she must take care to never be seen. None of the rich folk upstairs know that Serafina exists; she and her pa, the estate's maintenance man, have secretly lived in the basement for as long as Serafina can remember.

But when children at the estate start disappearing, only Serafina knows who the culprit is: a terrifying man in a black cloak who stalks Biltmore's corridors at night. Following her own harrowing escape, Serafina risks everything by joining forces with Braeden Vanderbilt, the young nephew of Biltmore's owners. Braeden and Serafina must uncover the Man in the Black Cloak's true identity before all of the children vanish one by one.

Serafina's hunt leads her into the very forest that she has been taught to fear. There she discovers a forgotten legacy of magic that is bound to her own identity. In order to save the children of Biltmore, Serafina must seek the answers that will unlock the puzzle of her past.

I've heard that Illusive was really, really good – book 2 is coming out soon: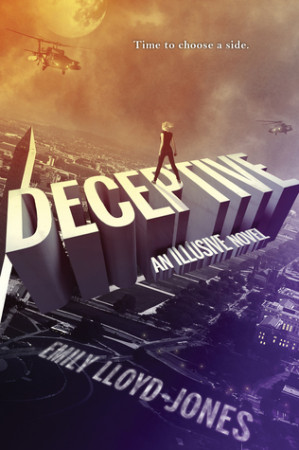 Don't miss this thrilling, high-stakes sequel to Illusive.

You don't belong with us. These are the words that echo through the minds of all immune Americans—those suffering the so-called adverse effects of an experimental vaccine, including perfect recall, body manipulation, telepathy, precognition, levitation, mind-control, and the ability to change one's appearance at will.

When immune individuals begin to disappear—in great numbers, but seemingly at random—fear and tension mount, and unrest begins to brew across the country. Through separate channels, super-powered teenagers Ciere, Daniel, and Devon find themselves on the case; super criminals and government agents working side-by-side. It's an effort that will ultimately define them all—for better or for worse.

Lastly, there's this amazing looking middle grade novel. YES.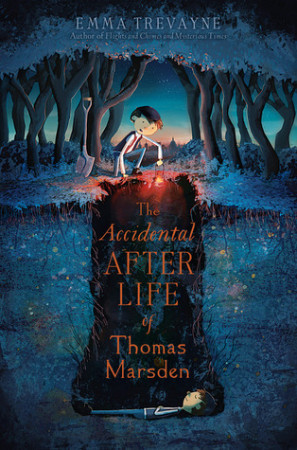 Grave robbing is a messy business. A bad business.

And for Thomas Marsden, on what was an unremarkable spring night in London, it becomes a very spooky business. For lying in an unmarked grave and half covered with dirt is a boy the spitting image of Thomas himself.

This is only the first clue that something very strange is happening. Others follow, but it is a fortune teller's frightened screams that lead Thomas into a strange world of spiritualists, death and faery folk.

Faery folk with whom Thomas's life is bizarrely linked. Faery folk who need his help.

Desperate to unearth the truth about himself and where he comes from, Thomas is about to discover magic, and ritual, and that sometimes, just sometimes, the things that make a boy ordinary are what make him extraordinary.

And that's it from us! What books do YOU have on your radar?