"On The Smugglers' Radar" is a feature for books that have caught our eye: books we have heard of via other bloggers, directly from publishers, and/or from our regular incursions into the Amazon jungle. Thus, the Smugglers' Radar was born. Because we want far more books than we can possibly buy or review (what else is new?), we thought we would make the Smugglers' Radar into a weekly feature – so YOU can tell us which books you have on your radar as well!
On Ana's Radar:
I asked Twitter the other day what's the most talked about upcoming YA novel. This came up lots of times:
In 1959 Virginia, the lives of two girls on opposite sides of the battle for civil rights will be changed forever.

Sarah Dunbar is one of the first black students to attend the previously all-white Jefferson High School. An honors student at her old school, she is put into remedial classes, spit on and tormented daily.

Linda Hairston is the daughter of one of the town's most vocal opponents of school integration. She has been taught all her life that the races should be kept "separate but equal."

Forced to work together on a school project, Sarah and Linda must confront harsh truths about race, power and how they really feel about one another.

Boldly realistic and emotionally compelling, Lies We Tell Ourselves is a brave and stunning novel about finding truth amid the lies, and finding your voice even when others are determined to silence it.

David Almond has a new book coming out – soon – and it's a retelling of the myth of Orpheus and Eurydice and I hadn't even heard of it before seeing it on Netgalley this week: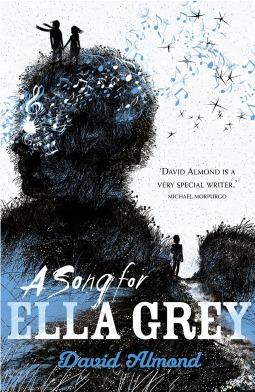 "I'm the one who's left behind. I'm the one to tell the tale. I knew them both…knew how they lived and how they died."

Claire is Ella Grey's best friend. She's there when the whirlwind arrives on the scene: catapulted into a North East landscape of gutted shipyards; of high arched bridges and ancient collapsed mines.

She witnesses a love so dramatic it is as if her best friend has been captured and taken from her. But the loss of her friend to the arms of Orpheus is nothing compared to the loss she feels when Ella is taken from the world. This is her story – as she bears witness to a love so complete; so sure, that not even death can prove final.

New Jo Walton book with a blurb that starts with "Created as an experiment by the time-traveling goddess Pallas Athene…" SAY NO MORE SHUT UP AND TAKE MY MONEYS: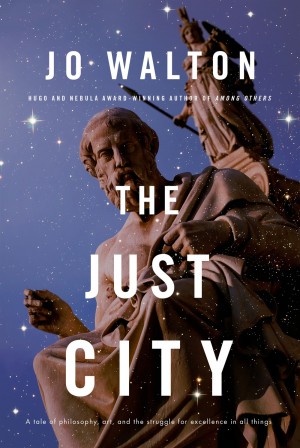 From the acclaimed, award-winning author of Among Others, a tale of gods and humans, and the surprising things they have to learn from one another

"Here in the Just City you will become your best selves. You will learn and grow and strive to be excellent."

Created as an experiment by the time-traveling goddess Pallas Athene, the Just City is a planned community, populated by over ten thousand children and a few hundred adult teachers from all eras of history, along with some handy robots from the far human future—all set down together on a Mediterranean island in the distant past.

The student Simmea, born an Egyptian farmer's daughter sometime between 500 and 1000 A.D, is a brilliant child, eager for knowledge, ready to strive to be her best self. The teacher Maia was once Ethel, a young Victorian lady of much learning and few prospects, who prayed to Pallas Athene in an ungaurded moment during a trip to Rome—and, in an instant, found herself in the Just City with grey-eyed Athene standing unmistakably before her.

Meanwhile, Apollo—stunned by the realization that there are things mortals understand better than he does—has arranged to live a human life, and has come to the City as one of the children. He knows his true identity, and conceals it from his peers. For this lifetime, he is prone to all the troubles of being human.

Then, a few years in, Sokrates arrives—the same Sokrates recorded by Plato himself—to ask all the troublesome questions you would expect. What happens next is a tale only the brilliant Jo Walton could tell.

Another great-looking book coming out in February next year: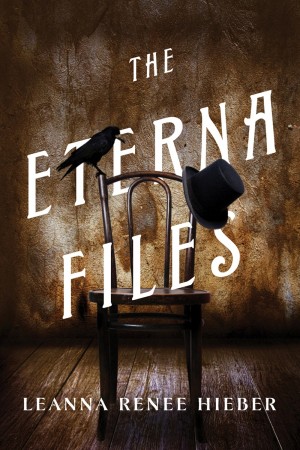 Imagine The X-Files meets Jim Butcher's Harry Dresden series and set in Victorian London and New York City, written by "the brightest new star in literature"(True-Blood.net)

London, 1882: Queen Victoria appoints Harold Spire of the Metropolitan Police to Special Branch Division Omega. Omega is to secretly investigate paranormal and supernatural events and persons. Spire, a skeptic driven to protect the helpless and see justice done, is the perfect man to lead the department, which employs scholars and scientists, assassins and con men, and a traveling circus. Spire's chief researcher is Rose Everhart, who believes fervently that there is more to the world than can be seen by mortal eyes.

Their first mission: find the Eterna Compound, which grants immortality. Catastrophe destroyed the hidden laboratory in New York City where Eterna was developed, but the Queen is convinced someone escaped—and has a sample of Eterna.

Also searching for Eterna is an American, Clara Templeton, who helped start the project after the assassination of Abraham Lincoln nearly destroyed her nation. Haunted by the ghost of her beloved, she is determined that the Eterna Compound—and the immortality it will convey—will be controlled by the United States, not Great Britain.

Another upcoming fall book that has great buzz so far: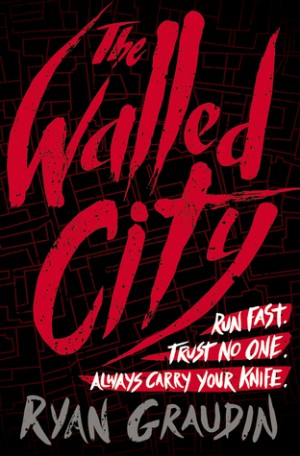 There are three rules in the Walled City: Run fast. Trust no one. Always carry your knife. Right now, my life depends completely on the first. Run, run, run.

Jin, Mei Yee, and Dai all live in the Walled City, a lawless labyrinth run by crime lords and overrun by street gangs.

Teens there run drugs or work in brothels—or, like Jin, hide under the radar. But when Dai offers Jin a chance to find her lost sister, Mei Yee, she begins a breathtaking race against the clock to escape the Walled City itself.

On Thea's Radar:
I am so excited for The Walled City, too! But first up on my radar, the newest (and final!!) entry in Mary Robinette Kowal's Glamourist Histories series: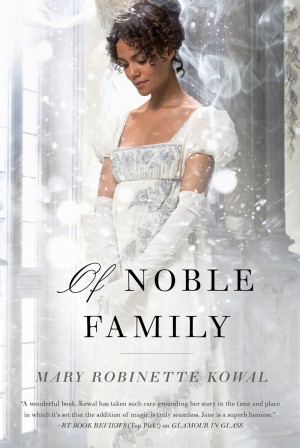 The final book of the acclaimed Glamourist Histories is the magical adventure that might result if Jane Austen walked on the darker side of the Regency

Jane and Vincent have finally gotten some much-needed rest after their adventures in Italy when Vincent receives word that his estranged father has passed away on one of his properties in the West Indies. His brother, who manages the estate, is overwhelmed, and no one else in his family can go. Grudgingly, out of filial duty the couple decide to go.

The sea voyage is long and Jane spends enough time unable to perform glamour that towards the end of the trip she discovers that she is with child. They are overjoyed, but when they finally arrive at the estate to complete what they expect to be routine legal tasks, they realize that nearly everything they came expecting to find had been a lie. Also, the entire estate is in disarray, with horrifying conditions and tensions with the local slave population so high that they are close to revolt.

Jane and Vincent's sense of peril is screaming out for them to flee, but Vincent cannot stand to leave an estate connected with his family in such a condition. They have survived many grand and terrifying adventures in their time, but this one will test their skills and wits more than any they have ever encountered before, this time with a new life hanging in the balance.

Next up on my radar, looks like Tor is reissuing a new version of one of my favorite books ever, Kushiel's Dart! Although I can't say I agree with Phedre's new marque…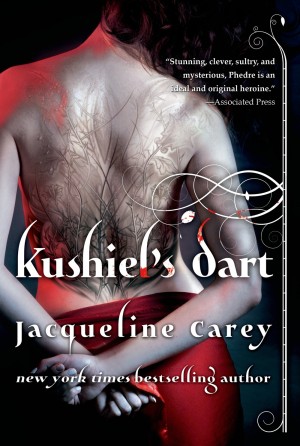 "When Love cast me out, it was Cruelty who took pity on me."

In a kingdom born of angels, Phedre is an anguisette, cursed or blessed to find pleasure in pain. Sold to the Court of Night Blooming Flowers, her fate as a beautiful but anonymous courtesan was sealed. Her bond was purchased by the nobleman Anafiel Delauney, who recognized the scarlet mote in Phedre's eye as the rare mark of one touched by a powerful deity. Under Delauney's patronage she is trained in history, politics, language, and the use of body and mind as the ultimate weapon of subterfuge in a dangerous game of courtly intrigue.

Guided into the bed chambers of Terre D'Ange's most influential nobles, Phedre uncovers a conspiracy against the throne so vast that even her teacher cannot see the whole of it. As her nation is besieged by invading hordes from the north, the most unthinkable threat to her beloved home comes from traitors within. Betrayed and blindsided by her own longings, only Phedre and her trusted bodyguard Josselin are left to cross borders and warring armies in a race to stop the final blow from falling.

Enter a lush world of pleasure houses, ambitious warlords, scheming courtiers, and the harsh justice of blessed deities through the eyes of a heroine like no other. Sprawling and darkly sensual, Kushiel's Dart is the start of a truly original fantasy series perfect for mature fans of George R. R. Martin, Robin Hobb, and Anne Bishop.

This next urban fantasy novel sounds like it could be fun…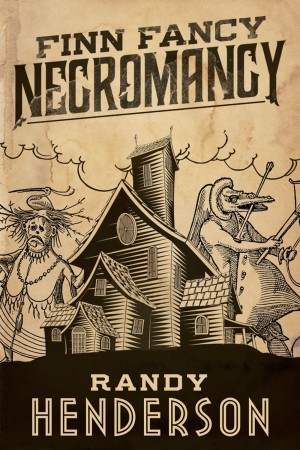 A dark and quirky urban fantasy debut set in a world of arcane beings hidden among the mundane townies of Port Townsend, Washington

Finn Gramaraye was framed for the crime of dark necromancy at the age of fifteen, and exiled to the Other Realm for twenty-five years. But now that he's free, someone—probably the same someone—is trying to get him sent back. Finn has only a few days to discover who is so desperate to keep him out of the mortal world, and find evidence to prove it to the Arcane Enforcers. They are going to be very hard to convince, since he's already been convicted of trying to kill someone with dark magic.

But Finn has his family: his brother Mort who is running the family necrotorium business now, his brother Pete who believes he's a werewolf, though he is not, and his sister Samantha who is, unfortunately, allergic to magic. And he's got Zeke, a fellow exile and former enforcer, who doesn't really believe in Finn's innocence but is willing to follow along in hopes of getting his old job back.

I've been meaning to try Rhiannon Frater's zombie novels, but this next book sounds freaking fantastic (and super creepy):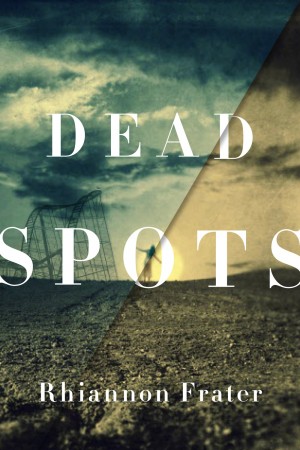 In the dead spots, dreams become reality, terror knows your name, and nightmares can kill

The stillbirth of Mackenzie's son destroyed her marriage. Grieving, Mac reluctantly heads for her childhood home to seek refuge with her mother, who constantly reminds her of life's dangers.

Driving across Texas, Mac swerves to avoid hitting a deer…and winds up in a dead spot, a frightening place that lies between the worlds of the living and the dead. If they can control their imaginations, people can literally bring their dreams to life—but most are beseiged by fears and nightmares which pursue them relentlessly.

Mackenzie's mother and husband haunt her, driving her to the brink of madness. Then she hears a child call for help and her maternal instincts kick into overdrive. Grant, Mac's ally in the dead spots, insists Johnny is a phantom, but the boy seems so real, so alive….

As the true horrors of the dead spots are slowly revealed, Mackenzie realizes that time is running out. But exits from the dead spots are nearly impossible to find, and defended by things almost beyond imagination.

Next up, a portal-to-the-past story that sounds like it could be fun: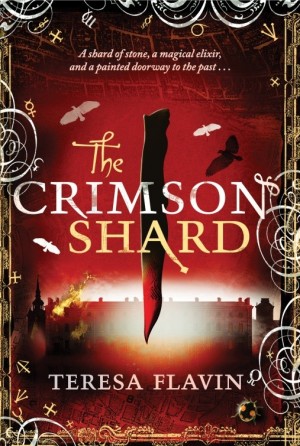 A shard of crimson stone, a magical elixir, and a painted doorway that opens to the past…

During what seems like an ordinary museum visit, a tour guide lures Sunni and Blaise through a painted doorway, where they discover they've stepped into eighteenth-century London.

When they realize their "tour guide" will do anything to learn what Sunni and Blaise know about magical paintings, they attempt to flee and encounter body snatchers, art thieves, and forgers in this gripping sequel to The Blackhope Enigma.

Can they evade their captors and figure out how to get back home before it's too late? Or will keeping their secret safe mean they're stuck in the past forever?

And last but not least, a book about ghosts and the movies. Yes please.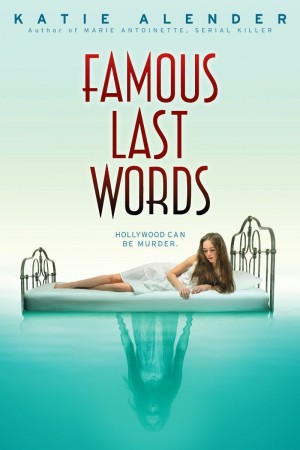 Hollywood history, mystery, murder, mayhem, and delicious romance collide in this unputdownable thriller from master storyteller Katie Alender.

Willa is freaking out. It seems like she's seeing things. Like a dead body in her swimming pool. Frantic messages on her walls. A reflection that is not her own. It's almost as if someone — or something — is trying to send her a message.

Meanwhile, a killer is stalking Los Angeles — a killer who reenacts famous movie murder scenes. Could Willa's strange visions have to do with these unsolved murders? Or is she going crazy? And who can she confide in? There's Marnie, her new friend who may not be totally trustworthy. And there's Reed, who's ridiculously handsome and seems to get Willa. There's also Wyatt, who's super smart but unhealthily obsessed with the Hollywood Killer.

All Willa knows is, she has to confront the possible-ghost in her house, or she just might lose her mind . . . or her life.

Acclaimed author Katie Alender puts an unforgettable twist on this spine-chilling tale of murder, mystery, mayhem — and the movies.

And that's it from us! What books do you have on YOUR radar?