"On The Smugglers' Radar" is a feature for books that have caught our eye: books we have heard of via other bloggers, directly from publishers, and/or from our regular incursions into the Amazon jungle. Thus, the Smugglers' Radar was born. Because we want far more books than we can possibly buy or review (what else is new?), we thought we would make the Smugglers' Radar into a weekly feature – so YOU can tell us which books you have on your radar as well!
On Ana's Radar:
First up, a new book by a favourite author, Erin Bow. It. Looks. Awesome.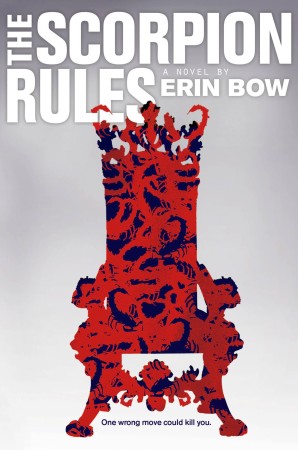 My name is Greta Gustafsen Stuart, and there are three things you need to know about me.

The first is that I am royalty: Duchess of Halifax and Crown Princess of the Pan Polar Confederacy.

The second follows from the first: I am a hostage to peace. My nation is on the brink of war, and if we tip over that brink, my life will be forfeit. The Swan Riders will come, and they will kill me.

But here is the third thing to know about me: I am, as I tell myself daily, not afraid.

A new YA novel by Mercedes Lackey!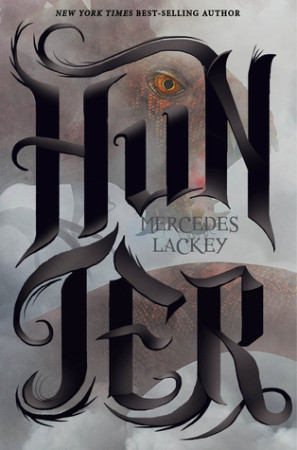 Centuries ago, the barriers between our world and the Otherworld were slashed open allowing hideous fantastical monsters to wreak havoc; destroying entire cities in their wake. Now, people must live in enclosed communities, behind walls that keep them safe from the evil creatures constantly trying to break in. Only the corps of teen Hunters with lightning reflexes and magical abilities can protect the populace from the daily attacks.

Joyeaux Charmand is a mountain girl from a close knit village who comes to the big city to join the Hunters. Joy thinks she is only there to perform her civic duty and protect the capitol Cits, or civilians, but as cameras follow her every move, she soon learns that the more successful she is in her hunts, the more famous she becomes.

With millions of fans watching her on reality TV, Joy begins to realize that Apex is not all it seems. She is forced to question everything she grew up believing about the legendary Hunters and the very world she lives in. Soon she finds that her fame may be part of a deep conspiracy that threatens to upend the protective structure built to keep dark magic out. The monsters are getting in and it is up to Joy to find out why.

I am SO excited for Charlie Jane Anders' book! The cover is amazing and the blurb had me at "two-second time machine":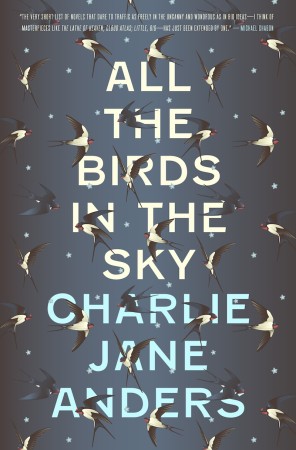 From the editor-in-chief of io9.com, a stunning novel about the end of the world—and the beginning of our future.

Childhood friends Patricia Delfine and Laurence Armstead didn't expect to see each other again, after parting ways under mysterious circumstances during middle school. After all, the development of magical powers and the invention of a two-second time machine could hardly fail to alarm one's peers and families.

But now they're both adults, living in the hipster mecca San Francisco, and the planet is falling apart around them. Laurence is an engineering genius who's working with a group that aims to avert catastrophic breakdown through technological intervention. Patricia is a graduate of Eltisley Maze, the hidden academy for the world's magically gifted, and works with a small band of other magicians to secretly repair the world's ever growing ailments. Little do they realize that something bigger than either of them, something begun years ago in their youth, is determined to bring them together—to either save the world, or plunge it into a new dark ages.

A deeply magical, darkly funny examination of life, love, and the Apocalypse.

I have enjoyed most of Sarah Beth Durst's books and I am really excited about her upcoming middle grade novel: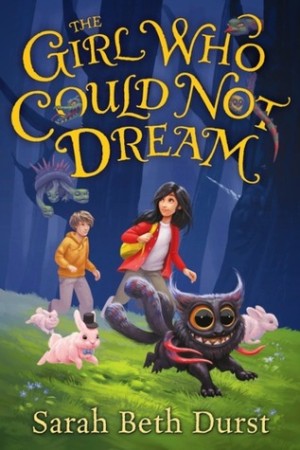 Sophie loves the hidden shop below her parents' bookstore, where dreams are secretly bought and sold.

When the dream shop is robbed and her parents go missing, Sophie must unravel the truth to save them.

Together with her best friend—a wisecracking and fanatically loyal monster named Monster—she must decide whom to trust with her family's carefully guarded secrets. Who will help them, and who will betray them?

On Thea's Radar:
Saw this on NetGalley the other day, and it sounds interesting…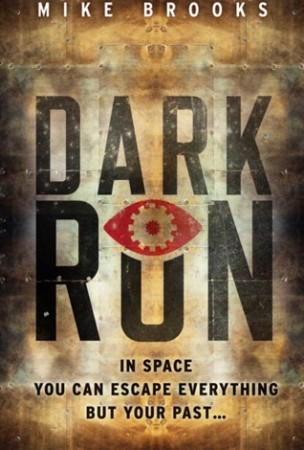 The Keiko is a ship of smugglers, soldiers of fortune and adventures. Travelling Earth's colony planets searching for the next job, and nobody talks about their past. Until now.

Captain Ichabod Drift is being blackmailed. He has to deliver a special cargo to Earth at a specific time and place, and no-one can know they're there.

It's what they call a dark run…

I also came across this book on NetGalley and I'm not sure if it's a vampire book (it seems kinda like it is, but in disguise)? Hmm.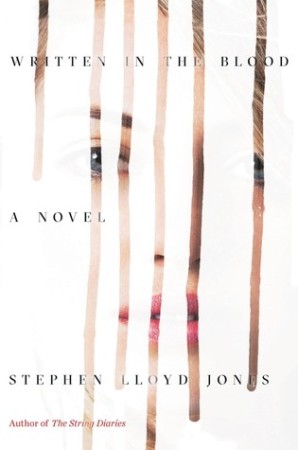 "Chilling . . . A neo-gothic treat; original, richly imagined, and powerfully told." –The Guardian (UK) for The String Diaries

See the girl. Leah Wilde is twenty-four, a runaway on a black motorbike, hunting for answers while changing her identity with each new Central European town.

See the man, having come of age in extraordinary suffering and tragedy in nineteenth-century Budapest; witness to horror, to love, to death, and the wrath of a true monster. Izsák still lives in the present day, impossibly middle-aged. He's driven not only to hunt this immortal evil but to find his daughter, stolen from an Arctic cabin and grown into the thing Izsák has sworn to kill.

See the monster, a beautiful, seemingly young woman who stalks the American West, seeking the young and the strong to feed upon, desperate to return to Europe where her coven calls.

Written in the Blood is the epic thriller of the year, a blazing and dexterous saga spanning generations, and threading the lives of five individuals driven by love, by sacrifice, by hunger and by fear. They seek to save a race–or to extinguish it forever.

1. This cover is gorgeous. 2. It doesn't really sound like the type of thing I usually read, but extreme unreliable narrator intrigues me. 3. I think Ana should read this book and get back to me about it.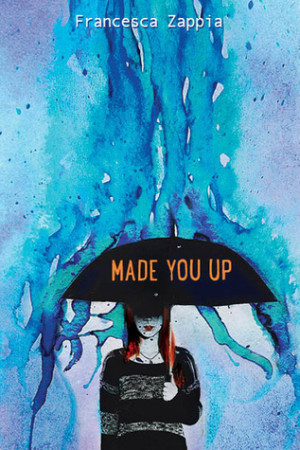 Reality, it turns out, is often not what you perceive it to be—sometimes, there really is someone out to get you. Made You Up tells the story of Alex, a high school senior unable to tell the difference between real life and delusion. This is a compelling and provoking literary debut that will appeal to fans of Wes Anderson, Silver Linings Playbook, and Liar.

Alex fights a daily battle to figure out the difference between reality and delusion. Armed with a take-no-prisoners attitude, her camera, a Magic 8-Ball, and her only ally (her little sister), Alex wages a war against her schizophrenia, determined to stay sane long enough to get into college. She's pretty optimistic about her chances until classes begin, and she runs into Miles. Didn't she imagine him? Before she knows it, Alex is making friends, going to parties, falling in love, and experiencing all the usual rites of passage for teenagers. But Alex is used to being crazy. She's not prepared for normal.

Funny, provoking, and ultimately moving, this debut novel featuring the quintessential unreliable narrator will have readers turning the pages and trying to figure out what is real and what is made up.

This book comps Pixar movies and The Night Circus. I must know how this plays out.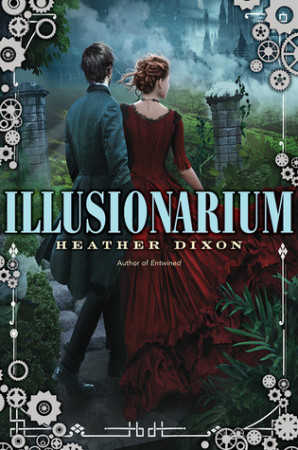 What if the world holds more dangers—and more wonders—than we have ever known? And what if there is more than one world? From Heather Dixon, author of the acclaimed Entwined, comes a brilliantly conceived adventure that sweeps us from the inner workings of our souls to the far reaches of our imaginations.

Jonathan is perfectly ordinary. But then—as every good adventure begins—the king swoops into port, and Jonathan and his father are enlisted to find the cure to a deadly plague. Jonathan discovers that he's a prodigy at working with a new chemical called fantillium, which creates shared hallucinations—or illusions. And just like that, Jonathan is knocked off his path. Through richly developed parallel worlds, vivid action, a healthy dose of humor, and gorgeous writing, Heather Dixon spins a story that calls to mind The Night Circus and Pixar movies, but is wholly its own.

Last but not least, the new book from E.K. Johnston!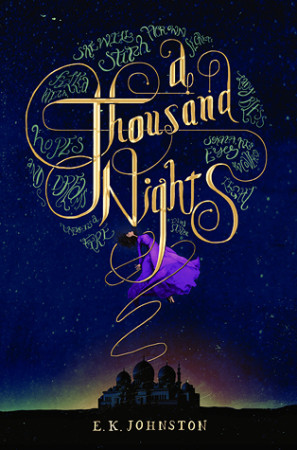 LO-MELKHIIN KILLED THREE HUNDRED GIRLS before he came to her village, looking for a wife. When she sees the dust cloud on the horizon, she knows he has arrived. She knows he will want the loveliest girl: her sister. She vows she will not let her be next.

And so she is taken in her sister's place, and she believes death will soon follow. Lo-Melkhiin's court is a dangerous palace filled with pretty things: intricate statues with wretched eyes, exquisite threads to weave the most beautiful garments. She sees everything as if for the last time. But the first sun rises and sets, and she is not dead. Night after night, Lo-Melkhiin comes to her and listens to the stories she tells, and day after day she is awoken by the sunrise. Exploring the palace, she begins to unlock years of fear that have tormented and silenced a kingdom. Lo-Melkhiin was not always a cruel ruler. Something went wrong.

Far away, in their village, her sister is mourning. Through her pain, she calls upon the desert winds, conjuring a subtle unseen magic, and something besides death stirs the air.

Back at the palace, the words she speaks to Lo-Melkhiin every night are given a strange life of their own. Little things, at first: a dress from home, a vision of her sister. With each tale she spins, her power grows. Soon she dreams of bigger, more terrible magic: power enough to save a king, if she can put an end to the rule of a monster.

And that's it from us! What books are on YOUR radar?