"On The Smugglers' Radar" is a feature for books that have caught our eye: books we have heard of via other bloggers, directly from publishers, and/or from our regular incursions into the Amazon jungle. Thus, the Smugglers' Radar was born. Because we want far more books than we can possibly buy or review (what else is new?), we thought we would make the Smugglers' Radar into a weekly feature – so YOU can tell us which books you have on your radar as well!
On Ana's Radar:
I still have to read a Sherwood Smith novel and her new book with Book View Cafe sounds great. I love a lady thief!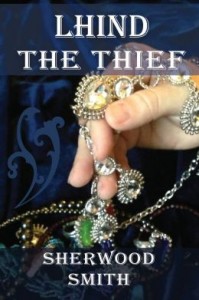 Lhind has been on the run all her life.

Stealing what she needs, using magic for disguise, she never stays anywhere long. Lhind even has secrets from herself, for she has few memories, and those are troubling.

But life is good until she gets caught by Rajanas the warrior-prince, Thianra the bard, and Hlanan the scribe. And that's when adventure begins, because someone very powerful wants them all dead.

As they evade pursuit and work to uncover their enemies, Lhind struggles with the invisible bonds of friendship and trust, while Hlanan begins uncovering her secrets one by one.

Then she finds that he has secrets, too.

This fantasy with a dash of romance takes place in the same world as A Posse of Princesses and the Wren series.

The wonderful Beth Kephart has an upcoming book set in the 80s and around the Berlin Wall. I am intrigued: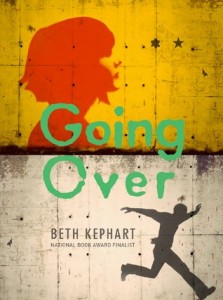 In the early 1980s Ada and Stefan are young, would-be lovers living on opposite sides of the Berlin Wall

Ada lives with her mother and grandmother and paints graffiti on the Wall, and Stefan lives with his grandmother in the East and dreams of escaping to the West.

A Historical Fantasy novel, featuring a faery hunter: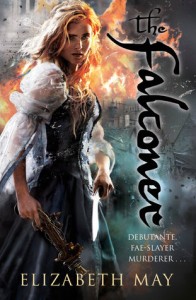 Heiress. Debutant. Murderer. A new generation of heroines has arrived.

Edinburgh, Scotland, 1844.

Lady Aileana Kameron, the only daughter of the Marquess of Douglas, was destined for a life carefully planned around Edinburgh's social events – right up until a faery killed her mother.

Now it's the 1844 winter season and Aileana slaughters faeries in secret, in between the endless round of parties, tea and balls. Armed with modified percussion pistols and explosives, she sheds her aristocratic facade every night to go hunting. She's determined to track down the faery who murdered her mother, and to destroy any who prey on humans in the city's many dark alleyways.

But the balance between high society and her private war is a delicate one, and as the fae infiltrate the ballroom and Aileana's father returns home, she has decisions to make. How much is she willing to lose – and just how far will Aileana go for revenge?

The cover of this book is amazing and I love the sound of its Victorian Middle Grade Fantasyness: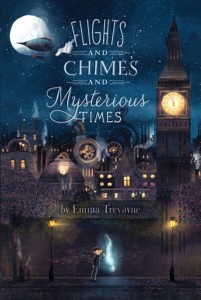 A boy accidentally travels from his home in Victorian London to an alternate, fairy-populated, steam-clogged version of the city, only to be caught in a web of dangerous politics; his only hope of returning home lies with the legend of an enormous, wish-granting clockwork bird.

Some of our fellow SFF folks from the UK were talking about this book on Twitter the other day. French Revolution! Oh yeah.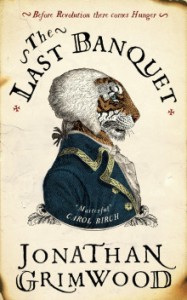 Jean-Marie Charles d'Aumout is many things. Orphan, soldier, diplomat, spy, lover. And chef.

This is his story.

We meet Jean-Marie d'Aumout as a penniless orphan eating beetles by the side of a road. His fate is changed after an unlikely encounter finds him patronage and he is sent to military academy. Despite his frugal roots, and thanks to it and courage in great measure, he grows up to become a diplomat and spy.

Rising through the ranks of eighteenth-century French society, he feasts with lords, ladies and eventually kings, at the Palace of Versailles itself.

Passionate love, political intrigue and international adventure abound in Jean-Marie's life, but his drive stems from a single obsession: the pursuit of the perfect taste. Three-Snake Bouillabaisse, Pickled Wolf's Heart and Flamingo Tongue are just some of the delicacies he devours on his journey toward the ultimate feast.

But beyond the palace walls, revolution is in the air and the country is clamouring with hunger of a different kind.

On Thea's Radar:
First up on my radar is this sequel to a 2013 release that I have on my TBR but haven't quite gotten around to reading yet. Maybe I'll take book 1 with me to the beach?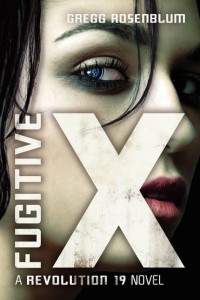 Their fight for freedom is humanity's last hope for survival. The chilling Revolution 19 trilogy continues in Fugitive X.

A war between humans and robots is on the horizon, and only one side will survive.

Siblings Nick, Kevin, and Cass are struggling to survive in a world where deadly, sophisticated robots have turned on their creators and enslaved mankind. Fugitives from one of the bot-controlled Cities, the siblings venture into the woods, but when they are attacked by bot foot soldiers, the siblings are separated…and for the first time, they are on their own.

Created in conjunction with Alloy Entertainment; Howard Gordon, showrunner of 24 and Showtime's Emmy- and Golden Globe-winning Homeland; and James Wong, writer-director of the Final Destination films, Fugitive X is the gripping next installment in the cinematic Revolution 19 series.

This next book looks like it could be interesting…or it could be terrible. I'm interested, though:
When 13-year-old Gretchen Harris's mother is murdered at Gretchen's 8th Grade graduation party, everyone in the town of Delphi, California, suspects a power struggle within the Oculus Society: Delphi's version of the Junior League. Gretchen's best friend, Jessica Shaw, might even hold the key to finding the culprit withThe Plotinus Ability: the Oculus Society's jealously guarded secret power to trade souls, which hinges on a kiss. Gretchen's hope at finding the murderer ends in tragedy when Ariel Miller—the class outcast—stalks Gretchen and Jessica and surreptitiously films them exchanging a kiss to test if the Plotinus Ability is real, not knowing their motives. The ensuing YouTube video ("Popular Girls = Secret Lovers") goes viral, Gretchen's and Jessica's lives are further shattered, and they vanish from Delphi.

Flash forward two years later: Ariel is suddenly the most popular junior in town, but wracked with guilt over what she did to Gretchen and Jessica. When both girls reappear after their mysterious absence, Ariel finds herself pawn, suspect, and key player in their scheme to bring the murderer to justice.

This next book also sounds pretty intriguing – and has the potential to deal with some very big questions and issues.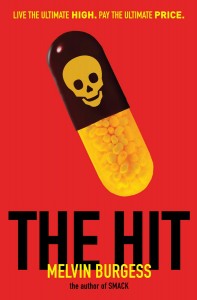 Live the ultimate high. Pay the ultimate price. The shocking return to YA by the author of SMACK.

A new drug is on the street. Everyone's buzzing about it. Take the hit. Live the most intense week of your life. Then die. It's the ultimate high at the ultimate price. Adam thinks it over. He's poor, and doesn't see that changing. Lizzie, his girlfriend, can't make up her mind about sleeping with him, so he can't get laid. His brother Jess is missing. And Manchester is in chaos, with the cops in the pockets of the dealers and with a group of homegrown terrorists, the Zealots, battling to overthrow the banks. Wouldn't one amazing week be better than this endless misery? After Adam downs one of the Death pills, he's about to find out.

Finally, there's this wonderful-sounding contemporary fantasy with a geekishily awesome spin. (Although I hate this cover – intensely.)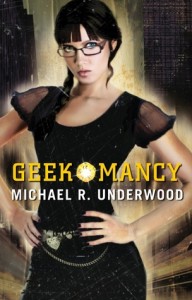 Clerks meets Buffy the Vampire the Slayer in this original urban fantasy eBook about Geekomancers—humans that derive supernatural powers from pop culture. Ree Reyes's life was easier when all she had to worry about was scraping together tips from her gig as a barista and comicshop slave to pursue her ambitions as a screenwriter.

When a scruffy-looking guy storms into the shop looking for a comic like his life depends on it, Ree writes it off as just another day in the land of the geeks. Until a gigantic "BOOM!" echoes from the alley a minute later, and Ree follows the rabbit hole down into her town's magical flip-side. Here, astral cowboy hackers fight trolls, rubber-suited werewolves, and elegant Gothic Lolita witches while wielding nostalgia-powered props.

Ree joins Eastwood (aka Scruffy Guy), investigating a mysterious string of teen suicides as she tries to recover from her own drag-your-heart-through-jagged-glass breakup. But as she digs deeper, Ree discovers Eastwood may not be the knight-in-cardboard armor she thought. Will Ree be able to stop the suicides, save Eastwood from himself, and somehow keep her job?

And that's it from us! What books do you have on YOUR radar?