Seraphina is back in this entertaining and highly anticipated sequel. While it's still a solid fantasy novel, Shadow Scale never quite manages to hit the high, sweet notes that made me fall in love with Seraphina.
Title: Shadow Scale
Written by Rachel Hartman
Genre: Fantasy, Young Adult
Publisher: Random House Children's Books
Publication Date: March 2015
Hardcover: 608 pages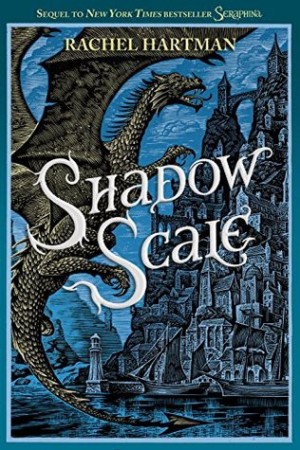 Seraphina took the literary world by storm with 8 starred reviews and numerous "Best of" lists. At last, her eagerly awaited sequel has arrived—and with it comes an epic battle between humans and dragons.

The kingdom of Goredd: a world where humans and dragons share life with an uneasy balance, and those few who are both human and dragon must hide the truth. Seraphina is one of these, part girl, part dragon, who is reluctantly drawn into the politics of her world. When war breaks out between the dragons and humans, she must travel the lands to find those like herself—for she has an inexplicable connection to all of them, and together they will be able to fight the dragons in powerful, magical ways.

As Seraphina gathers this motley crew, she is pursued by humans who want to stop her. But the most terrifying is another half dragon, who can creep into people's minds and take them over. Until now, Seraphina has kept her mind safe from intruders, but that also means she's held back her own gift. It is time to make a choice: Cling to the safety of her old life, or embrace a powerful new destiny?
Stand alone or series: Book 2 in the Seraphina duology
How did I get this book: Review copy from the publisher
Format (e- or p-): Ebook (via NetGalley)
Why did I read this book: I adored Seraphina, Rachel Hartman's debut novel, and the first book in this duology. I loved it so much that it made my top 10 best books of 2012 – I have been eagerly anticipating this sequel since devouring that first novel three years ago.
Review:
Shortly following the events of Seraphina, Shadow Scale shows us a different side of the eponymous heroine. For the first time in her life, Seraphina is free. For the first time every, she's free from the fear of hiding her half-dragon, half-human parentage, and lives as a valued, important, even loved member of Goredd's court. Serving openly as a trusted adviser to Queen Glisselda, Seraphina helps Selda grapple with her new rulership in the midst of a draconian war that threatens the lives of all in Goredd and to the south. In order to protect from impending attack and devastation, the Queen turns to Seraphina and the legend of a magical net that she and her other halfling kind, the Ityasaari, alone can cast. It is up to Seraphina to gather the other half-human half-dragons she has cultivated in her mind garden, and band them together to protect the home, the people, and the dragons she loves.
Fellow readers and Seraphina lovers, this is a hard review for me to write.
It's hard because I loved Seraphina so very much when it first came out. I loved the pressures that Seraphina faced in Goreddian society, the thread of music and magic that ran throughout the book, the quiet romantic storyline between Seraphina and Kiggs. I loved the lyrical writing and the fascinating realm of magic and draconic lore that Rachel Hartman wove into ever page of that first book. This is, in some ways, an unfairness to Shadow Scale because I came into the book with such lofty expectations and hopes – especially considering that I had to wait years for this sequel.
So in full transparency, all cards on the metaphorical table: Shadow Scale is nowhere near as fulfilling as Seraphina. While it's still a solid fantasy novel in its own right, Shadow Scale never quite manages to hit the high, sweet notes that made me fall in love with the first book.
Now please do not misunderstand me: there are plenty of things to love about Shadow Scale. The mere fact that there is more to Seraphina's story is intoxicating, and I love the expansion to her world that Hartman employs in this second novel. The different cities, cultures, customs, foods, and people are varied and fascinating (I particularly enjoyed the completely unexpected inclusion of Lab Four). I also very much loved getting to know other half-dragons on Seraphina's travels and their interactions with each other; if you'll recall, Seraphina is one of the lucky few who can (and, more importantly, who has) passed for human, but not everyone she meets is able to do the same (in particular, the figure of doctor Nedouard is so striking and solitary at the onset of the book). The politics of Goredd for both human and dragon (and ityasaari) are also wonderfully detailed and a strong point for Shadow Scale, as the motivations for war and Seraphina's mission to gather her half-dragon brethren make sense.
For each of these very good things, however, there are… well, less good things. The plot, on the whole, is incongruous and oddly stunted when it comes to pacing. Much of the book follows the same pattern: Seraphina travels to find another ityasaari, finds them incredibly easily and with a high success rate, but then STUFF HAPPENS and there are problems because of the Bad Guy (I don't want to spoil anything but it's pretty obvious from the start). This happens several times for the first half to two-thirds of the book – there is much hand-wringing and Seraphina feeling tired, and lonely, and disheartened. Where is Seraphina's agency? It's almost as though in this novel, the heroine and heart of book 1 has become relegated to the sidelines of book 2. For all that she is the one on whose abilities, smarts, and diplomacy the fate of Goredd rests upon, Seraphina is decidedly without power, happiness, or drive. (Also MIND CONTROL BAD GUY POWERS are an incredibly frustrating cop-out. That is all I will say about that.)
More important than an uneven, repetitive plot, however, Shadow Scale is disappointing because it lacks the heart of Seraphina. Where is the music that was so potent and present in the first novel (and prequel novella)? Where is the sensitivity and the underlying romance, and the emotional identity that powers the first book? For that matter, what the heck really happens with Seraphina's Dream Garden and why is it so quickly and easily abandoned? Why is there a Deus Ex Machina of an ending, that effectively dislodges the Big Bad Guy (who has been pulling all of the strings so far ahead of Seraphina since the get-go)? Why is the war, similarly, so easily resolved so late in the book without the big flippin' battle the book description promises and that Shadow Scale seemingly builds up to?
Frustrations.
The one thing about the book's resolution that I did appreciate, however, concerns the romantic subplot between Seraphina, Kiggs, and Selda. The romantic subplot is firmly relegated to the background in Shadow Scale (as is Kiggs, basically), because though Kiggs and Seraphina love each other so very dearly, there is duty to consider and Seraphina genuinely cares for her darling friend (and Queen) Selda. I love the idea of the subversion that Rachel Hartman employs here with Selda and Seraphina's relationship, and the ultimate direction of the royal political marriage… at least in theory. In execution? I truly wish that more time was spent on this particular subplot and ending, instead of being glossed over in passing.
But, of course, your mileage may vary. For me, Shadow Scale sadly was not quite what I had hoped for in a sequel – certainly, it's not what I had hoped for as the second half of a duology.
I still enjoyed parts of the book very much, but I had hoped for more.
Notable Quotes/Parts:
Queen Glisselda spotted the dragon first. It was a swift-moving patch of darker darkness against the night sky, obliterating stars and birthing them again.

She pointed at it, shouting, "Singleton from the west, St. Ogdo save us!" in imitation of the knights of old. She spoiled the impression slightly by bouncing on her toes and laughing. The winter wind carried the cheerful sound away; far below us the city curled under a quilt of new snow, silent and thoughtful as a sleeping child.

Trained spotters had once scanned the skies for dragon battalions from this selfsame place, atop Castle Orison's Ard Tower. Tonight it was only the Queen and me, and the approaching "singleton" was a friend, thank Allsaints: the dragon Eskar, erstwhile undersecretary at our dragon embassy. She'd helped my uncle Orma evade the Censors almost three months ago, just as the dragons' civil war was breaking out.

Ardmagar Comonot, the deposed leader of dragonkind, had expected Eskar to find Orma a safe haven and then return to us in Goredd, where Comonot had established his headquarters in exile. The Ardmagar had intended to make her one of his advisors, or even a general, but months had brought no Eskar and no expla­nation.

She had contacted Comonot, via quigutl device, earlier this evening. Over dinner, Comonot had informed Queen Glisselda that Eskar would fly in after midnight. Then he had taken himself off to bed, leaving the Queen to wait up or not, as she saw fit.

It was a very Comonot way of dealing with things. The Queen wearied of him.

He'd said nothing about why Eskar had suddenly decided to come back, or where she'd been. It was possible he didn't know. Glisselda and I had been speculating about it to distract ourselves from the cold. "Eskar has decided the dragon civil war is dragging on too long, and means to end it single-handedly," was Glisselda's final assessment. "Did she ever glare at you, Seraphina? She could stop the very planets in their spheres."

I hadn't experienced the glare, but I'd seen the way she looked at my uncle three months ago. Eskar had surely been with him this whole time.
You can read the full excerpt online HERE.
Rating: 6 – Good, Recommended with Reservations
Buy the Book:
(click on the links to purchase)
Ebook available for kindle US, kindle UK, nook, Kobo, Google Play