Author: Jack Gantos
Genre: Historical, Realistic, Mystery, Middle Grade
Publisher: Farrar, Straus and Giroux
Publication date: September 13th 2011
Hardcover: 224 pages
Melding the entirely true and the wildly fictional, Dead End in Norvelt is the story of an incredible two months for a boy named Jack Gantos, whose plans for vacation adventure are suddenly ruined when he is grounded by his feuding parents for what seems like forever. But escape comes where Jack least expects it, once his mom loans him out to help an elderly neighbor with a most unusual chore—a chore involving the newly dead, molten wax, twisted promises, Girl Scout cookies, underage driving, lessons from history, obituaries, Hells Angels, and countless bloody noses. Endlessly surprising, this sly, sharp-edged narrative about a small western Pennsylvania town is the author at his very best, making readers laugh at the most shocking things in a dead-funny depiction of growing up in a slightly off-kilter place where the past is present, the present is confusing, and the future is completely up in the air.
Stand alone or series: Stand alone
How did I get this book: Got a signed ARC at BEA.
Why did I read this book: Because of all the amazing reviews it got before BEA, months prior to its publication and because it sounded like an Ana-book.
Review:
School was finally out and I was standing on a picnic table on our backyard getting ready for a great summer vacation when my mother walked up to me and ruined it.
Thus begins Dead End in Norvelt and Jack's summer. First of all, his mother lends his time out to one of their neighbours, Miss Volker – an elderly woman whose arthritic fingers prevent her from performing her duties as the town's writer of obituaries and Jack is to assist her writing them. Then, when helping his own father in their backyard lends him in trouble with his mother, he is grounded for the entire summer. With nothing to do but to read his history books and do his chores, Jack realises that assisting Miss Volker is perhaps the most exciting thing that will happen to him this summer and surprisingly, he is sort of ok with that. Until a lot of the senior citizens start to suspiciously die in close succession.
There are books that surprise the heck out of you. Dead End in Norvelt is one of them. I did not know what I was getting into when I picked up a copy at BEA as I had never heard of Jack Gantos before (WHY haven't I? His books seem to be Ana-books through and through) but the novel was one of the most hyped books in the build up to the event, receiving starred reviews as early as 5 months before publication.
The first surprise came as soon as I sat down to read it. The name of the main character, an 11 year-old-boy about to start his summer vacation in the early sixties is…Jack Gantos. All of a sudden, this is not only a novel, it is an autobiographical one but according to the blurb, one that melds the "entirely true" and the "wildly fictional".
In all honesty, I could not tell you which is which. There are preposterously surreal things happening in this novel and I am sure that some of them are of the aforementioned "wildly fictional" variety. Or at least, I hope so. Not that it matters, and here is the second surprise: exactly that it doesn't matter. And I loved the novel, just as it is: a semi-autobiographical novel featuring Hells Angels, a bunch of dead senior citizens, obituaries that are also history lessons, under-age driving and shooting, dysfunctional families that are also awesome families, copious amount of blood coming out of the main character's nose, cold-war bunker building and much more.
The "much more" is perhaps what is the most surprising when trying to understand why I loved the novel so much because usually I am the type of reader that believes that "less is better" when it comes to realistic YA. However, what is not surprising at all, is that I will willingly follow a good writer wherever he/she takes me. And there is no question in my mind that Jack Gantos is a good writer. His talent lies in combining the weird and the absurd with the poignant and the hilarious, and the Mystery with Biographical and History and Story and make it all seem as though these things are the most natural things in the world when combined.
Norvelt itself is a very real town built during the Depression by the US Government as a model community for poor coal-miner families and named after Eleanor Roosevelt. At the time the story is set, the town is close do dying, with families moving out and the ones staying behind dealing with poverty and lack of prospects. Jack's is one such family and his father is adamant they must move whereas his mother wishes to stay. This dynamic between his parents is really well explored especially with the way that Jack always stands in the middle. On a similar note, Miss Volker who is the town's nurse and obituary writer, leads her life with a mix of hope and regret. She wants to leave and do things but is so attached to the town, she has named herself its official historian as well. With each obituary she writes, she connects the dead person with Norvelt's (or the World's) history thereby making each obituary, a history lesson. Jack, who is passionate about reading history books becomes entranced with each session he has with Miss Volker and the two become friends.
Beyond the more serious aspects of the novel, there are also downright hilarious moments. Jack for example, is an interesting mixture of a daring 11 year-old-boy who wants to do things (like being obsessed with learning to drive and having a car) and being a coward when it came to other things. And the funniest aspect is how he would get severe nose bleeds whenever he was scared or upset to the point where he spends the majority of the book dealing with copious amounts of blood running down his face. And then as soon as you are laughing so hard you are crying with the absurd hilarity of this, you go back to poignancy as his problem is easily treatable but his parents can not pay the doctor for this simple treatment.
And all of this comes with such clever writing it blew my mind away. My entire copy of ear-marked. Take for example this passage:
Even though I tried not to listen to Mom and the doctor any talk of money always got my attention because everything in our house depended entirely on money. Decisions for us were not made on whether we wanted something, or even needed something, but on whether we could afford it or not. Dad once said, "Someday I want to live a life where I won't be bullied by my wallet." I wished that someday would arrive soon because his wallet was a really big bully that said "No" and "Put that back" all the time.
Or this one:
I opened the door. "Miss Volker," I hollered, "are you dressed?"

"What would it matter?" she replied glumly. "Today I'm not a person – I feel like a box of cold ashes."

When I entered the living room she was sitting on the couch wrapped up in a large knitted afghan. The tears ran in uneven channels down the wrinkled maze of skin on her face. Watching an old person cry is not the same as watching a young person cry. Old people don't really seem hurt so much as they seem helpless, which is worse.

"I heard about your sister's house," I said quietly. "You can have it rebuilt. My dad could do it."

She wiped her face against her bony shoulders. "No," she replied softly. "It's gone for good. But not forgotten. Sit down and get your pencil and paper. Today we are going to write a different kind of obituary."

I took my seat and got my pad and sharpened my pencil. "I'm ready," I said, and licked the tip of the lead.

"This is not your normal obituary," she started, and I could hear the strength return to her voice. Then she pulled herself up like a drum major about to march at the head of her words. "This is the obituary of a house – a home that was born of love and died by the hands of hatred.
And although one could certainly argue that Jack is perhaps too mature and observant for his age, that there is a certain awkwardness (read: info-dump) in the history lessons that follow each obituary or that the murder mystery comes with a degree of hand-waving, these things didn't ruin the story for me. Because at its heart, this is a coming of age novel of a boy who is standing in the middle of several people with different world views: his mother, his father, Miss Volker. In the end, he is on his way to make his mind up about who he wants to be and how he wants to see the world. He is on his way to become his own person. The very last paragraphs of the novel illustrate this beautifully and are pitch-perfect in showing what Jack learnt that summer: that history and future are part of the same time line and how your actions have real consequences.
Notable quotes/parts: I found this sequence hilarious. This is the first time Jack shows up to assist Miss Volker, He walks in to find her with her hands inside a pot on top of the gas stove with the flames on and her face all screwed up in agony. He thinks she is melting herself down.
She lifted her hands out of the pot and they were melting. Lumps of glowing yellow flesh oozes down her forearms and spattered onto the floor.

"Oh mercy!" I cried, and fidgeted up and down like a terrified squirrel. "Miss Volker, what have you done to yourself?"

"Turn the cold water on over the sink!" she ordered. "I think I might have done permanent damage."

I nearly flew to the sink and turned the spigot handle. "Give me your hands," I said. "Quick."

She stumbled toward me, then held out the sagging stumps of her melted arms. I hesitated, but there was nothing else to do except run away screaming, so I grabbed what I thought were her wrists. Oh cheeze! The warm, lifeless flesh squished between my fingers as I tugged her forward and held her ruined hands under the water.

She stamped the floor and groaned in horsey agony as her eyes rolled back into her head.

"You'll be fine," I jabbered about five jittery times in a row, each time my mind echoed back, "You won't be fine…you won't ever be fine because you just melted your hands off!"

"Ahhh," she sighed with a relaxed shudder, and after a moment her eyes leveled out. "That feels better," she said calmly. "Now turn off the water."

I did and she held her arms up. "Now peel it off," she ordered.

"Peel what off?" I asked.

"The sticky stuff on my arms," she said impatiently, and then she held a rounded stump up to her mouth, bit off a cooked chunk, and spit it into the trash.

I felt faint. I staggered back a few steps and by then my nose was spewing like an elephant bathing himself. "Please…Miss Volker," I said with my voice quavering. "Please don't eat your own flesh." Oh cheeze-us-crust. Mom didn't know Miss Volker had gone insane, and I knew I would go insane too if I had to watch her cannibalize her own body down to the white boiled bones.

"You're bleeding all over the floor," she said, turning her attention toward me as if she wanted to wash her flesh meal down with my blood. "Let me have a look at you." Then she reached toward me with her deformed stumps and touched my face and at that moment I yelped out loud and dropped over dead.[1. If you are wondering what is going on: Miss Volker was treating her arthritic hands with wax. She was NOT cannibalizing her own flesh]
Additional Thoughts: So, any Jack Gantos' fan around the house?? Which book should I read next? This one looks appetizing: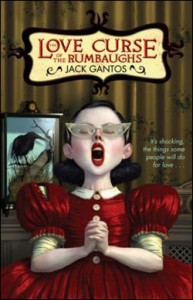 On an unseasonably warm Easter Sunday, a young girl named Ivy discovers a chilling secret in the basement of the Rumbaugh pharmacy across the street from the hotel where she lives with her mother. The discovery reveals a disturbing side to the eccentric lives of family friends Abner and Adolph Rumbaugh, known throughout their small western Pennsylvania town simply as the Twins. It seems that Ab and Dolph have been compelled by a powerful mutual love for their deceased mother to do something extraordinary, something that in its own twisted way bridges the gap between the living and the dead.

Immediately, Ivy's discovery provokes the revelation of a Rumbaugh family curse, a curse that, as Ivy will learn over the coming years, holds a strange power over herself and her own
mother.

In his third book for young adults, Jack Gantos has scripted a completely original drama. With gothic flavor and black humor, he depicts a group of people bound together by love, compulsion . . . and a passion for taxidermy.
Rating: 8 – Excellent
Buy the Book: