"On The Smugglers' Radar" is a feature for books that have caught our eye: books we have heard of via other bloggers, directly from publishers, and/or from our regular incursions into the Amazon jungle. Thus, the Smugglers' Radar was born. Because we want far more books than we can possibly buy or review (what else is new?), we thought we would make the Smugglers' Radar into a weekly feature – so YOU can tell us which books you have on your radar as well!
On Ana's Radar:
Quite like the sound of Lisa Mantchev's new book: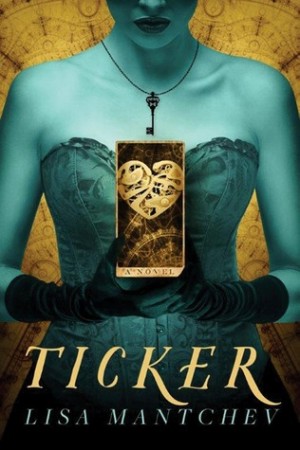 A girl with a clockwork heart makes every second count.

When Penny Farthing nearly died, the brilliant surgeon Calvin Warwick managed to implant a brass ?Ticker, ? transforming her into ?the first of the Augmented!? But soon it was discovered that Warwick kidnapped and killed dozens of people striving to perfect another Ticker for Penny.

The last day of Warwick's trial, the Farthing factory is bombed, Warwick disappears, and Penny and her brother, Nic, receive a ransom demand for all of their Augmentation notes if they want to see their parents again. Who is trying to stop their work? Or to control it? Or is the motive more sinister?

Determined to solve the mystery and reunite their family, the Farthings recruit their closest friends: fiery baker Violet Nesselrode and gentleman-about-town Sebastian Stirling. Unexpectedly leading the charge is Marcus Kingsley, the young army general who has his own reasons for wanting to lift the veil between this world and the next. Wagers are placed, friends are lost, romance stages an ambush, and time is running out for the girl with the clockwork heart.

Tentatively interested in this book – will probably look for reviews before reading it. Maybe: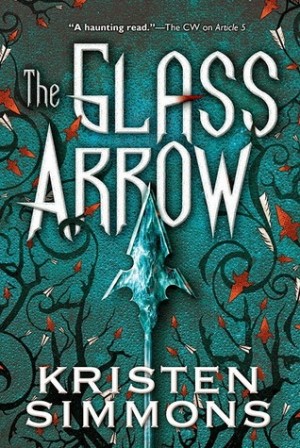 The Handmaid's Tale meets Blood Red Road in Glass Arrow, the story of Aya, who lives with a small group of women on the run from the men who hunt them, men who want to auction off breeding rights to the highest bidder.

In a world where females are scarce and are hunted, then bought and sold at market for their breeding rights, 15-year old Aya has learned how to hide. With a ragtag bunch of other women and girls, she has successfully avoided capture and eked out a nomadic but free existence in the mountains. But when Aya's luck runs out and she's caught by a group of businessmen on a hunting expedition, fighting to survive takes on a whole new meaning.

Description of Catherynne Valente's new book: "Radiance is a decopunk pulp SF alt-history space opera mystery". OH HELLO THERE PRECIOUS: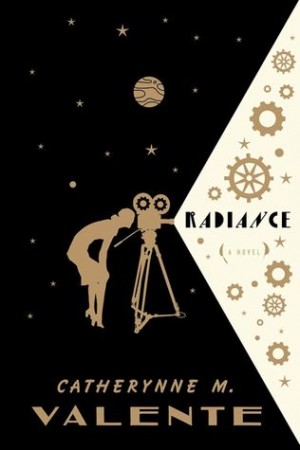 The first adult novel in more than three years from the bestselling author of the Fairyland books
Radiance is a decopunk pulp SF alt-history space opera mystery set in a Hollywood—and solar system—very different from our own, from the phenomenal talent behind the New York Times bestselling The Girl Who Circumnavigated Fairyland in a Ship of Her Own Making.

Severin Unck's father is a famous director of Gothic romances in an alternate 1986 in which talking movies are still a daring innovation due to the patent-hoarding Edison family. Rebelling against her father's films of passion, intrigue, and spirits from beyond, Severin starts making documentaries, traveling through space and investigating the levitator cults of Neptune and the lawless saloons of Mars. For this is not our solar system, but one drawn from classic science fiction in which all the planets are inhabited and we travel through space on beautiful rockets. Severin is a realist in a fantastic universe.

But her latest film, which investigates the disappearance of a diving colony on a watery Venus populated by island-sized alien creatures, will be her last. Though her crew limps home to earth and her story is preserved by the colony's last survivor, Severin will never return.

Aesthetically recalling A Trip to the Moon and House of Leaves, and told using techniques from reality TV, classic film, gossip magazines, and meta-fictional narrative, Radiance is a solar system-spanning story of love, exploration, family, loss, quantum physics, and silent film.

This next one sounds like it could be The Best Thing Ever or A Mess: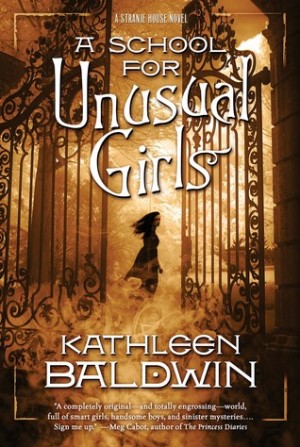 It's 1814. Napoleon is exiled on Elba. Europe is in shambles. Britain is at war on four fronts. And Stranje House, a School for Unusual Girls, has become one of Regency England's dark little secrets. The daughters of the beau monde who don't fit high society's constrictive mold are banished to Stranje House to be reformed into marriageable young ladies. Or so their parents think. In truth, Headmistress Emma Stranje, the original unusual girl, has plans for the young ladies—plans that entangle the girls in the dangerous world of spies, diplomacy, and war.

After accidentally setting her father's stables on fire while performing a scientific experiment, Miss Georgiana Fitzwilliam is sent to Stranje House. But Georgie has no intention of being turned into a simpering, pudding-headed, marriageable miss. She plans to escape as soon as possible—until she meets Lord Sebastian Wyatt. Thrust together in a desperate mission to invent a new invisible ink for the English war effort, Georgie and Sebastian must find a way to work together without losing their heads—or their hearts…

On Thea's Radar:
First up on my list, two books that I am VERY excited to read from authors whose previous books I have loved. This new Courtney Summers book, follow up to This is Not A Test, is easily one of my most highly anticipated books of the year.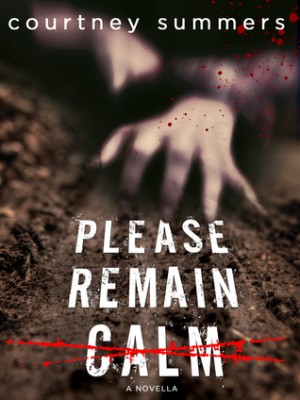 In this gripping sequel to THIS IS NOT A TEST, Rhys and Sloane are headed for a safe haven when they get separated along the way. Rhys is determined to reunite with Sloane until he discovers people who might need him more–people who offer him the closest he'll get to everything he's lost, if they can just hold on long enough.

Rhys thinks he has what it takes to survive and find the girl he lost, but in a world overrun by the dead, there are no guarantees and the next leg of his journey will test him in unimaginable ways …

THEN there is a second novel to one of my favorite books of a few years ago, A Long Long Sleep by Anna Sheehan! How did I not know this was coming?!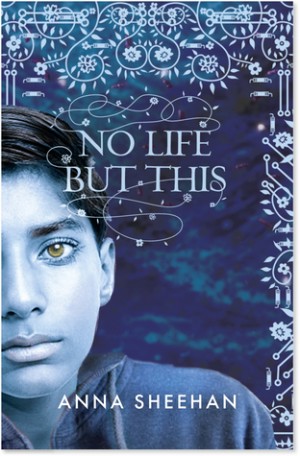 Rose spent most of her life asleep. Otto spent his as an object.

Rose Fitzroy woke from her long sleep to a changed world and new life. Her friend Otto watched her from afar, longing for what he felt he couldn't have. But just when things seem to be going right, his own biology backfires, sending him into a deathly spiral that neither of them can stop. His only hope lies on the distant ice moon of Europa, where an experimental treatment might bring him back from the brink.

But Europa is in a state of revolution, and Otto's brother Quin is tangled up in it. With Otto going slowly insane, and Rose haunted by ghosts of her old life, more than one world may soon be destroyed around them.

In the superb stand-alone novel A LONG, LONG SLEEP we saw her survive assassination attempts and heartbreak alike. Now, in the stand-alone sequel, Rose must take control of her future for the sake of her friends – and find a way to protect them without unwittingly caging them in love…"

Next up, this historical Roman inspired novel that sounds promising (some very bad/cheesy copy aside):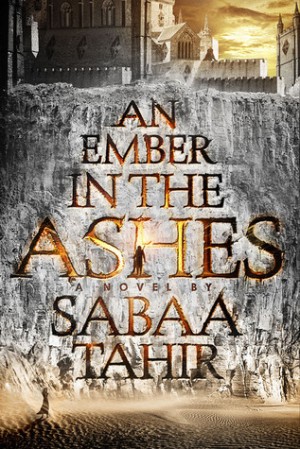 Set in a terrifyingly brutal Rome-like world, An Ember in the Ashes is an epic fantasy debut about an orphan fighting for her family and a soldier fighting for his freedom. It's a story that's literally burning to be told.

LAIA is a Scholar living under the iron-fisted rule of the Martial Empire. When her brother is arrested for treason, Laia goes undercover as a slave at the empire's greatest military academy in exchange for assistance from rebel Scholars who claim that they will help to save her brother from execution.

ELIAS is the academy's finest soldier— and secretly, its most unwilling. Elias is considering deserting the military, but before he can, he's ordered to participate in a ruthless contest to choose the next Martial emperor.

When Laia and Elias's paths cross at the academy, they find that their destinies are more intertwined than either could have imagined and that their choices will change the future of the empire itself.

Vow your blood and body to the empire.

Keep your heart for yourself.

These sales handles are often hilarious, but they sometimes work. Case in point: Rocky meets Gattaca. I can't say no to that, can I? I mean, the main character's fighting name is "The Raptor"!!!!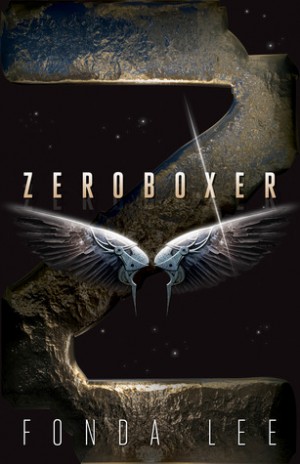 A high-action sci-fi about a young man battling to make it to the top in the world of zero gravity prizefighting, amid brewing interplanetary conflict, pitched as Rocky meets Gattaca.

Eighteen-year-old Carr "the Raptor" Luka is an athletic phenom, a rising star in the weightless combat sport of zeroboxing. Training and competing aboard the lunar orbiting city-station of Valtego (where It's More Fun on the Dark Side TM), all he's ever wanted is to win the championship title.

His talent and marketability don't go unnoticed by the top brass of the Zero Gravity Fighting Association. They assign him a brandhelm; after all, anyone who wants to be anyone needs a dedicated personal marketing strategist. Beautiful and ambitious, Risha is one of the genetically engineered Martian colonists that Earth dwellers view with resentment and suspicion. It isn't long before she's made Carr into a popular celebrity, and stolen his heart along the way.

But success could be the worst thing that happens to them. As his fame grows, Carr must come to terms with the fact that he's become an inspirational hero on Earth, a once-great planet now angry at falling into the shadow of its more prosperous colonies. When Carr learns of a far-reaching criminal scheme, he becomes the keeper of a devastating personal secret. Not only will his choices place into jeopardy everything he holds dear, they may spill the violence from the sports arena out into the solar system.

Finally, this middle grade novel's cover isn't quite working for me, but it sounds awesome: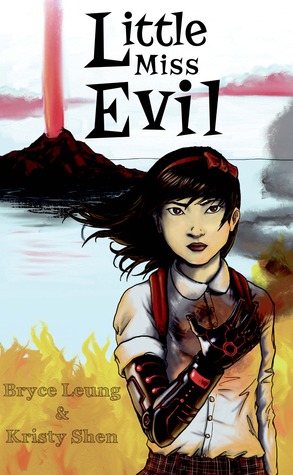 When you live in a volcano, ride to school in a helicopter, and regularly see your dad on the news with the caption "EVIL GENIUS" underneath his picture, it takes a lot to rattle you.

Until you get a message that says: We have your father. Deliver the NOVA in 24 hours or we will kill him.

What's a NOVA you ask? It's a nuclear bomb capable of turning the city into a radioactive mushroom cloud, and ever since Fiona's dad built it, it's caused nothing but grief. But telling him to stop building weapons is like telling Michelangelo to stop painting.
And that's why thirteen-year-old Fiona has a flamethrower strapped to her arm. After all, who'd mess with a girl who can throw fireballs?

Apparently, these guys.

Big mistake.

And that's it from us! What books do you have on YOUR radar?