"On The Smugglers' Radar" is a feature for books that have caught our eye: books we have heard of via other bloggers, directly from publishers, and/or from our regular incursions into the Amazon jungle. Thus, the Smugglers' Radar was born. Because we want far more books than we can possibly buy or review (what else is new?), we thought we would make the Smugglers' Radar into a weekly feature – so YOU can tell us which books you have on your radar as well!
On Ana's Radar:
I am intrigued by this new series co-written by Holly Black and Cassandra Clare: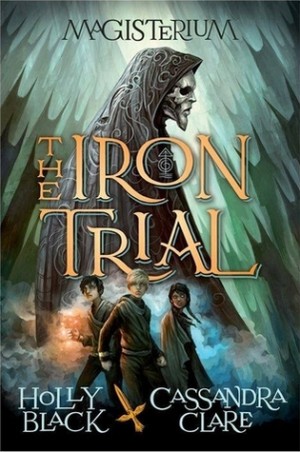 From NEW YORK TIMES bestselling authors Holly Black and Cassandra Clare comes a riveting new series that defies what you think you know about the world of magic.

From two bestselling superstars, a dazzling and magical middle-grade collaboration centering on the students of the Magisterium, an academy for those with a propensity toward magic. In this first book, a new student comes to the Magisterium against his will — is it because he is destined to be a powerful magician, or is the truth more twisted than that? It's a journey that will thrill you, surprise you, and make you wonder about the clear-cut distinction usually made between good and evil.

As a huge Sarah Beth Durst fan, I will read anything she writes. I am delighted she has a second book coming out this year!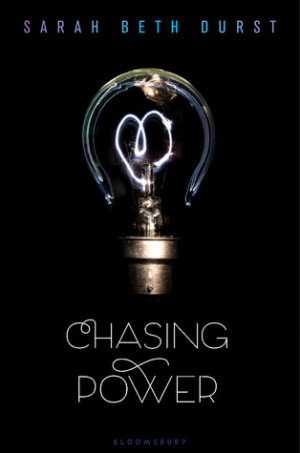 Lies, secrets, and magic — three things that define Kayla's life.

Sixteen-year-old Kayla plans to spend her summer hanging out on the beach in Santa Barbara and stealing whatever she wants, whenever she wants it. Born with the ability to move things with her mind — things like credit cards, diamond rings, and buttons on cash registers — she has become a master shoplifter. She steals to build up a safety net, enough money for her and her mom to be able to flee if her dad finds them again. Well, that, and the thrill of using her secret talents.

But her summer plans change when she's caught stealing by a boy named Daniel — a boy who needs her help and is willing to blackmail her to get it. Daniel has a talent of his own. He can teleport, appearing anywhere in the world in an instant, but he lies as easily as he travels. Together, they embark on a quest to find and steal an ancient incantation, written on three indestructible stones and hidden millennia ago, all to rescue Daniel's kidnapped mother. But Kayla has no idea that this rescue mission will lead back to her own family — and to betrayals that she may not be able to forgive… or survive.

I am interested in Greg Van Eekhout's new book: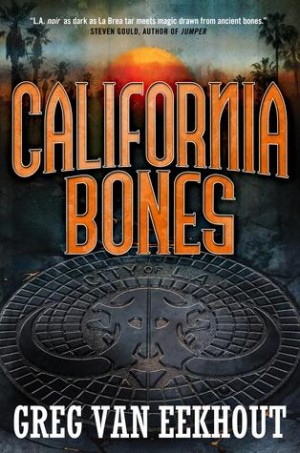 When Daniel Blackland was six, he ingested his first bone fragment, a bit of kraken spine plucked out of the sand during a visit with his demanding, brilliant, and powerful magician father, Sebastian. Then, when Daniel was twelve, he watched Sebastian die at the hands of the Hierarch of Southern California, devoured for the heightened magic layered deep within his bones.

Now thirty, Daniel is a petty thief with a forged identity. Hiding amid the crowds in Los Angeles—the capital of the Kingdom of Southern California—he is trying to go straight. But his crime-boss uncle has a heist for Daniel to undertake: break into the the Hierarch's storehouse of magical artifacts and retrieve Sebastian's sword, an object of untold power.

Daniel assembles a trustworthy team of his closest friends from the criminal world. Moth, who can take a bullet and heal in mere minutes. Jo Morales, illusionist. The multitalented Cassandra, Daniel's ex. And, new to them all, the enigmatic, knowledgeable Emma, with her British accent and her own grudge against the powers-that-be. The stakes are high, and the stage is set for a showdown that might just break the magic that protects a long-corrupt regime.

Extravagant, inventive, and shot through with moments of intensity as bright as the California sun, Daniel's story is an epic adventure set in a city of canals and secrets and casual brutality—different from the world we know, and yet also familiar and true.

A "murder mystery for the cosmos" says the blurb for Ian Tregillis' novel that came out in late 2013 and I completely missed it. Sounds compelling, even though I am not that into angels: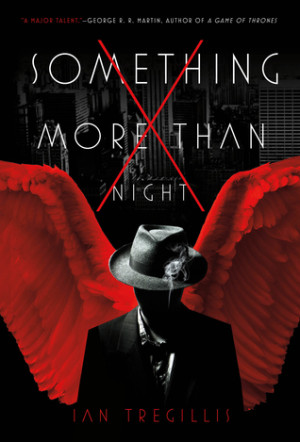 Something More Than Night is a Dashiell Hammett and Raymond Chandler-inspired murder mystery set in Thomas Aquinas's vision of Heaven. It's a noir detective story starring fallen angels, the heavenly choir, nightclub stigmatics, a priest with a dirty secret, a femme fatale, and the Voice of God.

Somebody has murdered the angel Gabriel. Worse, the Jericho Trumpet has gone missing, putting Heaven on the brink of a truly cosmic crisis. But the twisty plot that unfolds from the murder investigation leads to something much bigger: a con job one billion years in the making.

Because this is no mere murder. A small band of angels has decided to break out of heaven, but they need a human patsy to make their plan work.

Much of the story is told from the point of view of Bayliss, a cynical fallen angel who has modeled himself on Philip Marlowe. The yarn he spins follows the progression of a Marlowe novel — the mysterious dame who needs his help, getting grilled by the bulls, finding a stiff, getting slipped a mickey

Angels and gunsels, dames with eyes like fire, and a grand maguffin, Something More Than Night is a murder mystery for the cosmos.

Scouring Tor's new catalogue, I came across this October release that sounds AMAZING: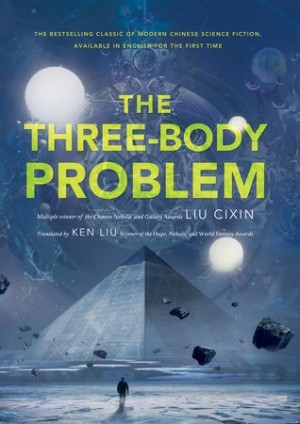 With the scope of Dune and the commercial action of Independence Day, Three-Body Problem is the first chance for English-speaking readers to experience this multple-award-winning phenemonenon from China's most beloved science fiction author, Liu Cixin.

Set against the backdrop of China's Cultural Revolution, a secret military project sends signals into space to establish contact with aliens. An alien civilization on the brink of destruction captures the signal and plans to invade Earth. Meanwhile, on Earth, different camps start forming, planning to either welcome the superior beings and help them take over a world seen as corrupt, or to fight against the invasion. The result is a science fiction masterpiece of enormous scope and vision.

On Thea's Radar:
This week, I received a couple of awesome looking books in the mail. Here's a look at what I've got lined up on my overflowing TBR, starting with this gloriously cheesy sounding military fantasy: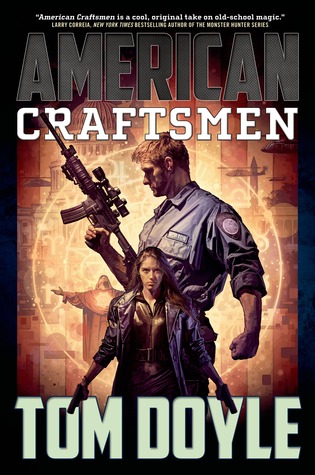 In modern America, two soldiers will fight their way through the magical legacies of Poe and Hawthorne to destroy an undying evil—if they don't kill each other first.

US Army Captain Dale Morton is a magician soldier—a "craftsman." After a black-ops mission gone wrong, Dale is cursed by a Persian sorcerer and haunted by his good and evil ancestors. Major Michael Endicott, a Puritan craftsman, finds gruesome evidence that the evil Mortons, formerly led by the twins Roderick and Madeline, have returned, and that Dale might be one of them.

Dale uncovers treason in the Pentagon's highest covert ranks. He hunts for his enemies before they can murder him and Scherie, a new friend who knows nothing of his magic.

Endicott pursues Dale, divided between his duty to capture a rogue soldier and his desire to protect Dale from his would-be assassins. They will discover that the demonic horrors that have corrupted American magic are not bound by family or even death itself.

In Tom Doyle's thrilling debut, American Craftsmen, Seal Team Six meets ancient magic–with the fate of the United States hanging in the balance . . .

Next up, the second book in Jeff VanderMeer's Southern Reach trilogy! I love these covers, and was a fan of book 1 (with slight reservations)… I'm excited to see what happens in Authority.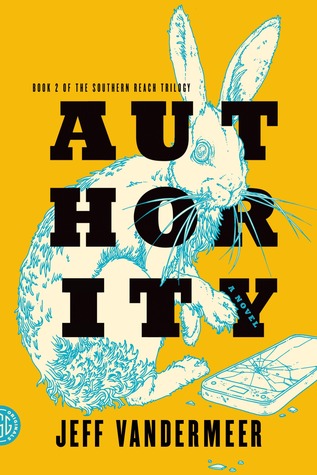 The bone-chilling, hair-raising second installment of the Southern Reach Trilogy

For thirty years, a secret agency called the Southern Reach has monitored expeditions into Area X—a remote and lush terrain mysteriously sequestered from civilization. After the twelfth expedition, the Southern Reach is in disarray, and John Rodriguez (aka "Control") is the team's newly appointed head. From a series of interrogations, a cache of hidden notes, and more than two hundred hours of profoundly troubling video footage, the secrets of Area X begin to reveal themselves—and what they expose pushes Control to confront disturbing truths about both himself and the agency he's promised to serve.

I also just bought this book recently – the cover is a little blah, but I love me a good disaster novel.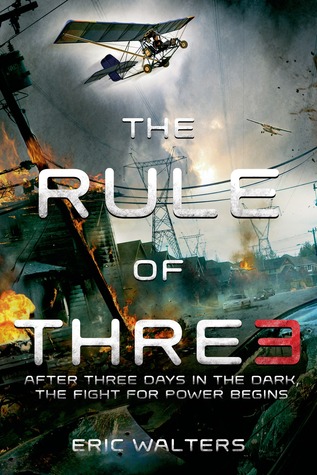 One shocking afternoon, computers around the globe shut down in a viral catastrophe. At sixteen-year-old Adam Daley's high school, the problem first seems to be a typical electrical outage, until students discover that cell phones are down, municipal utilities are failing, and a few computer-free cars like Adam's are the only vehicles that function. Driving home, Adam encounters a storm tide of anger and fear as the region becomes paralyzed. Soon—as resources dwindle, crises mount, and chaos descends—he will see his suburban neighborhood band together for protection. And Adam will understand that having a police captain for a mother and a retired government spy living next door are not just the facts of his life but the keys to his survival, in The Rule of Three by Eric Walters.

Also in the mail recently, this intriguing sounding book that hopefully is a twist on the "guy of your dreams" trope: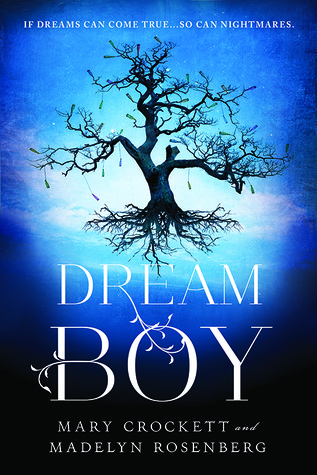 Annabelle Manning feels like she's doing time at her high school in Chilton, Virginia. She has her friends at her lunchtime table of nobodies. What she doesn't have are possibilities. Or a date for Homecoming. Things get more interesting at night, when she spends time with the boy of her dreams. But the blue-eyed boy with the fairytale smile is just that—a dream. Until the Friday afternoon he walks into her chemistry class.

One of friends suspects he's an alien. Another is pretty sure it's all one big case of deja vu. While Annabelle doesn't know what to think, she's willing to believe that the charming Martin Zirkle may just be her dream come true. But as Annabelle discovers the truth behind dreams—where they come from and what they mean—she is forced to face a dark reality she had not expected. More than just Martin has arrived in Chilton. As Annabelle learns, if dreams can come true, so can nightmares.

I spied this title on Goodreads recently and love the ghostly, isolated tone of the description. Yes, please!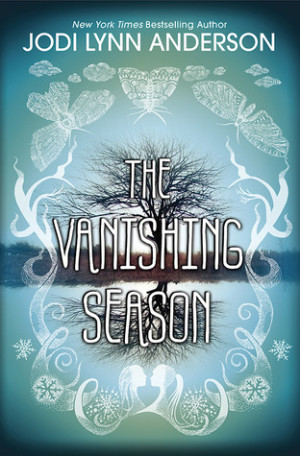 Girls started vanishing in the fall, and now winter's come to lay a white sheet over the horror. Door County, it seems, is swallowing the young, right into its very dirt. From beneath the house on Water Street, I've watched the danger swell.

The residents know me as the noises in the house at night, the creaking on the stairs. I'm the reflection behind them in the glass, the feeling of fear in the cellar. I'm tied—it seems—to this house, this street, this town.

I'm tied to Maggie and Pauline, though I don't know why. I think it's because death is coming for one of them, or both.

All I know is that the present and the past are piling up, and I am here to dig.I am looking for the things that are buried.

From bestselling author Jodi Lynn Anderson comes a friendship story bound in snow and starlight, a haunting mystery of love, betrayal, redemption, and the moments that we leave behind.

Finally, there's this title that had me at X-Men meets Ocean's Eleven.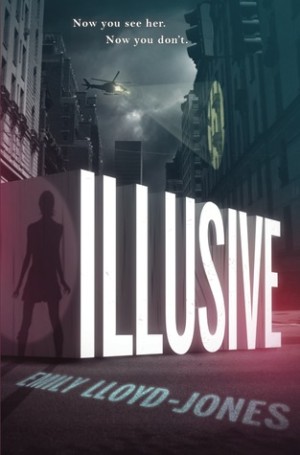 The X-Men meets Ocean's Eleven in this edge-of-your-seat sci-fi adventure about a band of "super" criminals.

When the MK virus swept across the planet, a vaccine was created to stop the epidemic, but it came with some unexpected side effects. A small percentage of the population developed superhero-like powers. Seventeen-year-old Ciere Giba has the handy ability to change her appearance at will. She's what's known as an illusionist…She's also a thief.

After a robbery goes awry, Ciere must team up with a group of fellow super-powered criminals on another job that most would consider too reckless. The formula for the vaccine that gave them their abilities was supposedly destroyed years ago. But what if it wasn't?

The lines between good and bad, us and them, and freedom and entrapment are blurred as Ciere and the rest of her crew become embroiled in a deadly race against the government that could cost them their lives.

And that's it from us! What books do you have on your radar?