"On The Smugglers' Radar" is a feature for books that have caught our eye: books we have heard of via other bloggers, directly from publishers, and/or from our regular incursions into the Amazon jungle. Thus, the Smugglers' Radar was born. Because we want far more books than we can possibly buy or review (what else is new?), we thought we would make the Smugglers' Radar into a weekly feature – so YOU can tell us which books you have on your radar as well!
On Ana's Radar:
A few days ago our Twitter feed exploded with love for a book with several folks we follow waxing poetic over it. I bought it immediately: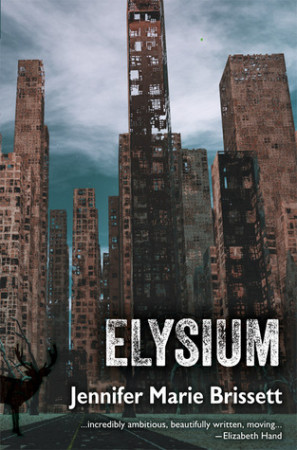 Nominated for the 2014 Philip K. Dick Award

A computer program etched into the atmosphere has a story to tell, the story of two people, of a city lost to chaos, of survival and love. The program's data, however, has been corrupted.

As the novel's characters struggle to survive apocalypse, they are sustained and challenged by the demands of love in a shattered world both haunted and dangerous.

Memory wrote a great guest post over at Lady Business a few weeks ago about comics. After reading it, I put Rat Queens on the TBR: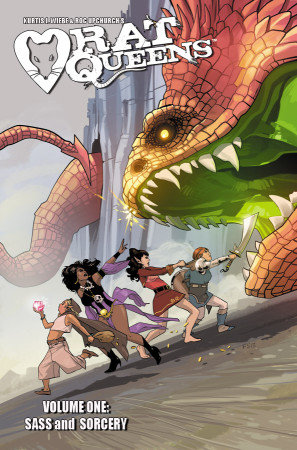 Who are the Rat Queens? A pack of booze-guzzling, death-dealing battle maidens-for-hire, and they're in the business of killing all god's creatures for profit.

It's also a darkly comedic sass-and-sorcery series starring Hannah the Rockabilly Elven Mage, Violet the Hipster Dwarven Fighter, Dee the Atheist Human Cleric and Betty the Hippy Smidgen Thief. This modern spin on an old school genre is a violent monster-killing epic that is like Buffy meets Tank Girl in a Lord of the Rings world on crack!

I've got a copy of Day Four in the post and it looks amazing? It's a companion novel to The Three but can be read as a standalone so I will get right on that soon: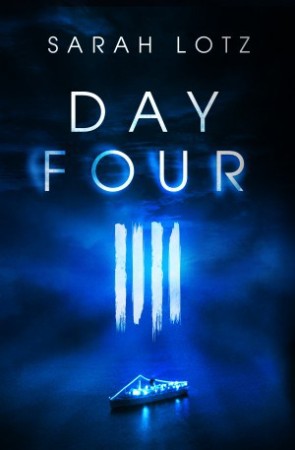 The chilling follow-up to The Three, Sarah Lotz's "hard to put down and vastly entertaining" debut (Stephen King).

Hundreds of pleasure-seekers stream aboard The Beautiful Dreamer cruise ship for five days of cut-price fun in the Caribbean sun. On the fourth day, disaster strikes: smoke roils out of the engine room, and the ship is stranded in the Gulf of Mexico. Soon supplies run low, a virus plagues the ship, and there are whispered rumors that the cabins on the lower decks are haunted by shadowy figures. Irritation escalates to panic, the crew loses control, factions form, and violent chaos erupts among the survivors.

When, at last, the ship is spotted drifting off the coast of Key West, the world's press reports it empty. But the gloomy headlines may be covering up an even more disturbing reality.

DAY FOUR is a heart-racing tale from "a ferociously imaginative storyteller.

Another recommendation via Twitter. No Proper Lady is not a new title but it is an award-winning SF Romance with a Lady Time Traveller Exterminator and I want to read it very soon!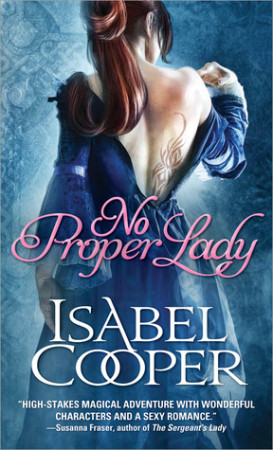 -Publishers Weekly Best Book of the Year
-Library Journal Best Book of the Year
-RT Book Reviews Seal of Excellence and Finalist for Best Book of the Year

When a half-naked woman suddenly appears on his country estate, Simon Grenville doesn't have time to be shocked. Demonic beasts are hot on his heels until the beautiful stranger unsheathes several knives strapped to her skin-tight trousers and kills them. As he stares at her fierce, heart-stopping face, Simon knows he's in a hell of a lot of trouble…

Joan is from a time where demons run rampant and humanity is fighting for its existence. To prevent this terrible future, she is sent back to Victorian England to kill the magician responsible for unleashing the dark forces. But Joan is a soldier more used to sparring than dancing. To get close to her target, she'll need Simon to teach her how to fit into polite society. Joan doesn't mind practicing proper flirtation on Simon, but she can't allow herself to be distracted by his gentle hands or devilish smile–the very future depends on it.

We've got an email about this South African book and it looks so amazing! Look at the cover!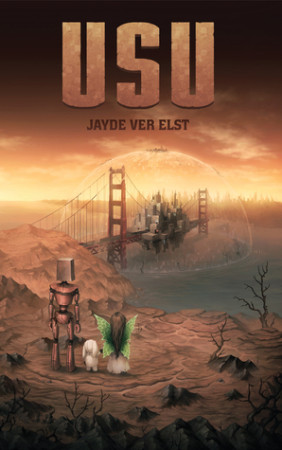 Humans are gone and bloody good riddance to the lot of them. The planet, left barren and lifeless by the long extinct species, has since been inherited by their own creations. Now all that roams the hollow cities and landscapes of man are the various machinations left bestowed with intelligent (or in some cases barely functional) programming, including the likes of janitorial robots, violently affectionate androids, and one very unfortunate stuffed rabbit.

Separated by distance and time, two unlikely soul mates, Usu and Rain have been rekindled by fate only to struggle once again to hold onto their fragile union. To save a friendship that has stretched across lifetimes they must trek across a land as exotic as it is unforgiving, joined in their adventure by cleaning droids, cannibal robots, and holograms from an era long past. Fighting against time, forgotten memories, and their own design at the hands of their former creators, they will find a way to be together forever, at any cost.

'Usu' is a heartwarming sci-fi adventure from the mind of South African writer Jayde Ver Elst that tells the tale of two very dear friends; a stuffed rabbit and his android girl.

On Thea's Radar:
First up on my radar, a book that nearly got away from me! I'll be reviewing you soon, book 3: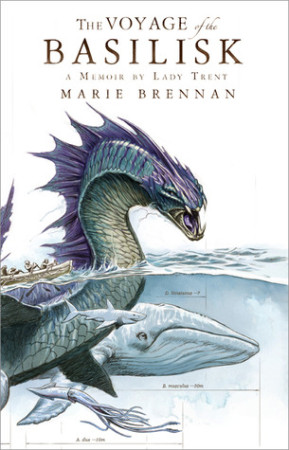 Devoted readers of Lady Trent's earlier memoirs, A Natural History of Dragons and The Tropic of Serpents, may believe themselves already acquainted with the particulars of her historic voyage aboard the Royal Survey Ship Basilisk, but the true story of that illuminating, harrowing, and scandalous journey has never been revealed—until now. Six years after her perilous exploits in Eriga, Isabella embarks on her most ambitious expedition yet: a two-year trip around the world to study all manner of dragons in every place they might be found. From feathered serpents sunning themselves in the ruins of a fallen civilization to the mighty sea serpents of the tropics, these creatures are a source of both endless fascination and frequent peril. Accompanying her is not only her young son, Jake, but a chivalrous foreign archaeologist whose interests converge with Isabella's in ways both professional and personal.

Science is, of course, the primary objective of the voyage, but Isabella's life is rarely so simple. She must cope with storms, shipwrecks, intrigue, and warfare, even as she makes a discovery that offers a revolutionary new insight into the ancient history of dragons.

And then there's the final book in the Glamourist Histories: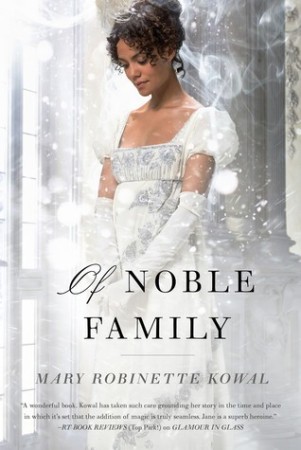 The final book of the acclaimed Glamourist Histories is the magical adventure that might result if Jane Austen walked on the darker side of the Regency…

Jane and Vincent have finally gotten some much-needed rest after their adventures in Italy when Vincent receives word that his estranged father has passed away on one of his properties in the West Indies. His brother, who manages the estate, is overwhelmed, and no one else in his family can go. Grudgingly, out of filial duty the couple decide to go.

The sea voyage is long and Jane spends enough time unable to perform glamour that towards the end of the trip she discovers that she is with child. They are overjoyed, but when they finally arrive at the estate to complete what they expect to be routine legal tasks, they realize that nearly everything they came expecting to find had been a lie. Also, the entire estate is in disarray, with horrifying conditions and tensions with the local slave population so high that they are close to revolt.

Jane and Vincent's sense of peril is screaming out for them to flee, but Vincent cannot stand to leave an estate connected with his family in such a condition. They have survived many grand and terrifying adventures in their time, but this one will test their skills and wits more than any they have ever encountered before, this time with a new life hanging in the balance.

There's also this forthcoming science fiction book from Night watch and Day Watch author Sergei Lukyanenko: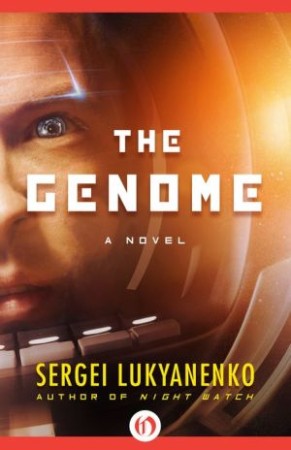 A science fiction thriller by the author of Night Watch, the hit novel that inspired two major motion pictures

Five months after the horrific accident that left him near death and worried that he'd never fly again, master-pilot Alex Romanov lands a new job: captaining the sleek passenger vessel Mirror. Alex is a spesh—a human who has been genetically modified to perform particular tasks. As a captain and pilot, Alex has a genetic imperative to care for passengers and crew—no matter what the cost.

His first mission aboard Mirror is to ferry two representatives of the alien race Zzygou on a tour of human worlds. His task will not be an easy one, for aboard the craft are several speshes who have reason to hate the Others. Dark pasts, deadly secrets, and a stolen gel-crystal worth more than Alex's entire ship combine to challenge him at every turn. And as the tension escalates, it becomes apparent that greater forces are at work to bring the captain's world crashing down.

I…don't know how to feel about this next book, except to say that I want it, and I hope it's as delightfully absurd as it sounds.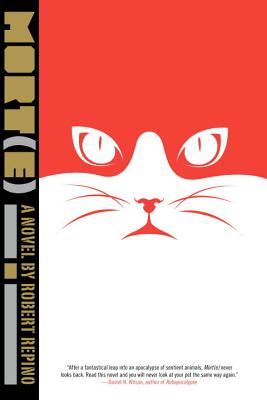 The "war with no name" has begun, with human extinction as its goal. The instigator of this war is the Colony, a race of intelligent ants who, for thousands of years, have been silently building an army that would forever eradicate the destructive, oppressive humans. Under the Colony's watchful eye, this utopia will be free of the humans' penchant for violence, exploitation and religious superstition. The final step in the Colony's war effort is transforming the surface animals into high-functioning two-legged beings who rise up to kill their masters.

Former housecat turned war hero, Mort(e) is famous for taking on the most dangerous missions and fighting the dreaded human bio-weapon EMSAH. But the true motivation behind his recklessness is his ongoing search for a pre-transformation friend—a dog named Sheba. When he receives a mysterious message from the dwindling human resistance claiming Sheba is alive, he begins a journey that will take him from the remaining human strongholds to the heart of the Colony, where he will discover the source of EMSAH and the ultimate fate of all of earth's creatures.

And that's it from us! What books do you have on YOUR radar?