"On The Smugglers' Radar" is a new feature for books that have caught our eye: books we have heard of via other bloggers, directly from publishers, and/or from our regular incursions into the Amazon jungle. Thus, the Smugglers' Radar was born. Because we want far more books than we can possibly buy or review (what else is new?), we thought we would make the Smugglers' Radar into a weekly feature – so YOU can tell us which books you have on your radar as well!
This week, our radar is a special BEA edition in which we feature 10 books we got at BEA which we are really excited about.
On Ana's Radar:
Just like last year I went a little overboard with the MG books. I attended the BEA MG Editor's Buzz panel and found it to be be fascinating. I came away from it wanting all the books that were mentioned – two of them are below. And yes, one of them features a rat as the protagonist.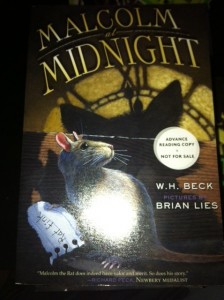 When Malcolm the rat arrives as the pet at McKenna School, he revels in the attention. He also meets the Midnight Academy, a secret society of classroom pets that keeps the nutters (kids) safe. There's just one problem…rats have a terrible reputation! So when the Academy's iguana leader is kidnapped, Malcolm must prove his innocence—and that even rats can be good guys. Illustrated by Brian Lies of Bats at the Beach, this engaging middle-grade novel will have readers rooting for Malcolm as they try to solve the mystery alongside him.

The Peculiar was introduced as a Gothic/Fantasy/Steampunk and it sounded really good. Fingers crossed.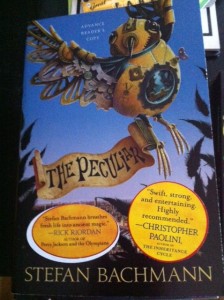 Bartholomew Kettle won't live long. Changelings never do. The child of a human mother and a faery father, Bartholomew is a secret, despised by both his races. If the English don't hang him for witchcraft, the faerys will do something worse. So his mother keeps him locked away, hidden from the world in the faery slums of Bath.

But one day Bartholomew witnesses a mysterious lady kidnap another changeling through a shadowy portal, and he realizes the danger is closer than ever before. Changelings are surfacing in the rivers, their bodies empty of blood and bone and their skin covered in red markings. A powerful figure sits in the shadows, pushing the pieces in place for some terrible victory. When a sinister faery in a top-hat begins to stalk Bartholomew's steps, he knows it's his turn. Something is coming for him. Something needs him. But when you're a changeling there's no where to run…

I've had Cursed on my radar for a while and was very pleased to be able to get a copy.
Dying sucks–and high school senior Ember McWilliams knows firsthand. After a fatal car accident, her gifted little sister brought her back. Now anything Ember touches dies. And that, well, really blows.
Ember operates on a no-touch policy with all living things–including boys. When Hayden Cromwell shows up, quoting Oscar Wilde and claiming her curse is a gift, she thinks he's a crazed cutie. But when he tells her he can help control it, she's more than interested. There's just one catch: Ember has to trust Hayden's adopted father, a man she's sure has sinister reasons for collecting children whose abilities even weird her out. However, she's willing to do anything to hold her sister's hand again. And hell, she'd also like to be able to kiss Hayden. Who wouldn't?
But when Ember learns the accident that turned her into a freak may not've been an accident at all, she's not sure who to trust. Someone wanted her dead, and the closer she gets to the truth, the closer she is to losing not only her heart, but her life. For real this time.

47North is the new Amazon Publishing SFF Imprint and I got a copy of Technomancer. It sounded just like something I would enjoy reading: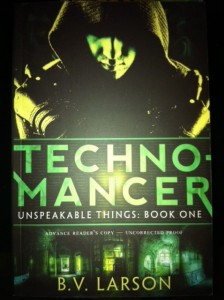 After a man dies in a Las Vegas car accident, it's discovered that his internal organs are filled with sand. And then Quentin Draith wakes up in a private sanatorium, severely injured and with no memory of who he is. Are these strange incidents related? And if so, how deadly are the answers?

Draith doesn't know who he is, but after escaping he slowly learns what he is. An investigator and blogger specializing in the supernatural, he begins to piece together his life—and the accident that took away his memories. He discovers that he is a special breed, a person with relatives of great age and power, all of whom mistrust or even hate him. And when he falls under suspicion for a series of murders involving seemingly mundane objects, Quentin's search for the truth behind his identity becomes a desperate race to clear his name.

Bristling with energy and almost unbearable suspense, Technomancer: Unspeakable Things #1 is the first in best-selling author B. V. Larson's thrilling new series that will draw you to the edge of your seat and chill you to the bone.

We also stopped by Amazon Children's Publishing's booth and were impressed with their upcoming titles. Passion Blue sounded especially good. Plus, it has a blurb from Megan Whalen Turner!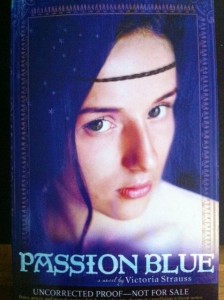 Be sure you know your true heart's desire, or you may find yourself surprised by what you receive.

This is the warning the Astrologer-Sorcerer gives Giulia when she pays him to create a magical talisman for her. The scorned illegitimate daughter of a Milanese nobleman, Giulia is determined to defy the dire fate predicted by her horoscope, and use the talisman to claim what she believes is her heart's desire: true love and a place where she belongs–not likely prospects for a girl about to be packed off to the cloistered world of a convent.

But the convent of Santa Marta is full of surprises. There are strict rules, long hours of work, and spiteful rivalries…but there's also friendship, and the biggest surprise of all: a workshop of female artists who produce paintings of astonishing beauty, using a luminous blue mixed from a secret formula: Passion blue. Yet even as Giulia begins to learn the mysteries of the painter's craft, the magic of the talisman is at work, and a forbidden romance beckons her down a path of uncertainty and danger. She is haunted by the sorcerer's warning, and by a question: does she really know the true compass of her heart?

Set in Renaissance Italy, this richly imagined novel about a girl's daring journey towards self-discovery transports readers into a fascinating, exotic world where love, faith, and art inspire passion–of many different hues.

On Thea's Radar:
So! This is actually a tough choice for me because the vast majority of books I procured at BEA were all books that I had set out to get – very few surprises or unexpected titles for me! I guess that's a good thing, right? And, since we are only including titles for which we have not posted anything before, this makes my top 5 books an interesting mix. First up, there's this urban fantasy that sounds intriguing, from Orbit: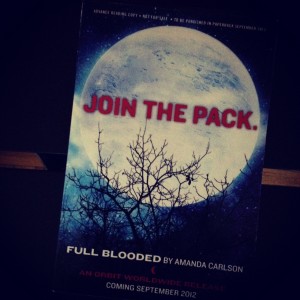 Born the only female in an all male race, Jessica McClain isn't just different—she's feared.

After living under the radar for the last twenty-six years, Jessica is thrust unexpectedly into her first change, a full ten years late. She wakes up and finds she's in the middle of a storm. Now that she's become the only female full-blooded werewolf in town, the supernatural world is already clamoring to take a bite out of her and her new Pack must rise up and protect her.

Next up, a thriller in the vein of The Ring (according to the synopsis, anyways!):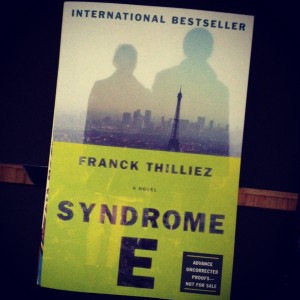 The classic procedural meets cutting edge science in this huge international bestseller

Already a runaway bestseller in France, Syndrome E tells the story of beleaguered detective Lucie Hennebelle, whose old friend has developed a case of spontaneous blindness after watching an extremely rare—and violent—film from the 1950s. Embedded in the film are subliminal images so unspeakably heinous that Lucie realizes she must get to the bottom of it—especially when nearly everyone who comes into contact with the film starts turning up dead.

Enlisting the help of Inspector Franck Sharko—a brooding, broken analyst for the Paris police who is exploring the film's connection to five murdered men left in the woods, Lucie begins to strip away the layers of what is perhaps the most disturbing and powerful film ever made. Soon Sharko and Lucie find themselves mired in a darkness that spreads across politics, religion, science, and art while stretching from France to Canada, Egypt to Rwanda, and beyond. And just who is responsible for this darkness will blow readers minds, as Syndrome E forces them to consider: what if the earliest and most brilliant advances and discoveries of neuroscience were not used for good—but for evil.

With this taut U.S. debut, Thilliez explores the origins of violence through cutting-edge and popular science in a breakneck thriller rich with shocking plot twists and profound questions about the nature of humanity.

This next title was a complete impulse-pick-up galley at the Penguin booth – but I am very excited for it.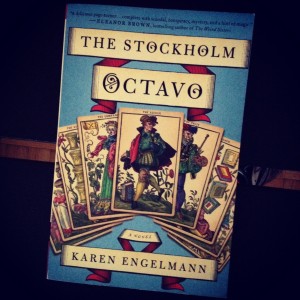 Emil Larsson, young man about The Town, wanted that Golden Age to last forever…_

Its finale would be unforgettable, but most everyone missed the beginning of the end. This was not so surprising; people expected violence served up with a revolution – America, Holland and France being freshly carved examples. But that February night when our own quiet revolution began, The Town was calm, the streets nearly deserted, and I was playing cards at Mrs Sparrow's…

Emil Larsson is a drinker, card player and contented bachelor until he is told that his position at the Office of Excise and Customs depends on his settling down and finding a wife. Mrs Sparrow, proprietor of an exclusive gaming house, fortune teller (and confidante of King Gustav III) offers to lay an Octavo for him – a form of cartomancy which can divine his future if he can find the eight individuals who can help him realise his vision.

When Mrs Sparrow wins a mysterious fan in her card game, the Octavo's deeper powers are revealed. No longer just a game of the heart, collecting his Eight is now crucial to pulling his country back from the brink of rebellion and chaos.

Next, a YA scifi novel from Amazon Publishing's childrens imprint – I was won over with the first line of the blurb…
In a post-apocalyptic world, where the earth is buried by asteroid dust that's mutated the DNA of some humans, orphaned, sixteen-year-old Glory must hide and protect her younger brother. If their Deviant abilities are discovered, they'll be expunged—kicked out of the dome to be tortured and killed by the Shredders. Glory would give anything to get rid of her unique ability to kill with her emotions, especially when Cal, the boy she's always liked, becomes a spy for the authorities. But when her brother is discovered, and she learns their father, who was expunged for killing their mother, is still alive, she must escape the domed city that's been her entire world.

Outside in the ruins, they're pursued by the authorities and by sadistic, scab-covered Shredders who are addicted to the lethal-to-humans dust now covering the planet. Glory's quests to transport herself and her brother to safety make up the thrilling and fascinating first volume of The Dust Chronicles.

And, finally, a highly anticipated YA historical from our friends over at Paper Lantern Lit: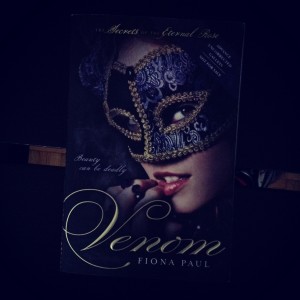 Love, lust, murder, mayhem and high society converge in one thrilling debut

Cassandra Caravello has everything a girl could desire: elegant gowns, sparkling jewels, invitations to the best parties, and a handsome, wealthy fiancé—yet she longs for something more. Ever since her parents' death, Cassandra has felt trapped, alone in a city of water, where the dark and labyrinthine canals whisper of escape.

When Cass stumbles upon the body of a murdered woman—with a bloody X carved across her heart—she's drawn into a dangerous world of secret societies, courtesans, and killers. Soon, she finds herself falling for Falco, a poor artist with a mischievous grin . . . and a habit of getting into trouble. Will Cassandra find the murderer before he finds her? And will she stay true to her fiancé or succumb to her uncontrollable feelings for Falco?

Beauty, romance, and mystery weave together in a novel that's as seductive and stunning as the city of Venice itself.

And that's it from us! What books do you have on YOUR radar (BEA or otherwise)?