"On The Smugglers' Radar" is a feature for books that have caught our eye: books we have heard of via other bloggers, directly from publishers, and/or from our regular incursions into the Amazon jungle. Thus, the Smugglers' Radar was born. Because we want far more books than we can possibly buy or review (what else is new?), we thought we would make the Smugglers' Radar into a weekly feature – so YOU can tell us which books you have on your radar as well!
On Ana's Radar:
Neil Gaiman has yet another book coming out this year and as a fan of all things Gaiman, I am excited about it. ESPECIALLY after reading the author's description of the book: "It is the silliest book I have ever written, and is quite funny also."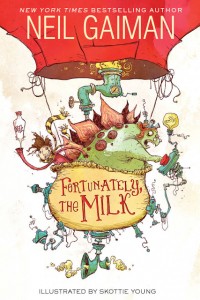 Holly Black also has another book coming out this year and this one is based on a short story I loved and which was published a couple of years ago.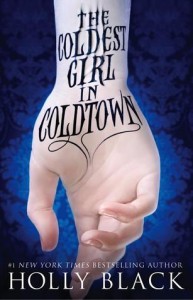 COLDTOWN WAS DANGEROUS, TANA KNEW. A GLAMOROUS CAGE, A PRISON FOR THE DAMNED AND ANYONE WHO WANTED TO PARTY WITH THEM.

Tana lived in a world where walled cities called Coldtowns exist. In them, quarantined monsters and humans mingle in a decadently bloody mix of predator and prey. The only problem is, once you pass through Coldtown's gates, you can never leave.

One morning, after a perfectly ordinary party, Tana wakes up surrounded by corpses. The only other survivors of this massacre are her exasperatingly endearing ex-boyfriend, infected and on the edge, and mysterious boy burdened with a terrible secret. Shaken and determined, Tana enters a race against the clock to save the three of them the only way she knows how: by going straight to the wicked, opulent heart of Coldtown itself.

An Egyptian Mythology-inspired YA novel? This could go really wrong, or really right. I am interested…for now.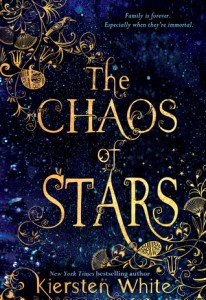 Isadora's family is seriously screwed up.

Of course, as the human daughter of Egyptian gods, that pretty much comes with the territory. She's also stuck with parents who barely notice her, and a house full of relatives who can't be bothered to remember her name. After all, they are going to be around forever—and she's a mere mortal.

Isadora's sick of living a life where she's only worthy of a passing glance, and when she has the chance to move to San Diego with her brother, she jumps on it. But Isadora's quickly finding that a "normal" life comes with plenty of its own epic complications—and that there's no such thing as a clean break when it comes to family. Much as she wants to leave her past behind, she can't shake the ominous dreams that foretell destruction for her entire family. When it turns out there may be truth in her nightmares, Isadora has to decide whether she can abandon her divine heritage after all.

GOOD GRIEF, I really don't like these covers. But we both really like this series and are super excited about Eternity, the final book in the Fury trilogy!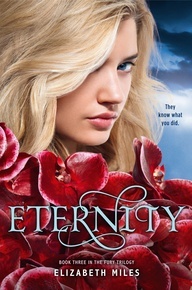 This oldie showed up on my Feedreader this week (sorry, I can't remember where now!) and I was immediately attracted to the cover as well as the premise. I added to my wishlist straight away.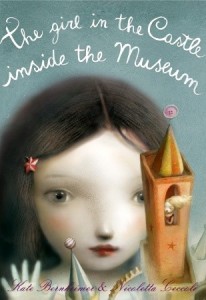 Once there was a girl who lived in a castle. The castle was inside a museum. When children visited, they'd press against the glass globe in which the castle sat, to glimpse the tiny girl. But when they went home, the girl was lonely. Then one day, she had an idea! What if you hung a picture of yourself inside the castle inside the museum, inside this book? Then you'd able to keep the girl company. Reminiscent of "The Lady of Shalot," here is an original fairy tale that feels like a dream—haunting, beautiful, and completely unforgettable.

Following the recent discovery of Richard III's body here in the UK, I came across a couple of blog posts recommending books about the King. This one by Elizabeth Peters sounds AWESOME – one for our Old School Wednesdays feature?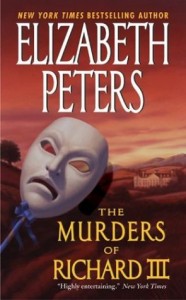 In a remote English manor house, modern admirers of the much-maligned King Richard III–one of Shakespeare's most extraordinary villains–are gathered for a grand weekend of dress-up and make-believe murder. But the fun ends when the masquerade turns more sinister . . . and deadly. Jacqueline Kirby, an American librarian on hand for the festivities, suddenly finds herself in the center of strange, dark doings . . . and racing to untangle a murderous puzzle before history repeats itself in exceptionally macabre ways.

On Thea's Radar:
Speaking of Neil Gaiman, the second book in the InterWorld series, penned by Gaiman and Michael Reaves, is coming this April! Check it out.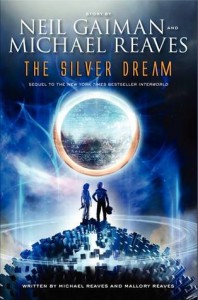 Sixteen-year-old Joey Harker has just saved the Altiverse—the dimension that contains all the myriad Earths—from complete destruction. After mastering the ability to walk between dimensions, Joey and his fellow InterWorld Freedom Fighters are on a mission to maintain peace between the rival powers of magic and science who seek to control all worlds.

When a stranger named Acacia somehow follows Joey back to InterWorld's Base, things get complicated. No one knows who she is or where she's from—or how she knows so much about InterWorld. Dangerous times lie ahead, and Joey has no one to rely on but himself and his wits—and, just maybe, the mysterious Acacia Jones.

Full of riveting interdimensional battles, epic journeys between worlds, and twists and turns along the way, this sequel to the New York Times bestselling InterWorld is a thrilling, mind-bending adventure through time and space.

Then, there's the new Stephen King novel coming out this year, Joyland! No official synopsis yet, but here's the gist of the book (and the retro cover):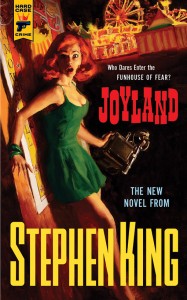 Set in a small-town North Carolina amusement park in 1973, JOYLAND tells the story of the summer in which college student Devin Jones comes to work as a carny and confronts the legacy of a vicious murder, the fate of a dying child, and the ways both will change his life forever. JOYLAND is a brand-new book and has never previously been published. One of the most beloved storytellers of all time, Stephen King is the world's best-selling novelist, with more than 300 million books in print.

This next book: not a great cover or title, but the concept could be interesting (right now it sounds a little crazy cheesy, but in a potentially great way). I'm gonna give it a try.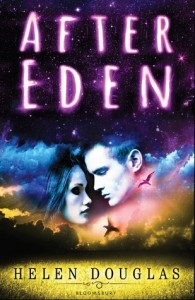 Eden Anfield loves puzzles, so when mysterious new boy Ryan Westland shows up at her school she's hooked. On the face of it, he's a typical American teenager. So why doesn't he recognise pizza? And how come he hasn't heard of Hitler? What puzzles Eden the most, however, is the interest he's taking in her.

As Eden starts to fall in love with Ryan, she begins to unravel his secret. Her breakthrough comes one rainy afternoon when she stumbles across a book in Ryan's bedroom – a biography of her best friend – written over fifty years in the future. Confronting Ryan, she discovers that he is there with one unbelievably important purpose … and she might just have destroyed his only chance of success.

Another case of not-so-great cover image, but an intriguing plot – I love te concept of knot-tying promises and consequences.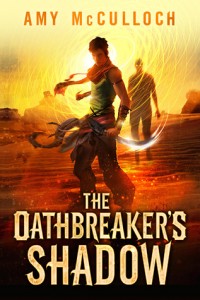 Fifteen-year-old Raim lives in a world where you tie a knot for every promise that you make. Break that promise and you are scarred for life, and cast out into the desert.

Raim has worn a simple knot around his wrist for as long as he can remember. No one knows where it came from, and which promise of his it symbolises, but he barely thinks about it at all—not since becoming the most promising young fighter ever to train for the elite Yun guard. But on the most important day of his life, when he binds his life to his best friend (and future king) Khareh, the string bursts into flames and sears a dark mark into his skin.

Scarred now as an oath-breaker, Raim has two options: run, or be killed.

A gripping YA action-adventure fantasy, the first part of a planned duology.

I love the cover and premise of this next book, from Flux: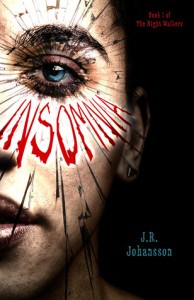 It's been four years since I slept, and I suspect it is killing me.

Instead of sleeping, Parker Chipp enters the dream of the last person he's had eye contact with. He spends his nights crushed by other people's fear and pain, by their disturbing secrets—and Parker can never have dreams of his own. The severe exhaustion is crippling him. If nothing changes, Parker could soon be facing psychosis and even death.

Then he meets Mia. Her dreams, calm and beautifully uncomplicated, allow him blissful rest that is utterly addictive. Parker starts going to bizarre lengths to catch Mia's eye every day. Everyone at school thinks he's gone over the edge, even his best friend. And when Mia is threatened by a true stalker, everyone thinks it's Parker.

Suffering blackouts, Parker begins to wonder if he is turning into someone dangerous. What if the monster stalking Mia is him after all?

This next title – possibly a dystopian/apocalyptic (?) YA novel – has a great title and premise, plus is blurbed by Michael Grant. Needless to say, I'm in.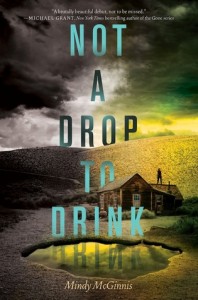 Regret was for people with nothing to defend, people who had no water.

Lynn knows every threat to her pond: drought, a snowless winter, coyotes, and, most importantly, people looking for a drink. She makes sure anyone who comes near the pond leaves thirsty, or doesn't leave at all.

Confident in her own abilities, Lynn has no use for the world beyond the nearby fields and forest. Having a life means dedicating it to survival, and the constant work of gathering wood and water. Having a pond requires the fortitude to protect it, something Mother taught her well during their quiet hours on the rooftop, rifles in hand.

But wisps of smoke on the horizon mean one thing: strangers. The mysterious footprints by the pond, nighttime threats, and gunshots make it all too clear Lynn has exactly what they want, and they won't stop until they get it….

With evocative, spare language and incredible drama, danger, and romance, debut author Mindy McGinnis depicts one girl's journey in a barren world not so different than our own.

I haven't yet had the pleasure of reading anything from Sharon Ann Draper, National Teacher of the Year and a five-time winner of the Coretta Scott King Literary Award. This next book sounds like a harrowing read, and I'm eager to finally give Draper's writing a try.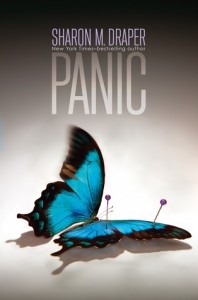 This gripping and chillingly realistic novel from New York Times bestselling author Sharon Draper shows that all it takes is one bad decision for everything to change.

Diamond knows not to get into a car with a stranger.

But what if the stranger is well-dressed and handsome? On his way to meet his wife and daughter? And casting a movie that very night—a movie in need of a star dancer? What then?

Then Diamond might make the wrong decision.

It's a nightmare come true: Diamond Landers has been kidnapped. She was at the mall with a friend, alone for only a few brief minutes—and now she's being held captive, forced to endure horrors beyond what she ever could have dreamed, while her family and friends experience their own torments and wait desperately for any bit of news.

From New York Times bestselling author Sharon Draper, this is a riveting exploration of power: how quickly we can lose it—and how we can take it back.

And that's it from us! What books do you have on YOUR radar?