"On The Smugglers' Radar" is a new feature for books that have caught our eye: books we have heard of via other bloggers, directly from publishers, and/or from our regular incursions into the Amazon jungle. Thus, the Smugglers' Radar was born. Because we want far more books than we can possibly buy or review (what else is new?), we thought we would make the Smugglers' Radar into a weekly feature – so YOU can tell us which books you have on your radar as well!
On Ana's Radar:
The biggest book news of the week was the reveal of the cover for the new J.K. Rowling novel – To be honest, I am not sure what I feel about it… kind of underwhelmed but I will definitely be reading it. What do you think? Are you going to give it a shot? If it didn't have J K ROWLING on the cover, would you still pick this up based on cover and blurb alone?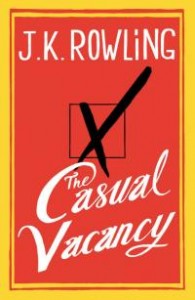 When Barry Fairbrother dies unexpectedly in his early forties, the little town of Pagford is left in shock.

Pagford is, seemingly, an English idyll, with a cobbled market square and an ancient abbey, but what lies behind the pretty façade is a town at war.

Rich at war with poor, teenagers at war with their parents, wives at war with their husbands, teachers at war with their pupils…Pagford is not what it first seems.

And the empty seat left by Barry on the parish council soon becomes the catalyst for the biggest war the town has yet seen. Who will triumph in an election fraught with passion, duplicity and unexpected revelations?

A few days ago Karen Lord (writer of the excellent Redemption in Indigo) announced a new book and it sounds SO COOL. Here is the UK cover as revealed on her website: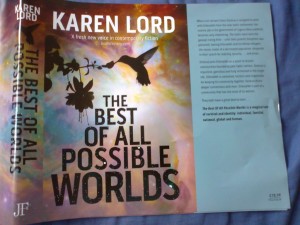 When civil servant Grace Delarua is assigned to work with Dllenahkh from the new Sadiri settlement, her routine job in the government of Cygnus Beta suddenly becomes very interesting. The Sadiri were once the galaxy's ruling élite – until their planet's biosphere was poisoned, leaving Dllenahkh and his fellow-refugees the excess males of a decimated population, desperate in their search for stability, security . . . and wives.

Delarua joins Dllenahkh on a quest to distant communities founded by past Sadiri settlers. Delarua is impulsive, garrulous and fully immersed in the single life; Dllenahkh is controlled, taciturn and responsible for keeping his community together. Delarua shuns deeper connections with men; Dllenahkh is part of a community that has lost most of its women.

They both have a great deal to learn . . .

The Best Of All Possible Worlds is a magical tale of survival and identity: individual, familial, national, global and human.

I am a HUGE fan of Jaclyn Moriarty's books and she has not only a new book coming out but also an entire NEW TRILOGY!!! HOORAY!!!! AND DUDES!! IT IS SET WHERE I LIVE!!!!!!!!!!!!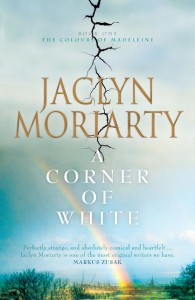 Madeleine Tully lives in Cambridge, England, the World – a city of spires, Isaac Newton and Auntie's Tea Shop.
Elliot Baranski lives in Bonfire, the Farms, the Kingdom of Cello – where seasons roam, the Butterfly Child sleeps in a glass jar, and bells warn of attacks from dangerous Colours.
They are worlds apart – until a crack opens up between them; a corner of white – the slim seam of a letter.
A mesmerising story of two worlds; the cracks between them, the science that binds them and the colours that infuse them.

I was offered a review copy of Tad Williams' new book this week and I accepted it because it sounds great: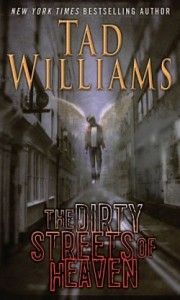 obby Dollar has a secret. Actually he's got a ton of them. The most important one is that his real name's Doloriel and he's an angel. Not an important angel, maybe, but a rough-and-tumble guy who's always done his part in the long cold war between Heaven and Hell.

But now he's stepped into the middle of something that's got both sides very nervous — an unprecedented number of missing souls. And if that wasn't enough, someone has summoned a truly unpleasant Babylonian demon that's doing its best to track him down and rip him to pieces. Also, his opposite number on the case is arguably the world's sexiest she-devil, and Bobby has feelings for her that Heaven definitely does not allow.

Can not remember where or how I found out about Charlotte Markham and the House of Darkling but I think it has 1) an awesome cover and 2) sounds really good. So, radar'ed!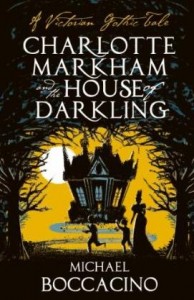 We bid you welcome to the House of Darkling….

When Nanny Prum, the nanny to the young Darrow boys, is found mysteriously murdered in the forest, Charlotte Markham, the recently hired governess, steps in to care for the children. During an outing in the forest, they find themselves crossing over into The Ending, the place for the things that cannot die, where Lily Darrow, the late mistress of Everton, has been waiting to pick up where she left off. She invites them into the ominous House of Darkling, a wondrous, dangerous place filled with enchantment, mystery and strange creatures that appear to be, but are not quite, human.

On Thea's Radar:
Ok! First up on my radar, this book that Ana discovered and pointed out to me looks pretty fantastic. I've never tried or heard of this author – but I think I'll be changing that soon.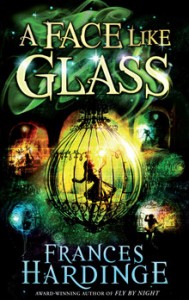 In Caverna, lies are an art – and everyone's an artist . . .

In the underground city of Caverna the world's most skilled craftsmen toil in the darkness to create delicacies beyond compare – wines that can remove memories, cheeses that can make you hallucinate and perfumes that convince you to trust the wearer, even as they slit your throat. The people of Caverna are more ordinary, but for one thing: their faces are as blank as untouched snow. Expressions must be learned, and only the famous Facesmiths can teach a person to show (or fake) joy, despair or fear – at a price.

Into this dark and distrustful world comes Neverfell, a little girl with no memory of her past and a face so terrifying to those around her that she must wear a mask at all times. For Neverfell's emotions are as obvious on her face as those of the most skilled Facesmiths, though entirely genuine. And that makes her very dangerous indeed ..

This week, I just finished reading A Gathering of Gargoyles by Meredith Ann Pierce – and fell in love with it, even moreso than The Darkangel. Naturally, I'm glomming her backlist now and have been recommended this trilogy (which sounds fantastic):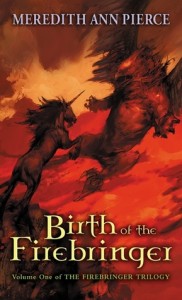 Jan, the prince of the unicorns, is high-spirited, reckless-and the despair of his mighty father, Korr. Reluctantly, Korr allows Jan to accompany the other initiate warriors on a pilgrimage. Soon Jan's curiosity leads him, along with his friend Dagg, and their mentor, the female warrior Tek, into the greatest dangers-deadly gryphons, sly pans, wyverns, pards, and renegade unicorns. Yet time after time they are rescued, leading Jan to wonder: Am I the heir to a special destiny?

And one last Meredith Ann Pierce, I promise – this one is a standalone and sounds pretty freaking amazing. I haven't heard anyone talk about this book? Any recs/opinions?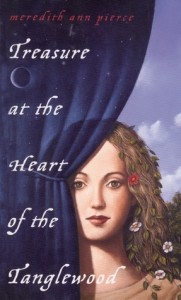 First she is Brown Hannah, a drab healer living in the enchanted Tanglewood. Then, when she challenges the magician who holds her captive, she becomes Green Hannah. Next, she is Golden Hannah traveling through the land, with talking animals and birds by her side. And, finally, Russet Hannah, when she makes the long journey back to where she first grew, and learns her true story. This eagerly anticipated novel, Meredith Ann Pierce's first in five years, is well worth the wait.

Next up, the new stuff. I've been warily eyeing this book for a while. I have an ARC from the publisher (I think…somewhere). But I've been reluctant to read it because, well, the title seems unconscionably stupid (CREWEL? REALLY???!!) and I was fearing it would be more of the same YA "dystopia" romance that makes me want to bash my head against a brick wall with frustration. BUT, I've been seeing some good reviews and status updates on goodreads from trusted bloggers. I think I'll have to read this one JUST to find out for myself how it will all shake out!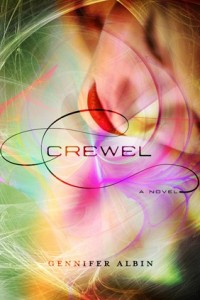 Incapable. Awkward. Artless.

That's what the other girls whisper behind her back. But sixteen year-old Adelice Lewys has a secret: she wants to fail.

Gifted with the ability to weave time with matter, she's exactly what the Guild is looking for, and in the world of Arras, being chosen as a Spinster is everything a girl could want. It means privilege, eternal beauty, and being something other than a secretary. It also means the power to embroider the very fabric of life. But if controlling what people eat, where they live and how many children they have is the price of having it all, Adelice isn't interested.

Not that her feelings matter, because she slipped and wove a moment at testing, and they're coming for her—tonight.

Now she has one hour to eat her mom's overcooked pot roast. One hour to listen to her sister's academy gossip and laugh at her Dad's stupid jokes. One hour to pretend everything's okay. And one hour to escape.

Because once you become a Spinster, there's no turning back.

I was drawn to this next book because of the divided reviews and controversial nature of the subject matter. I feel like I have to read it myself to make an informed opinion – is the book glorifying/reinforcing our own society's discriminatory and prejudice against people suffering from mental illness? Or does it exaggerate and then subvert these prevalent attitudes, in the way the best dystopian novels should?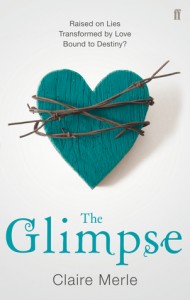 London, in the not too distant future, and people are now divided into Pures and Crazies, according to the results of a DNA test, with the Crazies sectioned off to live within 'the City', on the other side of the Community wall. Until the age of fifteen, Ana has lived a privileged existence amongst the Pures, but her whole world crumbles when she finds out that her DNA test was faked, which makes her one of the Crazies. She has just three years before she will be cast out of the Community . . . But Ana meets Pure-born Jasper and is offered a ticket to freedom when he asks her to Join with him. She looks forward to a 'normal' life, and fulfilling her dreams of becoming a musician. Then, just a week before the Joining ceremony, Jasper goes missing; it appears he is somewhere in the City, and no one knows why. Ana sets off on his trail, which takes her through the underbelly of society and into the pits of the human soul. And as she delves deeper into the mystery of Jasper's disappearance Ana uncovers some devastating truths that destroy everything she has grown up to believe, but she also learns to love as she has never loved before.

And that's it from us! What books do you have on YOUR radar?