"On The Smugglers' Radar" is a feature for books that have caught our eye: books we have heard of via other bloggers, directly from publishers, and/or from our regular incursions into the Amazon jungle. Thus, the Smugglers' Radar was born. Because we want far more books than we can possibly buy or review (what else is new?), we thought we would make the Smugglers' Radar into a weekly feature – so YOU can tell us which books you have on your radar as well!
On Ana's Radar:
OH MY GOD. I just love the sound of this new book coming from Cherie Priest: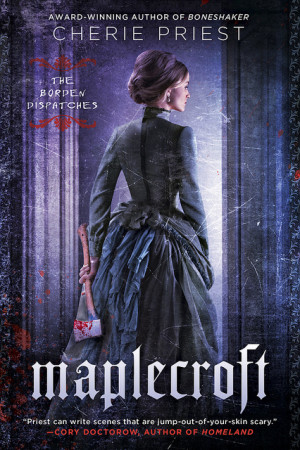 Lizzie Borden took an axe and gave her mother forty whacks; and when she saw what she had done, she gave her father forty-one. It's not as if she had much choice. Her parents were trying to eat her.

Now it is 1894.

In the wake of her trial, Lizzie has changed her name to "Lizbeth Andrew," and she's bought a house on the other side of her oceanfront hometown—a sprawling Victorian mansion called Maplecroft. Her inherited fortune has been invested in a terrific library and laboratory, installed in Maplecroft's basement; and from this center of operations she observes and researches the supernatural foe that so hideously transformed her parents.

Someone has to. And no one else even suspects what's truly happening. No one knows that just offshore lurks an ancient god, starved for blood. Its agents are masked, and eager to kill. They are ready to invade.

But one woman stands guard on the shore between the ocean and Fall River. She has seen the dark forces of the Atlantic firsthand, and she has no illusions. Every night she hears the tide bring messages of madness, apocalypse, and monsters.

And she is ready to meet them all. With an axe.

A fairytale retelling following a warrior princess who happens to be Sleeping Beauty's daughter? Where do I sign up?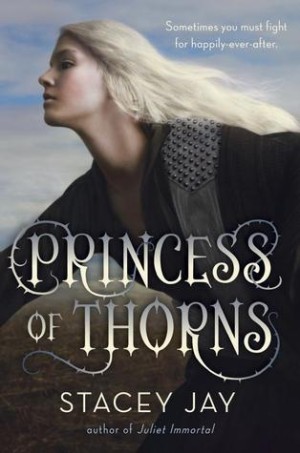 Game of Thrones meets the Grimm's fairy tales in this twisted, fast-paced romantic fantasy-adventure about Sleeping Beauty's daughter, a warrior princess who must fight to reclaim her throne.

Though she looks like a mere mortal, Princess Aurora is a fairy blessed with enhanced strength, bravery, and mercy yet cursed to destroy the free will of any male who kisses her. Disguised as a boy, she enlists the help of the handsome but also cursed Prince Niklaas to fight legions of evil and free her brother from the ogre queen who stole Aurora's throne ten years ago.

Will Aurora triumph over evil and reach her brother before it's too late? Can Aurora and Niklaas break the curses that will otherwise forever keep them from finding their one true love?

Have been reading S L Huang's blog for a while and saw the author has a book coming out this year that sounds AMAZEBALLS!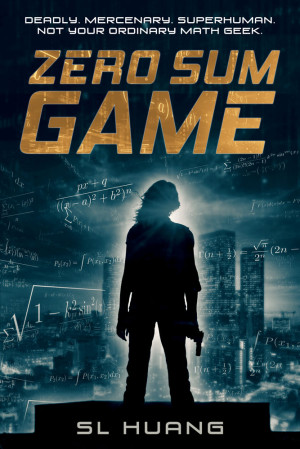 Deadly. Mercenary. Superhuman. Not your ordinary math geek.

Cas Russell is good at math. Scary good.

The vector calculus blazing through her head lets her smash through armed men twice her size and dodge every bullet in a gunfight. She can take any job for the right price and shoot anyone who gets in her way.

As far as she knows, she's the only person around with a superpower . . . but then Cas discovers someone with a power even more dangerous than her own. Someone who can reach directly into people's minds and twist their brains into Moebius strips. Someone intent on becoming the world's puppet master.

Someone who's already warped Cas's thoughts once before, with her none the wiser.

Cas should run. Going up against a psychic with a god complex isn't exactly a rational move, and saving the world from a power-hungry telepath isn't her responsibility. But she isn't about to let anyone get away with violating her brain — and besides, she's got a small arsenal and some deadly mathematics on her side. There's only one problem . . .

She doesn't know which of her thoughts are her own anymore.

My mission to read ALL THE MASQUE BOOKS er BOOKS continues. Next up: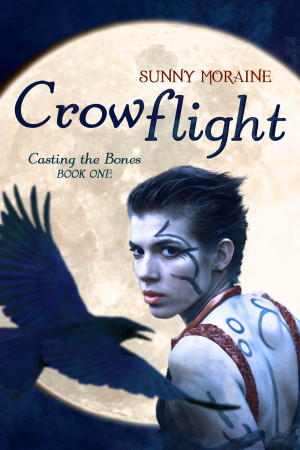 Turn is a member of the ancient Crow tribe, a Psychopomp in training—a guide of souls into the lands beyond death—with a bright future ahead of her, until she witnesses the suspicious loss of a soul between worlds. Accused of losing the soul herself, Turn is exiled to the Shadowlands beyond the Crow's city, lands occupied by the mysterious and secretive Raven tribe, weavers of dark magic and suspected by Turn as playing a role in her exile.

But when Turn is saved from sickness and starvation by a Raven, everything she has always believed to be true is thrown into question. As she struggles to adapt to life among the people she once feared, terrible truths begin to emerge. There is a dark conspiracy behind her exile—a rising power that threatens to destroy everything that the Crows stand for, and even to upset the balance between life and death itself. And Turn may the only one who stands in its way . . .

Finally, I received this recommendation from a trusted sourced: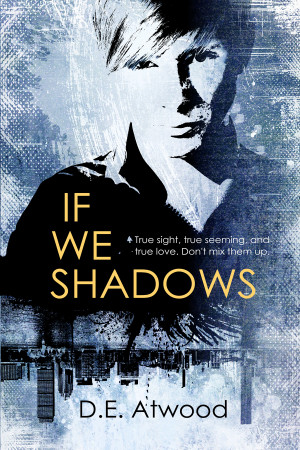 Born female, all Jordan wants is to slip under the radar and live the last year of high school as a boy. His parents and siblings support him, but he'd rather be recognized for his acting and musical talents than his gender issues.

When Shakespeare's Puck gives him three magical potions—true sight, true seeming, and true love—Jordan discovers being true to himself isn't as simple as he thought.

Jordan must navigate the confusion of first love, a controversial role in the fall musical, and his transgender identity, while fairy magic creates a net of complications over everything he does. In order to unweave the spells laid over his friends—his supportive older brother, James, his playwright friend, Pepper, and Maria, another transgender student—Jordan needs to understand exactly how far he'll go to reach his goals of finding true love, true sight, and true seeming.

On Thea's Radar:
ARRRRGH I had this done and then wordpress ate my post! *shakes fist* Ok. Here we go again:
Ana has been talking about Masque Books for a while now, so I've decided to see what all the fuss is about! This book has Thea written all over it: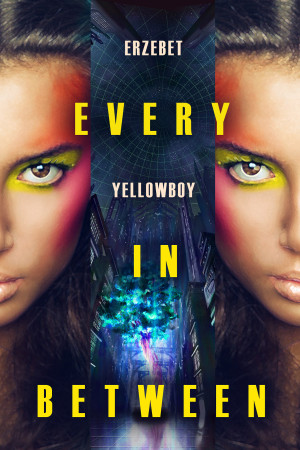 They killed my mother. You are everything I ever wished for, she said before they put her to sleep. That's how I got my name: Every. I am no one special. I'm just the one who knows they lied.

My city is just like every other city: derelict, decaying, enclosed by a great, gray dome. It is managed by a faceless authority and strictly controlled. We are born, live, and die inside its walls, safe from the vast nothing outside. War, they say, destroyed everything except the cities, and we are not to question why. Those of us who do question them run away—if we can—except there's nowhere for us to go. For three long years I survived on the empty streets and back alleys of my city, searching for, but never finding, an exit. And then, one day it happened.

I got out and you won't believe what I found.

Next up, this dystopian YA novel spied on Edelweiss: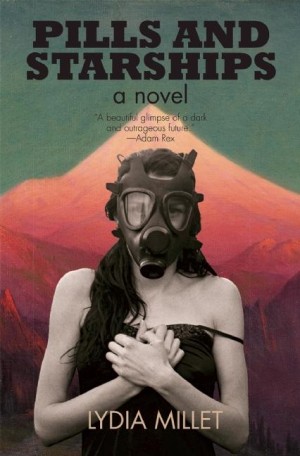 In this richly imagined dystopic future brought by global warming, seventeen-year-old Nat and her hacker brother Sam have come by ship to the Big Island of Hawaii for their parents' Final Week. The few Americans who still live well also live long-so long that older adults bow out not by natural means but by buying death contracts from the corporates who now run the disintegrating society by keeping the people happy through a constant diet of "pharma." Nat's family is spending their pharma-guided last week at a luxury resort complex called the Twilight Island Acropolis.

Deeply conflicted about her parents' decision, Nat spends her time keeping a record of everything her family does in the company-supplied diary that came in the hotel's care package. While Nat attempts to come to terms with her impending parentless future, Sam begins to discover cracks in the corporates' agenda and eventually rebels against the company his parents have hired to handle their last days. Nat has to choose a side. Does she let her parents go gently into that good night, or does she turn against the system and try to break them out?

But the deck is stacked against Nat and Sam: in this oppressive environment, water and food are scarce, mass human migrations are constant, and new babies are illegal. As the week nears its end, Nat rushes to protect herself and her younger brother from the corporates while also forging a path toward a future that offers the hope of redemption for humanity. This page-turning first YA novel by critically acclaimed author Lydia Millet is stylish and dark and yet deeply hopeful, bringing Millet's characteristic humor and style to a new generation of young readers.

Next up, this new science fiction romance novel from the author of Ghost Planet that sounds awesome:
Extreme biotech experiments lead to the accidental genesis of a race of mutant humans with insectlike qualities. Highly intelligent, tribal, and embittered toward their creators, the Manti engineer a virus that nearly wipes out humanity.

Thirty years later. Pax and Asha—strangers and enemies—find themselves stranded together on the wrong side of the Manti border, neither with a memory of how they got there.

Asha is an archivist working to preserve humanity's most valuable resource—information—viewed as the only means of resurrecting their society.

Pax is a menacing presence in the skies over Sanctuary, the last human city. He patrols the border, keeps humanity in check, and picks up strays for the slave trade. As the son of a Manti lord, he is viewed as untouchable.

But neither of them is really what they seem, and what humanity believes about the Manti is a lie.

I really, really need to read Monstrous Beauty soon – here's the new novel from Elizabeth Fama that sounds like it could be very clever and thought-provoking (or, if executed poorly, terrible – but I'm optimistic given all the glowing reviews I've read for Fama's writing):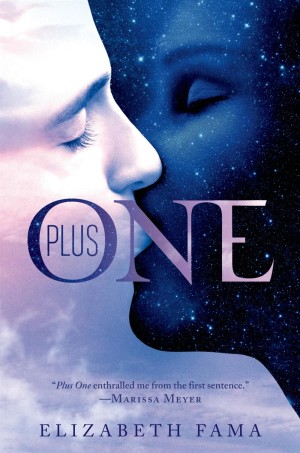 Divided by day and night and on the run from authorities, star-crossed young lovers unearth a sinister conspiracy in this compelling romantic thriller.

Seventeen-year-old Soleil Le Coeur is a Smudge—a night dweller prohibited by law from going out during the day. When she fakes an injury in order to get access to and kidnap her newborn niece—a day dweller, or Ray—she sets in motion a fast-paced adventure that will bring her into conflict with the powerful lawmakers who order her world, and draw her together with the boy she was destined to fall in love with, but who is also a Ray.

Set in a vivid alternate reality and peopled with complex, deeply human characters on both sides of the day-night divide, Plus One is a brilliantly imagined drama of individual liberty and civil rights, and a fast-paced romantic adventure story.

Next up, this satirical YA thriller that sounds like it could be hilarious: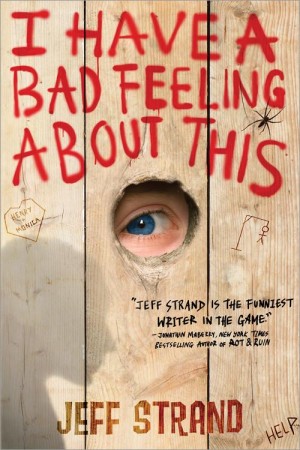 A Hunger Games-style survival school for teens is about to get deadly serious…or seriously deadly. Take your pick.

Everything 16-year-old Henry was dreading about survival camp turns out to be true-or even worse. The only thing to help get him through is his equally unathletic best friend Randy and the discovery of a girls' music camp just down the path. But they'll soon have a lot more than obnoxious "drill counselors" and too many push-ups to worry about. The owner of Strongwoods Survival Camp has taken out some loans with very dangerous men to keep himself afloat, and when a trio of them show up to collect, things go bad. Very bad. With a camp now full of armed killers, survival now has a whole new meaning for the campers…

I just got this book in the mail and was immediately drawn to the pretty cover! Amnesiac heroines aren't my favorite, but I'll give this a shot: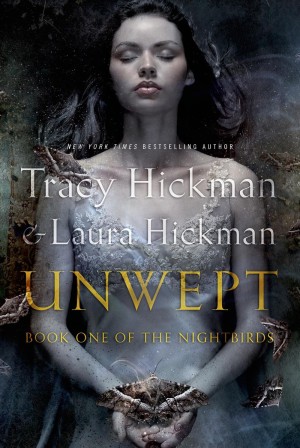 Gamin, Maine, is a remote seaside town where everyone seems to know Ellis Harkington better than she knows herself—but she doesn't remember any of them.

Unknown events have robbed Ellis of her memory. Concerned individuals, who claim to be friends and loved ones, insist that she simply needs to recuperate, and that her memories may return in time. But, for her own sake—so they claim—they refuse to divulge what has brought her to this state.

Ellis finds herself adrift in a town of ominous mysteries, cryptic hints, and disturbingly familiar strangers. The Nightbirds, a clique of fashionable young men and women, claim her as one of their own, but who can she truly trust? And what of the phantom suitor who visits her in her dreams? Is he a memory, a figment of her imagination, or a living nightmare beyond rational explanation?

Only her lost past holds the answers she seeks—if she can uncover its secrets before she falls prey to an unearthly killer.

Finally, this YA science fiction novel sounds fully awesome and I cannot wait to get my hands on it: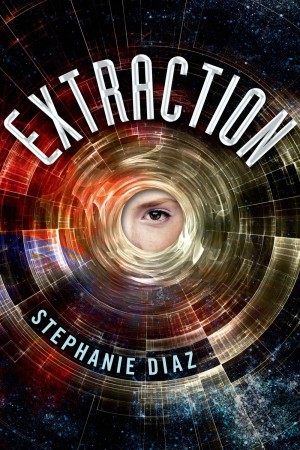 "Welcome to Extraction testing."

Clementine has spent her whole life preparing for her sixteenth birthday, when she'll be tested for Extraction in the hopes of being sent from the planet Kiel's toxic Surface to the much safer Core, where people live without fear or starvation. When she proves Promising enough to be "Extracted," she must leave without Logan, the boy she loves. Torn apart from her only sense of family, Clem promises to come back and save him from brutal Surface life.

What she finds initially in the Core is a utopia compared to the Surface—it's free of hard labor, gun-wielding officials, and the moon's lethal acid. But life is anything but safe, and Clementine learns that the planet's leaders are planning to exterminate Surface dwellers—and that means Logan, too.

Trapped by the steel walls of the underground and the lies that keep her safe, Clementine must find a way to escape and rescue Logan and the rest of the planet. But the planet leaders don't want her running—they want her subdued.

With urgent writing, fluid dialogue, and a cast of unforgettable characters, Extraction is a page-turning, gripping read, sure to entertain lovers of Hunger Games and Ender's Game and leave them breathless for more.

That's it from us! What books do you have on your radar?