"On The Smugglers' Radar" is a feature for books that have caught our eye: books we have heard of via other bloggers, directly from publishers, and/or from our regular incursions into the Amazon jungle. Thus, the Smugglers' Radar was born. Because we want far more books than we can possibly buy or review (what else is new?), we thought we would make the Smugglers' Radar into a weekly feature – so YOU can tell us which books you have on your radar as well!
On Ana's Radar:
I got this book in the post this week. It's a Terry Pratchett novel and it seems to be the "hidden" story of the Artful Dodger…plus The Other Ana reviewed it last week and it sounds pretty good to me.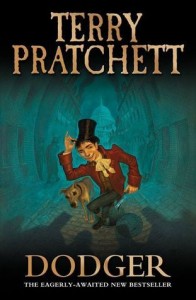 A storm. Rain-lashed city streets. A flash of lightning. A scruffy lad sees a girl leap desperately from a horse-drawn carriage, in a vain attempt to escape her captors. Can the lad stand by and let her be caught again? Of course not, because he's… Dodger!

This upcoming thriller from new imprint Soho Teen sounds awesome: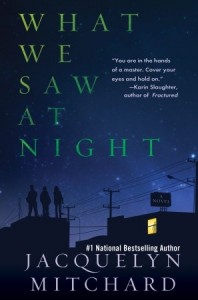 Like the yearning, doomed young clones in Ishiguro's Never Let Me Go, three teenagers with XP (a life-threatening allergy to sunlight) are a species unto themselves. As seen through the eyes of 16-year-old Allie Kim, they roam the silent streets, looking for adventure, while others sleep. When Allie's best friend introduces the trio to Parkour, the stunt-sport of running and climbing off forest cliffs and tall buildings (risky in daylight and potentially deadly by darkness), they feel truly alive, equal to the "daytimers."

On a random summer night, while scaling a building like any other, the three happen to peer into an empty apartment and glimpse an older man with what looks like a dead girl. A game of cat-and-mouse ensues that escalates through the underground world of hospital confinement, off-the-grid sports, and forbidden love. Allie, who can never see the light of day, discovers she's the lone key to stopping a human monster.

Was browsing Goodreads and came across this upcoming title from Caroline B. Cooney – it doesn't have a blurb yet but I like the cover…and it seems like it's a MG novel.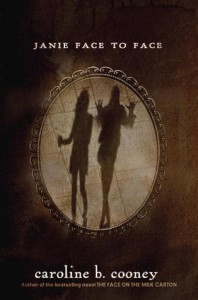 After reading one of the WORST EVER superheroes book last week and whining about it on Twitter (as you do), a few trusted reviewers recommended this book to me. I looked it up, it sounded REALLY good so I bought it straight away. Can't wait to read it: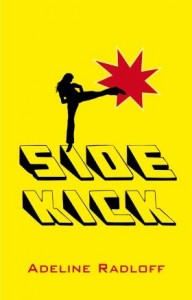 Katie Holmes, aged 17, lives with her adoptive mother, the housekeeper of a fabulous house in Camps Bay belonging to the gorgeous hunk Finn O'Reilly.? Finn has the ability to stop time, to move into what is called "untime".? Katie can't stop time but, uniquely, can function in "untime" and works as a partner, a sidekick, to Finn.?

On Thea's Radar:
First up, a title I've been seeing pop up online in a few places – Prague Castle and Beethoven? Ok, I'm intrigued.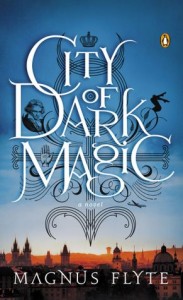 Cosmically fast-paced and wildly imaginative, this debut novel is a perfect potion of magic and suspense

Once a city of enormous wealth and culture, Prague was home to emperors, alchemists, astronomers, and, as it's whispered, hell portals. When music student Sarah Weston lands a summer job at Prague Castle cataloging Beethoven's manuscripts, she has no idea how dangerous her life is about to become. Prague is a threshold, Sarah is warned, and it is steeped in blood.

Soon after Sarah arrives, strange things begin to happen. She learns that her mentor, who was working at the castle, may not have committed suicide after all. Could his cryptic notes be warnings? As Sarah parses his clues about Beethoven's "Immortal Beloved," she manages to get arrested, to have tantric sex in a public fountain, and to discover a time-warping drug. She also catches the attention of a four-hundred-year-old dwarf, the handsome Prince Max, and a powerful U.S. senator with secrets she will do anything to hide.

City of Dark Magic could be called a rom-com paranormal suspense novel—or it could simply be called one of the most entertaining novels of the year.

As someone that lived in LA for many years, and a frequenter of Catalina island, this next horror novel sounds both potentially awesome and also possibly ridiculous. It's like the Schrödinger's cat of books right now. I *have* to open the box, though: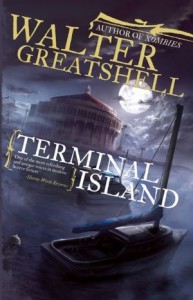 Henry Cadmus grew up on Catalina Island, a scenic vacationland off the Southern California coast. But Henry's experiences were far from idyllic. Today, even though Henry has seen firsthand the horrors of war, the ghastly images that haunt his dreams is one he associates with his childhood… and the island: a snarling pig-man holding a cleaver; a jackal-headed woman on a high balcony, dripping blood; strange occult rituals… and worse. If it was up to Henry, he would avoid the island entirely.

But Henry is returning to Catalina Island. At his wife Ruby's insistence, Henry, Ruby, and their infant daughter are coming to Avalon, so that Henry can face his fears, exorcise his demons, and reconcile with the one he fears most… his mother.

From Walter Greatshell, author of Xombies comes Terminal Island, a novel of cosmic horror.

Saw this next book on NetGalley, and while the premise sounds fairly familiar, I still want to give it a try.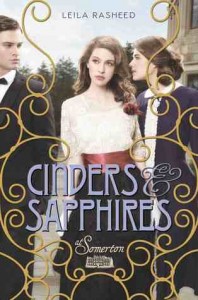 Rose Cliffe has never met a young lady like her new mistress. Clever, rich, and beautiful, Ada Averly treats Rose as an equal. And Rose could use a friend—to the rest of the staff at Somerton Court she is the indulged favorite of the housekeeper, her mother. Especially now that she has risen to ladies' maid at barely sixteen. Rose knows she should be grateful to even have a place at a house like Somerton. Still, she can't help but wonder what her life might have been had she been born a lady like Ada. If she even had a father.

Ada never believed that one encounter could so completely alter a young lady's heart. That was before her voyage to England. For the first time in a decade, the Averlys have returned to Somerton, their majestic ancestral estate. But terrible scandal has followed Ada's beloved father all the way from India. Now Ada finds herself torn between her own happiness and her family's honor. Only she has the power to restore the Averly name—by marrying a man more than twice her age. And ever since her voyage across the sea, she's loved someone else…someone she could never persuade her father to accept.

Sumptuous and enticing, the first novel in the At Somerton series introduces two worlds, utterly different yet entangled in unimaginable ways, where ruthless ambition, forbidden attraction, and unspoken dreams are hidden away behind dutiful smiles and glittering jewels. It seems as if life at Somerton will never change. But some secrets can only stay buried for so long.

In my search for books this week, I stumbled across the second book in the Hattie Inez series, which made me search for book 1, which I haven't read or reviewed (I am ashamed to say it). Hattie Big Sky sounds fantastic though, so maybe now is the time to start?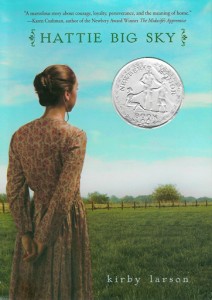 For most of her life, sixteen-year-old Hattie Brooks has been shuttled from one distant relative to another. Tired of being Hattie Here-and-There, she summons the courage to leave Iowa and move all by herself to Vida, Montana, to prove up on her late uncle's homestead claim. "At least now my letters will be more interesting," she writers to her good friend, Charlie, who is fighting the Kaiser in France.

Under the big sky, Hattie braves hard weather, hard times, a cantankerous cow, and her own hopeless hand at the cookstove. Her quest to make a home is championed by new neighbors Perilee Mueller, her German husband, and their children. For the first time in her life, Hattie feels part of a family, finding the strength to stand up against Traft Martin's schemes to buy her out and against increasing pressure to be a "loyal" American at a time when anything—or anyone—German is suspect. Despite daily trials, Hattie continues to work her uncle's claim until an unforeseen tragedy causes her to search her soul for the real meaning of home.

Lovingly stitched together from Kirby Larson's own family history, and the sights, sounds and scents of a homesteading life, this young pioneer's story celebrates the true spirit of independence.

And, for good measure, here's book 2 (is it just me, or does this second version of whom I assume to be Hattie look a lot…lighter? I haven't read the books, so I can't make any assertions, but does anyone else have insight?):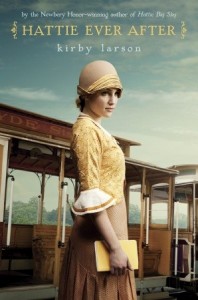 After leaving Uncle Chester's homestead claim, orphan Hattie Brooks throws a lasso around a new dream, even bigger than the Montana sky. She wants to be a reporter, knowing full well that a few pieces published in the Arlington News will not suffice. Real reporters must go to Grand Places, and do Grand Things, like Hattie's hero Nellie Bly. Another girl might be stymied by this, but Hattie has faced down a hungry wolf and stood up to a mob of angry men. Nothing can squash her desire to write for a big city newspaper. A letter and love token from Uncle Chester's old flame in San Francisco fuels that desire and Hattie jumps at the opportunity to get there by working as a seamstress for a traveling acting troupe. This could be her chance to solve the mystery of her "scoundrel" uncle and, in the process, help her learn more about herself. But Hattie must first tell Charlie that she will not join him in Seattle. Even though her heart approves of Charlie's plan for their marriage, her mind fears that saying yes to him would be saying no to herself. Hattie holds her own in the big city, literally pitching her way to a byline, and a career that could be even bigger than Nellie Bly's. But can making headlines compensate for the pain of betrayal and lost love? Hattie must dig deep to find her own true place in the world. Kirby Larson once again creates a lovingly written novel about the remarkable and resilient young orphan, Hattie Inez Brooks.

Billed as a YA thriller about two star-crossed teens stuck in a lethal time loop, how could I resist?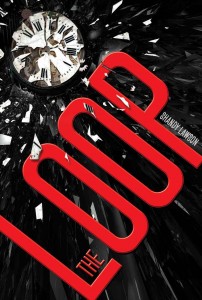 Ben and Maggie have met, fallen in love, and died together countless times. Over the course of two pivotal day–both the best and worst of their lives–they struggle again and again to resist the pull of fate and the force of time itself. With each failure, they return to the beginning of their end, a wild road trip that brings them to the scene of their own murders and into the hands of the man who is destined to kill them.

As time circles back on itself, events become more deeply ingrained, more inescapable for the two kids trapped inside the loop. The closer they come to breaking out, the tighter fate's clutches seem to grip them. They devise a desperate plan to break free and survive the days ahead, but what if Ben and Maggie's only shot at not dying is surviving apart?

And that's it from us! What books do you have on YOUR radar?