"On The Smugglers' Radar" is a feature for books that have caught our eye: books we have heard of via other bloggers, directly from publishers, and/or from our regular incursions into the Amazon jungle. Thus, the Smugglers' Radar was born. Because we want far more books than we can possibly buy or review (what else is new?), we thought we would make the Smugglers' Radar into a weekly feature – so YOU can tell us which books you have on your radar as well!
On Ana's Radar:
ANCILLARY SWORD! ANCILLARY SWORD!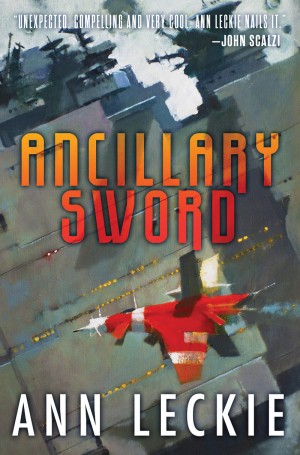 I've seen a couple of trusted sources (Liz Bourke, Sherwood Smith) talking about this book and I am really curious: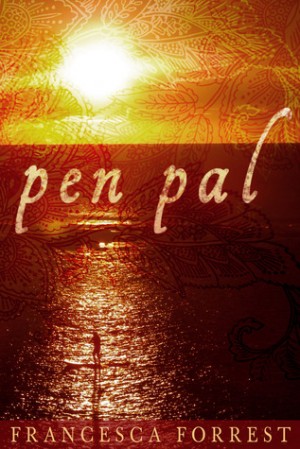 Em is a twelve-year-old girl in a floating community off the Gulf Coast. Kaya is a political activist in a terrifying prison. They are pen pals. Em's wistful message in a bottle finds its way to Kaya, imprisoned above the molten lava of the Ruby Lake. Both are living precarious lives, at the mercy of societal, natural, and perhaps supernatural forces beyond their control. Kaya's letters inspire Em, and Em's comfort Kaya-but soon this correspondence becomes more than personal.

Individual lives, communities, and even the fate of an entire nation will be changed by this exchange of letters. "Pen Pal" is a story of friendship and bravery across age, distance, and culture, at the intersection of the natural and supernatural world.

WooHoo! The amazing Justine Larbalestier has a new novel coming out….in 2015 (for those of us not in Australia). STILL! LET'S CELEBRATE!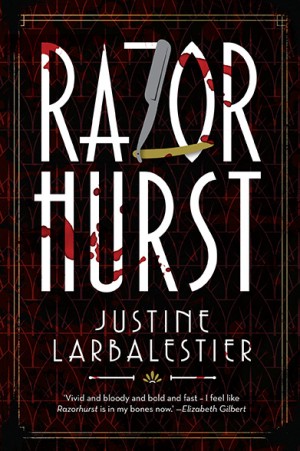 The setting: Razorhurst, 1932. The fragile peace between two competing mob bosses—Gloriana Nelson and Mr Davidson—is crumbling. Loyalties are shifting. Betrayals threaten.

Kelpie knows the dangers of the Sydney streets. Ghosts have kept her alive, steering her to food and safety, but they are also her torment.

Dymphna is Gloriana Nelson's 'best girl', experienced in surviving the criminal world, but she doesn't know what this day has in store for her.

When Dymphna meets Kelpie over the corpse of Jimmy Palmer, Dymphna's latest boyfriend, she pronounces herself Kelpie's new protector. But Dymphna's life is in danger too, and she needs an ally. And while Jimmy's ghost wants to help, the dead cannot protect the living . . .

Want more celebration? Jandy Nelson, the author of the extraordinary The Sky is Everywhere is finally publishing another book this year:
Jude and her brother, Noah, are incredibly close twins. At thirteen, isolated Noah draws constantly and is falling in love with the charismatic boy next door, while daredevil Jude surfs and cliff-dives and wears red-red lipstick and does the talking for both of them. But three years later, Jude and Noah are barely speaking. Something has happened to wreck the twins in different and divisive ways . . . until Jude meets a cocky, broken, beautiful boy, as well as an unpredictable new mentor. The early years are Noah's story to tell. The later years are Jude's. What the twins don't realize is that they each have only half the story, and if they could just find their way back to one another, they'd have a chance to remake their world.

This radiant, fully alive, sometimes very funny novel from the critically acclaimed author of The Sky Is Everywhere will leave you breathless and teary and laughing—often all at once.

A new Jaclyn Dolamore book. I've been meaning to read more from her since I enjoyed Magic Under Glass a few years ago.
Cabaret meets Cassandra Clare-a haunting magical thriller set in a riveting 1930s-esque world.

Sixteen-year-old Thea Holder's mother is cursed with a spell that's driving her mad, and whenever they touch, Thea is chilled by the magic, too. With no one else to contribute, Thea must make a living for both of them in a sinister city, where danger lurks and greed rules.
Thea spends her nights waitressing at the decadent Telephone Club attending to the glitzy clientele. But when her best friend, Nan, vanishes, Thea is compelled to find her. She meets Freddy, a young, magnetic patron at the club, and he agrees to help her uncover the city's secrets-even while he hides secrets of his own.

Together, they find a whole new side of the city. Unrest is brewing behind closed doors as whispers of a gruesome magic spread. And if they're not careful, the heartless masterminds behind the growing disappearances will be after them, too.

Perfect for fans of Cassandra Clare, this is a chilling thriller with a touch of magic where the dead don't always seem to stay that way.

One of our readers recommended this to me and I am really curious – will read soon: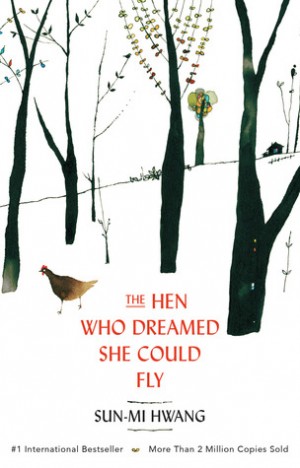 This is the story of a hen named Sprout. No longer content to lay eggs on command, only to have them carted off to the market, she glimpses her future every morning through the barn doors, where the other animals roam free, and comes up with a plan to escape into the wild – and to hatch an egg of her own.

An anthem for freedom, individuality and motherhood featuring a plucky, spirited heroine who rebels against the tradition-bound world of the barnyard, The Hen Who Dreamed She Could Fly is a novel of universal resonance that also opens a window on Korea, where it has captivated millions of readers. And with its array of animal characters – the hen, the duck, the rooster, the dog, the weasel – it calls to mind such classics in English as Animal Farm and Charlotte's Web.

Featuring specially commissioned illustrations, this first English-language edition of Sun-mi Hwang's fable for our times beautifully captures the journey of an unforgettable character in world literature.

On Thea's Radar:
ANCILLARY SWORD! ANCILLARY SWOOOOOORD! So excited for that one, guys! Ahem. But on to my list – first up, this fairy tale that sounds like it could be very interesting: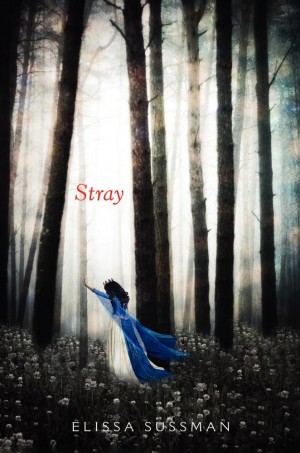 Epic and provocative, STRAY is an original fairy tale in which magic is a curse that only women bear and society is dictated by a strict religious doctrine called The Path.

Princess Aislynn knows all about the curse. Its magic is a part of her, like her awkward nose and thin fingers. It's also something she can't control. And girls who can't control their abilities have a tendency to disappear. So for her own protection, Aislynn is sworn into the order of Fairy Godmothers where she must spend the rest of her life chaste and devoted to serving another royal family.

Tasked with tending to the sweet, but sheltered Princess Linnea, Aislynn also finds a reluctant friend in the palace gardener, Thackery, who makes no secret of his disdain for her former life. The more time they spend together, though, the more she begins to doubt the rules she has observed so obediently. As Aislynn's feelings threaten to undo the sacred vows she has taken, she risks not only her own life but Linnea's as well. With the princess engaged to a devoted follower of The Path, there are some who would do anything to keep Aislynn from straying.

Then, there's this awesome cover for book 2 in the Twinmaker series. I was *just* picking up book 1 earlier this morning when pondering what I should read – and I love that book 2 features a beautiful teenager of color. YES. Book 1 just moved up my TBR.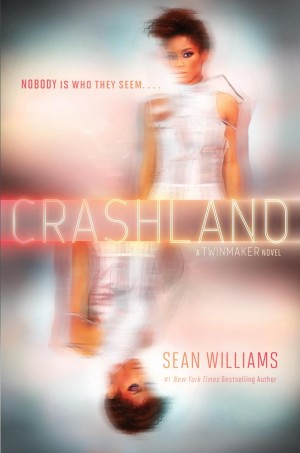 The Matrix meets the Uglies series in this science fiction thriller, the second in the Twinmaker trilogy by Sean Williams.

Where is Q?

Clair and Jesse have barely been reunited when the world is plunged into its biggest crisis since the Water Wars. The d-mat network is broken. The world has ground to a halt. People are trapped, injured, dying. It's the end of the world as Clair knows it—and it's partly her fault.

"The girl who killed d-mat" is enlisted to track down her missing friend Q—the rogue AI who repeatedly saved Clair's life. Q is the key to fixing the system, but she isn't responding to calls for help, and even if she did…can she be trusted?

Targeted by dupes, abandoned by her friends, caught in a web of lies that strike at the very essence of who she is, Clair finds powerful allies in RADICAL, secretive activists who are the polar opposite of anti-d-mat terrorist group WHOLE. However, if she helps them find Q, will she be inadvertently trapping her friend in a life of servitude—or worse, sending her to an early death by erasure?

Caught between pro- and anti-d-mat philosophies, in a world on the brink of all-out war, Clair must decide where she stands—and who she stands with, at the end.

I just received a copy of this middle grade novel, and I cannot wait to dive in: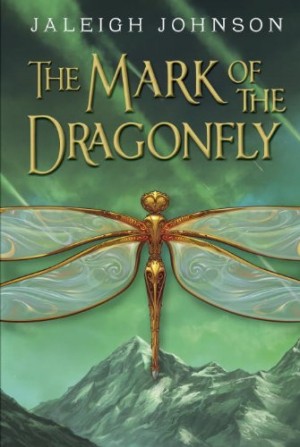 Fans of The City of Ember will love The Mark of the Dragonfly, an adventure story set in a magical world that is both exciting and dangerous.

Piper has never seen the Mark of the Dragonfly until she finds the girl amid the wreckage of a caravan in the Meteor Fields.

The girl doesn't remember a thing about her life, but the intricate tattoo on her arm is proof that she's from the Dragonfly Territories and that she's protected by the king. Which means a reward for Piper if she can get the girl home.

The one sure way to the Territories is the 401, a great old beauty of a train. But a ticket costs more coin than Piper could make in a year. And stowing away is a difficult prospect–everyone knows that getting past the peculiar green-eyed boy who stands guard is nearly impossible.

Life for Piper just turned dangerous. A little bit magical. And very exciting, if she can manage to survive the journey.

And what's my weekly radar without at least one apocalyptic novel about blood-sucking children?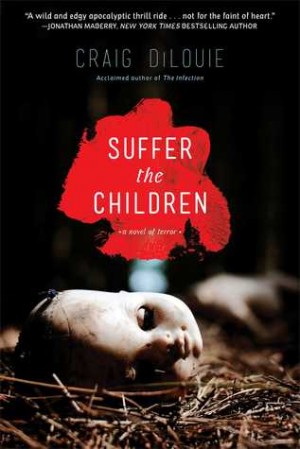 From an acclaimed horror writer, a chilling tale of blood-hungry children who rise from the dead in this innovative spin on apocalyptic vampire fiction.

Suffer the Children presents a terrifying tale of apocalyptic fiction, as readers are introduced to Herod's Syndrome, a devastating illness that suddenly and swiftly kills all young children across the globe. Soon, they return from the grave…and ask for blood. And with blood, they stop being dead. They continue to remain the children they once were…but only for a short time, as they need more blood to live. The average human body holds ten pints of blood, so the inevitable question for parents everywhere becomes: How far would you go to bring your child back?

And finally, a goblin story that sounds refreshingly different – I'm excited for this one.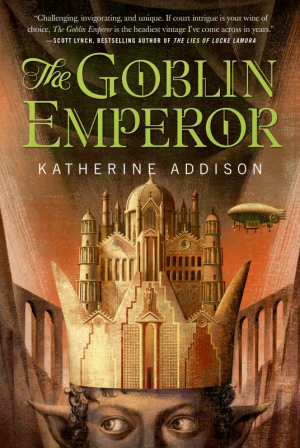 A vividly imagined fantasy of court intrigue and dark magics in a steampunk-inflected world, by a brilliant young talent.

The youngest, half-goblin son of the Emperor has lived his entire life in exile, distant from the Imperial Court and the deadly intrigue that suffuses it. But when his father and three sons in line for the throne are killed in an "accident," he has no choice but to take his place as the only surviving rightful heir.

Entirely unschooled in the art of court politics, he has no friends, no advisors, and the sure knowledge that whoever assassinated his father and brothers could make an attempt on his life at any moment.

Surrounded by sycophants eager to curry favor with the naïve new emperor, and overwhelmed by the burdens of his new life, he can trust nobody. Amid the swirl of plots to depose him, offers of arranged marriages, and the specter of the unknown conspirators who lurk in the shadows, he must quickly adjust to life as the Goblin Emperor. All the while, he is alone, and trying to find even a single friend… and hoping for the possibility of romance, yet also vigilant against the unseen enemies that threaten him, lest he lose his throne – or his life.

This exciting fantasy novel, set against the pageantry and color of a fascinating, unique world, is a memorable debut for a great new talent.

That's it from us! What books do you have on your radar?