"On The Smugglers' Radar" is a new feature for books that have caught our eye: books we have heard of via other bloggers, directly from publishers, and/or from our regular incursions into the Amazon jungle. Thus, the Smugglers' Radar was born. Because we want far more books than we can possibly buy or review (what else is new?), we thought we would make the Smugglers' Radar into a weekly feature – so YOU can tell us which books you have on your radar as well!
On Ana's Radar:
I keep seeing awesome-sounding MG novels, and Destiny, Rewritten is one of them. Plus the cover is cute: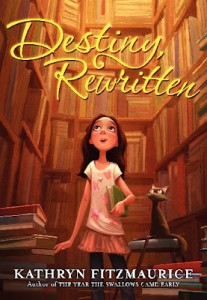 Des·tin·y: |destin?/
(noun) The hidden power believed to control what will happen in the future; fate.

Eleven-year-old Emily Elizabeth Davis has been told for her entire life that her destiny is to become a poet, just like her famous namesake, Emily Dickinson. But Emily doesn't even really like poetry, and she has a secret career ambition that she suspects her English-professor mother will frown on. Then a seeming tragedy strikes: just after discovering that it contains an important family secret, she accidentally loses the special copy of Emily Dickinson's poetry that was given to her at birth. As Emily and her friends search for the lost book in used bookstores and thrift shops all across town, Emily's understanding of destiny begins to unravel and then rewrite itself in a marvelous new way.

In her third novel, Kathryn Fitzmaurice again weaves a richly textured and delightful story about unexpected connections, about the ways that friends can help us see ourselves for who we truly are, and about the most perfect kinds of happy endings: those that happen just on time.

Another great-sounding MG is this retelling of Rumpelstiltskin: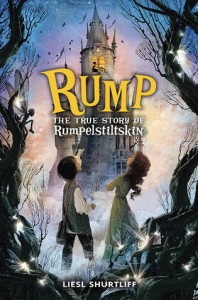 Rump has never known his full name—his mother died before she could tell him. So all his life he's been teased for his half-a-name. But when he finds an old spinning wheel, his luck seems to change. For Rump discovers he can spin straw into gold. Magical gold.

His best friend Red Riding Hood warns him that magic is dangerous—and she's right! That gold is worth its weight in trouble. And with each thread he spins, Rump weaves himself deeper into a curse.

There's only one way to break the spell: Rump must go on a quest to find his true name, along the way defending himself against pixies, trolls, poison apples, and one beautiful but vile-mannered queen. The odds aren't great for a small boy in a land full of fairytale bullies, but with courage and friendship—and a cheeky sense of humor—Rump just might triumph in the end.

And I am including the following one because 1) I've heard good things about the author and 2) as a Brazilian, I am deeply curious yet somewhat wary of this blurb. It's called The Summer Prince and it's set in Brazil – or what was once Brazil – after the end of the world. It stars a character called June (not a Brazilian name. But ok, world has ended, perhaps there is a new The Baby Name Book For Brazilians since then). BUT then the blurb mentions LETHAL SAMBA and I am like O.O (I am a pretty good Samba dancer so if I can learn how to make it LETHAL, perhaps I can take over the world MUWAHAHA).
Seriously, this can be good and I just really hope this is a case of the Bad Blurbs.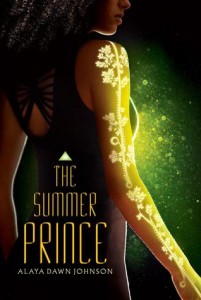 Four hundred years ago, the world ended. And now, on the coast of what was once called Brazil, women rule in the legendary pyramid city of Palmares Três. The city's Queen only cedes her power to a man once every five years — to a Summer King, whose story will grip the city like a fever.

For June Costa, art is everything. Her brilliant creations — from murals and holograms to a delicate pattern of lights in her skin — have impressed (and irritated) her classmates and teachers alike. Her dream is to win the prestigious Queen's Award, and the instant fame and success that come with it. It's a dream she never questions — until she meets Enki. Enki, the newly-elected Summer King, is the hottest thing in Palmares Três. But when June sees Enki, she sees more than piercing amber eyes and a lethal samba: She sees a fellow artist.

Together, June and Enki will create art that Palmares Três will never forget. They will add fuel to a growing rebellion against the government's strict limits on new tech. And June will fall deeply, tragically in love with Enki.

Because like all Summer Kings before him, Enki is destined to die.

Let's get back to MG shall we? Another one that sounds great, plus it's a Hannah Moskowitz novel. I still need to read one of her books. I KNOW.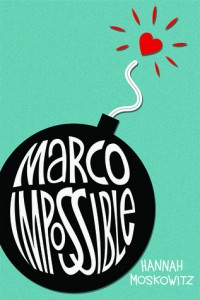 Thirteen-year-old best friends Stephen and Marco attempt a go-for-broke heist to break into the high school prom and get Marco onstage to confess his love for (and hopefully steal the heart of) Benji, the adorable exchange student and bass player of the prom band. Of course, things don't always go according to plan, and every heist comes with its fair share of hijinks.

OOOOOOOOOOO A Historical tale of Bluebeard: "A sweeping Gothic thriller based on the spine-chilling "Bluebeard" fairytale." OOOOOOOOOOOOOOO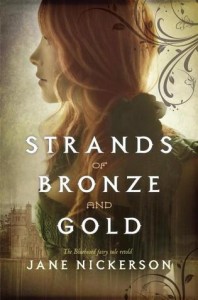 17-year-old Sophia Petheram has been sheltered by her doting family all her life, until the day her father dies. It's 1855, and with no money and few options, she goes to live with her guardian, the mysterious Bernard de Cressac, at the astonishingly lavish Wyndriven Abbey in Mississippi.

Sophie has always longed for a comfortable life, and she finds herself both attracted to and shocked by the charm and easy manners of her overgenerous guardian. But as she begins to piece together the mystery of his past, it's as if thread by thread, a silken net is woven around her. And when she begins glimpsing the ghosts of his former wives (all with hair as red as her own) in the forgotten corners and dark hallways of the Abbey, Sophie knows she's in de Cressac's trap.

With enchanting romance, chilling suspense, and dashes of the supernatural, Strands of Bronze and Gold is a compulsively-readable debut.

On Thea's Radar:
First off, that Bluebeard-inspired retelling sounds awesome and I want it, too! But now, on to my list. First, there's this superhero novel with a gorgeous cover and a short but enticing blurb: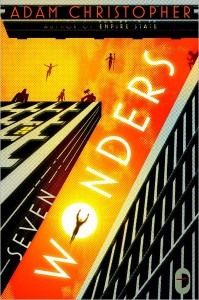 Tony Prosdocimi lives in the bustling Metropolis of San Ventura – a city gripped in fear, a city under siege by the hooded supervillain, The Cowl.
When Tony develops super-powers and acts to take down The Cowl, however, he finds that the local superhero team Seven Wonders aren't as grateful as he assumed they'd be…

This forthcoming title from Tom Reiss – a narrative nonfictional account of Alexandre Dumas' life – looks AMAZING. I love the title, I love the cover, and even though I usually stick with fiction, this looks fascinating and both Ana and I cannot wait to read it.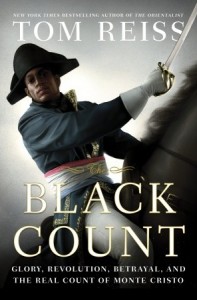 By the author of the internationally bestselling biography The Orientalist, The Black Count brings to life one of history's great forgotten heroes: a man almost unknown today yet with a personal story that is strikingly familiar. His swashbuckling exploits appear in The Three Musketeers, and his triumphs and ultimate tragic fate inspired The Count of Monte Cristo. His name is Alex Dumas. Father of the novelist Alexandre Dumas, Alex has become, through his son's books, the model for a captivating modern protagonist: the wronged man in search of justice.

Born to a black slave mother and a fugitive white French nobleman in Saint-Domingue (present-day Haiti), Alex Dumas was briefly sold into bondage but then made his way to Paris where he was schooled as a sword-fighting member of the French aristocracy.

He was only 32 when he was given command of 53,000 men, the reward for series of triumphs that many regarded as impossible, and then topped his previous feats by leading a raid up a frozen cliff face that secured the Alps for France. It was after his subsequent heroic service as Napoleon's cavalry commander that Dumas was captured and cast into a dungeon—and a harrowing ordeal commenced that inspired one of the world's classic works of fiction.

The Black Count is simultaneously a riveting adventure story, a lushly textured evocation of 18th-century France, and a window into the modern world's first multi-racial society. But it is also a heartbreaking story of the enduring bonds of love between a father and son. Drawing on hitherto unknown documents, letters, battlefield reports and Dumas' handwritten prison diary, The Black Count is a groundbreaking masterpiece of narrative nonfiction.

Note that first line in the blurb above mentions the author's prior work, The Orientalist. Naturally, I looked it up – and have added it to my wishlist.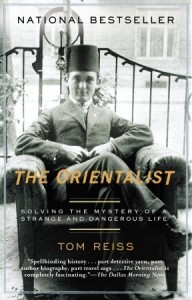 A thrilling page-turner of epic proportions, Tom Reiss's panoramic bestseller tells the true story of a Jew who transformed himself into a Muslim prince in Nazi Germany. Lev Nussimbaum escaped the Russian Revolution in a camel caravan and, as "Essad Bey," became a celebrated author with the enduring novel Ali and Nino as well as an adventurer, a real-life Indiana Jones with a fatal secret. Reiss pursued Lev's story across ten countries and found himself caught up in encounters as dramatic and surreal–and sometimes as heartbreaking–as his subject's life.

For this next title, I really love the cover art, and I love that the marketing copy is different than the usual pitch. I'm intrigued (and how the heck did I miss this release in March?!):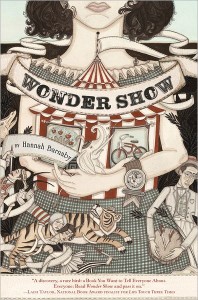 Ladies and gentlemen, boys and girls, friends and neighbors, allow me to change your lives! Step inside Mosco's Traveling Wonder Show! You've read about them in magazines, these so-called human curiosities, this tribe of misfits—now come and see for yourselves. We've got a gent as tall as a tree, a lady with a beard, and don't miss your chance to see the Wild Albinos of Bora Bora! Ask Madame Doula to peer into your future (only two dollars more if you want to know how you're going to die).

And between these covers behold the greatest act of our display—Portia Remini, the strangest of the menagerie because she's a 'normal' among the freaks, searching for a new beginning on the bally, far away from McGreavey's Home for Wayward Girls, where Mister watches and waits. He said he would always find Portia, said she could never leave . . .

Oh, it's not for the faint of heart folks. If you're prone to nightmares or you've got a weak ticker, you'd best move on. Within these pages lies a tale of abandonment, loss, misfortune for the rich and glory for the poor (and a little murder doesn't hurt). It's a story for the ages, but be warned: once you enter the Wonder Show you will never be the same.

This is another book that is a bit outside my usual range, but it sounds great, and I've seen some good reviews – I'll be reading it soon!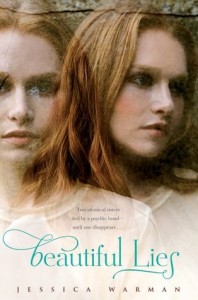 Rachel and Alice are an extremely rare kind of identical twins—so identical that even their aunt and uncle, whom they've lived with since their parents passed away, can't tell them apart. But the sisters are connected in a way that goes well beyond their surfaces: when one experiences pain, the other exhibits the exact same signs of distress.

So when one twin mysteriously disappears, the other immediately knows something is wrong—especially when she starts experiencing serious physical traumas, despite the fact that nobody has touched her. As the search commences to find her sister, the twin left behind must rely on their intense bond to uncover the truth. But is there anyone around her she can trust, when everyone could be a suspect? And ultimately, can she even trust herself? Master storyteller Jessica Warman will keep readers guessing when everything they see—and everything they are told—suddenly becomes unreliable in this page-turning literary thriller.

Next up, a Matrix-y looking book that also sounds fantastic: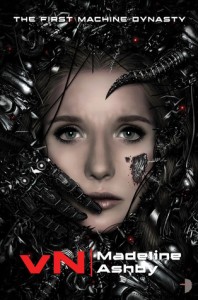 Amy Peterson is a von Neumann machine, a self-replicating humanoid robot.

For the past five years, she has been grown slowly as part of a mixed organic/synthetic family. She knows very little about her android mother's past, so when her grandmother arrives and attacks her mother, little Amy wastes no time: she eats her alive.

Now she carries her malfunctioning granny as a partition on her memory drive, and she's learning impossible things about her clade's history – like the fact that the failsafe that stops all robots from harming humans has failed… Which means that everyone wants a piece of her, some to use her as a weapon, others to destroy her.

And finally, there's this forthcming title from Jeff Hirsch, whose novel The Eleventh Plague I quite enjoyed.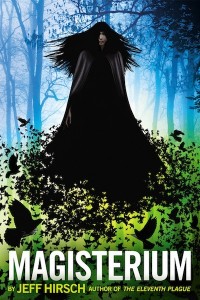 On one side of the Rift is a technological paradise without famine or want. On the other side is a mystery.

Sixteen-year-old Glenn Morgan has lived next to the Rift her entire life and has no idea of what might be on the other side of it. Glenn's only friend, Kevin, insists the fence holds back a world of monsters and witchcraft, but magic isn't for Glenn. She has enough problems with reality: Glenn's mother disappeared when she was six, and soon after, she lost her scientist father to his all-consuming work on the mysterious Project. Glenn buries herself in her studies and dreams about the day she can escape. But when her father's work leads to his arrest, he gives Glenn a simple metal bracelet that will send Glenn and Kevin on the run—with only one place to go.

With MAGISTERIUM, Jeff Hirsch brings us the story of a complex, captivating world that will leave readers breathless until the very last page.

And that's it from us! What books do you have on YOUR radar?