As you probably know by now, Old School Wednesdays is a new weekly Book Smuggler feature. We came up with the idea towards the end of 2012, when we were feeling exhausted from the never-ending inundation of New and Shiny (and often over-hyped) books. What better way to snap out of a reading fugue than to take a mini-vacation into the past, right?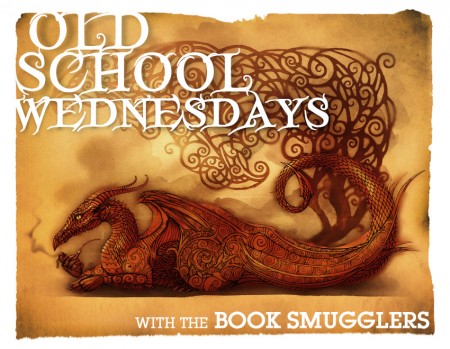 Logo designed by the wonderful KMont
We asked YOU for your favorite old school suggestions – and the response was so overwhelmingly awesome, we decided to compile a goodreads shelf, an ongoing database, AND a monthly readalong/book club. (Note that we've removed books that we have already read, or that we selfishly want to review as solos on Wednesday!)
April Readalong:
It is already time for our April poll! The official March readalong happens next week on March 26 (Spindle's End by Robin Mckinley), but the clock stops for no one… and it is time for us to look to April!
You can vote on which title you'd like to read next month by using the poll in our sidebar, or following the titles below. Without further ado, here are the new crop of 5 titles for voting! The April readalong will take place on April 30.
Dawn by Octavia Butler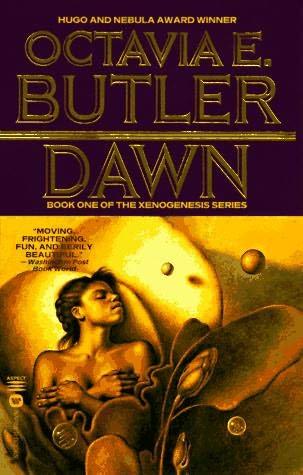 Lilith lyapo awoke from a centuries-long sleep to find herself aboard the vast spaceship of the Oankali. Creatures covered in writhing tentacles, the Oankali had saved every surviving human from a dying, ruined Earth. They healed the planet, cured cancer, increased strength, and were now ready to help Lilith lead her people back to Earth–but for a price.
Brown Girl In The Ring by Nalo Hopkinson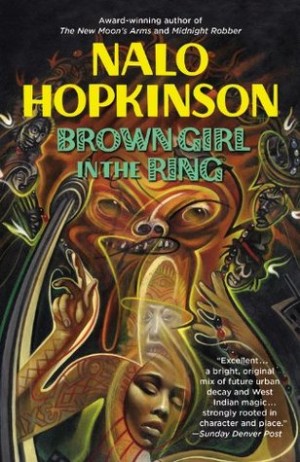 The rich and privileged have fled the city, barricaded it behind roadblocks, and left it to crumble. The inner city has had to rediscover old ways-farming, barter, herb lore. But now the monied need a harvest of bodies, and so they prey upon the helpless of the streets. With nowhere to turn, a young woman must open herself to ancient truths, eternal powers, and the tragic mystery surrounding her mother and grandmother.

She must bargain with gods, and give birth to new legends.
The Female Man by Joanna Russ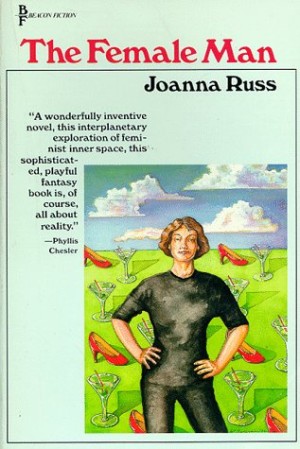 It's influenced William Gibson and been listed as one of the ten essential works of science fiction. Most importantly, Joanna Russ's THE FEMALE MAN is a suspenseful, surprising and darkly witty chronicle of what happens when Jeannine, Janet, Joanna, and Jael–four alternative selves from drastically different realities–meet.
The Jewels of Aptor by Samuel R Delany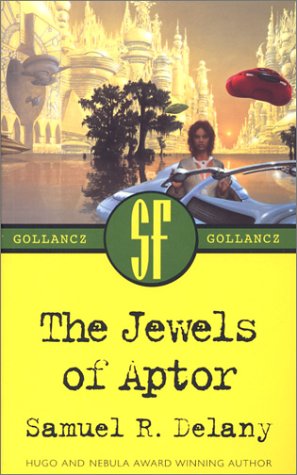 One of the most universally acclaimed first novels in science fiction–by the man who become one of the most stellar writers in the genre's history. On the orders of Argo, the White Goddess, an itinerant poet and his three companions journey to the island of Aptor. Their mission: to seize a jewel from the dark god Hama and bring it back home. With this precious stone Argo may defeat the malign forces gathered against her and the land of Leptor. But, as the group presses deep into the enigmatic heart of Aptor, easy distinctions between good and evil blur, and somehow the task seems less straightforward. For Argo already owns two of the jewels, and possession of the third would give her unqualified power.

And, as the four friends already know, power corrupts and absolute power corrupts absolutely.
Catseye by Andre Norton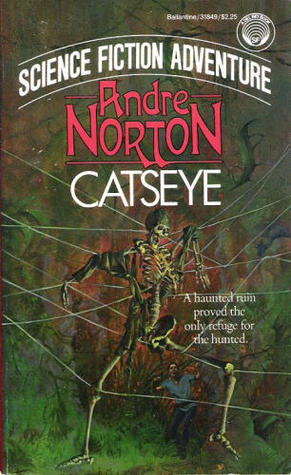 The big cat cried "danger!" Troy Horan heard it with his mind just as he had heard the fox's warning and the kinkajou's. He didn't understand how he could communicate with the animals or why they were contacting him. But from the moment he began work at Kyger's pet emporium on Korwar he was enmeshed in a perilous intrigue… an intrigue that would leave more than one man dead, an entire government in jeopardy, and Horan himself both master and captive of the most extraordinary band of warriors his world had ever known.
[poll id="13″]
Get voting, and we hope to see you on April 30.
Ongoing Suggestions:
Got a suggestion? Have an amazing book, published at least five years ago, that you would love to nominate for the OSW monthly readalong? Speak up and submit your favorites! (If you have problems with the form below, you can also access it HERE.)