"On The Smugglers' Radar" is a feature for books that have caught our eye: books we have heard of via other bloggers, directly from publishers, and/or from our regular incursions into the Amazon jungle. Thus, the Smugglers' Radar was born. Because we want far more books than we can possibly buy or review (what else is new?), we thought we would make the Smugglers' Radar into a weekly feature – so YOU can tell us which books you have on your radar as well!
On Ana's Radar:
Andrea K Höst has a new book coming out! It sounds pretty cool (plus, Julie Dillon cover!)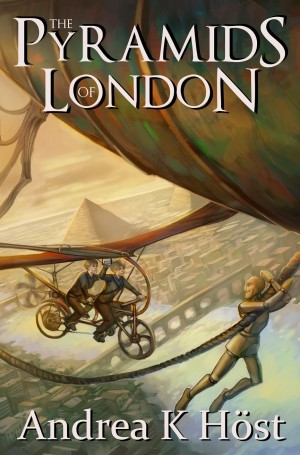 In a world where lightning sustained the Roman Empire, and Egypt's vampiric god-kings spread their influence through medicine and good weather, tiny Prytennia's fortunes are rising with the ships that have made her undisputed ruler of the air.

But the peace of recent decades is under threat. Rome's automaton-driven wealth is waning along with the supply of their power crystals, while Sweden uses fear of Rome to add to her Protectorates. And Prytennia is under attack from the wind itself. Relentless daily attacks destroy crops, buildings, and lives, and neither the weather vampires nor Prytennia's Trifold Goddess have been able to find a way to stop them.

With events so grand scouring the horizon, the deaths of Eiliff and Aedric Tenning raises little interest. The official verdict is accident: two careless automaton crafters, killed by their own construct.

Nothing could convince the Tenning children, or Aedric's sister Arianne, that the deaths were anything but murder. They will stop at nothing to uncover what really happened.

Not even if, to follow the first clue, Aunt Arianne must sell herself to a vampire.

The amazing thing about Nina Allan's incredible reviews at Strange Horizons is that they always make me want to read the books she is talking about. Even when they are Horror and much more like Thea-books: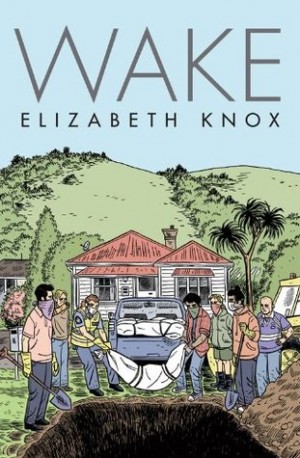 One sunny spring morning the Tasman Bay settlement of Kahukura is overwhelmed by a mysterious mass insanity. A handful of survivors find themselves cut off from the world, and surrounded by the dead. As they try to take care of one another, and survive in ever more difficult circumstances, it becomes apparent that this isn't the first time that this has happened, and that they aren't all survivors and victims—two of them are something quite other. And, it seems, they are trapped with something. Something unseen is picking at the loose threads of their characters, corrupting, provoking, and haunting them. Wake is a novel about what it really means to try to do one's best, about the choices and sacrifices people face in order to keep a promise like "I will take care of you." It is a novel that asks: What are the last things left when the worst has happened? and about extreme events, ordinary people, heroic compassion—and invisible monsters. An invisible monster is what one can't see coming; with an invisible monster one never knows when they're in danger and when they're safe—if they retreat to their fortress they can't be sure they haven't locked it in with them.

Interesting new series coming from Jennifer Donnelly about mermaids: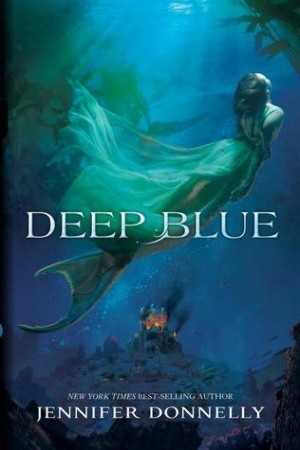 The first in a series of four epic tales set in the depths of the ocean, where six mermaids seek to save their hidden world.

When Serafina, a mermaid of the Mediterranean Sea, awakens on the morning of her betrothal, her biggest worry should be winning the love of handsome Prince Mahdi. And yet Sera finds herself haunted by strange dreams that foretell the return of an ancient evil. Her dark premonitions are confirmed when an assassin's arrow poisons Sera's mother. Now, Serafina must embark on a quest to find the assassin's master and prevent a war between the Mer nations. Led only by her shadowy dreams, Sera searches for five other mermaid heroines who are scattered across the six seas. Together, they will form an unbreakable bond of sisterhood and uncover a conspiracy that threatens their world's very existence.

Book One in the Waterfire Saga from New York Times best-selling author Jennifer Donnelly is as expansive, mysterious, and beguiling as the sea itself.

Oh looksee!! The second book in the Very Nearly Honorable League of Pirates series. I really enjoyed book 1 so will definitely be reading this: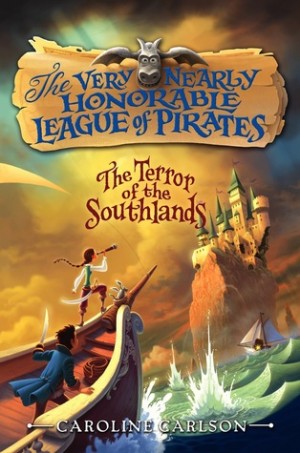 Hilary Westfield is a pirate. In fact, she's the Terror of the Southlands! She's daring, brave, fearless, and . . . in a rut. Maybe she hasn't found any treasure lately. And maybe she isn't fighting off as many scallywags as she'd like. But does that mean she and her loyal crew (including a magical gargoyle) deserve to be kicked out of the ranks of the Very Nearly Honorable League of Pirates?

There is only one thing to do—find a daring mission worthy of her fearless reputation. With the help of first mate Charlie, finishing-school friend Claire, and the self-proclaimed intrepid gargoyle, Hilary sets sail on a swashbuckling expedition that may or may not involve a kidnapped Enchantress, bumbling inspectors, a mysterious group called the Mutineers, and—the most terrifying thing of all—a High Society ball.

Caroline Carlson brings just as much rollicking fun, laughter, and action to this second book of the Very Nearly Honorable League of Pirates as she did with the first, Magic Marks the Spot.

Last but not least, Sarah Waters has a cover for her new book!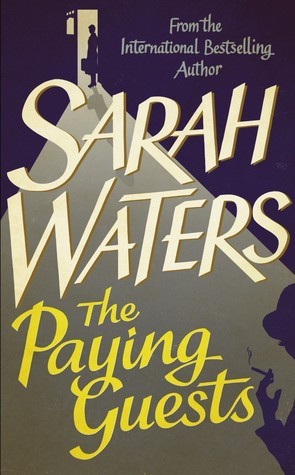 The book will be set in a "tense" London in 1922, in the wake of the First World War, with disillusioned ex-servicemen, and the out-of-work and hungry demanding change.

In a genteel Camberwell villa, bereft of men, impoverished widow Mrs Wray and her spinster daughter Frances have to take in lodgers. When Lilian and Leonard Barber—a modern young couple of the "clerk class"—arrive, the routines of the house are shaken up in unexpected ways. "Passions mount and frustration gathers," Virago promised.

Goodings said: "It is vintage Sarah Waters in every way—beautifully described with excruciating tension, real tenderness, believable characters, and surprises; it is above all, a wonderful, compelling story."

On Thea's Radar:
First up on my radar, the sequel to Sherry Thomas' The Burning Sky, which I had mixed feelings towards. I'm not sure if I will read this book, but I do love the cover: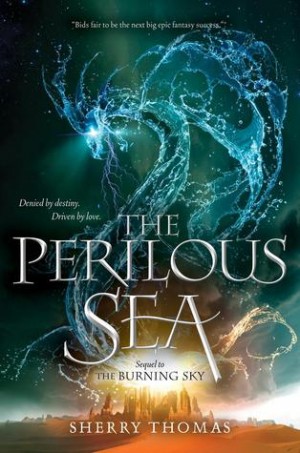 After spending the summer away from each other, Titus and Iolanthe (still disguised as Archer Fairfax) are eager to return to Eton College to resume their training to fight the Bane. Although no longer bound to Titus by a blood oath, Iolanthe is more committed than ever to fulfilling her destiny—especially with the agents of Atlantis quickly closing in.

Soon after arriving at school, though, Titus makes a shocking discovery, one that makes him question everything he previously believed about their mission. Faced with this devastating realization, Iolanthe is forced to come to terms with her new role, while Titus must choose between following his mother's prophecies—and forging a divergent path to an unknowable future.

Next up, A NEW MICHAEL GRANT BOOK! WHEEEE!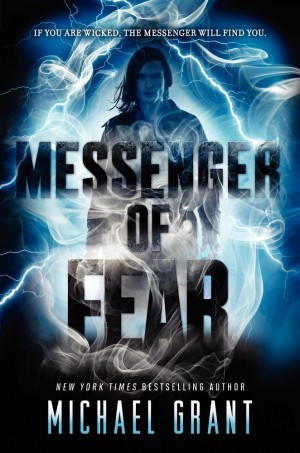 Michael Grant, author of the New York Times bestselling Gone series, has created a powerful and brilliant narrative that examines the nature of good and evil in every human.

Mara wakes in a field of dead grass, a heavy mist pressing down on her. She is terrified, afraid that she is dead. Then a beautiful young man dressed in black appears. He calls himself Messenger of Fear.

This boy is able to move effortlessly through space and time. He also sees the darkness in human hearts. He sees the evils done: the destructive lies, the cruelty, the bullying, the violence. And if the world does not bring justice to those who do evil, he will. He offers the wicked a game. If they win, they go free. If they lose, they will live their greatest fear. Either way, their sanity will be challenged.

It is a world of fair but harsh justice. Of retribution and redemption. And mystery. Why was Mara chosen to be the Messenger's apprentice? What has she done to deserve this terrible fate? She won't find out until three of the wicked receive justice. And when she does, she will be shattered.

Then, there's the second book in the zombie series that started with Eat Brains Love – a book I have on my TBR mountain, and which I vow to read soon.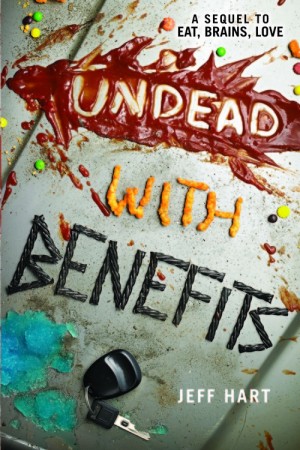 The living dead are living it up in this hilarious and surprisingly romantic sequel to Eat, Brains, Love, which Kirkus Reviews called "one hell of a road trip…funny, gross, and scary in equal, alternating measures."

Jake and Amanda are in love, on the run—and undead. They've teamed up with Cass, who's ditched her former job as shady government psychic zombie-tracker, and they're headed across the border into Iowa, where there's rumored to be a zombie cure.

Armed with a trunk full of guinea pigs (aka zombie snacks), they're ready to take on the Midwest's first undead warlord, the psycho psychic out for their blood, and their own superawkward love triangle. But the virus is spreading faster than you can say "zombie apocalypse," and Jake, Amanda, and Cass have to find the cure—if it even exists—before the whole state of Iowa goes up in flames.

With its heartwarming blend of guts, romance, and spot-on teen humor, this road trip–ready paperback original is perfect for fans of Isaac Marion's Warm Bodies and AMC's The Walking Dead. Readers will devour Jeff Hart's fresh, funny, and irreverent take on love and life (well, unlife) in an eat-or-be-eaten world.

Then there's this debut fantasy novel that sounds very promising: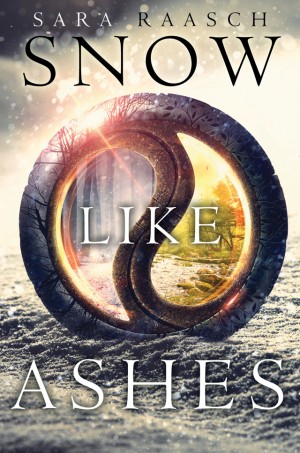 A heartbroken girl. A fierce warrior. A hero in the making.

Sixteen years ago the Kingdom of Winter was conquered and its citizens enslaved, leaving them without magic or a monarch. Now, the Winterians' only hope for freedom is the eight survivors who managed to escape, and who have been waiting for the opportunity to steal back Winter's magic and rebuild the kingdom ever since.

Orphaned as an infant during Winter's defeat, Meira has lived her whole life as a refugee, raised by the Winterians' general, Sir. Training to be a warrior—and desperately in love with her best friend, and future king, Mather — she would do anything to help her kingdom rise to power again.

So when scouts discover the location of the ancient locket that can restore Winter's magic, Meira decides to go after it herself. Finally, she's scaling towers, fighting enemy soldiers, and serving her kingdom just as she's always dreamed she would. But the mission doesn't go as planned, and Meira soon finds herself thrust into a world of evil magic and dangerous politics – and ultimately comes to realize that her destiny is not, never has been, her own.

Sara Raasch's debut fantasy is a lightning-fast tale of loyalty, love, and finding one's destiny.

Then, there's this crime thriller from author Jessica Martinez that sounds like it could be pretty good (plus, I like the title):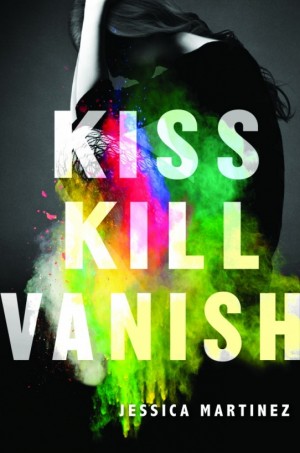 Valentina Cruz no longer exists.

One moment, she was wrapped in Emilio's arms, melting into his kiss. The next, she was witnessing the unthinkable: a murder in cold blood, ordered by her father and carried out by her boyfriend. When Emilio pulled the trigger, Valentina disappeared. She made a split-second decision to shed her identity and flee her life of privilege, leaving the glittering parties and sultry nightlife of Miami far behind.

She doesn't know how to explain to herself what she saw. All she knows now is that nothing she believed about her family, her heart, or Emilio's love, was real.

She can change her name and deny her past, but Valentina can't run from the truth. The lines between right and wrong, and trust and betrayal, will be blurred beyond recognition as she untangles the deceptions of the two men she once loved and races to find her own truth.

Last but not least, the sequel to last year's beautiful Not a Drop to Drink has a cover! I cannot wait.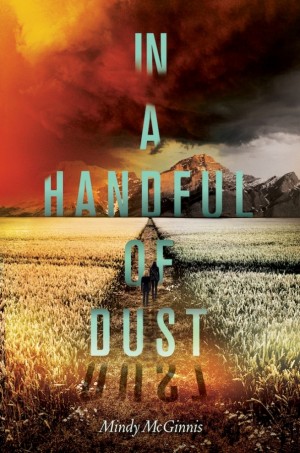 The only thing bigger than the world is fear.

Lucy's life by the pond has always been full. She has water and friends, laughter and the love of her adoptive mother, Lynn, who has made sure that Lucy's childhood was very different from her own. Yet it seems Lucy's future is settled already—a house, a man, children, and a water source—and anything beyond their life by the pond is beyond reach.

When disease burns through their community, the once life-saving water of the pond might be the source of what's killing them now. Rumors of desalinization plants in California have lingered in Lynn's mind, and the prospect of a "normal" life for Lucy sets the two of them on an epic journey west to face new dangers: hunger, mountains, deserts, betrayal, and the perils of a world so vast that Lucy fears she could be lost forever, only to disappear in a handful of dust.

In this companion to Not a Drop to Drink, Mindy McGinnis thrillingly combines the heart-swelling hope of a journey, the challenges of establishing your own place in the world, and the gripping physical danger of nature in a futuristic frontier.

And that's it from us! What books do you have on YOUR radar?