"On The Smugglers' Radar" is a new feature for books that have caught our eye: books we heard of via other bloggers, directly from publishers, and/or from our regular incursions into the Amazon jungle. Thus, the Smugglers' Radar was born. Because we want far more books than we can possibly buy or review (what else is new?), we thought we would make the Smugglers' Radar into a weekly feature – so YOU can tell us which books you have on your radar as well!
On Thea's Radar
One of my favorite authors, Catherynne M. Valente, has revealed the cover for her second Prester John book! SQUEEEE!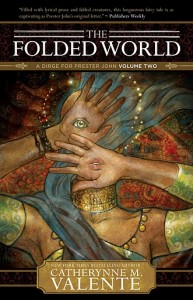 The Christian Patriarch of Constantinople is fighting a holy war against the forces of Islam. His attempts to rally the support of Europe fail to give him the strength he needs against the forces of Islam. Fearing defeat, he sends his appeals to the great Christian king in the East, Prester John – for the Patriarch was once a boy named Kostas, a novice in the service of John, long before he became king. The Patriarch"s message, seemingly via divine providence, manages to cross into the world of John"s Kingdom, where John"s devotion to Christ overcomes his wife misgivings. To Hagia, Christianity and Islam are equally foreign to her and her world, and neither is worth fighting for or against. The kingdom rallies behind John"s banner, and his magical hosts march across the worlds. The closer the armies of Prester John come to Jerusalem, the more information reaches the Patriarch as to its nature, and the less comfortable he feels with his alliance. Can John and his armies save Jerusalem? Will the Patriarch remain an alley, or become a deadly enemy? And what will happen to The Worlds now that an army has breached the barriers between them? World Fantasy Award winner Catherynne M. Valente continues to re-imagine the legends of the Middle Ages, creating a rich fantasy tapestry that has captivated the imaginations of modern readers.

Ok so the next few covers are all from the same artist (kudos to Bookshelves of Doom for tipping me off and feeding this obsessive lurking on the artist's site). ALL OF THESE COVERS ARE FREAKING GORGEOUS. Ahem. Take, for example, this one – a reissue of a 1980s novel that I remember reading when I was a kid:
Katie Welker is used to being alone. She would much rather read a book than deal with other people. Other people don't have silver eyes and other people can't make things happen just by thinking about them! Sometimes Katie even enjoys playing tricks on people.

Then, there's this title (another reissue of a circa 2000 book) that both looks amazing AND has an awesome blurb, too: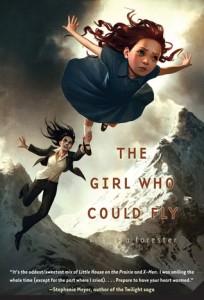 You just can't keep a good girl down . . . unless you use the proper methods.

Piper McCloud can fly. Just like that. Easy as pie.

Sure, she hasn't mastered reverse propulsion and her turns are kind of sloppy, but she's real good at loop-the-loops.

Problem is, the good folk of Lowland County are afraid of Piper. And her ma's at her wit's end. So it seems only fitting that she leave her parents' farm to attend a top-secret, maximum-security school for kids with exceptional abilities.

School is great at first with a bunch of new friends whose skills range from super-strength to super-genius. (Plus all the homemade apple pie she can eat!) But Piper is special, even among the special. And there are consequences.

Consequences too dire to talk about. Too crazy to consider. And too dangerous to ignore.

At turns exhilarating and terrifying, Victoria Forester's debut novel has been praised by Stephenie Meyer, author of the Twilight saga, as "the oddest/sweetest mix of Little House on the Prairie and X-Men…Prepare to have your heart warmed." The Girl Who Could Fly is an unforgettable story of defiance and courage about an irrepressible heroine who can, who will, who must . . . fly.

Then there's this title from actress-turned-author Amber Benson (yes, from Buffy). I haven't tried her adult stuff, but might give this YA title a go: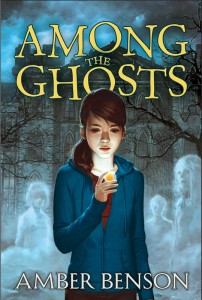 A ghost story in which a young girl's parents ship her off to a boarding school where, after some snooping around the gothic old estate, she meets a group of similar outcasts that can finally relate to. Unfortunately, her new friends turn out to be the ghosts of students who died in a horrible dormitory fire. Things go from weird to worse when her new ghostly schoolmates start disappearing and she realizes that she is the only person, living or dead, who can help them.

I recently received this book in the mail and am very excited, indeed. Great blurb, intriguing/creepy cover.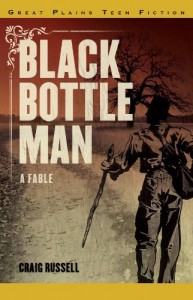 It's 1927.

Rembrandt is the only child in the tiny community of Three Farms and his two aunts grow desperate for babies of their own.

Hope and Hell arrive in a mysterious black bottle, and on a moonless night a dark spell is cast. Soon after, a man wearing black top-coat, and a 'glad-ta-meet-ya' smile comes to visit.
The devil seeks payment, and a dangerous wager is made. Until they can defeat him, Rembrandt, Pa, and Uncle Thompson must embark on the journey of their lives, for if they stay in one place for more than twelve days terrible things happen.

But where and when will they find a champion capable of defeating the Black Bottle Man?

AAAAAND one more – another YA title. It seems like sirens are all the rage now (does the model look kinda like Mila Kunis to anyone else? Weird):
Nothing has been the same for Will ever since what happened last summer. One day, on an ordinary sailing trip with his brother, there is a strange accident. When Will wakes up, he learns his brother has disappeared, presumed drowned. Worst of all, Will can't remember what happened—his family finds him unconscious, with no memory of the accident.

Now Will and his best friend and neighbor, Gretchen, are starting a new summer. Gretchen seems troubled—her sleepwalking habit is getting worse, and she keeps waking up closer and closer to the water. Will is drawn to Asia, the exotic new girl in town. Nobody knows where she's from—all Will knows is that her beauty and her mesmerizing voice have a powerful effect on people.

Then there is another mysterious drowning, and Will and Gretchen begin to wonder: Is Asia just another beautiful, wealthy summer resident? Or is she something entirely more sinister . . . and inhuman?

On Ana's Radar
OK. SO I WANT ALL BOOKS ON THEA'S RADAR TOO! Why can't we have more time to read them all? WHY?
Ahem.
A few months ago, I read and enjoyed (with a few misgivings), Darkness Becomes Her by Kelly Keaton and am excited to see what happens in book 2, A Beautiful Evil: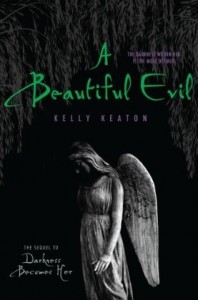 A power she can't deny. A destiny she's determined to fight.

When Ari first arrived in the dilapidated city of New 2, all she wanted was to figure out who she was. But what she discovered was beyond her worst nightmare. Ari can already sense the evil growing inside her—a power the goddess Athena will stop at nothing to possess.

Desperate to hold on to her humanity and protect her loved ones, Ari must fight back. But Athena's playing mind games, not just with Ari but with those she cares about most. And Athena has a very special plan for the brooding and sexy Sebastian.

Ari is determined to defeat Athena, but time is running out. With no other options, Ari must unleash the very thing she's afraid of: herself.

Under Heaven by Guy Gavriel Kay has been on my radar forever and I keep meaning to buy it but never do. Perhaps now that there is a new edition with this new awesome cover, I will finally do it?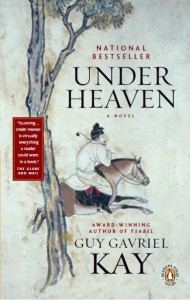 In his latest innovative novel, the award-winning author evokes the dazzling Tang Dynasty of 8th-century China in a story of honor and power.

Inspired by the glory and power of Tang dynasty China, Guy Gavriel Kay has created a masterpiece.

It begins simply. Shen Tai, son of an illustrious general serving the Emperor of Kitai, has spent two years honoring the memory of his late father by burying the bones of the dead from both armies at the site of one of his father's last great battles. In recognition of his labors and his filial piety, an unlikely source has sent him a dangerous gift: 250 Sardian horses.

You give a man one of the famed Sardian horses to reward him greatly. You give him four or five to exalt him above his fellows, propel him towards rank, and earn him jealousy, possibly mortal jealousy. Two hundred and fifty is an unthinkable gift, a gift to overwhelm an emperor.

Wisely, the gift comes with the stipulation that Tai must claim the horses in person. Otherwise he would probably be dead already…

Meanwhile, from the Department of Books With Great Ideas and Titles Which Could Totally Be Awesome But Also Go Terribly Wrong:
Carlos Duarte knows that he's fabulous. He's got a better sense of style than half the fashionistas in New York City, and he can definitely apply makeup like nobody's business. He may only be in high school, but when he lands the job of his dreams–makeup artist at the FeatureFace counter in Macy's–he's sure that he's finally on his way to great things.

But the makeup artist world is competitive and cutthroat, and for Carlos to reach his dreams, he'll have to believe in himself more than ever.

I am intrigued by this next book. I love the cover but am not sure about the blurb:
A YA Urban Fantasy/Romance in a world a breath away from our own. Similar in tone to Tithe and Unleashed, Lightbringer tiptoes down the line between love and horror as an independent young woman discovers herself and the darkest parts of the afterlife.

And that's it from us! What books do you have on YOUR radar?