"On The Smugglers' Radar" is a feature for books that have caught our eye: books we have heard of via other bloggers, directly from publishers, and/or from our regular incursions into the Amazon jungle. Thus, the Smugglers' Radar was born. Because we want far more books than we can possibly buy or review (what else is new?), we thought we would make the Smugglers' Radar into a weekly feature – so YOU can tell us which books you have on your radar as well!
On Ana's Radar:
Kelly and Kim over at Stacked posted their Printz predictions for this year. I've only read a few of those books (September Girls, Boxers/Saints and Midwinterblood – all excellent) but am super curious about a couple of titles I hadn't heard about. First, this one (different covers and titles for US and Australia):
'I am Friday Brown. I buried my mother. My grandfather buried a swimming pool. A boy who can't speak has adopted me. A girl kissed me. I broke and entered. Now I'm fantasising about a guy who's a victim of crime and I am the criminal. I'm going nowhere and every minute I'm not moving, I'm being tail-gated by a curse that may or may not be real. They call me Friday. It has been foretold that on a Saturday I will drown…'

Friday, 17, flees memories of her mother, grandad, and the family curse. She joins Silence in a street gang led by beautiful charismatic Arden, and escapes to a ghost town in the outback. In Murungal Creek, the town of never leaving, Friday faces the ghosts of her past. Sometimes you have to stay to finish what you started, and before you can find out who you are, you have to become someone you never meant to be.

The other one that sounded intriguing: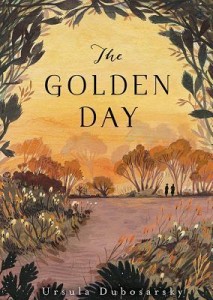 When their teacher goes missing during an outing, eleven girls grapple with the aftermath in this haunting, exquisitely told psychological mystery.

The Vietnam War rages overseas, but back at home, in a year that begins with the hanging of one man and ends with the drowning of another, eleven schoolgirls embrace their own chilling history when their teacher abruptly goes missing on a field trip. Who was the mysterious poet they had met in the Garden? What actually happened in the seaside cave that day? And most important — who can they tell about it?

In beautifully shimmering prose, Ursula Dubosarsky reveals how a single shared experience can alter the course of young lives forever. Part gripping thriller, part ethereal tale of innocence lost, The Golden Day is a poignant study of fear and friendship, and of what it takes to come of age with courage.

OK so this SFR novels sounds like it could be the most awesome, extravagant thing ever or…terrible. I kinda really want to read it: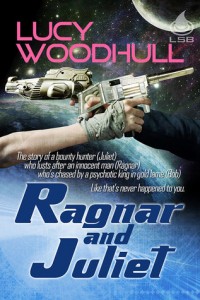 RAGNAR AND JULIET, a romantic comedy space opera:

Bounty hunting is usually so easy. Flash a little cleavage, mix a roofie cocktail, and Juliet has her man right where she wants him: out cold, ready to be swapped for cash. Her passions are freedom, trashy clothes, and pie — not necessarily in that order.

Hunky alien ship captain Ragnar doesn't deserve torture at the hands of the psychotic king who hired Juliet; he liberated one of William the Nefarious' illegal concubines. Juliet can't ignore such a noble act. She doesn't trust men, but this one, with the kindest smile she's ever seen, picks away at her resolve to stay aloof and clothed. He's just so…nice! Crazy she can deal with; sincerity is terrifying.

Before she gives in to her irrational urge to get a timeshare with him (and his cute tail), they're caught by the bad guys. Ragnar disappears and abandons her to her disgusting captors — so much for togetherness. Perhaps he's not such a saint. Even worse, Nefarious William (who prefers "Bob") has nominated her for Concubine of the Evening. This dubious honor does not thrill her, and only a few hours remain before the king's mind-altering drugs obliterate her free will.

Sexual slavery might not be fatal, but Juliet would rather die. Of course, the third option (run away to a beach and hump Ragnar silly) is the best, if they can live that long.

I keep hearing Den Patrick's name in UK based circles and might give his
upcoming book a try: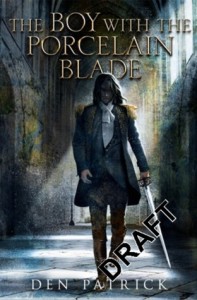 An ornate yet dark fantasy, with echoes of Mervyn Peake, Robin Hobb and Jon Courtenay Grimwood. An original and beautifully imagined world, populated by unforgettable characters.

Lucien de Fontein has grown up different. One of the mysterious and misshapen Orfano who appear around the Kingdom of Landfall, he is a talented fighter yet constantly lonely, tormented by his deformity, and well aware that he is a mere pawn in a political game. Ruled by an insane King and the venomous Majordomo, it is a world where corruption and decay are deeply rooted – but to a degree Lucien never dreams possible when he first discovers the plight of the 'insane' women kept in the haunting Sanatoria.

Told in a continuous narrative interspersed with flashbacks we see Lucien grow up under the care of his tutors. We watch him forced through rigorous Testings, and fall in love, set against his yearning to discover where he comes from, and how his fate is tied to that of every one of the deformed Orfano in the Kingdom, and of the eerie Sanatoria itself.

The Kitschies' shortlist has been announced this week and I REALLY am curious about this book which I had not heard about before: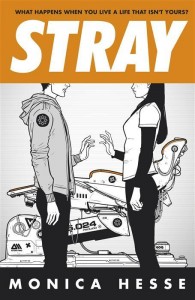 Lona Sixteen Always is not herself – quite literally. She lives her life virtually through the experiences of Julian, a boy who was chosen as a role model for the Pathers of Quadrant 1 – troubled children who have been 'rescued' by the government and put 'on-Path'.

But one day Lona finds she can think for herself. And on top of that, the face of a familiar boy appears on her screen – Fenn, who she thought had moved on to a different stage of the Path last year. But he didn't. Fenn and other rebels like him have strayed from the Path, and now Lona must stray too. But life off-Path is strange and difficult, and Lona uncovers a secret that will threaten all their lives. Can there really be life after the Path?

On Thea's Radar:
First up, this upcoming, posthumous middle grade novel from the author of Julie of the Wolves that looks and sounds beautiful: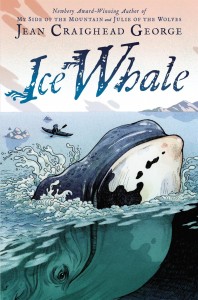 From the most celebrated children's nature writer of our time comes a posthumous new novel in the tradition of her Newbery Award–winning Julie of the Wolves

In 1848, a young Eskimo boy witnesses a rare sight—the birth of a bowhead, or ice whale, he calls Siku. Years later he unwittingly guides Yankee whalers to a pod of bowhead whales. All the whales are killed except Siku. For this act the boy receives a curse of banishment. Through the generations, this curse is handed down. Siku, the ice whale, returns year after year, in reality and dreams, to haunt each descendant. The curse is finally broken when a daughter recognizes and saves the whale, and he in turn saves her. Told in alternating voices, both human and whale, Jean Craighead George's last novel shows the interconnectedness of humankind and the animals they depend on.

This next one had me at MacGyver meets War of the Worlds. That's an actual positioning line, people!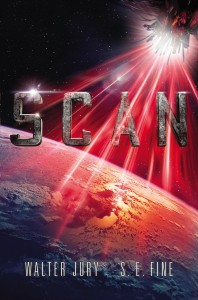 MacGyver meets War of the Worlds in this young adult thriller

Tate and his father don't exactly get along. As Tate sees it, his father has unreasonably high expectations for Tate to be the best—at everything. Tate finally learns what he's being prepared for when he steals one of his dad's odd tech inventions and mercenaries ambush the school, killing his father in the process and sending Tate on the run from aliens who look just like humans.

Even with all he knows like how to defend himself with useful tools made out of bubblegum, Tate fears he's still inadequate. With the help of his girlfriend and estranged mother, all Tate can really do is keep moving and ensure his father's invention stays out of the hands of his pursuers and that his father didn't die in vain.

A riveting, fast-paced adventure, Scan is a clever alien thriller with muscle and heart.

Next up, another middle grade adventure novel for which I am very excited: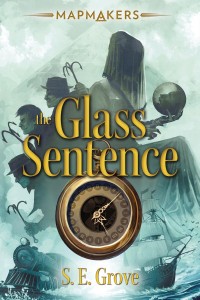 Boston, 1891. 13-year-old Sophia Tims lives with her uncle, cartologist Shadrack Elli, in a world torn to pieces by the Great Disruption of 1799—when all of the continents were mysteriously thrown into different time periods, from the prehistoric era to the fortieth century. Sophia's parents are explorers. She has not seen them in eight years, when they went on a last-minute trip and never returned. When Shadrack is kidnapped from their home, Sophia sets out—along with her new friend, Theo, a refugee from the West—in order to find him. Their journey takes them across the country, over the sea, and through remarkable cities. Along with a group of law-abiding pirates, and a wayward botanist and his daughter, they search for Sophia's uncle, and run for their lives. What they learn—about mapmaking, the changes taking place in the world, and the legends of the land—transforms Sophia forever. This remarkable debut, the first of S.E. Grove's Mapmakers trilogy, is a true original.

Next up, a book that could be very good or very bad indeed. Whenever someone starts throwing comparisons to The Stand around, I'm wary…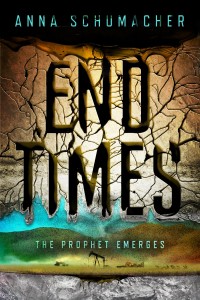 Daphne may be the one true prophet in a series that's Stephen King's The Stand for teens set in oil country.

Before Daphne arrived, Carbon County, Wyoming, was just a regular small town that had fallen on hard times. When Daphne finds oil on her uncle's land, their world is turned upside down. But the prosperity is punctuated by unbelievable phenomena and a message that seems directed at Daphne. Soon she makes a startling discovery: Carbon County is ground zero for the Rapture—but before the people of Carbon County are saved, they'll have to fight.

I'm really hoping this next novel is in fact a ghost story, and am liking the creepy vibe: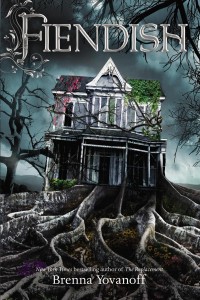 Clementine's childhood was stolen from her. Now that she's free, she's determined to find out why.

When Clementine was a child, dangerous and inexplicable things started happening in New South Bend. The townsfolk blamed the fiendish people out in the Willows and burned their homes to the ground. But magic kept Clementine alive, walled up in the cellar for ten years, until a boy named Fisher sets her free. Back in the world, Clementine sets out to discover who put her in that cellar and why. But the truth gets muddled in her attraction to Fisher, the politics of New South Bend, and the hollow, a fickle and terrifying place that seems increasingly temperamental ever since Clementine reemerged.

And last but not least, the concluding volume in the Proxy duology! HUZZAH!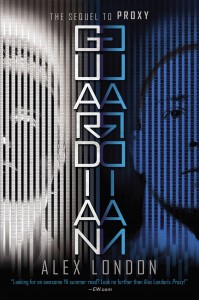 The adventure of the year roars to a conclusion

In this sequel to Proxy, we first see Syd as an assassination attempt is made on his life. In the new world, led by the Rebooters, Syd is the figurehead of the Revolution. Liam, an 18-year-old Rebooter, is Syd's bodyguard and must protect him with his life. But Machinists with guns aren't the only danger in the post-Jubilee world.

People are falling ill—their veins show through their skin, they find it hard to speak, and sores erupt all over their bodies. Guardians are hit first, and the government does nothing to help. Syd decides it's up to him to find a cure. . . And what he discovers leaves him stunned: The only way to stop people from getting sick is to reverse the very revolution that he and Knox began.

This heart-stopping thriller is packed with action, adventure, battles, and heroics.

And that's it from us! What books do you have on YOUR radar?