"On The Smugglers' Radar" is a feature for books that have caught our eye: books we have heard of via other bloggers, directly from publishers, and/or from our regular incursions into the Amazon jungle. Thus, the Smugglers' Radar was born. Because we want far more books than we can possibly buy or review (what else is new?), we thought we would make the Smugglers' Radar into a weekly feature – so YOU can tell us which books you have on your radar as well!
On Ana's Radar:
Linked has been out for a few weeks in the US but it completely flew under my radar until I received the UK version (I like this cover so much more). It sounds interesting: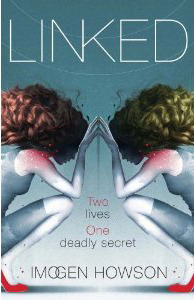 The Bourne Identity meets Inception in this futuristic YA thriller.

For years, Elissa has suffered nightmarish visions and unexplained bruises. Finally, she's promised a cure, and an operation is scheduled. But on the eve of the procedure, Elissa discovers the truth: she's seeing the world through another girl's eyes. A world filled with wires, machines and pain. Elissa follows her visions, only to find a battered, broken girl. A girl who looks exactly like her. A twin she never knew existed. Elissa and her twin Lin go on the run, but even after changing their looks and clothes, they're barely a step ahead of the government agents who are ruthlessly tracking them down. For Lin and Elissa are too valuable to let go, and the dark truth at the heart of it all is too shocking to risk exposing…

Browsing NetGalley, I came across this non-fiction title about the "witches" of Salem. It sounds pretty cool and it might well be my next non-fiction title.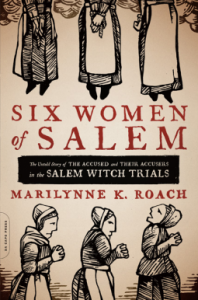 Six Women of Salem is the first work to use the lives of a select number of representative women as a microcosm to illuminate the larger crisis of the Salem witch trials. By the end of the trials, beyond the twenty who were executed and the five who perished in prison, 207 individuals had been accused, 74 had been "afflicted," 32 had officially accused their fellow neighbors, and 255 ordinary people had been inexorably drawn into that ruinous and murderous vortex, and this doesn't include the religious, judicial, and governmental leaders. All this adds up to what the Rev. Cotton Mather called "a desolation of names."

The individuals involved are too often reduced to stock characters and stereotypes when accuracy is sacrificed to indignation. And although the flood of names and detail in the history of an extraordinary event like the Salem witch trials can swamp the individual lives involved, individuals still deserve to be remembered and, in remembering specific lives, modern readers can benefit from such historical intimacy. By examining the lives of six specific women, Marilynne Roach shows readers what it was like to be present throughout this horrific time and how it was impossible to live through it unchanged.

Another review copy I received recently and I can't wait to read it because it sounds seriously awesome: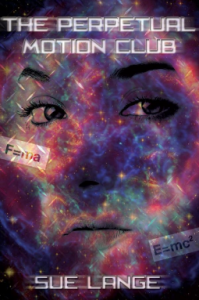 Elsa Webb just wants to make it through her high school years with her dignity intact, but everyone – parents, teachers, basketball team – seems to be against her. She turns to the murky world of perpetual motion phenomena for answers. She starts a perpetual motion club and immerses herself in a strange, new scene filled with dubious characters intent on defying the laws of physics. As she gets caught up in the idea of building a perpetual motion machine, Elsa treads dangerously close to the edge of sanity until salvation comes from the last place she expected it. Told with light humor, The Perpetual Motion Club is for anybody who has ever had an idea.

A friend sent me the link to Matthew Cody's website and I feel like I should have known about these cute-looking books? I mean, it's MG, it's superheroes, WHY DIDN'T I KNOW ABOUT THESE BOOKS ALREADY?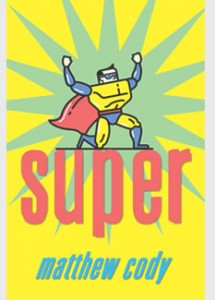 Daniel Corrigan is as regular as can be, especially when compared to the Supers: kids in his new hometown with actual powers like flight and super strength. But Daniel's not powerless. Only he was able to stop the Shroud, a supervillian bent on stealing his newfound friends' powers. And thanks to him, his friends got to keep those powers.

Now Daniel himself is starting to display powers, while at the same time, his friends are losing theirs. His friend Eric thinks Daniel is just becoming a Super himself, a late-blooming one. But Daniel worries there may be something more sinister at work, since his power-stealing ability is uncomfortably like the Shroud's. Of course, the Shroud is gone now . . . or is he? And could Daniel himself be his new vessel?

A new story from Song of the Achilles's Madeleine Miller? BE STILL MY HEART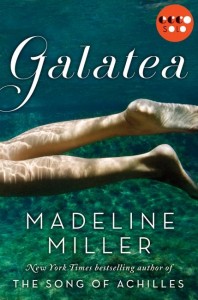 In Ancient Greece, a skilled marble sculptor has been blessed by a goddess who has given his masterpiece – the most beautiful woman the town has ever seen – the gift of life.

Now his wife, Galatea is expected to be obedience and humility personified, but it is not long before she learns to use her beauty as a form of manipulation. In a desperate bid by her obsessive husband to keep her under control, she is locked away under the constant supervision of doctors and nurses. But with a daughter to rescue, she is determined to break free, whatever the cost…

On Thea's Radar:
Oh man! So many good books on this list (including Linked, which I bought at The Strand a while back and incidentally I am reading right now!). Recently, I received this next book in the mail and am very excited to give it a try: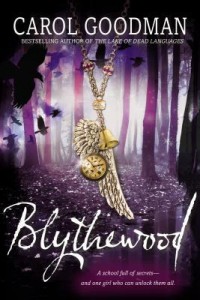 Welcome to Blythewood.

At seventeen, Avaline Hall has already buried her mother, survived a horrific factory fire, and escaped from an insane asylum. Now she's on her way to Blythewood Academy, the elite boarding school in New York's mist-shrouded Hudson Valley that her mother attended—and was expelled from. Though she's afraid her high society classmates won't accept a factory girl in their midst, Ava is desperate to unravel her family's murky past, discover the identity of the father she's never known, and perhaps finally understand her mother's abrupt suicide. She's also on the hunt for the identity of the mysterious boy who rescued her from the fire. And she suspects the answers she seeks lie at Blythewood.

But nothing could have prepared her for the dark secret of what Blythewood is, and what its students are being trained to do. Haunted by dreams of a winged boy and pursued by visions of a sinister man who breathes smoke, Ava isn't sure if she's losing her mind or getting closer to the truth. And the more rigorously Ava digs into the past, the more dangerous her present becomes.

Vivid and atmospheric, full of mystery and magic, this romantic page-turner by bestselling author Carol Goodman tells the story of a world on the brink of change and the girl who is the catalyst for it all.

Next up, a deliciously creepy looking book from Rob Zombie – yes, that Rob Zombie. How did I miss this?!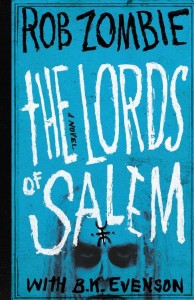 From the singular mind of horror maestro Rob Zombie comes a chilling plunge into a nightmare world where evil runs in the blood…

THE LORDS OF SALEM

Heidi Hawthorne is a thirty-seven-year-old FM radio DJ and a recovering drug addict. Struggling with her newfound sobriety and creeping depression, Heidi suddenly receives an anonymous gift at the station-a mysteriously shaped wooden box branded with a strange symbol. Inside the box is a promotional record for a band that identifies themselves only as The Lords. There is no other information.

She decides to play it on the radio show as a joke, and the moment she does, horrible things begin to happen. The strange music awakens something evil in the town. Soon enough, terrifying murders begin to happen all around Heidi. Who are The Lords? What do they want?

As old bloodlines are awakened and the bodies start to pile up, only one thing seems certain: all hell is about to break loose.

I've been burned out on Urban Fantasy for a while, but this book sounds like it could be fun: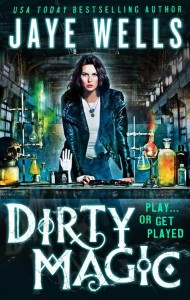 IT'S DANGEROUS, ILLEGAL AND TWICE AS ADDICTIVE

The Magical Enforcement Agency keeps dirty magic off the streets, but there's a new blend out there that's as deadly as it is elusive. When patrol cop Kate Prospero shoots the lead snitch in this crucial case, she's brought in to explain herself. But the more she learns about the investigation, the more she realizes she must secure a spot on the MEA task force.

Especially when she discovers that their lead suspect is the man she walked away from ten years earlier – on the same day she swore she'd given up dirty magic for good. Kate Prospero's about to learn the hard way that crossing a wizard will always get you burned, and that when it comes to magic, you should never say never.

And then there's this book – the second in a new military SF series (starring a heroine, and penned by a female author). I am SO excited for book 1 to come out this fall, and even more excited to have the sequel following shortly afterwards: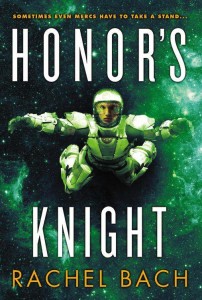 The rollicking sequel to Fortune's Pawn — an action packed science fiction novel.

Devi Morris has a lot of problems, and not the fun, easy-to-shoot kind either. After a mysterious attack left her short several memories and one partner, she'd determined to keep her head down, do her job, and get on with her life. But even though Devi's not actually looking for it this time, trouble keeps finding her. She sees ghostly creatures no one else can, the inexplicable black stain on her hands keeps getting bigger, and she can't seem to stop getting into compromising situations with a man she's supposed to hate. But when a deadly crisis exposes far more of the truth than she bargained for, Devi discovers there's worse fates than being shot, and sometimes the only people you can trust are the ones who want you dead.

And finally, this upcoming YA science fiction romance with a twist. This could be terrible, cheesy and/or derivative…it could also be delightful. I'm willing to give it a try.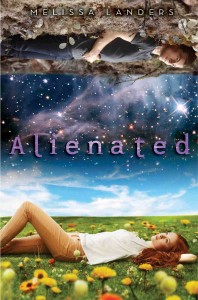 Two years ago, the aliens made contact. Now Cara Sweeney is going to be sharing a bathroom with one of them.

Handpicked to host the first-ever L'eihr exchange student, Cara thinks her future is set. Not only does she get a free ride to her dream college, she'll have inside information about the mysterious L'eihrs that every journalist would kill for. Cara's blog following is about to skyrocket.

Still, Cara isn't sure what to think when she meets Aelyx. Humans and L'eihrs have nearly identical DNA, but cold, infuriatingly brilliant Aelyx couldn't seem more alien. She's certain about one thing though: no human boy is this good-looking.

But when Cara's classmates get swept up by anti-L'eihr paranoia, Midtown High School suddenly isn't safe anymore. Threatening notes appear in Cara's locker, and a police officer has to escort her and Aelyx to class.

Cara finds support in the last person she expected. She realizes that Aelyx isn't just her only friend; she's fallen hard for him. But Aelyx has been hiding the truth about the purpose of his exchange, and its potentially deadly consequences. Soon Cara will be in for the fight of her life—not just for herself and the boy she loves, but for the future of her planet.

And that's it from us! What books do you have on YOUR radar?