"On The Smugglers' Radar" is a feature for books that have caught our eye: books we have heard of via other bloggers, directly from publishers, and/or from our regular incursions into the Amazon jungle. Thus, the Smugglers' Radar was born. Because we want far more books than we can possibly buy or review (what else is new?), we thought we would make the Smugglers' Radar into a weekly feature – so YOU can tell us which books you have on your radar as well!
On Ana's Radar:
Oh man, oh man, look at the cover of Max Gladstone's Full Fathom Five, the third book in the excellent Craft Sequence series: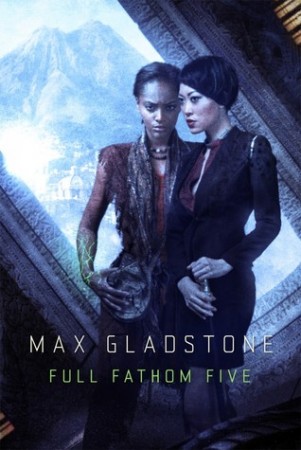 Seanan McGuire has a new UF series starting next year. Since I am a huge fan of her UF Toby Daye series, I will sure givke this a go: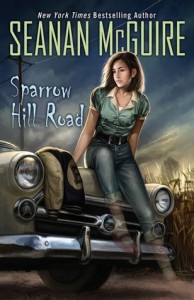 Sparrow Hill Road is the first volume in the story of Rose Marshall, who was the first victim of the man called Bobby Cross, although she was far from the last — and unlike most of them, she did not go easy into that good night. Sixty years down the line, she's still kicking ass, taking names, and more than a little bit pissed off about the way that she died.

You want a good little ghost who'll stay where she's put and only haunt the people who deserve it? Go to a sleepover. You want the real story of the American ghostroads? Come and have a word with Rose.

Another title recently spotted on Netgalley: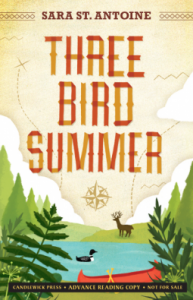 An introspective boy and an adventurous girl uncover a poignant family mystery during a summer on the shores of Three Bird Lake.

Every year since he can remember, Adam has spent his summers at his grandmother's rustic cabin on Three Bird Lake. But this year is different. Dad won't be with them, and there's a new girl next door. Alice looks just like the aloof popular girls back home. But she's nice and easy to talk to, and she doesn't mind acting silly or being quiet and dock sitting. And when Adam's grandma starts to leave strange notes in his room — notes that hint at a hidden treasure somewhere at the lake and a secret love from long ago — Alice is the one person Adam can rely on to help find answers.

I never read a novel by Laurie Halse Anderson. I KNOW. Maybe I will start with her next one?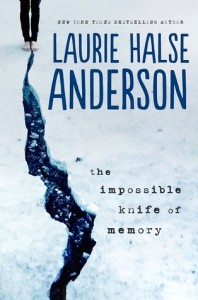 For the past five years, Hayley Kincaid and her father, Andy, have been on the road, never staying long in one place as he struggles to escape the demons that have tortured him since his return from Iraq. Now they are back in the town where he grew up so Hayley can attend school. Perhaps, for the first time, Hayley can have a normal life, put aside her own painful memories, even have a relationship with Finn, the hot guy who obviously likes her but is hiding secrets of his own.

Will being back home help Andy's PTSD, or will his terrible memories drag him to the edge of hell, and drugs push him over? The Impossible Knife of Memory is Laurie Halse Anderson at her finest: compelling, surprising, and impossible to put down.

And how much do I love the title of this book? And it sounds like it could be really good too: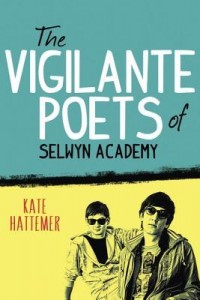 Witty, sarcastic Ethan and his three friends decide to take down the reality TV show, For Art's Sake, that is being filmed at their high school, the esteemed Selwyn Arts Academy, where each student is more talented than the next.

While studying Ezra Pound in English class, the friends are inspired to write a vigilante long poem and distribute it to the student body, detailing the evils of For Art's Sake. But then Luke—the creative force behind the poem and leader of the anti-show movement—becomes a contestant on the nefarious show. It's up to Ethan, his two remaining best friends, and a heroic gerbil named Baconnaise to save their school. Along the way, they'll discover a web of secrets and corruption involving the principal, vice principal, and even their favorite teacher.

On Thea's Radar:
First up on my radar, the third book in Moira Young's Dustlands books. I wasn't a huge fan of book 2, despite loving book 1 – but I think I'll give the trilogy a last shot.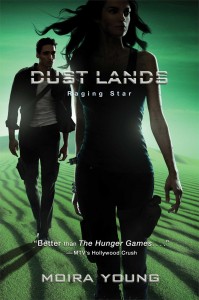 The gut-wrenching third book in the highly praised Dust Lands trilogy, which MTV's Hollywood Crush blog called "better than The Hunger Games."

Saba is ready to seize her destiny and defeat DeMalo and the Tonton…until she meets him and he confounds all her expectations with his seductive vision of a healed earth, a New Eden. DeMalo wants Saba to join him, in life and work, to create and build a healthy, stable, sustainable world…for the chosen few.

Jack's choice is clear: to fight DeMalo and try to stop New Eden. Still uncertain, her connection with DeMalo a secret, Saba commits herself to the fight. Joined by her brother, Lugh, anxious for the land in New Eden, Saba leads an inexperienced guerilla band against the powerfully charismatic DeMalo, in command of his settlers and the Tonton militia. What chance do they have? Saba must act. And be willing to pay the price.

Raging Star is the stunningly beautiful conclusion to the Dust Lands Trilogy, which has been called "better than The Hunger Games" by MTV's Hollywood Crush.

Ana read Goblin Secrets a while back and wasn't completely enamored – that said, this forthcoming companion book looks wonderful and I want to give it a try.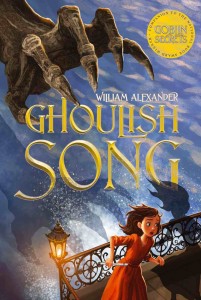 A brave girl flees a ghoul while trying to save her city in this lively companion to Goblin Secrets, the National Book Award winner that Kirkus Reviews calls "humorous, poignant, and convincing."

Kaile lives in Zombay, an astonishing city where goblins walk the streets and witches work their charms and curses. Kaile wants to be a musician and is delighted when a goblin gives her a flute carved out of bone. But the flute's single, mournful song has a dangerous consequence: it separates Kaile and her shadow.

Anyone without a shadow is considered dead, and despite Kaile's protests that she's alive and breathing, her family forces her to leave so she can't haunt their home. Kaile and her shadow soon learn that the troublesome flute is tied to a terrifying ghoul made from the bones of those who drowned in the Zombay River. With the ghoul chasing her and the river threatening to flood, Kaile has an important role to play in keeping Zombay safe. Will Kaile and her shadow be able to learn the right tune in time?

Set in the delightful and dangerous world of Goblin Secrets, Ghoulish Song is a gripping adventure laced with humor and mystery from National Book Award–winning author William Alexander. His "graceful prose weaves an engaging fantasy that embraces the power of music" (Publishers Weekly).

This is the first book in a new series – no final cover yet, but the synopsis (living metal?) is intriguing!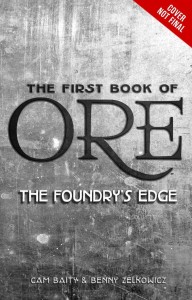 A rescue mission into the heart of a mysterious mechanical world, becomes a journey of enlightenment, redemption, and sacrifice.

For Phoebe Plumm, life in affluent Meridian revolves around trading pranks with irksome servant Micah Tanner, and waiting for her world-renowned father, Dr. Jules Plumm, to return home. Chief engineer for The Foundry, a global corporation with an absolute monopoly on metal production and technology, Phoebe's father is often absent for months at a time. But when a sudden and unexpected reunion leads to father and daughter being abducted, Phoebe and would-be rescuer Micah find themselves stranded in a stunning yet volatile world of living metal one that has been ruthlessly plundered by The Foundry for centuries and is the secret source of every comfort and innovation the two refugees have ever known.

This next book sounds a lot like some of the Lois Duncan-type books I read and loved as a teen: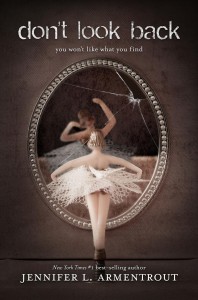 Some people would give anything to start over. But for Sam, starting over might mean never looking back. A dark, gripping and romantic thriller from #1 New York Times best-selling author Jennifer L. Armentrout.

Samantha is a stranger in her own life. Until the night she disappeared with her best friend, Cassie, everyone said Sam had it all-popularity, wealth, and a dream boyfriend.

Sam has resurfaced, but she has no recollection of who she was or what happened to her that night. As she tries to piece together her life from before, she realizes it's one she no longer wants any part of. The old Sam took "mean girl" to a whole new level, and it's clear she and Cassie were more like best enemies. Sam is pretty sure that losing her memories is like winning the lottery. She's getting a second chance at being a better daughter, sister, and friend, and she's falling hard for Carson Ortiz, a boy who has always looked out for her-even if the old Sam treated him like trash.

But Cassie is still missing, and the facts about what happened to her that night isn't just buried deep inside of Sam's memory-someone else knows, someone who wants to make sure Sam stays quiet. All Sam wants is the truth, and if she can unlock her clouded memories of that fateful night, she can finally move on. But what if not remembering is the only thing keeping Sam alive?

Next up, a title pitched as Graceling meets The Lion King. WHAT?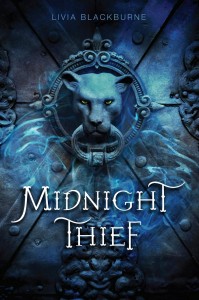 Graceling meets The Lion King in this powerful high-fantasy debut YA novel.

Growing up on Forge's streets has taught Kyra how to stretch a coin. And when that's not enough, her uncanny ability to scale walls and bypass guards helps her take what she needs.

But when the leader of the Assassins Guild offers Kyra a lucrative job, she hesitates. She knows how to get by on her own, and she's not sure she wants to play by his rules. But he is persistent-and darkly attractive-and Kyra can't quite resist his pull.

Tristam of Brancel is a young Palace knight on a mission. After his best friend is brutally murdered by the Demon Riders, a clan of vicious warriors who ride bloodthirsty wildcats, Tristam vows to take them down. But as his investigation deepens, he finds his efforts thwarted by a talented thief, one who sneaks past Palace defenses with uncanny ease.

When a fateful raid throws Kyra and Tristam together, the two enemies realize that their best chance at survival-and vengeance-might be to join forces. And as their loyalties are tested to the breaking point, they learn a startling secret about Kyra's past that threatens to reshape both their lives.

In her arresting debut novel, Livia Blackburne creates a captivating world where intrigue prowls around every corner-and danger is a way of life.

Last but not least, one of my most highly anticipated books of 2014 – I was surprised by how much I loved The Testing, and cannot wait for this sequel.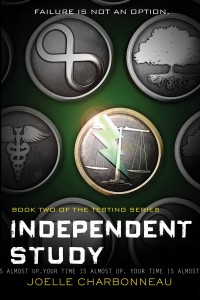 In book two of The Testing series, the government has wiped Cia's memory of the grueling and deadly initiation into higher learning. Ignorance is bliss, but are Cia's so-called friends trusted allies or traitors in this survival story?

In the series debut The Testing, sixteen-year-old Cia Vale was chosen by the United Commonwealth government as one of the best and brightest graduates of all the colonies . . . a promising leader in the effort to revitalize postwar civilization. In Independent Study, Cia is a freshman at the University in Tosu City with her hometown sweetheart, Tomas-and though the government has tried to erase her memory of the brutal horrors of The Testing, Cia remembers. Her attempts to expose the ugly truth behind the government's murderous programs put her-and her loved ones-in a world of danger. But the future of the Commonwealth depends on her.

And that's it from us! What books do you have on YOUR radar?