Hello everyone! Ana is off to Brazil for a week to be with her sister, mom, and new niece – which means I. HAVE. THE. POWER.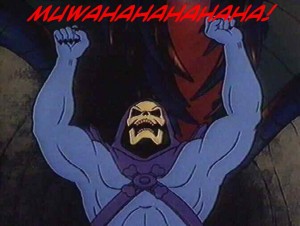 Ahem. I promise not to abuse it…too much. Let's get down to business, shall we?
Giveaway Winners:
The winner of a copy of Unspoken by Sarah Rees Brennan is…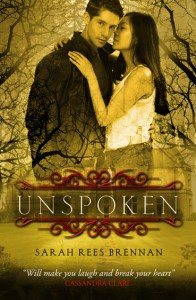 The winner of a signed ARC of The Life of Tao by Wesley Chu is…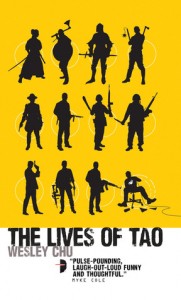 Congratulations to the winners! You know the drill – send an email to us (contact at thebooksmugglers dot com) with your snail mail address, and we'll get your winnings out to you as soon as possible!
And if you didn't win, don't fret – we're still running a few more giveaways.Unraveling/Unbreakable and The Resurrectionist are both still up for grabs! Go forth and enter NOW.
The Newsletter:
Our monthly newsletter is almost ready to make its way into your inboxes. If you haven't signed up yet, and if you are interested in reading exclusive interviews/essays and a chance to win monthly prizes, you can use the form below to get in on the fun.
If you have trouble using the signup form above, you can visit the form directly online HERE.
This Week on The Book Smugglers:
Our first post of the week is actually later today! We have author Freda Warrington over to talk about her Aetherial Tales series, the third book of which – Grail of the Summer Stars just came out!
On Monday, we kick off the week with an interview with Christian Schoon, author of young adult science fiction novel Zenn Scarlett – plus, Thea reviews the book later in the day. We'll also have an Inspirations & Influences guest post from T. Michael Martin, author of YA SFF/Horror novel The End Games.
On Tuesday, Rick Yancey's The 5th Wave is finally here! One of the most highly anticipated books of the year, Thea reviews the highly-hyped alien invasion novel (spoiler alert: she loved it).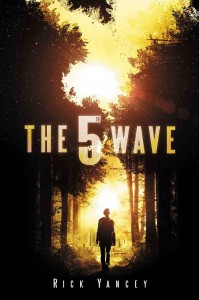 We celebrate Old School Wednesday with Ana's review of historical time-travel-y YA novel Charlotte Sometimes by Penelope Farmer.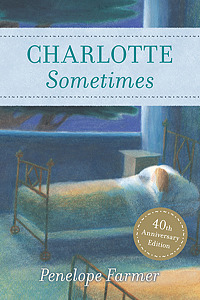 On Thursday, we have Paul Cornell, author of contemporary urban fantasy London Falling over to talk about his Inspirations and Influences. Later in the day, we kick off a brand new feature called SFF in Conversation – in which we invite guests to talk about important topics in the genre, with a special focus on inclusivity and diversity in SFF. We are THRILLED to start the new series with guest author Aliette de Bodard, who will be talking about the roles Vietnamese and Chinese traditions play in her fiction.
Friday, we are back to The Resurrectionist by E.B. Hudspeth! We unveil three more images from the book (with a little more explanation from the author), and have another giveaway chance to win a final copy of the book + poster. Plus, Thea is over at Kirkus with a review of the highly anticipated third book in the Glamourist Histories, Without a Summer by Mary Robinette Kowal.
On Saturday we close out the week with our *official* stop on the international The 5th Wave blog tour! We have an exclusive audio snippet of the book, plus Thea talks about what she would put in her survival pack in case of an alien invasion – as well as list a few alien invasion-y favorites (you know, tips for the avid prepper that wants to do research before the aliens start their attack). Plus, we've got 2 chances to win a copy of The 5th Wave.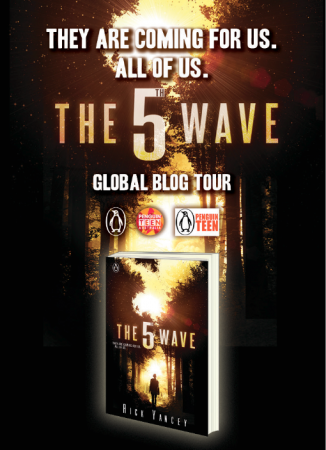 PHEW. It's a crazy busy week – we hope you enjoy it! Until tomorrow, we remain…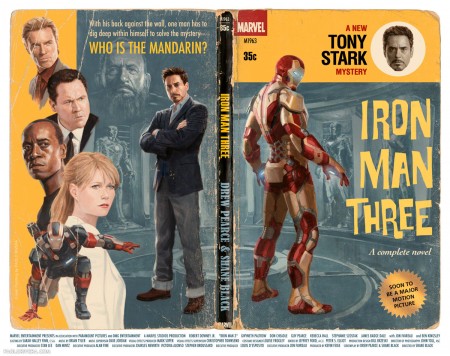 Amazing 'Iron Man 3' novelization poster from Paulo Rivera
~ Your Friendly Neighborhood Book Smugglers