"Inspirations and Influences" is a series of articles in which we invite authors to write guest posts talking about their…well, Inspirations and Influences. The cool thing is that the writers are given free rein so they can go wild and write about anything they want. It can be about their new book, series or about their career as a whole.
Today's guest is debut novelist Wesley Chu, whose novel The Lives of Tao will published by Angry Robot Books, in April 30th, 2013.
Please give it up for Wesley!

All right, a little background first. My debut novel, The Lives of Tao, is out tomorrow April 30th. Huzzah! The story follows Roen Tan, a cowardly fat slob meandering through life. He is inhabited by an alien named Tao, who drags Roen, kicking and screaming, into a civil war over control of humanity's evolution. Along the way, Roen gets into shape, builds confidence, finds love, and develops a stiff jab.
So what's my inspiration?
My father is an English professor. I used to joke about it because I didn't think he spoke a word of it until he was in his twenties. Well Wes, that explains why you're an author now, right? Nope. The thing about parents is that they want their children to not make the same mistakes they made.
So when I graduated high school at the ripe old age of seventeen, I told English Professor Father. "Dad, I think I want to be an English major and become a writer."
In no such uncertain terms, he said "hell no," and "your life will suck."
Now, these are the same parents that once said joining the gymnastics team was the gateway drug to running off with the circus so I took the advice with a grain of salt. English Professor Father was actually very diplomatic about it and said that my life would be very difficult but the general gist was major suckage would follow if I went down that path.
Now, traditional Asian parenting preached pragmatism. My options were basically computers or law. Medicine was out because we all knew my careless ass would probably kill someone. Becoming an author was as far away from being a pragmatist as I could get. Acting wasn't even on the radar. Har har; I double whammied them by eventually going into both.
Initially, I wimped out and studied computer science. Got a good job, made decent money, and proceeded to live my twenties in soul-sucking numbness. When I hit my thirties, I wondered if this was it and if I was already a dead man walking. I began to soul search and reassess my life. So how did I come around full circle and ended up here anyway?
After watching Gattaca one night, I came to this realization; just because you're late to the party doesn't mean the party's over. And just because I detoured off my childhood ambitions doesn't mean I couldn't get back on course.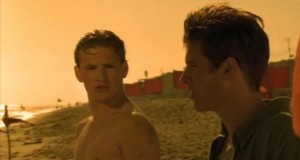 Whoever saves any strength for the swim back is a chicken, okay?
I sat down and prioritized my life. What's important? What's not? What did I really want to do with my life? Where did I want to be in ten years? A few days later, I walked away from years of martial arts training, quit World of Warcraft (the first time), stopped going out with all my friends, and pushed all the silly distractions that had occupied my twenty-something mind.
I sat down at a café, and wrote a 190k piece of monstrosity called Woes, Toads, and Crossroads. Not gonna lie; it sucked. And it was probably the most important thing I ever did in my life.
I took my lumps with the book and eventually trunked it. I gave myself a month to grieve over all that work, and then planned out another book. This time though, I took everything I learned from all the mistakes I made in Woes and applied them to my next project. That project eventually became The Lives of Tao.
People often asked me why I made Roen so old. I wanted to write someone who was old enough to be set in his ways, but young enough to change. He should have already had every opportunity to come into his own, but for reasons of his own doing, hadn't. At the end of the day, The Lives of Tao is as much a late coming-of-age story (which is very different from young coming of age) as it is about an alien civil war.
Personally, I believe Roen and I kind of made this journey together. The contexts were obviously different but I'd like to think we both detoured from what we were supposed to be earlier in life and had to find our way after we've made all these mistakes.
Sure he went from a fat unhappy slob to a svelte alien inhabited secret agent whose very actions can alter humanity's destiny while I only became a guy who fulfilled a childhood dream to write. I took that unhappy soul sucking twenties guy made and changed him to who I always wanted to be. And I did it by telling his story.
In a way, it's like The Neverending Story with guns. Without a luck dragon. Or a flying bat. I do have mist-like villains though.
Hey, what about me? I had to push a frigging lawn mower all movie.
So in keeping with the catchphrase of The Lives of Tao "There's a Hero in Every One of Us," I say there's a whoever you want to be in every single one of us, no matter how old you are.
Wesley Chu was born in Taiwan and immigrated to Chicago, Illinois when he was just a pup. It was there he became a Kung Fu master and gymnast.
Wesley is an avid gamer and a contributing writer for the magazine Famous Monsters of Filmland. A former stunt man and a member of SAG, he can also be seen in film and television playing roles such as "Banzai Chef" in Fred Claus and putting out Oscar worthy performances as a bank teller in Chicago Blackhawks commercials.
Besides working as an Associate Vice President at a bank, he spends his time writing and hanging out with his wife Paula Kim and their Airedale Terrier, Eva.
You can catch up with Wesley online at his blog www.chuforthought.com, or on Twitter: @wes_chu.
GIVEAWAY DETAILS: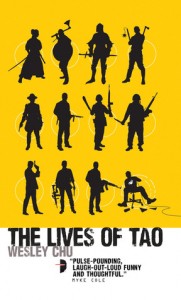 We have one SIGNED ARC (Advanced Reader Copy) of The Lives of Tao to giveaway. Contest is open to ALL and will run until Sunday May 5 12:01AM. To enter, please use the form below. Good luck!