Today we are thrilled to be a part of the Unbreakable blog tour! The second book in the Young Adult Science Fiction/Speculative Fiction Unraveling series by Elizabeth Norris, Unbreakable continues Janelle and Ben's story – after they've stopped their universes from imminent collapse and collision.
For our stop on the tour, we've got an extended excerpt from Unbreakable (100 pages!).

About Unbreakable: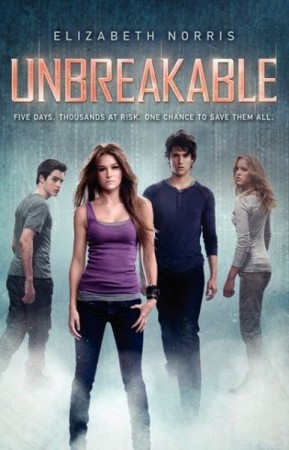 Four months after Ben disappeared through the portal to his home universe, Janelle believes she'll never see him again. Her world is still devastated, but life is finally starting to resume some kind of normalcy. Until Interverse Agent Taylor Barclay shows up.

Somebody from an alternate universe is running a human trafficking ring, kidnapping people and selling them on different Earths—and Ben is the prime suspect. Now his family has been imprisoned and will be executed if Ben doesn't turn himself over within five days.

And when Janelle learns that someone she cares about—someone from her own world—has become one of the missing, she knows that she has to help Barclay, regardless of the danger. Now Janelle has five days to track down the real culprit. Five days to locate the missing people before they're lost forever. Five days to reunite with the boy who stole her heart. But as the clues begin to add up, Janelle realizes that she's in way over her head—and that she may not have known Ben as well as she thought. Can she uncover the truth before everyone she cares about is killed?
The Excerpt:
Some days are so perfect, they just don't seem real.

They're the days when you wake up and aren't tired, when the sun is shining and the breee kicks up from the ocean, keeping you from getting too hot or too cold, and everything you do goes right. Like you're inside of a movie with your own soundtrack, when you're so happy that you can't help just spontaneously breaking into a smile. Some days are like magic.

But I haven't had one of those days in a long time.

So long, it feels like maybe I never did. In fact, when I've been up for eighteen hours, letting Cecily boss me around in an old snack bar that she converted into a kitchen – one that might be a hundred degrees – it feels like maybe perfect days are a lie.

"What are you doing?" Cecily says, scolding me. "That's never going to work."

"My idea, not work? That's shocking." I made a big show of rolling my eyes. "Come up with a better idea and we'll try it." I almost add that we don't need popcorn, but I keep my mouth shut. I can only push her so far. The wrath of Cecily when plans go awry is something I'm trying to avoid.
Check out the first 100 pages of Unbreakable online HERE.
About the Author: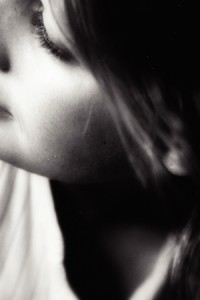 Elizabeth Norris is the author of Unraveling and Unbreakable, and the e-novella Undone. Visit Liz on the web at ElizabethNorrisBooks.com and LizNorris.blogspot.com, as well as Facebook, Twitter, Tumblr, Goodreads and Pinterest.
The Blog Tour:
Check out the other stops on the tour for more about Unbreakable!

The Giveaway:
We are giving away a copy of Unraveling and Unbreakable! The contest is open to addresses in the US and UK, and will run until Sunday, May 12 at 12:01am EST. To enter, use the form below!
Good luck! And make sure to stick around as later today Thea reviews Unraveling (book 1 in the series).