"Inspirations and Influences" is a series of articles in which we invite authors to write guest posts talking about their…well, Inspirations and Influences. The best part about I&I posts? Writers are given free rein so they can go wild and write about anything they want: their new book, series or career as a whole.
We are delighted to have author Sherri L. Smith as our guest! Sherri is the author of Flygirl, an award-winning historical YA novel about a young black woman's dream to fly during WWII, and today she is here to talk about her newest book. Orleans paints a dystopian future in which Louisiana and other low-lying gulf states have been devastated by hurricanes, rising waters, and a deadly epidemic, Delta Fever.
Here to talk about the inspiration for Orleans, please give it up for Sherri, everyone!

Before I do anything else, let me say how awesome you guys are. I covet your banner—in all its James Jeans/Tara McPhersonesque glory (kudos to Ms. Pytyck for making it both yours and yet all her own!)—and the fact that you embrace all thinks pop geek. I'm a huge nerd without any female peers when I was a teen, so it's good to see the love is happening for the next generation (see, nerd reference)!
And now for a non-sequiter: When I was a kid, my brother and I would beg our parents to take us out for Chinese food. To us, it was the most delicious cuisine in the world. But it was reserved for special occasions, and we'd usually end up eating at home instead. So, we came up with the sort of solution that makes sense when you're seven—we would turn our mom's food into Chinese food. As far as we could tell, Chinese was a blend of meats and veggies in different sauces. So we would chop up all of our chicken or beef and roll into the mashed potatoes and frozen corn on our plates. It didn't taste right, which we blamed on a lack of soy sauce. It didn't look right either, but we ate it and dreamed.
Writing is like making Chinese food out of mashed potatoes. There are all of these ingredients you chop up and mix together to make something succulent. The difference is writing is alchemy. It transforms every ingredient into something delicious. A trick I never managed, on the plate or on the page when I was seven (although mashed potatoes mixed with corn and peas truly is delicious).
So, here is a list of some of the things that drifted through the transom of my mind while working on Orleans, in no particular order. This book took me three years to write, so it's been a long journey. I went to go back to some of my notes and journals while putting this together and was surprised to see how many ideas I'd forgotten the genesis of along the way. (I suppose that was where the alchemy stepped in and transformed the ideas into story.) I'd be curious to hear from anyone who has read the book—do you recognize any of these threads in the final work?
I Am Legend by Richard Matheson (and the Omega Man and the Will Smith movies)
Dune by Frank Herbert (and David Lynch's movie, to an extent)
Snow White, the Brothers Grimm version
Hansel and Gretel, the Brothers Grimm version
The Wizard of Oz the 1939 classic
Escape from New York (Which I actually hadn't seen until I started working on this book. But hey, who doesn't love Kurt Russell?)
Perdido Street Station by China Miéville (I love his grasp on the architecture of his city and the depth of his myths.)
The Bible
Children at War by P.W. Singer – about child soldiers around the world
The Heroine's Journey by Maureen Murdock
Myth of Sumerian goddess Inanna
Baba Yaga
Artful Dodger
Rwandan genocide
The Tuskegee Experiment
Hurricane Katrina
My mother
New Orleans
Mardi Gras
A little herb shack on Whidbey Island, WA – I was in residence at Hedgebrook writing retreat and I walked past it on the way into town and the name stuck in my head. "Mama" or "Mother" must be in the name, because lead me to the idea of a hedge witch, or a voodooienne, which lead me to Mama Gentille. The birds rustling in the tall grass on that walk made me think of feral children, and thus another element was born.
About the Author:
Sherri L. Smith has written several award-winning novels for young adults. Flygirl (2010) won the California Book Award, was a YALSA Best Book for Young Adults, and has received fourteen State Award nominations. She lives near Los Angeles. For more information, visit her website at www.sherrilsmith.com or her blog, The Middle Hundred. She can be found on Twitter @Sherri_L_Smith.

About the Blog Tour:
The next stop on the tour is over at Charlotte's Library. Make sure to check it out, plus these other stops on the tour for other giveaway chances, posts, and reviews!
Monday, March 4 – The Compulsive Reader
Tuesday, March 5 – The Story Siren
Wednesday, March 6 – The OWL for YA
Thursday, March 7** – GreenBeanTeenQueen
Friday, March 8 – I Read Banned Books
Monday, March 11 – Poisoned Rationality
Tuesday, March 12 – The Book Smugglers
Wednesday, March 13 – Charlotte's Library
Thursday, March 14 – Literary Escapism
Friday, March 15 – Cari's Book Blog
Friday, March 29 – A.L. Davroe
GIVEAWAY DETAILS: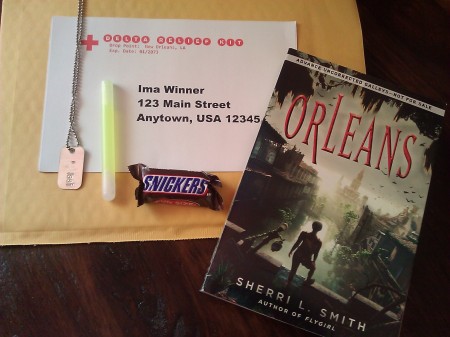 We have ONE prize pack up for grabs as part of the official Orleans blog tour. One lucky winner will receive a Delta Relief Kit, complete with a signed ARC, a blood type ID dog tag, a glow stick, and the ever-crucial Snickers bar—everything you need to navigate Orleans, at least from the comfort of your armchair! The giveaway is open to U.S. Residents only and will run until Sunday March 17 at 12:01am EST. To enter, use the form below.
Thank you, Sherri! And make sure to stick around today for our review of Orleans.