As you probably know by now, Old School Wednesdays is a new weekly Book Smuggler feature. We came up with the idea towards the end of 2012, when we were feeling exhausted from the never-ending inundation of New and Shiny (and often over-hyped) books. What better way to snap out of a reading fugue than to take a mini-vacation into the past, right?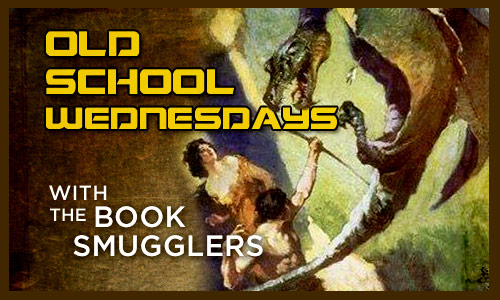 Logo designed by the wonderful KMont
Last week, we asked YOU for your favorite old school suggestions – and the response was so overwhelmingly awesome, we decided to compile a goodreads shelf, an ongoing database, AND a monthly readalong/book club. (Note that we've removed books that we have already read, or that we selfishly want to review as solos on Wednesday!)
The OSW Readalong:
Based on the amazing suggestions we received from everyone, we decided to institute an official Old School Wednesday Monthly Readalong. Here's how it works:
Every month, we'll pick 5 books from the Suggestions Pool. We'll announce those books in our first OSW post of the month and officially open the floor to voting.
You can vote for the title you want to read during the first two weeks of the month, using the spiffy poll in our sidebar, embedded in the original month's post (that's today's post, for the April readalong), and on the brand new Old School Wednesday Page *points up at navigation bar*
On the second Wednesday of the month, we will announce the winner! The winning title will be reviewed on the last Wednesday of the next month – giving anyone that wants to join the readalong six weeks to get the book and participate in the readalong. (We'll also provide tips as to where you can purchase or borrow the selected title.)
Enlightening, excellent discourse will ensue. We are excited.
April Readalong:
Even though it's already mid-March, we'd still like to kick-start the first readalong in April. The voting opens TODAY March 13 and we will announce the winner on March 20. The readalong will happen on April 24, when we will post our joint review of the book and open the floor for discussion and linkage to your posts/reviews.
You can vote on which title you'd like to read by using the poll in our sidebar, or following the titles below. The 5 random titles we picked from the list of suggestions (having made sure they are readily available to those who wish to buy it) are:
The White Mountains (The Tripods # 1) by John Christopher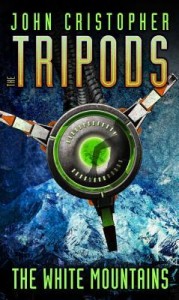 Long Ago, The Tripods — huge, three-legged machines — descended upon Earth and took control. People no longer understand automation nor machines, and unquestioningly accept the Tripods' power. But for a time in each person's life — in childhood — he is not a slave. Will still has time to escape.
Terrier (Beka Cooper #1) by Tamora Pierce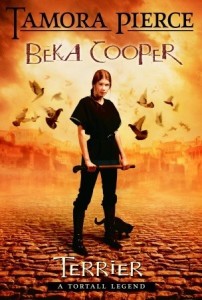 Tamora Pierce begins a new Tortall trilogy introducing Beka Cooper, an amazing young woman who lived 200 years before Pierce's popular Alanna character. For the first time, Pierce employs first-person narration in a novel, bringing readers even closer to a character that they will love for her unusual talents and tough personality.

Beka Cooper is a rookie with the law-enforcing Provost's Guard, and she's been assigned to the Lower City. It's a tough beat that's about to get tougher, as Beka's limited ability to communicate with the dead clues her in to an underworld conspiracy. Someone close to Beka is using dark magic to profit from the Lower City's criminal enterprises–and the result is a crime wave the likes of which the Provost's Guard has never seen before.
The Naming (Pellinor #1) by Alison Croggon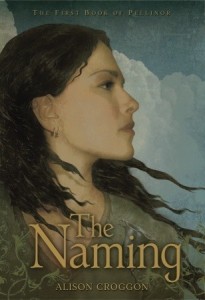 Maerad is a slave in a desperate and unforgiving settlement, taken there as a child after her family is destroyed in war. She is unaware that she possesses a powerful gift, one that marks her as a member of the School of Pellinor. It is only when she is discovered by Cadvan, one of the great Bards of Lirigon, that her true heritage and extraordinary destiny unfold. Now she and her new teacher must survive a journey through a time and place where the forces they battle stem from the deepest recesses of otherworldly terror.

Alison Croggon's epic fantasy, the first in the Books of Pellinor quartet, is a glittering saga steeped in the rich and complex landscape of Annar, a legendary world ripe for discovery.
The Lost King (Star of the Guardians #1) by Margaret Weis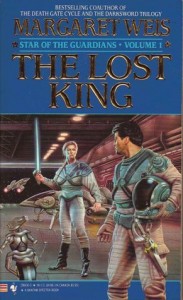 As a corrupt Commonwealth rules the galaxy through the might of its armies, its most influential general–a renegade Guardian of the deposed Starfire royal line–pursues the rumor of a hidden heir to the throne and searches for a woman he loves and is destined to destroy.
The Black Swan by Mercedes Lackey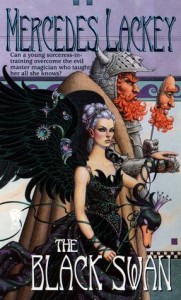 After his wife's untimely death, a powerful sorcerer dedicates his life to seeking revenge against all womankind. He turns his captives into beautiful swans–who briefly regain human form by the fleeting light of the moon. Only Odette, noblest of the enchanted flock, has the courage to confront her captor. But can she gain the allies she needs to free herself and the other swan-maidens from their magical slavery? A monumental tale of loyalty and betrayal, of magic good and evil, of love both carnal and pure, and of the duality of human nature, The Black Swan is a rich tapestry which is sure to become an all-time masterpiece of fantasy.
[poll id="2″]
Get voting! And we hope you will join us on April 24.
Ongoing Suggestions:
Got a suggestion? Have an amazing book, published at least five years ago, that you would love to nominate for the OSW monthly readalong? Speak up and submit your favorites! (If you have problems with the form below, you can also access it HERE.)
Thanks everyone! Let us know if you have any other comments, suggestions, or ideas. We cannot wait to see which title wins the vote, and for our first-ever Old School Wednesday Readalong!