Old School Wednesdays is a weekly Book Smuggler feature. We came up with the idea towards the end of 2012, when both Ana and Thea were feeling exhausted from the never-ending inundation of New and Shiny (and often over-hyped) books. What better way to snap out of a reading fugue than to take a mini-vacation into the past?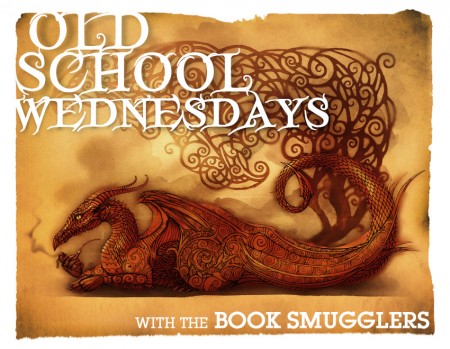 Logo designed by the wonderful KMont
In March 2013, we asked YOU for your favorite old school suggestions – and the response was so overwhelmingly awesome, we decided to compile a goodreads shelf, an ongoing database, AND a monthly readalong/book club.
This month's OSW Readalong pick is The Woman in the Wall by Patrice Kindl.
Because this book was a little… odd, we're treating this review as a straight-up, simple review with Ana's and Thea's takes (instead of the usual discussion questions). We'll give our opinions regarding the book, then we'll ask YOU to join in.

Author: Patrice Kindl
Genre: Young Adult, Contemporary?
Publisher: Puffin
Publication date: First published 1997
Paperback: 192 pages
Anna is more than shy. She is nearly invisible. At seven, terrified of school, Anna retreats within the walls of her family's enormous house, and builds a world of passageways and hidden rooms. As the years go by, people forget she ever existed. Then a mysterious note is thrust through a crack in the wall, and Anna must decide whether or not to come out of hiding. Patrice Kindl's astounding, inventive novel blends fantasy and reality — and readers will not forget it.

"Thoroughly convincing and deeply moving. Whether we read the story as an allegory, an elaborate metaphor, even a bittersweet dream, the feelings and insights are precise and real, enhanced all the more by a wonderfully wry and rueful humor." — Lloyd Alexander, Newbery Medal-winning author of The High King

"Kindl creates an original world with authority and complete credibility. Her austere yet insistent, grave yet humorous style is perfect."– The Bulletin of the Center for Children's Books, starred review
Stand alone or series: Stand alone novel
How did we get this book: Bought
Format (e- or p-): Ebook
Review:
Thea's Take: I am completely mystified and flabbergasted when it comes to The Woman in the Wall. The biggest and most immediate question that comes to mind is: what exactly is the purpose of this book? That, shortly followed by: what is this book attempting to say?
This is the story: there is a young girl named Anna. She is very shy. She dresses in drab clothes that blend in with her surroundings and she takes to hiding within the walls of her family's enormous estate. Because of her crippling shyness and her fear of other people, at age 7, Anna chooses to fade into the walls of her home instead of go to school. Soon, Anna is a ghost even to her mother and sisters, moving in the secret spaces she builds behind doors and hallways – she's a memory of a girl, an imaginary friend, a presence who is confused with the fibers of the family house itself.
But, believe it or not, Anna is a real girl, and soon she begins to grow up. Anna's body changes, and she falls in love with a mysterious boy ("F") who writes a letter to her ("A"). To learn more about this strange, funny boy, Anna might even leave the safety of her walls and hidey-holes – though it means she will soon find that the world, and her family, have changed.
It's an intriguing premise, I'll give Patrice Kindl that much; it's also a beautifully written book, in a style of dreamlike fantastical realism that alludes to deeper meanings and implications. That, however, is the same reason why I have a problem with The Woman in the Wall: what exactly is the deeper implication? Is Anna's fading into the walls of the house a metaphor for growing up (or more specifically, going through puberty and withdrawing from the judgment of others)? Is it a treatise on becoming a woman, or is it a simple Cinderella-like fairy tale about a young girl who grows into a beautiful young woman? Oh, did I mention that part? Anna, the shy, reticent girl grows into an exceptionally beautiful heartbreaker of a girl who makes her debut back into the world at a Halloween masked party (during which she snags the eye of every young man). Ultimately, thematically, I didn't find The Woman in the Wall succeeded on any of these allegorical levels – the novel seems, superficially, to be a flowery story about a shy young girl who grows into a beautiful young woman who finally is ready to face the world… but only when she's pretty enough, and only when there are others (read: appreciative male figures) to push her into doing so.
Furthermore, there's little else going on in the story itself to recommend it further than the intrigue of the premise. Anna is a sweet, shy and honest heroine, who comes across as genuine but who has little to her character than her shyness. There are moments of humor and hubris that shine through an otherwise dull characterization; I loved the letters back and forth between Anna and "F" and the sweet banter that develops between the pair. Unfortunately, the actual full characterizations of anyone else in the book, from F to Andrea to Kristy remain utterly superficial. Andrea is nasty to Anna because… just because; Kristy always believes that Anna is still alive because… well, just because. And F, when we finally meet him face-to-face, has his own share of issues and lackluster character arc.
Ultimately, it is the imagery of this book that saves it from utter forgettable status – the image of a girl fading into the walls, scuttling within a house's nooks and crannies is a powerful and interesting one. Unfortunately, beyond the appeal of said imagery, there's little of substance to recommend The Woman in the Wall. It's a miss for me.
Ana's Take:
What Thea said.
Also: this review brought to you by many hands.
On the one hand: There are certain aspects of the novel that really appeal to me. The prose and the imagery within these pages flow beautifully, especially those concerning the character's shyness. Anna starts out the book as a literal wallflower, disappearing against the background. She is so shy, her family have trouble even seeing her. Aged 7, she fully retreats to a world behind the walls, building herself a series of tunnels and alcoves where she lives apart from the troubles of the world. When she reaches puberty and after she menstruates for the first time, the onset of feelings never felt before are too much to be held behind those walls. She emerges from her enclosure as a beautiful young lady. This could be construed as a metaphor for not only puberty but also for growing up, growing confident. Anna's confidence in her own abilities is in fact, another positive aspect of Woman in the Wall.
On the other hand: if we choose to accept the idea that the story is a metaphor of puberty in which the main character cocoons herself behind walls only to re-emerge as a beautiful butterfly, what exactly am I supposed to do when it comes to suspension of disbelief?
Without having to learn and from the early age of 7, Anna can pretty much do everything from sewing and cooking to actually fixing her entire house's plumbing system. What do I do about the portrayal of a child as young as 7 who are able to do serious, structural construction work around the house? What do I do about the fact that her family simply lets her live behind walls and eventually even kind of forgets she ever lived? Not to mention the fact that this child re-emerges from a life behind walls without suitable nutrition or daylight, without having visited a dentist or a doctor and she is not only completely healthy but also amazingly beautiful and attractive.
What do I when my brain is constantly going: call the child protection services!
On the other hand: even though Anna is supposedly a prodigy with intelligence beyond her years, she was incredibly naïve when it came to simple facts regarding her own biology: she had no idea what menstruation was and what were the breasts coming out of her chest. Now, the brain asks: if she could learn everything about everything, why couldn't she learn about simple biological facts? She had a library at her disposal and even though she lived behind walls she wasn't exactly cut-off from the world (she did watch TV and followed the lives of her mother and older sister). How could she not know what breasts are? Isn't this taking the "puberty" metaphor a bit too far?
On the other hand: there are elements of this metaphor that do work. Anna's difficulty of getting used to a whole new body after she reaches puberty is a powerful moment in the novel as is her ensuing need to understand herself and identify as a woman.
On the one hand: I am not completely convinced that this attempt at examining "womanhood" is successful. In fact, I think it's quite the opposite. As the story progresses, Anna begins to grow and change but that growth and change eventually turns out to be due to external forces rather than internal. It is Anna's correspondence with a boy who spurs her into doing more, and into growing less shy and more confident. A worrying quote reinforces this:
I was a woman because somewhere out there was F, a man.
So her "womanhood" is in relation to a man. Anna's beauty is the catalyst for her growth, the appreciation of men what gives her strength. Even though she has a – female – family member who obviously loves and supports her, it is only F's support that truly matters. Anna's future stepfather is also the one who sorts everything and who eventually puts the family back together with his calm demeanour as opposed to the hysterical, incompetent ladies of the house. There is also absolutely no reason whatsoever for Anna and her sister Andrea's rivalry. Mind you, Andrea was portrayed as a self-aware beauty and therefore, was a superficial shrew (as opposed to Anna who didn't know herself to be beautiful and therefore was even more attractive to men).
Although that quote inserted above and the story could be interpreted (as perhaps was the intention) as an attempt to examine patriarchy critically and the way that it fails women, the fact remain that, unfortunately, the story progresses and ends leaving those problematic points completely unchallenged.
Like Thea said, the premise is so interesting but somewhere along the way it lost itself. It's a miss from me too.
Rating:
Ana: 4 – Bad but not without some merit
Thea: 5 – Meh. I neither recommend nor not-recommend this book.

Now over to you! Please feel free to engage with our reviews, come up with your own talking points, and/or leave links to your reviews!