Happy Sunday, everyone! Let's dive in.
2013 Nebula Nominees
The Science Fiction and Fantasy Writers of America have announced the nominees for the 2012 Nebula Awards (presented 2013), nominees for the Ray Bradbury Award for Outstanding Dramatic Presentation, and nominees for the Andre Norton Award for Young Adult Science Fiction and Fantasy. This year, there is some amazing representation from female authors. Check it out:
Novel
Throne of the Crescent Moon, Saladin Ahmed (DAW; Gollancz '13)
Ironskin, Tina Connolly (Tor)
The Killing Moon, N.K. Jemisin (Orbit US; Orbit UK)
The Drowning Girl, Caitlín R. Kiernan (Roc)
Glamour in Glass, Mary Robinette Kowal (Tor)
2312, Kim Stanley Robinson (Orbit US; Orbit UK)
Novella
On a Red Station, Drifting, Aliette de Bodard (Immersion Press)
After the Fall, Before the Fall, During the Fall, Nancy Kress (Tachyon)
"The Stars Do Not Lie," Jay Lake (Asimov's 10-11/12)
"All the Flavors," Ken Liu (GigaNotoSaurus 2/1/12)
"Katabasis," Robert Reed (F&SF 11-12/12)
"Barry's Tale," Lawrence M. Schoen (Buffalito Buffet)
Novelette
"The Pyre of New Day," Catherine Asaro (The Mammoth Book of SF Wars)
"Close Encounters," Andy Duncan (The Pottawatomie Giant & Other Stories)
"The Waves," Ken Liu (Asimov's 12/12)
"The Finite Canvas," Brit Mandelo (Tor.com 12/5/12)
"Swift, Brutal Retaliation," Meghan McCarron (Tor.com 1/4/12)
"Portrait of Lisane da Patagnia," Rachel Swirsky (Tor.com 8/22/12)
"Fade to White," Catherynne M. Valente (Clarkesworld 8/12)
Short Story
"Robot," Helena Bell (Clarkesworld 9/12)
"Immersion," Aliette de Bodard (Clarkesworld 6/12)
"Fragmentation, or Ten Thousand Goodbyes," Tom Crosshill (Clarkesworld 4/12)
"Nanny's Day," Leah Cypess (Asimov's 3/12)
"Give Her Honey When You Hear Her Scream," Maria Dahvana Headley (Lightspeed 7/12)
"The Bookmaking Habits of Select Species," Ken Liu (Lightspeed 8/12)
"Five Ways to Fall in Love on Planet Porcelain," Cat Rambo (Near + Far)
Ray Bradbury Award for Outstanding Dramatic Presentation
The Avengers, Joss Whedon (director) and Joss Whedon and Zak Penn (writers), (Marvel/Disney)
Beasts of the Southern Wild, Benh Zeitlin (director), Benh Zeitlin and Lucy Abilar (writers), (Journeyman/Cinereach/Court 13/Fox Searchlight )
The Cabin in the Woods, Drew Goddard (director), Joss Whedon and Drew Goddard (writers) (Mutant Enemy/Lionsgate)
The Hunger Games, Gary Ross (director), Gary Ross, Suzanne Collins, and Billy Ray writers), (Lionsgate)
John Carter, Andrew Stanton (director), Michael Chabon, Mark Andrews, and Andrew Stanton (writers), (Disney)
Looper, Rian Johnson (director), Rian Johnson (writer), (FilmDistrict/TriStar)
Andre Norton Award for Young Adult Science Fiction and Fantasy
Iron Hearted Violet, Kelly Barnhill (Little, Brown)
Black Heart, Holly Black (S&S/McElderry; Gollancz)
Above, Leah Bobet (Levine)
The Diviners, Libba Bray (Little, Brown; Atom)
Vessel, Sarah Beth Durst (S&S/McElderry)
Seraphina, Rachel Hartman (Random House Children's Books; Doubleday UK)
Enchanted, Alethea Kontis (Harcourt)
Every Day, David Levithan (Knopf Books for Young Readers)
Summer of the Mariposas, Guadalupe Garcia McCall (Tu Books)
Railsea, China Miéville (Del Rey; Macmillan)
Fair Coin, E.C. Myers (Pyr)
Above World, Jenn Reese (Candlewick)
The Forty-Eighth Nebula Awards Weekend will be held May 16-19 in San Jose, California. While we are thrilled with the nominees (especially for the Andre Norton Award for Young Adult Science Fiction), others around the interwebs have been…well, less than enthused. In particular, some very nasty, misogynistic douchebaggery has reared its ugly head in the SFF fandom. Case in point, this comment from Maddog over at SF Signal's reveal of the nominees:
Sure is a huge slant towards women and the non white male. If we don't start counteracting all the relentless one sided articles soon. Then SF is going to look a lot like the Romance Genre. And the funny thing is there wasn't even a fight.

Thats my Counterpoint Mirror to todays Half Truths(its the other half that will complete you)
Yeah, that happened. The good news, however, is that this blatant bigotry was called out by a number of awesome commenters. While it's incredibly disheartening to see that this type of sexism and racism still exists in the SFF fandom, it IS really cool to see that the Nebula Awards are becoming increasingly inclusive of diverse writers and voices.
This Week on The Book Smugglers:
We kick off the week on Monday with our (slightly late) What She Said feature – in which we both review books that the other has previously read and reviewed. Ana reviews MG fantasy novel The Princess Curse by Merrie Haskell, and Thea reviews YA paranormal thriller The Name of the Star by Maureen Johnson.
On Tuesday, Thea takes over with a review of one of her most highly anticipated books of 2013: The Runaway King by Jennifer A. Nielsen, followup to one of Thea's top 10 favorite books of 2012, YA fantasy novel The False Prince.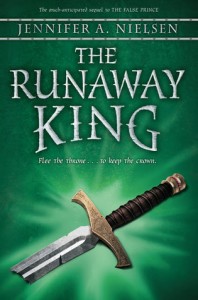 Then, it's another Old School Wednesday! Ana reviews Australian YA novel Secret Scribbled Notebooks by Joanne Horniman (originally published in 2005).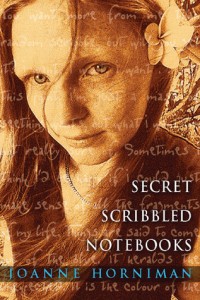 Thursday, we have guest author Julianna Scott over to talk Inspirations and Influences for her debut, YA fantasy novel The Holders. Then, Ana follows up with a review of LGBTQ YA novel Beautiful Music for Ugly Children by Kirstin Cronn-Mills.
On Friday, we close out the week with a joint review of the second book in Maureen Johnson's Shades of London series, The Madness Underneath. Plus, Thea reviews A Natural History of Dragons by Marie Brennan over at Kirkus.
It's a very busy week! Until tomorrow, we remain…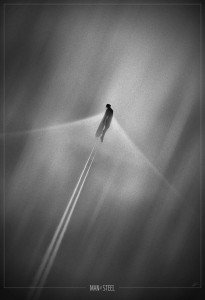 Noir Man of Steel, Marco Manev via Geek Tyrant
~ Your Friendly Neighborhood Book Smugglers