"On The Smugglers' Radar" is a feature for books that have caught our eye: books we have heard of via other bloggers, directly from publishers, and/or from our regular incursions into the Amazon jungle. Thus, the Smugglers' Radar was born. Because we want far more books than we can possibly buy or review (what else is new?), we thought we would make the Smugglers' Radar into a weekly feature – so YOU can tell us which books you have on your radar as well!
On Ana's Radar:
The sequel to Malinda Lo's Adaptation has a cover and blurb. I am there!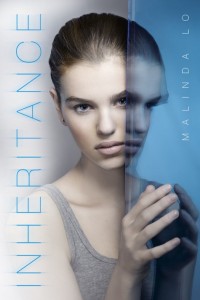 The triangular spaceship hovered motionless in the sky above Reese Holloway's house, as inscrutable as a black hole. It had seemed like a good idea when they were inside: to tell the truth about what happened to them at Area 51. It didn't seem like such a good idea now.

Reese and David are not normal teens—not since they were adapted with alien DNA by the Imria, an extraterrestrial race that has been secretly visiting Earth for decades. Now everyone is trying to get to them: the government, the Imria, and a mysterious corporation that would do anything for the upper hand against the aliens.

Beyond the web of conspiracies, Reese can't reconcile her love for David with her feelings for her ex-girlfriend Amber, an Imrian. But her choice between two worlds will play a critical role in determining the future of humanity, the Imria's place in it, and the inheritance she and David will bring to the universe.

In this gripping sequel to Adaptation, Malinda Lo brings a thoughtful exploration of adolescence, sexuality, and "the other" to a science fiction thriller that is impossible to put down.

This week we participated in the cover reveal for Claire Legrand's The Year of Shadows, by interviewing the illustrator and the art director. The cover was finally revealed last Thursday and we can not wait for the book!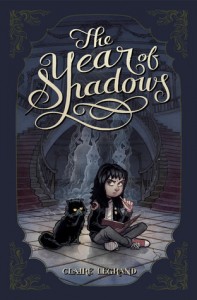 12-year-old Olivia Stellatella and her father have sold all their belongings to keep her father's orchestra from going bankrupt. Now, they live out of suitcases in the back rooms of Emerson Hall, where the orchestra performs.

Olivia hates it there.

She hates her squeaky cot and shabby clothes. She hates her father, too, for being so obsessed with music that he drove Olivia's mother out of the house and got them into this mess. Most of all, Olivia hates the orchestra. It's the orchestra's fault that her father's the way he is. She can't wait for it to fail.

Until the ghosts come.

They're lonely, frightened, and stuck in our world. Only if Olivia and the 12-year-old usher, Henry, can help the ghosts solve the mysteries of their deaths — deaths that are somehow related to the Hall's past — will they be able to move on and find peace. But time — and money — is running out. The mayor wants to bulldoze the Hall to the ground, which would put Olivia and her father out on the streets and trap the ghosts in our world permanently. And other ghosts — bad ones — will do anything to keep them here. As the "ghosts of Emerson Hall" craze sweeps the city, Olivia faces life-changing family secrets and must fight for her life when her world, and the world of Death, collide.

THE YEAR OF SHADOWS is a middle grade ghost story about loss, magic, music, and the power of friendship.

I love superheroes stories but the novels I read recently have been incredibly BAD. So when I saw that there is an anthology of superheroes stories coming out, I thought: THERE'S GOTTA BE AT LEAST ONE GOOD STORY HERE. Right? *fingers crossed*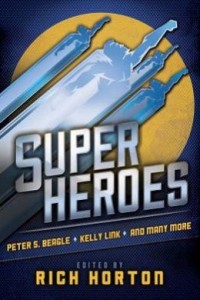 Superheroes: modern gods and goddesses, remote, revered, but like the pantheon of heroes and heroines of ancient myth, great power tempered with flaws. And now, find within these pages tales by gifted and award-winning authors who move superheroes from the four-color panels of comic books to fiction… reminding every adult of the child within, who ever wanted to wear a cape and cowl!

Now, the next two books are actually oldies that came recommended by our readers. This past Wednesday I reviewed The Catalogue of the Universe by Margaret Mahy for our new feature Old School Wednesdays and I LOVED it and asked for MOARS of the same and I shall be getting these two very soon.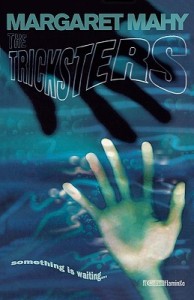 Reality and the supernatural intertwine in this exciting and chilling novel from an award-winning author

As the Hamiltons gather at their holiday beach house, Carnival's Hide, for their Christmas celebrations, the warm, chaotic familty atomosphere is chilled by the unexpected arrival of three sinister brothers. Who are they? Where are they from? Only 17- year-old Harry, the middle daughter, is close to seeing the truth. Are these brothers her own invention, or are they truly descendants of Teddy Carnival who drowned there many years earlier?

As the brothers gradually reveal their purpose, long-hidden family secrets are also unfurled. No one emerges unscathed…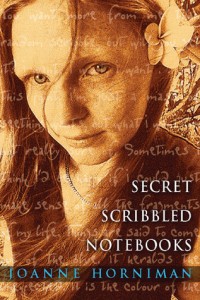 Seventeen-year-old Kate writes all of her dreams and thoughts in a set of three secret notebooks. In each of these journals, she records her daily life, from caring for her baby niece and making friends to dealing with the loss of parents and yearning for the future. Through reading, writing, and experiencing teenage life, Kate discovers love, friendship, and her own ambitions. This beautifully written portrait of a girl in her last year of school explores the universal stresses, joys, confusions, and observations of life as a teenager.

On Thea's Radar:
First up, there's this intriguing – and slightly unsettling – title that will be available in the US this month, and I'm excited to give it a shot.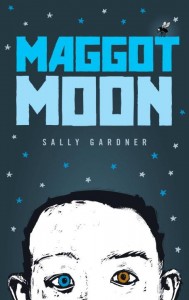 In Sally Gardner's stunning novel, set in a ruthless regime, an unlikely teenager risks all to expose the truth about a heralded moon landing.

What if the football hadn't gone over the wall. On the other side of the wall there is a dark secret. And the devil. And the Moon Man. And the Motherland doesn't want anyone to know. But Standish Treadwell – who has different-colored eyes, who can't read, can't write, Standish Treadwell isn't bright – sees things differently than the rest of the "train-track thinkers." So when Standish and his only friend and neighbor, Hector, make their way to the other side of the wall, they see what the Motherland has been hiding. And it's big…One hundred very short chapters, told in an utterly original first-person voice, propel readers through a narrative that is by turns gripping and darkly humorous, bleak and chilling, tender and transporting.

Look! LOOK! Book 2 in Jenn Reese's brilliant Above World series! I *loved* book 1 so much, I cannot wait to get my hands on a copy of Mirage.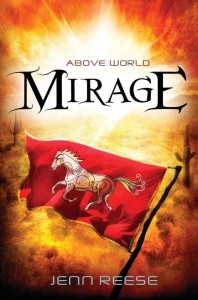 A thrilling sequel from an exciting new voice in middle-grade sci-fi tracks two ocean-born children braving the dangers of the Above World.

The desert is no place for ocean-dwelling Kampii like Aluna and Hoku, especially now that Aluna has secretly started growing her tail. But the maniacal Karl Strand is out to conquer the Above World, and the horselike Equians are next on his list. Aluna, Hoku, and their friends – winged Calli and Equian exile Dash – race to the desert city of Mirage, intent on warning the Equians. When they arrive, Strand's clone, Scorch, has gotten there first. Now the Equian leader has vowed to take all his people to war as part of Strand's army. Any herd that refuses to join him by the time of the desert-wide competition known as the Thunder Trials will be destroyed. To have any chance of defeating Scorch and convincing the Equians to switch sides, the four friends must find a way to win the Trials. The challenge seems impossible. But if they fail, the desert – and possibly all of the Above World – will be lost to Karl Strand forever. Here is the action-packed follow-up to Above World, which Kirkus Reviews called "a thrilling sci-fi adventure. Imaginative and riveting."

Weather and witches, issues of slavery, power, and choice? Yes. I want to read this book.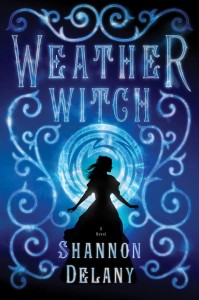 The first in an exciting new young adult series from 13 to Life writer Shannon Delany—a young woman enslaved for being a weather witch must fight for her freedom to be with the boy she loves

Some fled the Old World to avoid war and some fled to leave behind magic. But even the fiercely regulated New World—with its ranks and standards and emphasis on decorum—cannot avoid the power that wells up in certain people and influences weather and calls down storms. So the Weather Witches—those who can control the weather—are hunted by Testers and Wraiths and made to power the Grounded population's ships, their lights—their every luxury—in a time before either steam or electricity takes hold. Jordan Astraea, a high-ranking member of The Nine is from a flawless background with seemingly no taint of magic or witchery. But on the night of her seventeenth birthday celebration the Wraiths and the Tester appear and blame her for summoning an unscheduled storm. Taken from her family and near-boyfriend, Rowen, Jordan is sentenced to be Made—to become a Conductor—and be enslaved as a living battery for an airship. But breaking Jordan may prove the very thing the carefully constructed New World society cannot survive. And the chance of losing Jordan forever may make Rowen become the hero he would have never dared otherwise be.

Star Trek meets Rick Riordan. SOLD.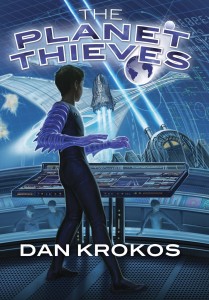 Star Trek meets Rick Riordan in this new middle-grade series

Two weeks ago, thirteen-year-old Mason Stark and seventeen of his fellow cadets from the Academy for Earth Space Command boarded the SS Egypt. The trip was supposed to be a short routine voyage to log their required spacetime for summer quarter.

But routine goes out the airlock when they're attacked by the Tremist, an alien race who have been at war with humanity for the last sixty years.

With the captain and crew dead, injured, or taken prisoner, Mason and the cadets are all that's left to warn the ESC. And soon they find out exactly why the Tremist chose this ship to attack: the Egypt is carrying a weapon that could change the war forever.

Now Mason will have to lead the cadets in a daring assault to take back the ship, rescue the survivors, and recover the weapon. Before there isn't a war left to fight.

I've eyed Marianne Curley's writing for some time – her Guardians of Time series, in particular, has caught my eye. Now she has a new series coming out in the USA, so I'm keen to finally get started on Ms. Curley's work.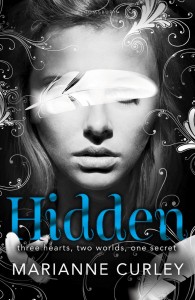 A love story that knows no bounds

Hidden with her family in a remote valley for sixteen years, Ebony doesnt know her true identity. She doesnt know that her parents have a secret they have never shared with her. But when her powers become as visible as her violet eyes and strange bumps appear on her back she starts to wonder where she really comes from. Then theres Jordan, who is drawn in by Ebonys eyes when he meets her at a party. When he is nearly killed during a fight at the same party, his life becomes entwined with hers in ways neither of them could ever have imagined.

Marianne Curleys talent for mixing sweeping romance with fantastical stories is back in full force in this start to a riveting and much-anticipated new trilogy.

I've never had the pleasure of reading Deborah Christian's science fiction work – but I noticed that she has a new sequel coming out to her 1997 novel, Mainline. Here's a little on both: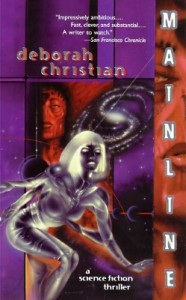 Bystanders, beware: Reva the assassin always gets her man, and anyone caught in the crossfire won't live to tell about it. Reva has the unique ability to see different lines of causality spread out before her. When she chooses any one of them, the other possibilities fade into nothingness and the new reality becomes her Mainline.


And book 2: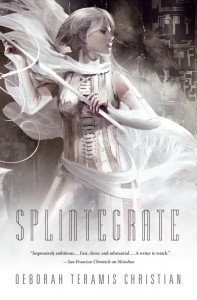 Promising SF and fantasy writer Deborah Teramis Christian published several successful novels in the late 1990s, then took a hiatus from writing to focus on other pursuits. Now she's back with a rousing stand-alone sequel to fan favorite Mainline.

One of the many charms of planet Lyndir is the Between-World, home to the licensed entertainers of the Sa'adani Empire. Perhaps the most famous is Kes, a professional dominatrix who has become a celebrity attraction at a palatial dungeon called Tryst.

The infamous interplanetary political operative Janus was the last man standing when his business fell apart on Selmun III, and is now a major cog in Lyndir's political machine. He's also one of Kes's most devoted clients. When a high-powered imperial authority decides she wants him out of the way, the seductive domna Kes is the most logical avenue. She would never betray a client's trust, but the threat to her and her Sa'adani sisters is so great that eventually she is forced to get involved.

Imprisoned, altered against her will, and turned into a brutal weapon by the highly experimental Splintegrate cloning technology, Kes is at war with herself as everything she holds dear falls apart around her. It will take an enormous triumph of will and help from some unlikely avenues for Kes to even hope to survive the government's machinations and pursue the independence she has yearned for throughout her life.

And that's it from us! What books do you have on YOUR radar?