Title: The Best of All Possible Worlds
Author: Karen Lord
Genre: Science Fiction
Publisher: Jo Fletcher Books / Del Rey
Publication date: January 31st / February 12th 2013
Hardcover: 352 pages
A proud and reserved alien society finds its homeland destroyed in an unprovoked act of aggression, and the survivors have no choice but to reach out to the indigenous humanoids of their adopted world, to whom they are distantly related. They wish to preserve their cherished way of life but come to discover that in order to preserve their culture, they may have to change it forever.

Now a man and a woman from these two clashing societies must work together to save this vanishing race—and end up uncovering ancient mysteries with far-reaching ramifications. As their mission hangs in the balance, this unlikely team—one cool and cerebral, the other fiery and impulsive—just may find in each other their own destinies . . . and a force that transcends all.
Stand alone or series: Stand alone
How did we get this book: We both received review copies from Netgalley
Format (e- or p-): e-ARC
Why did we read this book: Ana ADORED Karen Lord's first novel Redemption in Indigo and was excited about any new novels from her. After seeing Ana's enthusiastic reaction,
REVIEW
Ana's Take:
I loved Karen Lord's debut Redemption in Indigo and had been highly anticipating The Best of All Possible Worlds. The two books could not be more different but I was not disappointed in the least. In fact, I haven't loved a book this much in a while.
Definitions are hard but one could definitely pinpoint The Best of All Possible Worlds as an Anthropological Science Fiction Romance.
It's set at some point in the future and Cygnus Beta is a planet where different variants of human species have ended up, all somewhat related to the old Terran humans. As such, it is believed that some surviving genetic elements from the Sadiri – a highly developed lineage of proud, reserved and telepathic beings – still linger. Which is why Cygnus Beta sees the arrival of a small group of Sadiri settlers in search of a new home after their homeland – and most of their people – is wiped out in an unprovoked attack.
It's about survival: the Sadiri settlers hope to preserve their way of life by replicating their genetic make-up by finding Sadiri-related wives amongst the population of Cygnus Beta. Led by a Sadiri councillor named Dllenahkh, the young male Sadiri stomp around Cygnus Beta at first, desperate to start new families, guided by the basic instinct to procreate and continue their species. Until the obvious truth becomes clear as day: that they are going about it the wrong way, that Cygnus Beta's inhabitants have their own cultural/social practices. An initiative is started in which a group of government officials as well as and a number of the Sadiri are to travel Cygnus Beta's settlements and get to know its people.
It's a travelogue, most of it narrated in first person by a minor government biotechnician named Grace Delarua, whose account of the (roughly) two year period since the Sadiri arrived in Cygnus Beta is incredibly engaging, astute and funny. Delarua is an awesome character: smart, outspoken, resilient, compassionate, passionate. Her narrative voice is possibly one of the best things about The Best of All Possible Worlds and I loved her outlook: "Remember your ancestors, dream of your descendants, and work hard while you're living."
It's not strictly a plot-driven or character-driven novel: it is rather, a collection of linked episodes, some of them relating to Delarua, some of them relating to the Sadiri. There is a huge scope here not only in terms of what this travelling about present the characters with (diverse, different societies) but also in terms of storytelling – in fact, to have a play of words with the title, the novel presents the best of all possible stories because it features everything, its tone altering accordingly: there is adventure and romance but also tragedy and corruption. It can be an incredibly fun book at times (TIME TRAVEL! FLYING MONKS! RANDOM SURPRISE FAIRIES! [1. But not like you think]) but one that never ever stops being thoughtful. I loved how its genre bending, how it depicts a variety of female characters always in positive ways, how it examines different types of bonding; the terrible circumstances of unthinkable tragedy and the myriad of ways that it can affect people; how it addresses slavery and wrongdoings.
And then there is the romance. Oh, MY. Here is where any semblance of coolness and level-headed review-writing goes out the door. Because this was so FREAKING good and I loved the slow progression of Delarua and Dllenahkh's relationship. It included friendship, respect, admiration, bonding, understanding and navigating each other's characteristics (one is impulsive, the other so restrained, etc) as well as sexy-times (who KNEW that mere HAND HOLDING would be so freaking hot? Also: neck biting. Wowza). And even though I'd personally have huge problems with the type of telepathic bonding the two were getting into, I loved how they discussed and analysed what it meant for them both and how it was about negotiated choice and consent.
All that said, I did wonder about a couple of things. First of all, there is a choice here to focus exclusively on the male Sadiri survivors and their need to bond with a female. I would have certainly welcomed the opportunity to not only see how female survivors would have fared in this scenario but to see at least one LGBT character in that situation too – the impression I got was that in the Sadiri society the bonding between couples was primarily (if not exclusively) male-female. Please note, I am not saying that the story is heteronormative, because I don't think it is. In fact, it is very clear that the story welcomes diversity – one of the main characters identifies as asexual and gender-neutral; Delarua's mother is about to embark on a bi polyamorous relationship with a couple – it's only the Sadiri culture which seems to be solely heterosexual.
All things considered, I loved this book SO MUCH. It features a richly imagined diverse world where things don't have right or easy answers, awesome characters and a great narrative. And reader, I won't lie: the romance hit all the right spots for me. The Best of All Possible Worlds is definitely a Notable Read of 2013 and even though it's early days, a serious contender for a top 10 spot.
Thea's Take:
The Best of All Possible Worlds is the first book I've read by Karen Lord, and certainly won't be the last. This is a… strange book. It is a book that really defies classification or convention, or even basic summation. It is a science fiction novel, but it's not really focused on a central conflict or forward-moving plot. In fact, it reads much more like a loosely connected string of episodes (as Ana says), or short stories, as polyglot/biotech geek and mid-level government employee Grace Delarua is partnered with Dllenahkh, a Sadiri councilor, as he embarks on an exploratory mission to find pockets of (female) inhabitants across Cygnus Beta, with genetic backgrounds that closely match/are linked to the Sadiri, so as to produce offspring that are as close as possible to Sadiri in blood and appearance. You see, the Saidiri have been the victims of genocide on an unimaginable scale – the remaining survivors (mostly men) are now searching Cygnus Beta for suitable female partners for procreation, and Delarua's empathetic (and linguistic) skills make her a perfect candidate for a years-long road trip around the planet.
What ensues, of course, is a string of adventures (some more exciting than others), and the blossoming of an unlikely – but let's all be serious, we see it coming from lightyears away – romance between the passionate Delarua and the controlled Dllenahkh.
I agree with almost everything Ana has already said; The Best of All Possible Worlds is an undeniably fun book, one of those books that during the reading you get a silly smile plastered on your face because it's sweet, and funny and a little bit gooey (in a good way). Although I usually like a little more plot in my science fiction, its absence in this book is actually completely fine because of the detail of the world – most importantly, the people – of Cygnus Beta. I loved the insight of these different cultures and customs, the complications of bloodlines and ancient struggles
And yes, the romance is really wonderfully done, too. Both Delarua and Dllenahkh are compelling, lovable creatures (albeit slightly familiar ones). Delarua's sense of humor is reminiscent of certain urban fantasy heroines, while Dllenahkh is kind of, well, Vulcan-esque (in a good way, again).
What I wanted to touch on a little more concerns the premise of the book – Ana mentions it in her part, and I agree with her: the driving force behind the book is the Sadiri's need to create a future – their population has been largely annihilated, and the survivors (mostly virile, long-lived men) must find female partners with whom they can procreate and continue their genetic line. Not only does the exclusively male-female aspect of this make me a little uncomfortable, but the genetic line part is also food for discussion. In this future science fictional world, our protagonists go to great lengths to find "suitable" females (with taSadiri origins) with which the Sadiri can pursue reproductive relationships – I quote one character:
I want a wife, and children, and a family of my blood. I want sons and daughters who will look like my brothers and sisters who are gone, who will speak Sadiri and learn of Sadira and practice the mental disciplines. I want to see them married and grow old enough to see my grandchildren and great-grandchildren. I am the last of my line, the sole survivor of my family, like so many others on the homesteadings.
I am of two minds. I understand the need to preserve a culture, a people, the remnants of home. I get the struggle that Dllenahkh and his people grapple with, and I respect that. However, on the other side of that coin is Delarua and her argument, that "purity" is not the goal with which the Sadiri should be concerning themselves. It's fodder for discussion anyways, and I think worth bringing up.[2. And, on a deeply personal level (possibly inappropriate but my own opinion), as someone that is of mixed race, that looks NOTHING like one side of my family, this stings and bothers me.]
All in all, The Best of All Possible Worlds is a fun book, and one I thoroughly enjoyed. Recommended.
Notable Quotes/Parts:
The pilot slowed his step and looked uncertainly at him with eyes that streamed from the irritation of salt water.

"Something terrible has happened," Dllenahkh said simply.

Naraldi wiped at his wet face and gave no reply.

"My mother?" Dllenahkh prompted to break the silence, dread growing cold and heavy in his stomach.

"Yes, your mother," Naraldi confirmed abruptly. "Your mother, and my mother, and . . . everyone. Our home is no more. Our world is—­"

"No." Dllenahkh shook his head, incredulous rather than upset at the bitterness and haste of Naraldi's words. "What are you saying?"

He remembered that he was still thirsty and tried to raise the bowl again, but in the meantime his hands had gone chilled and numb. The bowl slipped. He snatched at it but only deflected it so that it struck hard on the side of the water jug and broke just in time to entangle his chasing fingers.

"Oh," was all he said. The cut was so clean, he felt nothing. "I'm sorry. Let me . . ." He crouched and tried to collect the larger fragments but found himself toppling sideways to rest on one knee.

Naraldi rushed forward. He grasped Dllenahkh's bleeding right hand, yanked the band from his hair, and folded Dlle­nahkh's fist around the wad of fabric. "Hold tight," he ordered, guiding Dllenahkh's left hand to clamp onto his wrist. "Don't let go. I'll get help."

He ran off down the beach toward the temple. Dllenahkh sat down carefully, away from the broken bits of glass, and obediently held tight. His head was spinning, but there was one small consolation. For at least the length of time it took Naraldi to return, he would remember the words of the guestmaster: he would not be curious, he would not seek to know, and he would not worry about how to right the tumbled world.
Additional Thoughts: ON THE COVER – because we can't really end this review without mentioning it – the U.S. cover of the book features a very light skinned person: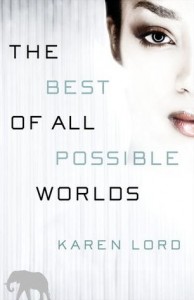 While this model is lovely (and appears Asian), there is no denying that she is very light skinned. Is she meant to reflect our heroine, Delarua – who has self-described cedar-brown skin? Whitewashing strikes again?
Rating:
Ana: 8 – Excellent
Thea: 7 – Very Good
Reading Next: The Girl is Murder by Kathryn Miller Haines
Buy the Book: