Welcome to Smugglivus 2012! Throughout this month, we will have daily guests – authors and bloggers alike – looking back at their favorite reads of 2012, and looking forward to events and upcoming books in 2013.
Who: Niall Alexander, who blogs over at The Speculative Scotsman on all things Speculative Fiction.

We are super pleased to have Niall as a Smugglivus guest again so please give him a warm welcome!

Aren't The Book Smugglers awesome? Ana and Thea are two of the very best bloggers in the business, balancing wit and insight – the intellectual aspirations of critical thinkers – with such warmth and good humour that visiting the site each day is akin to catching up with a few old friends over cups of cocoa.
I'm just about to begin my fourth year of blogging over at The Speculative Scotsman, and though I like to think that I'm a rather better writer than I was way back when I composed my first post, I still have so many lessons to learn from The Book Smugglers. Like how to celebrate Christmas!
This really is how you do it, isn't it?
When Ana and Thea invited me to take part in Smugglivus late last year, I was beside myself with pride. I spent weeks working on Twelve for 2012 — not because it required such a protracted period, but because I wanted my first post on this fine site to be as brilliant as those Ana and Thea author every day.
Ultimately, they accepted my contribution with their usual good grace, and then when it went live, everyone seemed to like it. This was wonderful, but I wasn't going to count my chickens until they hatched this winter… until I did – or did not – hear from Ana and Thea about this Smugglivus!
Long story short, it's an incredible pleasure to be back on The Book Smugglers, and not least a relief to still be considered amongst such wonderful company.
But I still haven't told you what I have up my sleeves for you all this year, have I? Well, last time I blogged about twelve of 2012's most exciting science fiction, fantasy and horror novels, and though I flirted with the idea of doing likewise for my second Smugglivus, the resulting post would have been too huge.
Instead, I opted for quality over quantity – and I cast my net slightly wider this time, to include film and television alongside literature.
Here, then, are a handful of genre-related reasons why 2013 is going to be anything but unlucky.
###
There are a couple of authors whose work I practically worship: foremost amongst them, K. J. Parker and China Mieville, both of whom have had new novels released every year for at least the last three. In all probability, there will be books bearing their names in 2013 – for once in my life, I'm hoping each begins a series after so many standalone narratives – but as yet no-one knows what or when or even if these will be.
So forgive me, but for my first pick, I'm going to plump for something that actually exists. Guy Gavriel Kay is another firm favourite of mine, right up there alongside the previous pair in the great fantasy food chain, plus he publishes rather more rarely than they. Thus, though there's been no word on a date for the UK, the release of River of Stars in North America in early April is especially exciting.
I'm not going to sit here rewording blurbs, so here's what Amazon says about River of Stars: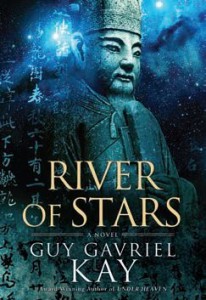 "In his critically acclaimed novel Under Heaven, Guy Gavriel Kay told a vivid and powerful story inspired by China's Tang Dynasty. Now, the international bestselling and multiple award-winning author revisits that invented setting four centuries later with an epic of prideful emperors, battling courtiers, bandits and soldiers, nomadic invasions, and a woman battling in her own way, to find a new place for women in the world – a world inspired this time by the glittering, decadent Song Dynasty.

"Ren Daiyan was still just a boy when he took the lives of seven men while guarding an imperial magistrate of Kitai. That moment on a lonely road changed his life — in entirely unexpected ways, sending him into the forests of Kitai among the outlaws. From there he emerges years later — and his life changes again, dramatically, as he circles towards the court and emperor, while war approaches Kitai from the north.

"Lin Shan is the daughter of a scholar, his beloved only child. Educated by him in ways young women never are, gifted as a songwriter and calligrapher, she finds herself living a life suspended between two worlds. Her intelligence captivates an emperor — and alienates women at the court. But when her father's life is endangered by the savage politics of the day, Shan must act in ways no woman ever has.

"In an empire divided by bitter factions circling an exquisitely cultured emperor who loves his gardens and his art far more than the burdens of governing, dramatic events on the northern steppe alter the balance of power in the world, leading to events no one could have foretold, under the river of stars."
So a sublime setting, an interesting era, and a narrative divided by courtly goings-on and the tide of some vast battle. Sounds like classic Guy Gavriel Kay to me! And no-one does it better than he.
But of course the proof will be in the pudding. Under Heaven> wasn't as warmly welcomed as Ysabel or The Last Light of the Sun – I adored it, but it was one of Kay's quieter fantasies – so a return to the world of that last is apt to sit strangely with some.
Me? I can hardly wait.
Luckily, I won't need to wait long for my second choice to come along. In early February in the US, Catilin R. Kiernan – returning from Twelve for 2012 after a career-best effort – will be back with Blood Oranges.
She's going with an open pseudonym for this – Blood Oranges is by Kathleen Tierney, you hear? – the better to set it apart from the darker fantasy of her back-catalogue, but I wouldn't worry about that. Here, meet our hero: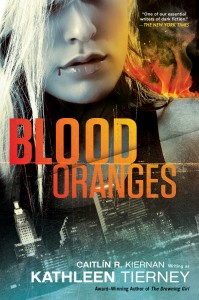 "My name's Quinn.

"If you buy into my reputation, I'm the most notorious demon hunter in New England. But rumors of my badassery have been slightly exaggerated. Instead of having kung-fu skills and a closet full of medieval weapons, I'm an ex-junkie with a talent for being in the wrong place at the right time. Or the right place at the wrong time. Or… whatever.

"Wanted for crimes against inhumanity I (mostly) didn't commit, I was nearly a midnight snack for a werewolf until I was "saved" by a vampire calling itself the Bride of Quiet. Already cursed by a werewolf bite, the vamp took a pint out of me too.

"So now… now, well, you wouldn't think it could get worse, but you'd be dead wrong."
Blood Oranges certainly sounds like standard urban fantasy, but as often as the author has essentially suggested that she's selling out, I'd be sorely surprised if this is anything less than excellent. Simply consider the poise of the prose Kiernan posts on her longstanding LiveJournal. There's more poetry there than you find in most whole novels.
Now I'm wondering how to link that paragraph with this next one about Star Trek Into Darkness.
Well, I guess I just did!
I can't imagine I need to explain the appeal of Star Trek to anyone. By now, you're either in or you aren't – as with Star Wars, about which, not unrelatedly, I could give a flying fig – so suffice it to say Star Trek Into Darkness is going to make a league of geeks very pleased indeed. I need not add that a few are sure to get angry about something… but don't they always, these days?
I'm far too interested in finally figuring who Benedict Cumberbatch's big bad will be to let that affect me. The best ever Sherlock may or may not be reprising the titular villain from Star Trek II: The Wrath of Khan. That would be wonderful. But if it was so straightforward, why the shroud of secrecy?
No-one knows a whole lot about the plot, either. This is all we've got:
"When the crew of the Enterprise is called back home, they find an unstoppable force of terror from within their own organization has detonated the fleet and everything it stands for, leaving our world in a state of crisis. With a personal score to settle, Captain Kirk leads a manhunt to a war-zone world to capture a one man weapon of mass destruction. As our heroes are propelled into an epic chess game of life and death, love will be challenged, friendships will be torn apart, and sacrifices must be made for the only family Kirk has left: his crew."
Look for Star Trek Into Darkness to answer all the questions you may or may not be asking when it hits cinemas in early summer.
But say you're more interested in crime fighters than the final frontier. I'm good with that too, as is Zack Snyder, director of what must be 2013's most exciting comic book movie, Man of Steel. Which is to say the new Superman, due out in June, the month after J. J. Abrams' Star Trek sequel.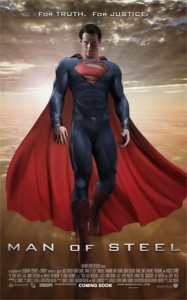 "In the pantheon of superheroes, Superman is the most recognized and revered character of all time. His alter ego, Clark Kent, is a young twenty-something journalist who feels alienated by powers beyond his imagination. Transported years ago to Earth from Krypton, a highly advanced, distant planet, Clark struggles with the ultimate question: 'Why am I here?'

"Shaped by the values of his adoptive parents Martha and Jonathan Kent, Clark discovers that having extraordinary abilities means making difficult decisions. When the world is in dire need of stability, an even greater threat emerges. Clark must become a Man of Steel, to protect the people he loves and shine as the world's beacon of hope — Superman."
I acknowledge I'm in the minority on this point, but I quite liked DC's last attempt to make their most enduring superhero into a profitable film franchise. And where Superman Returns had Bryan Singer, director of X2 and The Usual Suspects, Man of Steel has Zack Snyder, whose recent credits include such wastes of imagination as Sucker Punch and Legend of the Guardians: The Owls of Ga'Hoole. Enough said?
Actually no, I think not; in fact, I'm horribly hopeful. Snyder's place in the big chair may be a mixed blessing at best, but on the bright side, he's working from a script by The Dark Knight's David S. Goyer, meanwhile movie maestro Christopher Nolan is on overwatch. Add to that DC's obvious interests in developing a cinematic universe to rival the massive success of Marvel's – what with Justice League they've got to be throwing time and money and talent at this thing.
Plus, Henry Cavill looks, uh… pretty fantastic in Superman's skin-tight spandex.
So there's that!
And from film to television, beginning with the final episodes of Fringe. What with the end of it all almost upon us, this is hardly the time for me to campaign to turn the merely curious into whole-hog converts. That said, I wanted to take this opportunity to applaud Fox – there's a first time for everything, isn't there? – for giving this best-in-class science fiction series one last season.
Well, half of a last season, at least. But that's so much better than nothing!
Indeed, there's something about competed series that really appeals to me. So many shows meet with far less satisfying fates than Fringe – so few are allowed to end on their own terms – that the opportunity to see a whole story told, from start to finish, and with so few compromises, is precious rare these days.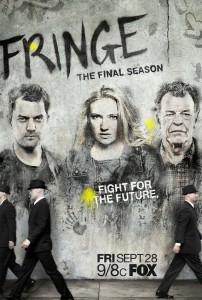 Fringe's feature-length final episode is scheduled to air on January 18th, but you don't have to watch if you don't want to – the ratings make no odds now – though I for one am incredibly eager to find out how it all ends. If I'm honest, I'll be satisfied so long as Peter and Olivia are allowed to live happily ever after, somehow.
If you haven't followed Fringe through thick and thin, however, might I suggest a marathon?
But unto all things, an end… and so the story goes for what must be my guiltiest pleasure since wetting the bed as a babe. Beginning the week after Fringe> finishes, Spartacus: War of the Damned promises to bring the story of the slave rebellion begun in Blood and Sand full circle: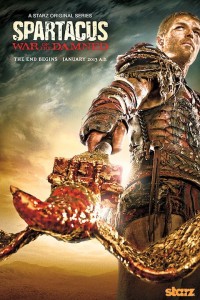 "Spartacus and his men have amassed major victories against the Romans after the Battle of Vesuvius, not least the defeat of Commander Gaius Claudius Glaber. As well as serving to forge a certain legend, these triumphs but have greatly increased the ranks of the rebellion, and now Rome begins to tremble at the threat Spartacus represents."
It took a few episodes for the first season of Starz' series to win me over, but when it had – when I realised what it was all about, which is to say sex and death – there was no going back: I bloody loved it.
Sadly, Spartacus was struck by tragedy soon after it began, when its leading man was diagnosed with non-hodgkins lymphoma. Andy Whitfield succumbed to this awful illness before the series' second season, leaving the show-runners with no choice but to recast his central role.
Aussie actor Liam McIntyre equipped himself quite well under the circumstances, but without Whitfield – never mind all the fantastic characters the creators knocked off narratively, before and after – the appeal of Spartacus has lessened a little every season since. So it's probably a good thing that the series is ending after just three years.
Still and all, I'll miss it.
Or will I? Because some very interesting news broke just before I submitted this article to Ana and Thea. Those in the know say that the world of Spartacus, if not the character, could continue on after War of the Damned by way of a new series revolving around Julius Caesar.
Will there be blood, I wonder? What about boobies and bulges? Answer these questions correctly and you can consider me interested!
Now to bring this look at the most sensational genre entertainment to come in 2013 to a close, we're going to circle back to where we started: to books, and a few more of my favourite writers. Conveniently, my last pair of picks are related, figuratively and literally: there's the father, and the son.
In fact, daddy featured in Twelve for 2012. I was perhaps jumping the gun a bit by declaring that Doctor Sleep would be out by now – instead, we'll have to wait till next September to read this Johnny come lately sequel to The Shining – but surely that speaks to my keenness to read the most important novel Stephen King has written since the final volume of The Dark Tower.
You want plot? I've got plot!
"On highways across America, a tribe of people called the True Knot travel in search of sustenance. They look harmless – mostly old, lots of polyester, and married to their RVs. But as Dan Torrance knows, and tween Abra Stone learns, the True Knot are quasi-immortal, living off the 'steam' that children with the 'shining' produce when they are slowly tortured to death.

"Haunted by the inhabitants of the Overlook Hotel, where he spent one horrific childhood year, Dan has been drifting for decades, desperate to shed his father's legacy of despair, alcoholism, and violence. Finally, he settles in a New Hampshire town, an AA community that sustains him and a job at a nursing home where his remnant 'shining' power provides the crucial final comfort to the dying. Aided by a prescient cat, he becomes Doctor Sleep. Then Dan meets the evanescent Abra Stone, and it is her spectacular gift, the brightest shining ever seen, that reignites Dan's own demons and summons him to a battle for Abra's soul and survival…"
For all that I've been entertained by Under the Dome – coming soon to a TV screen near you – Duma Key and 11/22/63, there's substantially more riding on Doctor Sleep than on any of those standalones. To the horror community, it's like a sequel to Citizen Kane. The question on everyone's lips is: who needs it, really?
I do, damn it! Of course there are those folks who say Stephen King has had his day, but this is an opinion I couldn't be more opposed to. Time and again our generation's most successful genre author has shown that he hasn't lost his touch. Add to that the fact that he's taken his sweet time putting the finishing touches to Doctor Sleep — I think the old fella's well aware of the stakes. And if the book wasn't good enough, would he really be publishing it?
I can hardly wait for September to go on and get here, the better to be absolutely sure I'm not talking nonsense. But did I hear someone say that's ages away? Well, worry not — we'll have hands on the last, but not the least of my picks significantly sooner. Here's a glimpse of what's to come from Stephen King's son: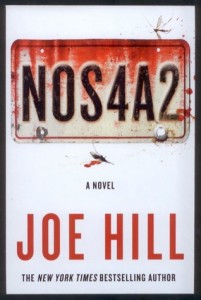 "Young Victoria McQueen has a gift for finding things: a lost bracelet, a treasured photograph, answers to unanswerable questions. All she has to do is ride her bike through the Shorter Way Bridge and she'll come out the other end wherever she needs to be . . . even if that's hundreds of miles away. Vic doesn't tell anyone about her unusual ability because she knows that no one would understand it. She doesn't understand it herself. And then she discovers she's not the only one with a special gift.

"There are others… like Charlie Manx, who takes children for rides in his 1938 Rolls-Royce Wraith with the vanity plate NOS4R2. Charlie drives his precious passengers away from all they've ever known: their families, their homes, even their own humanity. By the time they get where they're going – an astonishing secret place called Christmasland – they've changed, utterly. By the time they get out of the Wraith, they're truly Charlie's children; as unstoppable and insane as Manx himself.

"Only one kid ever escaped Charlie Manx: a very lucky girl named Vic McQueen. But the end of that nightmare was just the beginning of another. Vic's first brush with Manx lit the fuse on a life-and-death battle of wills, her magic pitted against his… a battle that explodes a quarter century later. Because now Manx has taken Vic's own son. And Vic McQueen is going to get him back, or die trying."
Clocking in at something like 700 pages, NOS4A2 is Hill's longest novel yet by a massive margin, which goes some way to explaining why it's been such a long time coming — after all, his last, Horns, hit just after I began blogging, and I must've been doing this thing for a lifetime at least.
Joe Hill hasn't disappointed me to date, so I'm going to go out on a limb here and say NOS4A2 looks great. On the other hand, I didn't exactly adore the excerpt teased in the e-book release of In the Tall Grass, the long short story Hill and King collaborated on earlier in 2012. So I suppose it could go either way at the end of April.
###
But would you look at that! All of a sudden I've written 3000 words. Thank heaven I didn't do Thirteen for 2013, right? : )
Huge thanks to those of you who've stuck with me from start to finish. I haven't been particularly painstaking here – the goal of this prodigious post was to cover a little something for everyone – but if you think I'm missing something massive, please do show me who's boss in the comments!
Before I go, great quantities of gratitude to Ana and Thea for inviting me to take part in The Book Smugglers' celebrations a second time. To them and to all of you too: here's hoping you have a superlative Smugglivus, and an unimpeachable 2013!
###
Thank you, Niall!