"On The Smugglers' Radar" is a feature for books that have caught our eye: books we have heard of via other bloggers, directly from publishers, and/or from our regular incursions into the Amazon jungle. Thus, the Smugglers' Radar was born. Because we want far more books than we can possibly buy or review (what else is new?), we thought we would make the Smugglers' Radar into a weekly feature – so YOU can tell us which books you have on your radar as well!
On Ana's Radar:
AAAAAAAAAAAAAAAAAAAA Martha Wells has a new YA book coming out with Strange Chemistry! ZOMFG: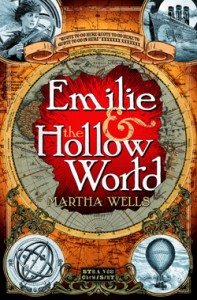 While running away from home for reasons that are eminently defensible, Emilie's plans to stow away on the steamship Merry Bell and reach her cousin in the big city go awry, landing her on the wrong ship and at the beginning of a fantastic adventure. Taken under the protection of Lady Marlende, Emilie learns that the crew hopes to use the aether currents and an experimental engine, and with the assistance of Lord Engal, journey to the interior of the planet in search of Marlende's missing father. With the ship damaged on arrival, they attempt to traverse the strange lands on their quest. But when evidence points to sabotage and they encounter the treacherous Lord Ivers, along with the strange races of the sea-lands, Emilie has to make some challenging decisions and take daring action if they are ever to reach the surface world again.

*flails* A NEW NEIL GAIMAN BOOK!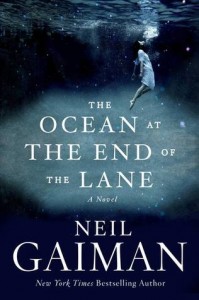 THE OCEAN AT THE END OF THE LANE is a fable that reshapes modern fantasy: moving, terrifying and elegiac – as pure as a dream, as delicate as a butterfly's wing, as dangerous as a knife in the dark, from storytelling genius Neil Gaiman.

It began for our narrator forty years ago when the family lodger stole their car and committed suicide in it, stirring up ancient powers best left undisturbed. Dark creatures from beyond the world are on the loose, and it will take everything our narrator has just to stay alive: there is primal horror here, and menace unleashed – within his family and from the forces that have gathered to destroy it.

His only defense is three women, on a farm at the end of the lane. The youngest of them claims that her duckpond is an ocean. The oldest can remember the Big Bang.

I came across this title on NetGalley and promptly requested it: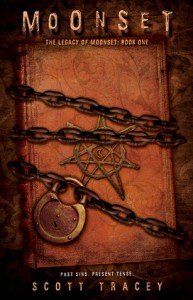 Justin Daggett, his trouble-making sister, and their three orphan-witch friends have gotten themselves kicked out of high school. Again. Now they've ended up in Carrow Mills, New York, the town where their parents—members of the terrorist witch organization known as Moonset—began their evil experiments with the dark arts one generation ago.

When the siblings are accused of unleashing black magic on the town, Justin fights to prove their innocence. But tracking down the true culprit leads him to a terrifying discovery about Moonset's past . . . and its deadly future.

The next title I found on Goodreads and I think it sounds fun: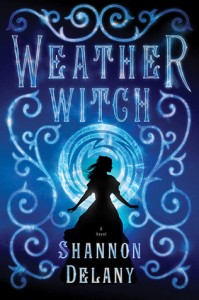 In a vastly different and darker Philadelphia of 1844, steam power has been repressed, war threatens from deep, dark waters, and one young lady of high social standing is expecting a surprise at her seventeenth birthday party–but certainly not the one she gets!

Jordan Astraea, who has lived out all of her life in Philadelphia's most exclusive neighborhood, is preparing to celebrate her birthday with friends, family and all the extravagance they might muster. The young man who is most often her dashing companion, Rowen Burchette, has told her a surprise awaits her and her best friend, Catrina Hollindale, wouldn't miss this night for all the world!

But storm clouds are gathering and threatening to do far more than dampen her party plans because someone in the Astraea household has committed the greatest of social sins by Harboring a Weather Witch.

This middle grade novel promises to be a smart, funny middle-grade mystery with a Rear Window twist. SOLD.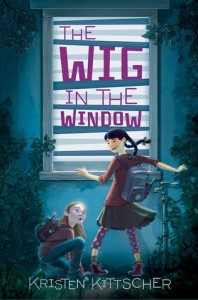 Sophie Young and Grace Yang have made a game of spying on their neighbors, but when they stake out the home of notoriously phony middle school counselor Dr. Charlotte Agford (aka Dr. Awkward), they stumble across a terrifying scene.

Or do they? The girls are convinced that Dr. Agford's sugary sweet façade hides a dark secret. But as they get closer to the truth about Agford, the strain of the investigation pushes Sophie and Grace farther apart. Even if they crack their case, will their friendship survive?

I also saw this on Goodreads via a link from my feed reader (I can't remember who from, sorry!) and think it looks like it could be a cool SciFi story. The tagline says: "In a futuristic world where personalities can be downloaded at will, who's a girl to trust?"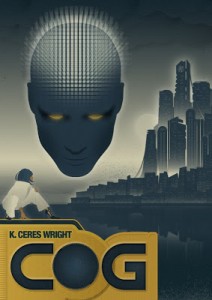 On Thea's Radar:
AAAAAA NEIL GAIMAN! AAAAA MARTHA WELLS! *commences flailing with Ana*
Ok, now that we've got that out of the way, first up on my radar, is this book that is said to be a perfect fit for fans of Neal Shusterman. SOLD.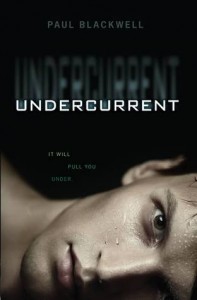 In this suspenseful teen thriller with a touch of the otherworldly, perfect for fans of Neal Shusterman, a boy goes over a waterfall and wakes up to find himself in a twisted version of the life he knew.

A shadowy figure. An intense roar. The sensation of falling—fast.

That's all Callum Harris remembers from his tumble over the waterfall. But when he wakes up in a hospital bed and finds his best friend trying to kill him, Callum knows something is seriously wrong. Unfortunately for him, the mysteries are just getting started.

Why are his parents acting like he's some big sports star all of a sudden? And why are all the buildings in town more run-down than Callum remembers? Worst of all…what happened to Callum's brother? Either Callum has gone seriously crazy or something happened when he went over the falls. Something impossible. Callum needs answers, and now. Because in this twisted new version of the life Callum knew, his former best friend isn't the only one who wants to see him dead.

Filled with mind-bending suspense and unsettling thrills, Undercurrent is a grippingly paced teen debut that will pull you under and never let go.

Next up, this book I swooped up at The Strand yesterday – I didn't know that Nancy Kress had a YA SF novel in the works?! Best surprise EVER. I'll be reading this one very, very soon.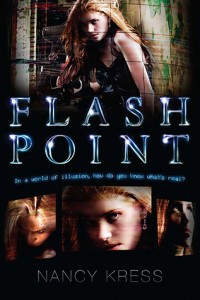 Reality TV meets a chillingly realistic version of America—and the fame game is on!

Amy had dreams of going to college, until the Collapse destroyed the economy and her future. Now she is desperate for any job that will help support her terminally ill grandmother and rebellious younger sister. When she finds herself in the running for a slot on a new reality TV show, she signs on the dotted line, despite her misgivings. And she's right to have them. TLN's Who Knows People, Baby—You? has an irresistible premise: correctly predict what the teenage cast will do in a crisis and win millions. But the network has pulled strings to make it work, using everything from 24/7 hidden cameras to life-threatening technology to flat-out rigging. Worse, every time the ratings slip, TLN ups the ante. Soon Amy is fighting for her life—on and off camera.

NEW RICK YANCEY. COMMENCE MORE FLAILING.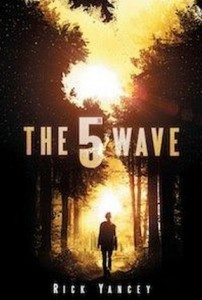 After the 1st wave, only darkness remains. After the 2nd, only the lucky escape. And after the 3rd, only the unlucky survive. After the 4th wave, only one rule applies: trust no one.

Now, it's the dawn of the 5th wave, and on a lonely stretch of highway, Cassie runs from Them. The beings who only look human, who roam the countryside killing anyone they see. Who have scattered Earth's last survivors. To stay alone is to stay alive, Cassie believes, until she meets Evan Walker. Beguiling and mysterious, Evan Walker may be Cassie's only hope for rescuing her brother–or even saving herself. But Cassie must choose: between trust and despair, between defiance and surrender, between life and death. To give up or to get up.

I picked up a copy of this next title at NYCC last month – excited, as some friends have said it was quite good.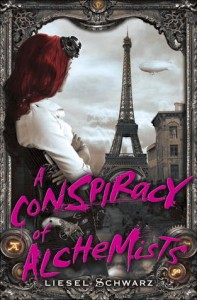 LEAVE IT TO CHANCE. Eleanor "Elle" Chance, that is—a high-flying dirigible pilot with a taste for adventure and the heroine of this edgy new series that transforms elements of urban fantasy, steampunk, and paranormal romance into pure storytelling gold.

It is 1903, and the world is divided between light and shadow. On the side of light is a wondrous science that has transformed everyday life by harnessing magical energies to ingenious new technologies. But each advance of science has come at the expense of shadow—the traditional realm of the supernatural.

Now two ancient powers are preparing to strike back. Blood-sucking immortal Nightwalkers and their spellcasting Alchemist allies have a plan to cover the whole world in shadow. All they require is the sacrifice of a certain young woman whose past conceals a dangerous secret.

But when they come after Elle, they get more than they bargained for. This enterprising young woman, the daughter of a scientific genius, has reserves of bravery and determination that even she scarcely suspects. Now she is about to meet her match in more ways than one: a handsome yet infuriating Warlock named Hugh Marsh, whose agenda is as suspect as his charms are annoyingly irresistible.

This next title I also picked up at comic con – it won me over at "robot revolution of 2071."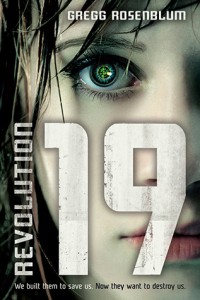 Twenty years ago, the robots designed to fight our wars abandoned the battlefields. Then they turned their weapons on us.

Only a few escaped the robot revolution of 2071. Kevin, Nick, and Cass are lucky —they live with their parents in a secret human community in the woods. Then their village is detected and wiped out. Hopeful that other survivors have been captured by bots, the teens risk everything to save the only people they have left in the world—by infiltrating a city controlled by their greatest enemies.

Revolution 19 is a cinematic thriller unlike anything else. With a dynamic cast of characters, this surefire blockbuster has everything teen readers want—action, drama, mystery, and romance. Written by debut novelist Gregg Rosenblum, this gripping story shouldn't be missed.

One of my favorite books of this year is The False Prince. I am SO FREAKING EXCITED that the second novel is coming soon. HUZZAH!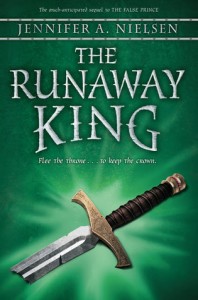 A kingdom teetering on the brink of destruction. A king gone missing. Who will survive? Find out in the highly anticipated sequel to Jennifer A. Nielsen's blockbuster THE FALSE PRINCE!

Just weeks after Jaron has taken the throne, an assassination attempt forces him into a deadly situation. Rumors of a coming war are winding their way between the castle walls, and Jaron feels the pressure quietly mounting within Carthya. Soon, it becomes clear that deserting the kingdom may be his only hope of saving it. But the further Jaron is forced to run from his identity, the more he wonders if it is possible to go too far. Will he ever be able to return home again? Or will he have to sacrifice his own life in order to save his kingdom?

The stunning second installment of The Ascendance Trilogy takes readers on a roller-coaster ride of treason and murder, thrills and peril, as they journey with the Runaway King!

And that's it from us! What books do you have on YOUR radar?