"On The Smugglers' Radar" is a new feature for books that have caught our eye: books we have heard of via other bloggers, directly from publishers, and/or from our regular incursions into the Amazon jungle. Thus, the Smugglers' Radar was born. Because we want far more books than we can possibly buy or review (what else is new?), we thought we would make the Smugglers' Radar into a weekly feature – so YOU can tell us which books you have on your radar as well!
On Ana's Radar:
The Murmurings sounds deliciously creepy – there isn't a proper back cover yet but listen to this: "After her older sister dies from an apparent suicide and her body is found hanging upside down by one toe from a tree, sixteen-year-old Sophie starts to hear the same voices that drove her sister to a psychotic break." Holy crap, right? I like the cover too: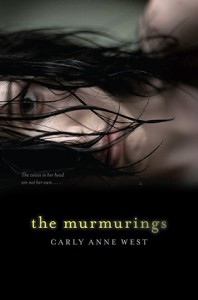 The next book is a historical piece featuring WWII and two female protagonists who are stage illusionists. Oh, please Lord of the Books, let this be as awesome as it sounds!
When two beautiful teenage stage magicians in World War II England meet a pair of handsome men who can do real magic, sparks fly. But is it illusion, or delusion? Opening-night jitters are nothing new for Phil and Fee Albion, who come from a long line of stage illusionists. The girls love to dazzle London audiences, but in the aftermath of the Blitz they're bundled off to the countryside, where they're safe from bombs and Nazis–and bored to pieces. Phil, always the passionate one, discovers a hidden college of real magicians led by the devastatingly handsome Arden. If only Phil can persuade these unworldly magicians to help England win the war! Daredevil that she is, she'll risk anything to give her country a fighting chance, even if it means losing her heart . . . or her life.

Clare Vanderpool wrote the 2011 Newbery Award-winning Moon Over Manifest (which I still need to read) and now has a new book coming out in 2013. It's a post-WWII novel and it sounds absolutely like an Ana-book: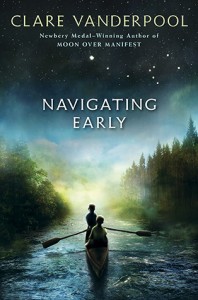 At the end of World War II, Jack Baker, a landlocked Kansas boy, is suddenly uprooted after his mother's death and placed in a boy's boarding school in Maine. There, Jack encounters Early Auden, the strangest of boys, who reads the number pi as a story and collects clippings about the sightings of a great black bear in the nearby mountains.

Newcomer Jack feels lost yet can't help being drawn to Early, who won't believe what everyone accepts to be the truth about the Great Appalachian Bear, Timber Rattlesnakes, and the legendary school hero known as The Fish, who never returned from the war. When the boys find themselves unexpectedly alone at school, they embark on a quest on the Appalachian Trail in search of the great black bear.

But what they are searching for is sometimes different from what they find. They will meet truly strange characters, each of whom figures into the pi story Early weaves as they travel, while discovering things they never realized about themselves and others in their lives.

Thea came across Crow Country and thought it was another Ana-book. I read the blurb and I totally agree. Listen to this: "contemporary time travel fantasy, grounded in the landscape of Australia". RIGHT? How could I not want to read it?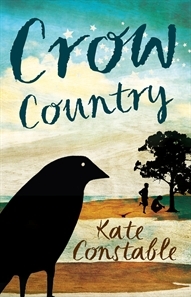 From the author of the Chanters of Tremaris series comes a contemporary time travel fantasy, grounded in the landscape of Australia Beginning and ending, always the same, always now. The game, the story, the riddle, hiding and seeking. Crow comes from this place; this place comes from Crow. And Crow has work for you.

Sadie isn't thrilled when her mother drags her from the city to live in the country town of Boort. But soon she starts making connections—with the country, with the past, with two boys, Lachie and Walter, and, most surprisingly, with the ever-present crows. When Sadie is tumbled back in time to view a terrible crime, she is pulled into a strange mystery. Can Sadie, Walter, and Lachie figure out a way to right old wrongs, or will they be condemned to repeat them? A fantasy ground in mythology, this novel has the backing of a full consultative process on the use of indigenous lore.

On Thea's Radar:
Before I dive into my portion of the radar, can I just say – this is our 100th On The Smugglers' Radar post!!! HOLY CRAP. Here's to 100 more!
And now, for the books: First up, we have the cover to the sequel of Barry Lyga's fantastic I Hunt Killers! No official blurb yet, but here's some teaser information from Barry's blog.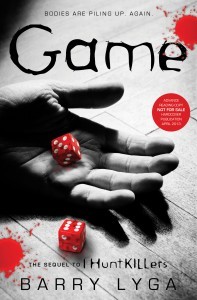 What's it about? Well, it's a few months after the events of the first book. Billy Dent is free. Jazz is tending to some long-overdue business.

And like the cover says: Bodies are piling up. Again.

Everyone from the first book is back, along with some new characters. And a new location.

And since it's the second book, everything – everything — gets so much worse…

Game. April 2013. Are you ready?
Yes. Yes I am.

Then, there's the second book in Andrew Fukuda's completely implausible yet totally fun Hunt series: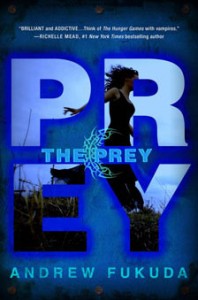 For Gene and the remaining humans—or hepers—death is just a heartbeat away. On the run and hunted by society, they must find a way to survive in The Vast… and avoid the hungry predators tracking them in the dark. But they're not the only things following Gene. He's haunted by the girl he left behind and his burgeoning feelings for Sissy, the human girl at his side.

When they discover a refuge of exiled humans living high in the mountains, Gene and his friends think they're finally safe. Led by a group of intensely secretive elders, the civilisation begins to raise more questions than answers. A strict code of behaviour is the rule, harsh punishments are meted out, young men are nowhere to be found—and Gene begins to wonder if the world they've entered is just as evil as the one they left behind. As life at the refuge grows more perilous, he and Sissy only grow closer. In an increasingly violent world, all they have is each other… if they can only stay alive.

THEN, there's the new cover for the next Mercy Thompson book! EEEEEEEE!!!!! It has been SO LONG!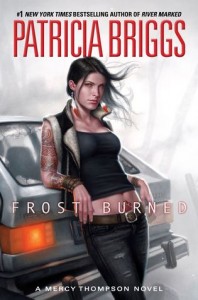 Shapeshifter Mercy Thompson's life is calming down, at least enough that she can focus on mundane matters like Black Friday sales. But on her return, Mercy is unable to contact her mate, Alpha Adam Hauptman, or the other members of their pack. All she knows is that Adam is angry and in pain. With the werewolves fighting a political battle to gain acceptance from the public, Mercy fears Adam's disappearance may be related – and that he and the pack are in serious danger. Outclassed and on her own, Mercy may be forced to seek assistance from the most unlikely of allies: the vampire seethe.

Then, here's the new title from Megan Miranda that sounds like a promising thriller: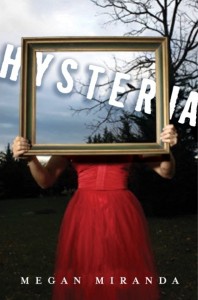 Mallory's life is falling apart. Her boyfriend was stabbed. He bled to death in her kitchen. Mallory was the one who stabbed him. But she can't remember what happened that night. She only remembers the fear . . .

When Mallory's parents send her away to a boarding school, she thinks she can escape the gossip and the threats. But someone, or something, has followed her. There's the hand that touches her shoulder when she's drifting off to sleep. A voice whispering her name. And everyone knows what happened. So when a pupil is found dead, Mallory's name is on their lips. Her past can be forgotten but it's never gone. Can Mallory live with that?

This cover first caught my eye, and then the synopsis soon followed. How could I resist a book that looks at the very real truth of honeybee mass deaths worldwide, combined with a horror element (ala The Homing)?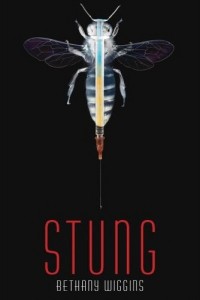 When bees become an endangered species, the government genetically modifies them, causing their sting to induce deadly flu-like symptoms in humans. So they create a vaccine–a vaccine that changes children into ferocious, deadly beasts, forcing communities to fend for themselves or die. So the uninfected built a wall. And Fiona has awakened on the wrong side.

Look! Little Brother has a sequel! While I'm not the biggest fan of Cory Doctorow's characters for their voice issues (all his characters are brilliant, snarky, and tend to sound just like Cory Doctorow), I can't help but love his books – especially Little Brother. Very excited for this one:
The direct sequel to Little Brother — in which Marcus finds himself once again risking everything to take on creeping tyranny and surveillance

Just a few years after Little Brother, Marcus's problems are back: California's economy has collapsed, taking his parents and his university tuition with it. But M1k3y's political past saves him and lands him a job as webmaster for a muckraking politician who promises reform.

Things are never simple, though, as Marcus discovers when his onetime girlfriend Masha emerges from the political underground to gift him with a thumbdrive containing a Wikileaks-style cable-dump full of hard evidence of conscious corporate and governmental perfidy. It's incendiary stuff — and if Masha goes missing, Marcus is supposed to release it to the world.

But Marcus can't out himself as the Bradley Manning of this leak, because if he does he'll cost his employers the election. And he's surrounded by friends and acquaintances who regard him as a hacker hero. He can't even attend a demonstration without being dragged onstage and handed a mike. Nobody — his current girlfriend, his weary parents, his progressive-minded employer, his hacker admirers — knows just how unsure of himself he really is.

Meanwhile, hard people are beginning to shadow him, people who look like they've got plenty of experience inflicting pain until they get the answers they want. Inflicting it on Marcus… or, worse, on people he loves.

Fast-moving, passionate, and as current as next week, Homeland is every bit the equal of Little Brother — a paen to activism, to courage, to the drive to make the world a better place.

And that's it from us! What books do you have on YOUR radar?