"On The Smugglers' Radar" is a feature for books that have caught our eye: books we have heard of via other bloggers, directly from pubmorelishers, and/or from our regular incursions into the Amazon jungle. Thus, the Smugglers' Radar was born. Because we want far more books than we can possibly buy or review (what else is new?), we thought we would make the Smugglers' Radar into a weekly feature – so YOU can tell us which books you have on your radar as well!
On Ana's Radar:
Oh the second book in Jaclyn Moriarty's The Colors of Madeleine series has a cover!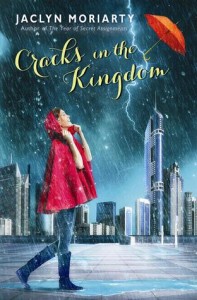 Princess Ko's been bluffing about the mysterious absence of her father, desperately trying to keep the government running on her own. But if she can't get him back in a matter of weeks, the consequence may be a devastating war. So under the guise of a publicity stunt she gathers a group of teens — each with a special ability — from across the kingdom to crack the unsolvable case of the missing royals of Cello.

Chief among these is farm-boy heartthrob Elliot Baranski, more determined than ever to find his own father. And with the royal family trapped in the World with no memory of their former lives, Elliot's value to the Alliance is clear: He's the only one with a connection to the World, through his forbidden communications with Madeleine.

Through notes, letters, and late nights, Elliot and Madeleine must find a way to travel across worlds and bring missing loved ones home. The stakes are high, and the writing by turns hilarious and suspenseful, as only Jaclyn Moriarty can be.

New Sara Zarr ContempYA coming out next month: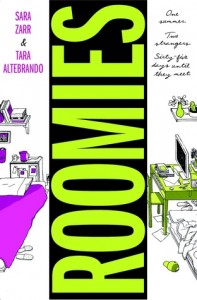 It's time to meet your new roomie.

When East Coast native Elizabeth receives her freshman-year roommate assignment, she shoots off an e-mail to coordinate the basics: television, microwave, mini-fridge. That first note to San Franciscan Lauren sparks a series of e-mails that alters the landscape of each girl's summer — and raises questions about how two girls who are so different will ever share a dorm room.

As the countdown to college begins, life at home becomes increasingly complex. With family relationships and childhood friendships strained by change, it suddenly seems that the only people Elizabeth and Lauren can rely on are the complicated new boys in their lives . . . and each other. Even though they've never met.

National Book Award finalist Sara Zarr and acclaimed author Tara Altebrando join forces for a novel about growing up, leaving home, and getting that one fateful e-mail that assigns your college roommate.

Saw this MG on Netgalley – I love the cover and it sounds good: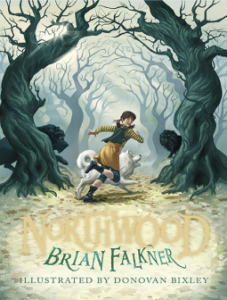 An illustrated modern fairy-tale from award-winning author Brian Falkner.

Cecilia Undergarment likes a challenge. So when she discovers a sad and neglected dog, she is determined to rescue him. But her darling dog rescue lands her lost and alone in the dark forest of Northwood. A forest where ferocious black lions roam. A forest where those who enter never return. But then Northwood has never seen the likes of Cecilia Undergarment before…

I am really looking forward to reading The Falconer and now it has a US cover: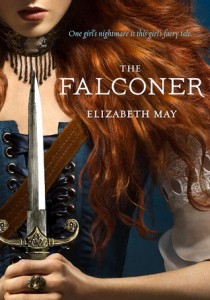 Edinburgh, Scotland, 1844

Lady Aileana Kameron, the only daughter of the Marquess of Douglas, was destined for a life carefully planned around Edinburgh's social events – right up until a faery killed her mother.

Now it's the 1844 winter season and Aileana slaughters faeries in secret, in between the endless round of parties, tea and balls. Armed with modified percussion pistols and explosives, she sheds her aristocratic facade every night to go hunting. She's determined to track down the faery who murdered her mother, and to destroy any who prey on humans in the city's many dark alleyways.

But the balance between high society and her private war is a delicate one, and as the fae infiltrate the ballroom and Aileana's father returns home, she has decisions to make. How much is she willing to lose – and just how far will Aileana go for revenge?

Thea really enjoyed Django Wexler's The Thousand Names and although that book wasn't up my alley, I do still want to try other books from the author, like this MG one!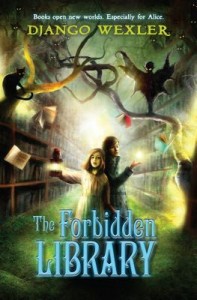 The Forbidden Library kicks off a brand new classic fantasy series perfect for fans of Coraline, Inkheart, and The Books of Elsewhere

Alice always thought fairy tales had happy endings. That–along with everything else–changed the day she met her first fairy

When Alice's father goes down in a shipwreck, she is sent to live with her uncle Geryon–an uncle she's never heard of and knows nothing about. He lives in an enormous manor with a massive library that is off-limits to Alice. But then she meets a talking cat. And even for a rule-follower, when a talking cat sneaks you into a forbidden library and introduces you to an arrogant boy who dares you to open a book, it's hard to resist. Especially if you're a reader to begin with. Soon Alice finds herself INSIDE the book, and the only way out is to defeat the creature imprisoned within.

It seems her uncle is more than he says he is. But then so is Alice.

On Thea's Radar:
First up on my radar, two books that the lovely Ana Banana found for me! Did you know that Kenneth Oppel has a new series coming out?!?! Me neither. But HOORAY! (This reminds me, I need to read Starclimber at some point soon.)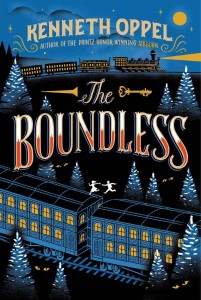 All aboard for an action-packed escapade from the internationally bestselling author of Airborne and the Silverwing trilogy.

The Boundless, the greatest train ever built, is on its maiden voyage across the country, and first-class passenger Will Everett is about to embark on the adventure of his life!

When Will ends up in possession of the key to a train car containing priceless treasures, he becomes the target of sinister figures from his past.

In order to survive, Will must join a traveling circus, enlisting the aid of Mr. Dorian, the ringmaster and leader of the troupe, and Maren, a girl his age who is an expert escape artist. With villains fast on their heels, can Will and Maren reach Will's father and save The Boundless before someone winds up dead?

Then, here's the sequel to Linked – a YA SF book that came out earlier this year and completely took me by surprise because I loved it so much.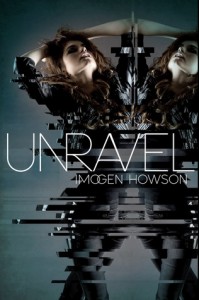 Untold dangers await telepathic twins in this sequel to the futuristic, romantic thriller BCCB called "classic sci-fi, space-travel adventure at its best."

After Elissa and Lin exposed the government's secret experiments in Linked, which Booklist called "a roller-coaster ride into space that just about everyone should enjoy," their home planet Sekoia is thrown into chaos. Determined to do their part to help the planet they've hurt, they return to Sekoia—only to discover that things are far worse that they imagined. Resources are suddenly scarce, people are scared, and there's a rising current of anger against the Spares.

When Lissa and Lin find themselves among another group of Spares and twins, they feel like they've found their kindred spirits at last. But a threat none of them could have expected is lying in wait for Sekoia's Spares…

Then there's this sequel to Starters – which was ridiculous, but I still kinda loved it in a guilty pleasure way. Needless to say, I'm going to read the follow-up.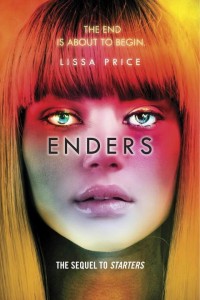 The riveting conclusion to the sci-fi thriller STARTERS!

Someone is after Starters like Callie and Michael-teens with chips in their brains. They want to experiment on anyone left over from Prime Destinations-Starters who can be controlled and manipulated. With the body bank destroyed, Callie no longer has to rent herself out to creepy Enders. But Enders can still get inside her mind and make her do things she doesn't want to do. Like hurt someone she loves. Having the chip removed could save her life-but it could also silence the voice in her head that might belong to her father. Callie has flashes of her ex-renter Helena's memories, too…and the Old Man is back, filling her with fear. Who is real and who is masquerading in a teen body?

No one is ever who they appear to be, not even the Old Man. Determined to find out who he really is and grasping at the hope of a normal life for herself and her younger brother, Callie is ready to fight for the truth. Even if it kills her.

This next book sounds, and looks, like it could be ridiculous. But I like the idea of a hardened teenage prisoner fighting a brutal all-seeing police force and seeking revenge – maybe I'll give this a shot.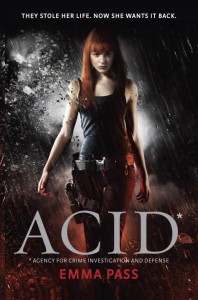 The year is 2113. In Jenna Strong's world, ACID-the most brutal controlling police force in history-rule supreme. No throwaway comment or whispered dissent goes unnoticed-or unpunished. And it was ACID agents who locked Jenna away for life, for a horrendous crime she struggles to remember. But Jenna's violent prison time has taught her how to survive by any means necessary. When a mysterious rebel group breaks her out, she must use her strength, speed, and skill to stay one step ahead of ACID, and try to uncover the truth about what really happened on that terrible night two years ago. They have taken her life, her freedom, and her true memories away from her. How can she reclaim anything when she doesn't know who to trust?

Strong, gritty writing, irresistible psychological suspense, and action consume the novel as Jenna struggles to survive against the all-controlling ACID. Seriously sinister stuff.

And that's it from us! What books do you have on YOUR radar?