"Inspirations and Influences" is a series of articles in which we invite authors to write guest posts talking about their…well, Inspirations and Influences. The cool thing is that the writers are given free rein so they can go wild and write about anything they want: their new book, series or career as a whole.
Début author Oksana Marafioti's book American Gypsy: A Memoir comes out today and is a fascinating account of her teenage years after she left Russia to make a new life in America with her Gypsy family. We are delighted to welcome the author today to talk about a bit more about the magic of performance – and of writing.
Please give it up for Oksana!

I moved to America at the age of fifteen, but my mother often says that had we stayed in Russia I would've become a singer or a dancer, making my living on stage the way most of my family has done for generations.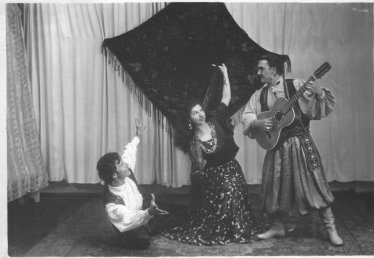 She's probably right. I'm hopelessly addicted to the magic of performance. More likely I would naturally end up on stage, using, as a guide, that same instinct which leads baby turtles from their nest to water. Somehow, they always know where to go.
The choice would have little to do with my Romani blood—contrary to popular belief, many Gypsies work regular jobs as teachers, doctor, lawyers and such—but a ton to do with my childhood. Mine was a stage family, my reality not unlike that of Broadway and rock stars. I slept in stations of public transport, ate restaurant food, and watched my parents and grandparents don their stage costumes nightly and dash about their dressing rooms in search of that last and most essential piece of jewelry (they were always late for their cues). Funny thing, though, they could be nutty as Mad Hatter in those minutes before the show, but once on stage they'd get all passionate and elegant and draw the audience to them like moon pulling the tides.
Because of them the stage holds the ultimate magic in my heart, or rather, the performing it inspires. I may not be a singer or a dancer, but performance is part of my soul, and even as a writer I get to hold a mike and entertain. You would think there isn't much stage time in this profession, but you'd be wrong. Writers build their own stages where they, too, find magic. The magic simmers just beneath this reality we're so attached to, and they draw back the curtain and let us peek inside. We sense that enchantment whenever we can't put down a book, its words painting us a new reality. As a writer, my stage may not be the elevated platform that my parents and grandparents performed on; no, it is much bigger. A writer's stage encompasses the entire world in which all readers can imagine. It exists within us all, and it is endless.

About the Author: At fifteen Oksana knows more about dancing in her family's Romani ensamble and aiding in her father's exorcism sessions than she does about being a typical teenager. When the family moves from the Soviet Union to America, Oksana believes a chance at a different life has arrived.
Until her father opens a psychic shop in the middle of Hollywood.In this affecting, hilarious memoir, Marafioti cracks open the secretive world of the Roma and brings the absurdities, miscommunications, and unpredictable victories of the immigrant experience to life.
Read more about Oksana on her website.
And make sure to come back later today to read Ana's review of American Gypsy.