"On The Smugglers' Radar" is a new feature for books that have caught our eye: books we have heard of via other bloggers, directly from publishers, and/or from our regular incursions into the Amazon jungle. Thus, the Smugglers' Radar was born. Because we want far more books than we can possibly buy or review (what else is new?), we thought we would make the Smugglers' Radar into a weekly feature – so YOU can tell us which books you have on your radar as well!
On Ana's Radar:
Thanks to My Favourite Books, I learnt about this new children's imprint Hot Key Books and their launch catalogue looks FAB. The next three titles are theirs: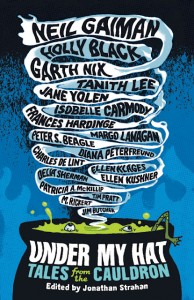 A stellar cast of acclaimed fantasy writers weave spell?binding tales that bring the world of witches to life. Boasting over 70 awards between them (including a Newbery Medal, five Hugo Awards and a Carnegie Medal), authors including Neil Gaiman, Garth Nix and Holly Black delve into the realms of magic to explore all things witchy…

From talking familiars, to covens that offer dark secrets to explore, these are tales to tickle the hair on the back of your neck and send shivers down your spine.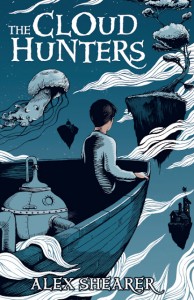 Set in an imagined world where water has run out and the Cloud Hunters take to the sky to harvest water from the clouds.

In a world where water is scarce and jellyfish swim through the sky, mollycoddled teenager Christian dreams of excitment and danger. When he meets the exotic and alluring Jenine and her family of Cloud Hunters, he becomes determined to fulfil that dream…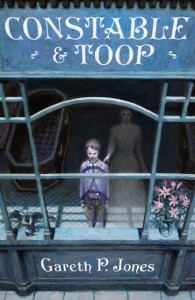 Sam Toop lives in a funeral parlour. While his dad buries the dead, Sam is haunted by their constant demands for attention. Trouble is afoot on the "otherside" and there is a mysterious disease imprisoning ghosts into empty houses, leaving Sam caught in the middle.

I love Seanan MgGuire's Toby Daye series so much but I am woefully behind (still have to read One Salt Sea). Still, will definitely read that before Ashes of Honor comes out later this year. The cover has been released: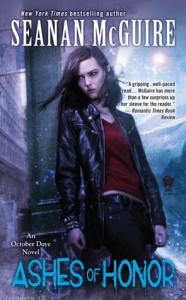 I LOVED The Girl Who Circumnavigated Fairyland in a Ship of her Own Making and can't wait to read its sequel. SQUEE!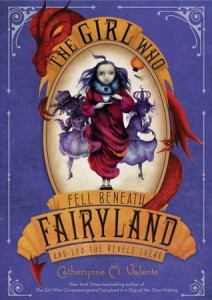 September returns to Fairyland to reunite with A-Through-L, Saturday, and Gleam, and to confront her shadow-self, who has become the queen of Fairyland-Below, the upside-down world beneath the Fairyland of the first novel, filled with creatures of water and shadow, tales of ancient Fairyland before the human world was born, and not a few hungry buffins, blind birds of ice and moonlight. The yearly revels of Fairyland-Below climax in a mysterious rite September must avert or else lose her shadow forever.

On Thea's Radar:
YES! Double-squee on the new Fairyland book – I cannot wait to get my hands on it. Now, on my radar, there's this title I just got on NetGalley. The blurb sounds great (historical/horror/fantasy), and I love the howling wolf silhouette in the treeline. You see it. THERE it is.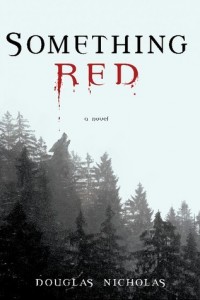 From debut novelist Douglas Nicholas comes a haunting fantasy of love, murder, and sorcery set in one of the coldest winters of thirteenth-century England.

During the 1200s in northwest England, in one of the coldest winters in living memory, a formidable middle-aged Irishwoman and the troupe she leads are trying to drive their three wagons across the mountains before the heavy snows set in. Molly, her powerful and enigmatic lover, her fey granddaughter, and her young apprentice, soon discover that something terrible prowls the woods. As the group travels from refuge to refuge, it becomes apparent that the mysterious evil force must be faced and defeated—or else they will surely die.

An intoxicating and spirited blend of fantasy, mythology, and history, Something Red features the most fascinating of characters including shapeshifters, Irish battle queens, Norman knights, Templars, pilgrims, Saracens, a Lithuanian noblewoman, warrior monks, strong—even dangerous—women, and ten murderous mastiffs, as well as an epic snowstorm that an early reader described as "one of the coldest scenes since Snow Falling on Cedars."

Next up, this forthcoming contemporary fantasy from Tor has a great cover and sounds promising: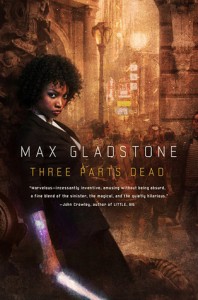 A God has died, and it's up to Tara, first-year associate in the international necromantic firm of Kelethres, Albrecht, and Ao, to bring Him back to life before His city falls apart.

Her client is Kos, recently deceased fire god of the city of Alt Coulumb. Without Him, the metropolis's steam generators will shut down, its trains will cease running, and its four million citizens will riot. Tara's job: resurrect Kos before chaos sets in. Her only help is Abelard, a chain-smoking priest of the dead God, who's having an understandable crisis of faith.

But when the duo discover that Kos was murdered, they have to make a case in Alt Coulumb's courts—and their quest for truth endangers their partnership, their lives, and the city's slim hope of survival.

Another forthcoming fantasy (historical) that looks and sounds like something both Ana and I will enjoy: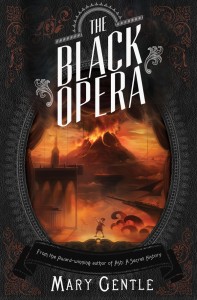 Naples, the 19th Century. In the Kingdom of the Two Sicilies, holy music has power. Under the auspices of the Church, the Sung Mass can bring about actual miracles like healing the sick or raising the dead. But some believe that the musicodramma of grand opera can also work magic by channeling powerful emotions into something sublime. Now the Prince's Men, a secret society, hope to stage their own black opera to empower the Devil himself – and change Creation for the better! Conrad Scalese is a struggling librettist whose latest opera has landed him in trouble with the Holy Office of the Inquisition. Rescued by King Ferdinand II, Conrad finds himself recruited to write and stage a counter opera that will, hopefully, cancel out the apocalyptic threat of the black opera, provided the Prince's Men, and their spies and saboteurs, don't get to him first. And he only has six weeks to do it…

Victorian secret societies, women with magical abilities, uh – HELL YES. Obviously, I am in.
In the bestselling tradition of The Night Circus and Sarah Waters's The Little Stranger, Adam McOmber's hauntingly original debut novel follows a young woman in Victorian England whose peculiar abilities help her infiltrate a mysterious secret society.

Young Jane Silverlake lives with her father at a crumbling family estate on the edge of Hampstead Heath. Jane has a secret—an unexplainable gift that allows her to see the souls of manmade objects—and this talent isolates her from the outside world. Her greatest joy is wandering the wild heath with her neighbors, Madeline and Nathan. But as the friends come of age, their idyll is shattered by the feelings both girls develop for Nathan, and by Nathan's interest in a cult led by Ariston Day, a charismatic mystic popular with London's elite. Day encourages his followers to explore dream manipulation, with the goal of discovering a new virtual reality, a place he calls the Empyrean.

A year later, Nathan has vanished, and the famed Inspector Vidocq arrives in London to untangle the events that led up to Nathan's disappearance. As a sinister truth emerges, Jane realizes she must discover the origins of her talent and use it to find Nathan herself, before it's too late.

Adam McOmber, whose short story collection This New and Poisonous Air earned glowing praise for its evocative prose, here reveals a gift for fantastical twists and dark turns that literary fans will relish.

I *love* this cover and title – so evocative, no?! – and cannot wait to read this new take on superheroes.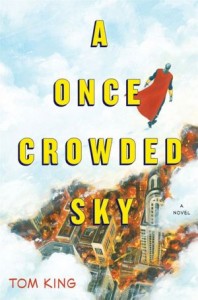 The superheroes of Arcadia City fight a wonderful war, and play a wonderful game, forever saving yet another day. However, after sacrificing both their powers and Ultimate, the greatest hero of them all, to defeat the latest apocalypse, these comic book characters are transformed from the marvelous into the mundane.

After too many battles won and too many friends lost, The Soldier of Freedom was fine letting all that glory go. But when a new threat blasts through his city, Soldier, as ever, accepts his duty and reenlists in this next war. Without his once amazing abilities, he's forced to seek the help of the one man who walked away, the sole hero who refused to make the sacrifice— PenUltimate, the sidekick of Ultimate, who through his own rejection of the game has become the most powerful man in the world, the only one left who might still, once again, save the day.

A tour de force debut novel from a former CIA counterterrorism officer, A Once Crowded Sky fuses the sensibility of bombastic, comic-book-style storytelling with modern literary fiction to bring to life a universe of supermen stripped of their powers, newly mortal men forced to confront danger in a world without heroes.

Another crossover fantasy novel here! Boring cover aside, the blurb sounds wonderful and I cannot wait to read this one.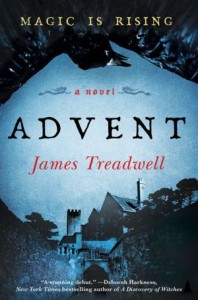 A drowning, a magician's curse, and a centuries-old secret.

1537. A man hurries through city streets in a gathering snowstorm, clutching a box in one hand. He is Johann Faust, the greatest magician of his age. The box he carries contains a mirror safeguarding a portion of his soul and a small ring containing all the magic in the world. Together, they comprise something unimaginably dangerous.

London, the present day. Fifteen-year-old Gavin Stokes is boarding a train to the countryside to live with his aunt. His school and his parents can't cope with him and the things he sees, things they tell him don't really exist. At Pendurra, Gavin finds people who are like him, who see things too. They all make the same strange claim: magic exists, it's leaking back into our world, and it's bringing something terrible with it.

First in an astonishingly imaginative fantasy trilogy, Advent describes how magic was lost to humanity, and how a fifteen-year-old boy discovers that its return is his inheritance. It begins in a world recognizably our own, and ends an extraordinarily long way from where it started—somewhere much bigger, stranger, and richer.

And that's it from us! What books do you have on YOUR radar?