"On The Smugglers' Radar" is a new feature for books that have caught our eye: books we have heard of via other bloggers, directly from publishers, and/or from our regular incursions into the Amazon jungle. Thus, the Smugglers' Radar was born. Because we want far more books than we can possibly buy or review (what else is new?), we thought we would make the Smugglers' Radar into a weekly feature – so YOU can tell us which books you have on your radar as well!
In honor of Middle Grade Appreciation Week, we gladly give you our MG and YA-only radar!
On Ana's Radar:
I really enjoyed The Invisible Order last year and can't wait for book two – coming out in September. I like the cover: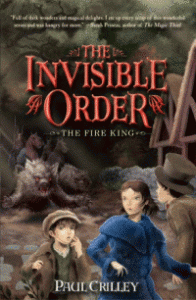 The next one is a MG about an intrepid heroine who loves MAPS. I am pretty sure that across the pond Thea is squeeing as much as I am right now.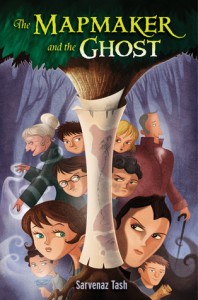 Goldenrod Moram loves nothing better than a good quest. Intrepid, curious, and full of a well-honed sense of adventure, she decides to start her own exploring team fashioned after her idols, the explorers Lewis and Clark, and to map the forest right behind her home. This task is complicated, however, by a series of unique events—a chance encounter with a mysterious old lady has her searching for a legendary blue rose. Another encounter lands her in the middle of a ragtag gang of brilliant troublemakers. And when she stumbles upon none other than the ghost of Meriwether Lewis himself, Goldenrod knows this will be anything but an ordinary summer . . . or an ordinary quest.

Prepare yourself to have your mind blown away: Cinder is a science fiction YA and a retelling of Cinderella in which the main character is ….wait for it… a CYBORG. *head explodes*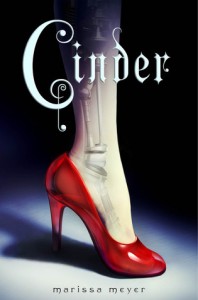 Humans and androids crowd the raucous streets of New Beijing. A deadly plague ravages the population. From space, a ruthless lunar people watch, waiting to make their move. No one knows that Earth's fate hinges on one girl. . . .

Cinder, a gifted mechanic, is a cyborg. She's a second-class citizen with a mysterious past, reviled by her stepmother and blamed for her stepsister's illness. But when her life becomes intertwined with the handsome Prince Kai's, she suddenly finds herself at the center of an intergalactic struggle, and a forbidden attraction. Caught between duty and freedom, loyalty and betrayal, she must uncover secrets about her past in order to protect her world's future.

In this thrilling debut young adult novel, the first of a quartet, Marissa Meyer introduces readers to an unforgettable heroine and a masterfully crafted new world that's enthralling.

BE STILL MY HEART! A Robin Hood Retelling with Will Scarlet being A GIRL in disguise!!!!!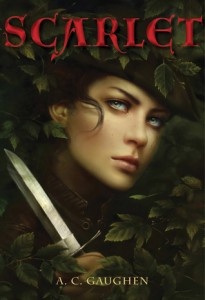 Many readers know the tale of Robin Hood, but they will be swept away by this new version full of action, secrets, and romance. Posing as one of Robin Hood's thieves to avoid the wrath of the evil Thief Taker Lord Gisbourne, Scarlet has kept her identity secret from all of Nottinghamshire. Only the Hood and his band know the truth: the agile thief posing as a whip of a boy is actually a fearless young woman with a secret past. Helping the people of Nottingham outwit the corrupt Sheriff of Nottingham could cost Scarlet her life as Gisbourne closes in. It's only her fierce loyalty to Robin—whose quick smiles and sharp temper have the rare power to unsettle her—that keeps Scarlet going and makes this fight worth dying for.

And how much does this cover rule?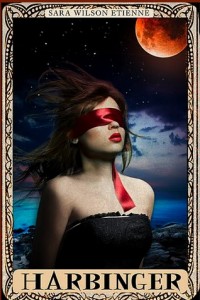 When sixteen-year-old Faye arrives at Holbrook Academy, she doesn't expect to find herself exactly where she needs to be. After years of strange wak- ing visions and nightmares, her only comfort the bones of dead animals, Faye is afraid she's going crazy. Fast.

But her first night at Holbrook, she feels strangely connected to the school and the island it sits on, like she's come home. She's even made her first real friends, but odd things keep happening to them. Every morning they wake on the floors of their dorm rooms with their hands stained red.

Faye knows she's the reason, but what does it all mean? The handsome Kel tries to help her unravel the mystery, but Faye is certain she can't trust him; in fact, he may be trying to kill her—and the rest of the world too.

Rich, compelling writing will keep the pages turning in this riveting and tautly told psychological thriller.

On Thea's Radar:
I reviewed Dark Mirror earlier this year and enjoyed it, so I'll be around for book 2, out next month!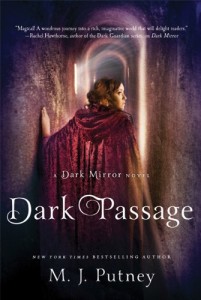 The Irregulars return home to 1803 England safely, but their worldview has changed. Not only have their heroic efforts at Dunkirk given them pride and confidence but their dangerous mission has increased their magical powers.

Tory delights in the ever deepening bond she shares with Allarde until she discovers how powerfully he is connected to his ancient family estate—the lands he will not inherit unless he denies his magical powers and chooses a nonmagical mate. If Tory really loves him, she must walk away—but does she have the strength to leave the love of her life?

Cynthia's heroic efforts at Dunkirk have won her the respect of the Irregulars, but her sharp tongue keeps everyone at a distance. Isolated and very alone at Lackland Abbey over the Christmas holidays, she reluctantly agrees to join Jack Rainford and his family for their celebration even though they're commoners, far below her own noble rank. The warm welcome of the Rainfords makes her feel happier and more accepted than she has ever been. But she can't possibly be falling in love with flirtatious Jack! Can she?

Then the Irregulars are drawn into a dangerous attempt to rescue a vitally important French scientist from Nazi-occupied France. Tory and Allarde must work together because countless lives are at stake. Disaster strikes and not only is their mission threatened, but their very lives. Can magic and their loyalty to each other help them survive to return home?

I've been reading some excellent reviews of this book, and even though I'm a little leery of Cleopatra type stories, this sounds SO good. (Bonus, POC on the cover, thankyouverymuch)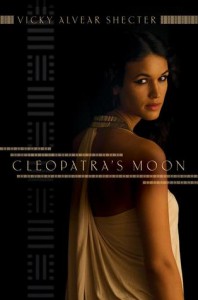 "The Luxe" meets the ancient world in the extraordinary story of Cleopatra's daughter.

Selene has grown up in a palace on the Nile with her parents, Cleopatra & Mark Antony—the most brilliant, powerful rulers on earth. But the jealous Roman Emperor Octavianus wants Egypt for himself, & when war finally comes, Selene faces the loss of all she's ever loved. Forced to build a new life in Octavianus's household in Rome, she finds herself torn between two young men and two possible destinies—until she reaches out to claim her own.

This stunning novel brings to life the personalities & passions of one of the greatest dramas in history, & offers a wonderful new heroine in Selene.

This next title comes from Presenting Lenore's awesome Dystopian August lineup – and I want to read it immediately.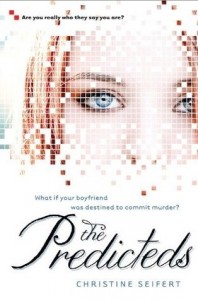 Daphne is the new girl in town and is having trouble fitting in. At least she has Jesse… sort of. He wants to be more than "just friends," but there's something he's not telling her about his past. Something dangerous. When a female student is brutally attacked, police turn to PROFILE, a new program that can predict a student's capacity for drug use, pregnancy, and violent behavior, to solve the case. As the witch hunt ensues, Daphne is forced to question her feelings for Jesse-and what she will do if her first love turns out to be a killer.

Another dystopian title (because…you know how I roll), but with magic and vampires? Interesting. (And is that BLOOD smeared around the girl's mouth? Me likey.)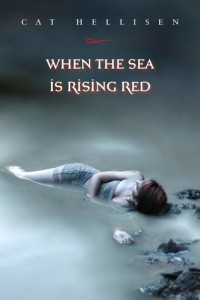 In sixteen-year-old Felicita's world, magic is strictly controlled—or so those in power like to believe. After her dearest friend, Ilven, kills herself to escape an arranged marriage, Felicita chooses freedom over privilege.

She fakes her own death and leaves her sheltered life as one of Pelimburg's magical elite behind. Living in the slums, scrubbing dishes for a living, she falls for charismatic Dash while also becoming fascinated with vampire Jannik. Then something shocking washes up on the beach: Ilven's death has called out of the sea a dangerous, wild magic. Felicita must decide whether her loyalties lie with the family she abandoned . . . or with those who would twist this dark power to destroy Pelimburg's caste system, and the whole city along with it.

Not crazy about the butterfly-ness of this cover, but intrigued nonetheless.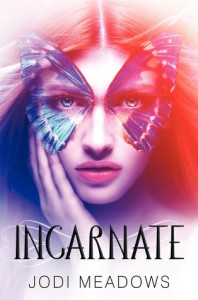 NEWSOUL
Ana is new. For thousands of years in Range, a million souls have been reincarnated over and over, keeping their memories and experiences from previous lifetimes. When Ana was born, another soul vanished, and no one knows why.

NOSOUL
Even Ana's own mother thinks she's a nosoul, an omen of worse things to come, and has kept her away from society. To escape her seclusion and learn whether she'll be reincarnated, Ana travels to the city of Heart, but its citizens are suspicious and afraid of what her presence means. When dragons and sylph attack the city, is Ana to blame?

HEART
Sam believes Ana's new soul is good and worthwhile. When he stands up for her, their relationship blooms. But can he love someone who may live only once, and will Ana's enemies—human and creature alike—let them be together? Ana needs to uncover the mistake that gave her someone else's life, but will her quest threaten the peace of Heart and destroy the promise of reincarnation for all?

Jodi Meadows expertly weaves soul-deep romance, fantasy, and danger into an extraordinary tale of new life.

Finally, this start to a new series sounds really fun:
Cate Cahill and her sisters are considered eccentric bluestockings—a little odd, a little unfashionable, and far too educated for their own good. The truth is more complicated; they're witches. And if their secret is discovered by the priests of the Brotherhood, it could mean an asylum, a prison ship—or an early grave. Before their mother died, she entrusted Cate with keeping them safe and keeping everyone, including their father, in the dark about their powers. When her father employs a governess and Cate begins to receive notes from her missing, presumed-mad godmother, her task becomes much more difficult. As Cate searches for answers in banned books and rebellious new friends, she must juggle unwanted proposals, tea parties, and an illicit attraction to the new gardener. Cate will do anything to protect her sisters, but at what cost to herself?

And that's it from us! What books do you have on your YA/MG radars?