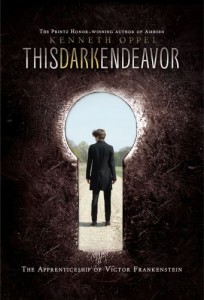 Title: This Dark Endeavor: The Apprenticeship of Victor Frankenstein
Author: Kenneth Oppel
Genre: Speculative Fiction, Horror, Young Adult
Publisher: Simon & Schuster
Publication date: August 2011
Hardcover: 304 pages
Victor and Konrad are the twin brothers Frankenstein. They are nearly inseparable. Growing up, their lives are filled with imaginary adventures…until the day their adventures turn all too real.

They stumble upon The Dark Library, and secret books of alchemy and ancient remedies are discovered. Father forbids that they ever enter the room again, but this only piques Victor's curiosity more. When Konrad falls gravely ill, Victor is not satisfied with the various doctors his parents have called in to help. He is drawn back to The Dark Library where he uncovers an ancient formula for the Elixir of Life. With their friend Elizabeth, Henry and Victor immediately set out to find assistance from a man who was once known for his alchemical works to help create the formula.

Determination and the unthinkable outcome of losing his brother spur Victor on in the quest for the three ingredients that will save Konrad's life. After scaling the highest trees in the Strumwald, diving into the deepest lake caves, and sacrificing one's own body part, the three fearless friends risk their lives to save another.
Stand alone or series: Book 1 in a planned trilogy
How did I get this book: ARC from the publisher
Why did I read this book: Kenneth Oppel. Frankenstein. The evocative title. The cover art. KENNETH OPPEL. Need I say more?
Review:
"You must abandon this dark endeavor."
So says Victor's father, when he learns the truth of his son's desperate explorations into the heart of darkness. Victor and his identical twin brother, Konrad, have lived a charmed life at Chateau Frankenstein. Doted on by loving parents, treated to a rigorous liberal education, and given the companionship of their adopted distant cousin Elizabeth and neighbor Henry, at fifteen years of age the twins want for nothing. Though both Victor and Konrad are identical in appearance, however, the twins are very different. While Konrad is beloved by all thanks to his easy charm and has both a sharp mind and is quick to pick up any sort of athletic feat, Victor is more aloof and must work hard to even come close to his brother's intellectual or physical prowess. And, unlike his twin, Victor burns with an unmatched passion and curiosity that is frightening in its intensity. When Konrad falls mortally ill due to a strange disease of the blood, Victor watches as doctors try all manners of treatments to no avail. Frustrated with the failings of science, Victor turns to the Frankenstein Chateau's forbidden Dark Library, hidden in the mansion's secret passages, and searches for an alchemical remedy that can save his brother. With the help of Elizabeth and Henry to gather the necessary ingredients, and the expertise of fallen alchemist Polidori, Victor takes on the impossible and sets out to create the Elixir of Life. At what cost does the elixir come, though? And what urges might this dark endeavor stir in young Victor?
If you are familiar with Mary Shelley's masterpiece, you will know how certain events must play out – which means This Dark Endeavor is a tragic novel from the beginning, with an air of inevitability. You know of Victor Frankenstein and his hubris, of his Monster and the tragedy that follows him. You know of his studies at Ingolstadt, and the fate of his family and future wife. As Frankenstein is one of my favorite classics, I was both thrilled and a bit frightened to read this prequel (though my fears were insignificant, given the trust I have in the talented Mr. Oppel). And wouldn't you know it? This Dark Endeavor surpasses all expectations, brushes aside any residual fears, and is an ode to Mary Shelley's Victor Frankenstein in all the right ways. Once again, I find myself lost for words and can only describe my feelings for This Dark Endeavor in the simplest way: I love this book.
Loyal to its source material in spirit and tone, This Dark Endeavor manages to take the gothic tale of Shelley's ambitious, tragic narrator and extrapolate Victor's character to his detailed childhood. The fifteen year-old Victor of This Dark Endeavor is passionate to a fault, deeply curious, and insatiably hungry for answers. The invention of a mortally ill twin brother as the catalyst for Victor's unrestrained descent into alchemy and galvanism is ingenious, giving us a way to sympathize with this tragic protagonist – we see the seedlings of obsession planted in this novel and cultivated of the best intentions, just as we see how Victor's intensity has the power to inspire and to frighten. I love this extra layer of color Mr. Oppel gives young master Frankenstein, rendering Victor a much more complex young man than just an arrogant, intelligent boy that will one day create a monster. THe other characters are also expertly drawn, with the tension between brothers a palpable thing throughout the book. As much as Victor may have passion and conviction, he sees himself as the imperfect brother to Konrad's perfection, the dark to Konrad's light. And while it is undeniable that Victor loves his brother, there are moments in the book where jealousy rears its ugly head, and Victor himself is afraid of his motivations.
Elizabeth, a distant cousin to the Frankensteins, is a perfect foil for both Konrad and Victor – she's angelic and religious to Konrad's nature, but at the same time has an animal wildness to her that answers Victor's own.[1. I should mention that the The love triangle between the two twins and cousin Elizabeth provides some nice tension (and, I daresay, might get some reluctant readers who want a little romance with their historical YA to give this novel a try), although, again, if you know Shelley's story, you know who ends up marrying her in the end…so it's not really much of a contest, is it?] Henry Clerval, another familiar face from the original novel, is another interesting character – less adventurous but unfalteringly loyal to his friends and brave at heart when it counts, Henry balances the intensity that Victor brings. And, of course, there's also the mysterious alchemist Polidori (a name you might recall in the creation of Shelley's novel), who helps the teens create their elusive Elixir.
And I haven't even said anything about the story, yet! While the characters are superb, the novel itself is a tantalizing adventure, fraught with danger and cloaked in a lusciously dark, evocative atmosphere. Chateau Frankenstein, an imposing castle enfolded by the Geneva woods, has never felt more real. There are midnight excursions for rare plants, underground caverns, alchemical brews, dungeons, and secret laboratories. There is so much to This Dark Endeavor, and I loved every second of this novel. For the fan of Mary Shelley, for the student that might struggle to find a way to connect with the older iteration of Victor Frankenstein, for the bright-eyed reader that wants to try something new, dark and delectable, This Dark Endeavor awaits. One of my top 10 favorite reads of 2011.
Notable Quotes/Parts: From Chapter 1:
WE FOUND THE MONSTER ON A ROCKY LEDGE HIGH ABOVE the lake. For three dark days my brother and I had tracked it through the maze of caves to its lair on the mountain's summit. And now we beheld it, curled atop its treasure, its pale fur and scales ablaze with moonlight.

It knew we were there. Doubtless it had smelled us coming, its flared nostrils drinking in our sweat and fear. Its crested head lifted slightly, almost lazily. Coins and jewels clinked and shifted as its body began to uncoil.

"Kill it!" I roared. My sword was in my hand, and my brother was at my side, his own blade flashing.

The speed with which the beast struck was incomprehensible. I tried to throw myself clear, but its muscular neck crashed against my right arm, and I felt the arm break and dangle uselessly at my side. But my sword hand was my left, and with a bellow of pain I slashed at the monster's chest, my blade deflecting off its mighty ribs.

I was aware of my brother striking at the beast's lower regions, all the while trying to avoid its lashing barbed tail. The monster came at me again, jaws agape. I battered its head, trying to stab its mouth or eyes, but it was as quick as a cobra. It knocked me sprawling to the stone, so that I was perilously close to the precipice's edge. The monster reared back, ready to strike, and then it shrieked in pain, for my brother had severed one of its hind legs.

But still the monster faced only me—as if I were its sole adversary.

I pushed myself up with my good hand. Before the monster could strike, I hurled myself at it. This time my sword plunged deep into its chest, so deep I could scarcely wrench it out. A ribbon of dark fluid unfurled in the moonlight, and the monster reared to its full height, terrible to behold, and then crumpled.

Its head shattered on the ground, and there, among the bloodied fur and cracked crest, was the face of a beautiful girl.

My brother came to my side, and together we gazed at her, marveling.

"We've broken the curse," he said to me. "We have saved the town. And we have released her."

The girl's eyes opened, and she looked from my brother to me. I knew she didn't have long to live, and a question burned inside me. I knelt.

"Why?" I asked her. "Why was it only me you attacked?"

"Because it is you," she whispered, "who is the real monster."

And with that, she died, leaving me more shaken than I could describe. I staggered back. My brother could not have heard her words—they were spoken so softly—and when he asked me what she'd said, I shook my head.

"Your arm," he said with concern, steadying me.

"It will heal." I turned my gaze to the pile of treasure.

"We have more than can ever be spent," my brother murmured.

I looked at him. "The treasure is mine alone."

He stared back in astonishment, this brother of mine who looked so much like me, we might have been the same person. And indeed we were, for we were identical twins.

"What do you mean?" he said.

I lifted my sword, put the tip against his throat, and forced him, step by step, toward the edge of the precipice.

"Why should we not share this," he demanded, "as we've shared everything else equally?"

I laughed then, at the lie of it. "No twins are ever completely equal," I said. "Though we're of one body, we are not equal, Brother, for you were born the sooner by two minutes. Even in our mother's womb you stole from me. The family birthright is yours. And such a treasure that is, to make this one look like a pauper's pittance. But I want it, all of it. And I shall have it."

At that moment the monster stirred, and in alarm I turned—only to see it making its final death contraction. But in that same instant my brother drew his sword.

"You will not cheat me!" he shouted.

Back and forth across the ledge we fought. We were both strong, with broad shoulders and taut muscles that thrived on exertion. But my brother had always been the better swordsman, and with my broken arm I was even more disadvantaged. But my cold serpent's resolve was strong, and before long I had smacked the sword from his hand and forced him to his knees. Even as he stared at me with my own face, and pleaded with me in my own voice, I plunged the sword into his heart and stole his life.

I gave a sigh of utter relief and looked up at the moon, felt the cool May air caress my face.

"Now I shall have all the riches in the world," I said. "And I am, at last, alone."
You can read a full excerpt online HERE.
Additional Thoughts: In the tradition of many big YA novels, This Dark Endeavor has been optioned for film by Summit (surprise, surprise)! Even cooler, a director has been assigned to the film and progress is being made. Check out the details:
Let Me In director Matt Reeves has been signed to direct This Dark Endeavor, with Mean Creek writer/helmer Jacob Aaron Estes writing the script for Summit Entertainment. Deadline told you yesterday about a batch of films based on the Mary Shelley Frankenstein novel. Summit just took a step forward in this contest. The film is based on the Kenneth Oppel novel This Dark Endeavor: The Apprenticeship of Victor Frankenstein. It will be published this summer by Simon & Schuster, the first of a series.[…] Reeves, who also directed Cloverfield, adds This Dark Endeavor to two other projects he's working on. He signed recently to direct the Justin Cronin vampire novel The Passage for Fox 2000, and he's got a deal at Universal to write and direct a film based on the Ray Nelson short story 8 O'Clock in the Morning, about a man who awakens with the realization that aliens are all over the place and control society. Estes just completed The Details, the Tobey Maguire/Elizabeth Banks-starrer that sold to The Weinstein Company in a big deal at the 2011 Sundance Film Festival. Both are repped by CAA.
From Deadline NY via KennethOppel.com
Rating: 9 – Damn Near Perfection, and ANOTHER Top 10 of 2011 book.
Buy the Book: